Like Harold Hill in "The Music Man Jr.," Off Square Theatre Company will reveal the transformative power of music to connect people in a small town.
For the past nine years Nicole Garrett has directed Off Square's annual youth musical, and once again she has organized over 80 Teton County school kids in a professional-level musical.
In less than two months, Garrett and her team took the production from start to finish, enabling young people to come together and discover the love of theater.
"They are so kind and generous, and they work really hard, even the little guys," Garrett said.
The cast members range in age from 8 to 18.
This weekend the theater company is presenting "The Music Man Jr.," an abridged version of Meredith Wilson's six-time Tony award-winning musical, at the Center for the Arts. The story begins when the quick-witted traveling salesman Harold Hill stops in the small town of River City, Iowa.
Hill, played by high school senior Jeremiah Burch, is filled with lofty ideas about how to make fast cash. After running into an old business associate, Marcellus Washburn, played by Miles Berry, the two concoct a plan to scam the naive townsfolk into buying instruments and uniforms for a boy's band. Hill promises to organize the band in order to keep the boys away from the corruption of the local pool hall.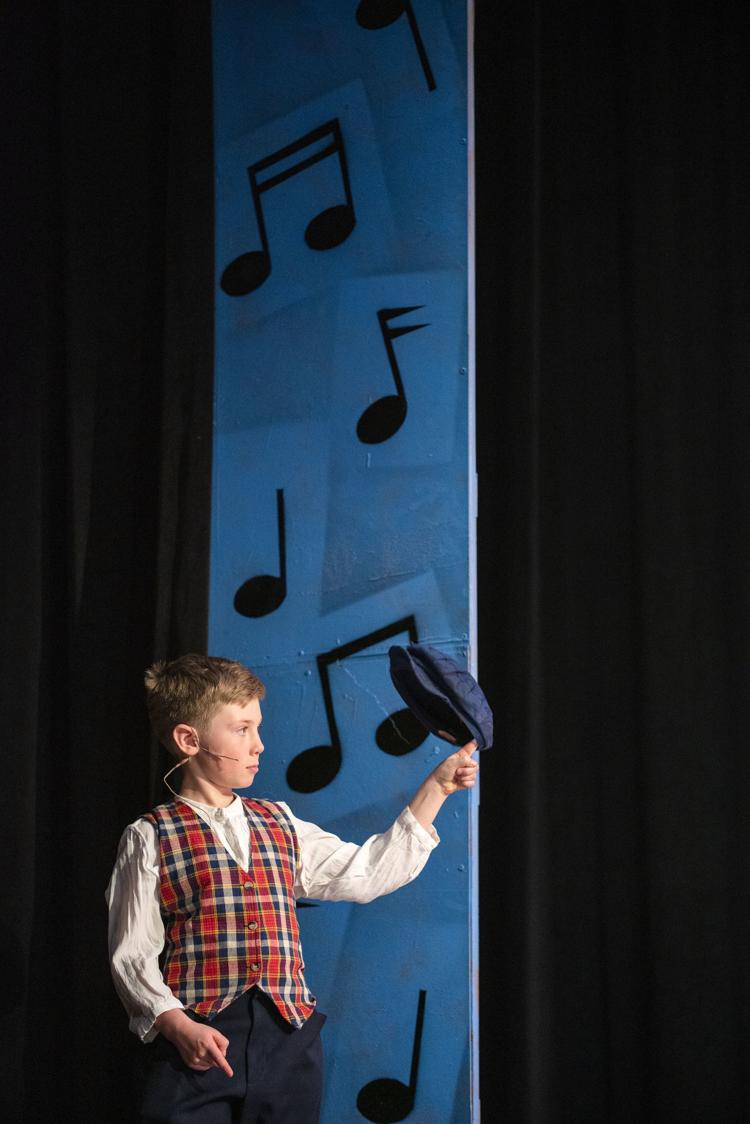 But Hill has no idea how to fiddle with a recorder, let alone teach others how to produce the triumphant sound of a trombone. His plans to skip town with the cash are thwarted when he falls for local librarian and music teacher, Marian Paroo, played by high school junior Mia Haws.
Haws has performed in Off Theatre productions since she was 8 years old, but this is her first leading role.
"A lot of kids look up to me," she said, "and that's a big responsibility."
Unlike Haws, many performers in leading roles discovered Off Square in high school. Burch has been performing in the company's productions since sophomore year, and he played Gomez Addams as a junior in the 2019 production of "The Addams Family."
His performance as Harold Hill will be his final one with Off Square.
"What I like about playing Harold Hill is that he has all this charisma and charm, but he also has a lot of depth," Burch said. "It takes a while through the course of the show to see his heart of gold."
Though Thursday night's rehearsal was a hodgepodge of frenzied and chaotic stomping, and dancing children, the cast is confident everything will come together by opening night. As it does every year, Burch said.
"Off Square takes all these different parts and organizes them to create something great," he said.
Despite the long hours — rehearsals are over three hours long and take place Monday through Friday after school — acting in the theater is the highlight of Burch's day.
"I don't see it as work," he said. "After all the tests and college applications, I enjoy coming here and making something beautiful happen."
"The Music Man Jr." is a feel-good musical whose iconic lineup of songs will have the whole family singing "Shipoopi," even if no one knows what the word means.
"It is one of those songs that will stick in your head and rattle along for a few years at minimum," said Berry, who sings the song as Marcellus Washburn.
For audience members who have never seen the musical, Garrett said they're likely to leave knowing some of the tunes.
"The songs are so catchy," she said. "Even if you are hearing them for the first time, you are going to remember them."
And there's something for everyone in the story line — there's romance, there's dance, there's comedy. And, Burch said, "there's also a real message behind it about not judging people off who they appear to be or what people say about them."
Off Square is putting on three shows of "The Music Man Jr.,": 6:30 p.m. Friday and Saturday, and 1:30 p.m. matinee Saturday.
Tickets cost $10 for youth and $20 for adults plus a $3 processing fee.