What kid growing up in a mountain town hasn't tried a homemade ski edit? For most, the clips never make it beyond a small group of family and friends.
But for Darrell Miller, a passion sparked in a high school video-editing class blossomed into Storm Show Studios, a production crew credited with filming some of the gnarliest ski lines in the Tetons over the past 20 years.
This weekend's screenings of Storm Show's feature-length film "Top 100" have been postponed to Feb. 4 at the Center for the Arts. Thanks, omicron.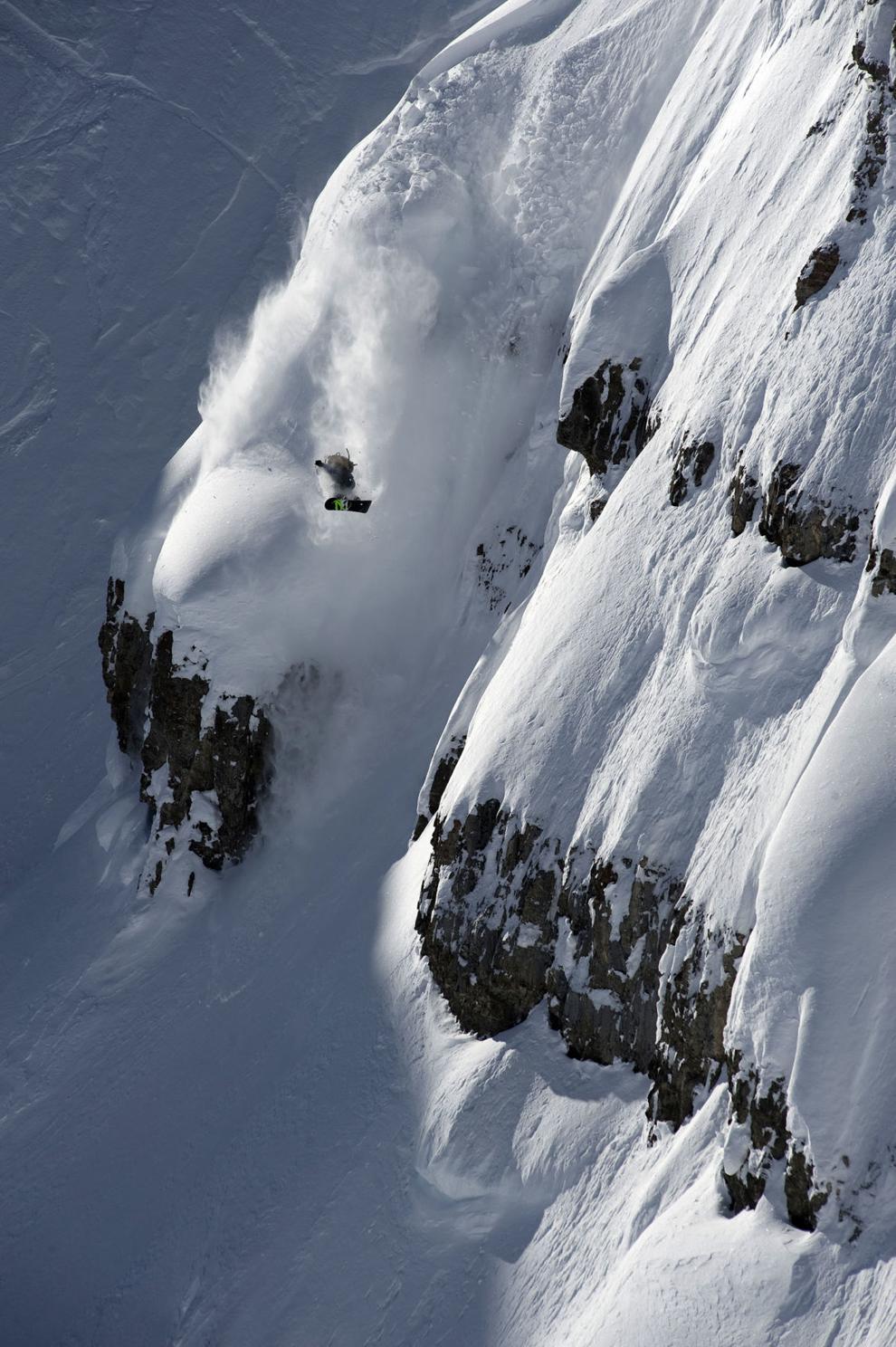 The retrospective celebrates the most memorable lines and death-defying stunts documented over two decades in Jackson Hole's own backyard.
Born and raised in Jackson, Miller grew up with a deep respect for the boundary-pushing ski history of the area. He attended screenings of ski-flick pioneer Warren Miller's films on field trips and was inspired by the Jackson Hole Air Force, the loose corps of hard-core skiers who skied every cliff and gully they could at Jackson Hole Mountain Resort, and Bill Briggs' legendary first descent of the Grand Teton.
Long before the age of GoPros, Miller filmed his earliest projects in high school on two video cameras. In the late '90s, he and his friend Jeff Gibbitts, now the general manager of Jackson Hole Whitewater, bought a camera and computer together to take their cinematography to the next level.
Storm Show released its first film, "The Addicts," in 2000. In 2001 the crew had its first official premiere of "The Locs," an homage to local rippers, in the Jackson Hole High School gym. The screening sold out, and Storm Show has hosted annual premieres ever since.
In the 2000s, Miller worked closely with skier Mike Tierney, pushing the boundary on recognizable landmarks like Cody Peak.
"He put up lines you wouldn't want to touch with binoculars," said Miller, "let alone click in and drop into."
After Tierney retired from rolling the dice in the mountains, Miller connected with skier Ryan Halverson in 2010. Together the two spent another 10 years skiing, filming and supporting other athletes to reach the edges of extreme.
Over 20 feature-length films, Storm Show has stayed true to its hometown roots.
"Our vibe is low-key and relatable," Miller said. "It's not high-paid skiers and riders that are traveling the world on an endless budget."
"Top 100" focuses on Wyoming, with lines in the Tetons, the Gros Ventre Wilderness and the Wind River Range.
"They're all dangerous, heart-thumping lines," Miller said. "People can expect to see some scary s--t go down on screen."
"There are some lines that may never be repeated in our lifetimes. Or ever," said Miller, a nod to the fact that some of the descents needed a record 700-inch snowpack to be even remotely skiable. "But when people see the number one line in the film, I'm pretty sure they'll never even want to ski that line in their life!"
After his 20-year run Miller says he is ready to hang up the camera. Rather than calling it quits, though, Storm Show plans to channel its love for the mountains in a new direction: making skis and snowboards.
Its new line, Storm Show Boards, will be unveiled at Friday's screenings and on the company's freshly launched website. Two custom boards with designs from film sponsors Snake River Brewing and SeeJH will be raffled off at the event.
Storm Show also wants to make sure a new generation of Wyoming shredders can continue to explore the mountains. This year's raffle and silent auction will support local nonprofit Carving the Future, an organization whose mission is to empower youth through access to snowboarding and skateboarding.
Since 2017, Carving the Future has provided snowboard and skateboard gear to over 200 young people and introduced more than 400 to snowboarding. Through programs, mentorship and athletic scholarships the group aims to promote confidence in young people to help address the mental health crisis in Wyoming.
Carving the Future is also creating lasting partnerships with communities on the Wind River Reservation through the Wind River Outreach Program.
"We are working hard to sponsor more Native American youth from Wyoming so they can travel to Jackson and other ski hills to practice their skills, create more indoor outlets for their skateboarding community in the winter, and support their communities year-round with access to the activities they love," said Talia Atkins, the organization's executive director.
Atkins and Adam Dowell, Carving the Future's founder and assistant director, were both raised watching Storm Show films over the years.
"We are in awe of the dedication and devotion it has taken Darrell and his team to create one film, let alone 20," Atkins said. "We were honored when Darrell invited us to be a part of his final premiere while contributing a portion of the proceeds to Carving the Future."
For the health of the community, all attendees must be vaccinated against COVID-19 or have proof of a negative test in the last three days. Masks are required in the Center except when people are actively eating or drinking.