It's always tough to say where, exactly, something like nachos originated.
It's not exactly the sort of thing academics spend time on. There are more pressing issues to deal with. But, still, thanks to the work of Adriana P. Orr, an U.S. library researcher from the Oxford English Dictionary who worked there in the 1990s, there seems to be some consensus on where the term for the now-ubiquitous Tex-Mex dish originated: Piedras Negras, Mexico.
There, a chef named Ignacio Anaya was visited one day by a group of U.S. military wives whose husbands were stationed just across the border in Fort Duncan, Texas.
The year was 1943 and all the restaurants were closed, so the women dropped by the last restaurant standing, the Victory Club, and met Anaya, who agreed to whip something up from what was left in the kitchen: tortillas, which he sliced and fried, some cheddar cheese and sliced jalapenos. Anaya threw all three ingredients together, tossed the mixture in the oven, and served it to the women.
The name, "nacho," a common nickname for Ignacio, is also what people called Anaya. When he served the Texan women, he reportedly called his dish "Nachos Especiales."
And so the legend was born.
Fast forward seven decades and nachos have become a staple of American cuisine, served in bars and restaurants with vastly different palates from the dish's Tex-Mex origin. And with sweater weather in full swing and two-for-ones starting to pop up across town as the summer tourist season dwindles, the News&Guide wanted to pay homage to the legendary barroom staple and recognize the reality of the season. It's time for a fall helping of comfort food.
For the past few weeks Scene has been sending News&Guide staff and freelancers to establishments around town — and even up into Grand Teton National Park — with a simple mission: Eat nachos and describe their character, which in some cases has changed and in others, hewed closely to Anaya's 20th century tradition.
Reporters philosophized, waxed poetic and munched their way through the assignment, giving us "Nacho Business," a snapshot of 10 select servings of nachos from across Teton County. It's a greasy warm-you-up and tide-you-over until the winter gets into full swing.
Dig in and enjoy. Happy eating.
— Billy Arnold, Scene Editor
El Abuelito Family Mexican Restaurant, 385 W. Broadway
In recent years our country's tendency towards decadence, graceless cultural fusion and one-upmanship has, in some places, transformed the American nacho into a nearly unrecognizable beast. That's even apparent in our beloved county, where you might be surprised to see corn tortilla chips replaced with waffle fries, guacamole replaced with Sriracha, or, heaven forbid, refried beans replaced with turkey sausage.
Luckily, there is a place where the corruptive tendencies of modern American gratuitousness have not yet infiltrated.
The nachos at El Abuelito Family Mexican Restaurant are a love letter to grace, minimalism and Tex Mex tradition, sort of like Philip Glass' hypnotic piano is a love letter to rhythm, simplicity and classic music. A delicately fried layer of tortilla chips is topped with modestly spiced refried beans, melted cheddar, diced tomatoes and flavorful guacamole.
Hatch Taqueria and Tequilas, 120 W. Broadway
$11 during lunch; $5 during Happy Hour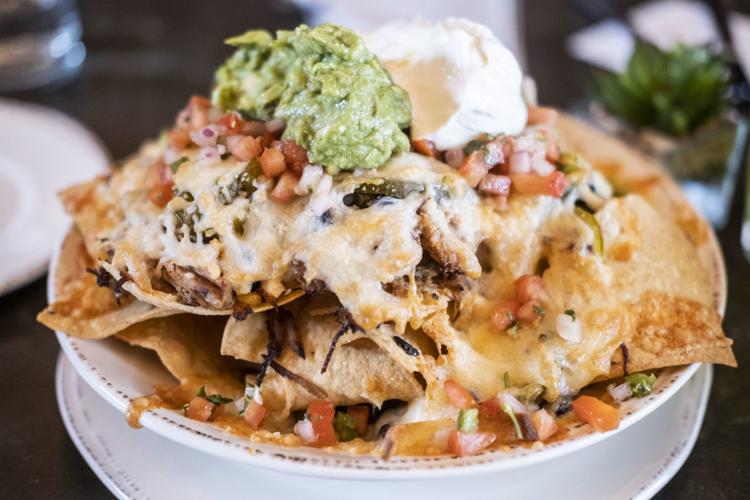 Nachos at Hatch are only offered during lunch and Happy Hour, which is daily from 4 to 5 p.m. So, if you can sneak away from work early, this is the plate you want to share with a friend.
They're also some of the cheapest in town, clocking in at about $8 with tax and tip during Happy Hour, and the helping is plenty. Choose from pulled pork, chicken tinga or the vegetarian option that comes with multicolored cauliflower. Melted cheese covers the top layer and black beans, Mexican corn, sour cream, jalapenos, guacamole and pica de gallo round out the dish.
Served on a round plate and not too spicy, these nachos pair well with a bottle of Tecate and a lime wedge.
The "Is it a Nacho?" nacho
Eleanor's Bar and Grill, 32 W. Broadway
$7 for a half order; $10.50 for a full serving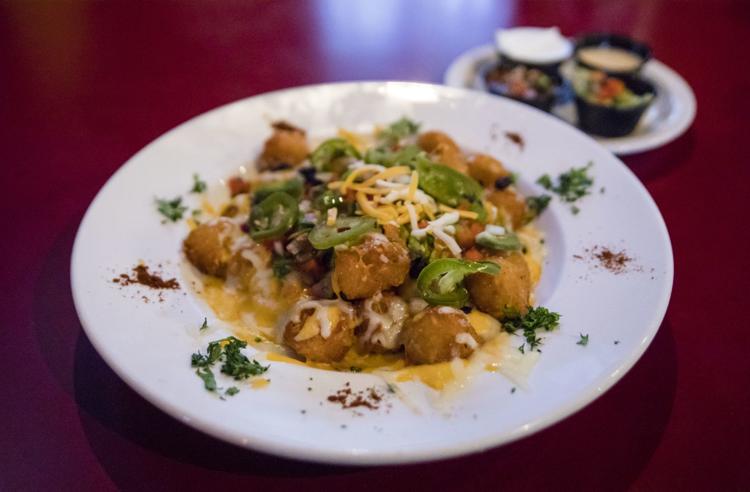 These days, fusion food seems like it's king. There's Asian fusion everywhere, including Jackson, Korean-Mexican fusion in Los Angeles and restaurants that serve Asian-Latin hybrids in places like Denver.
But the so-called "tot-chos" at Eleanor's Bar aren't your run-of-the-mill fusion cuisine. They don't combine two cuisines. Instead, they combine bar food (nachos) with more bar food (tater tots). So maybe fusion isn't the best word to describe the "tot-cho." Maybe bar fusion is better.
Regardless, the "tot-chos" aren't nachos, per se — the base, as you may have guessed, is tater tots rather than chips — but they're especially good if you're craving a salty, sweet and spicy combination of tots, cheese, jalapenos, onions and a few other good nacho-related toppings.
Oh, and to top it all off, the "tot-cho" is served with beer cheese. Talk about a good time, especially when you're at Eleanor's for a Broncos game and a few beers.
The Merry Piglets Mexican Grill, 160 N. Cache St.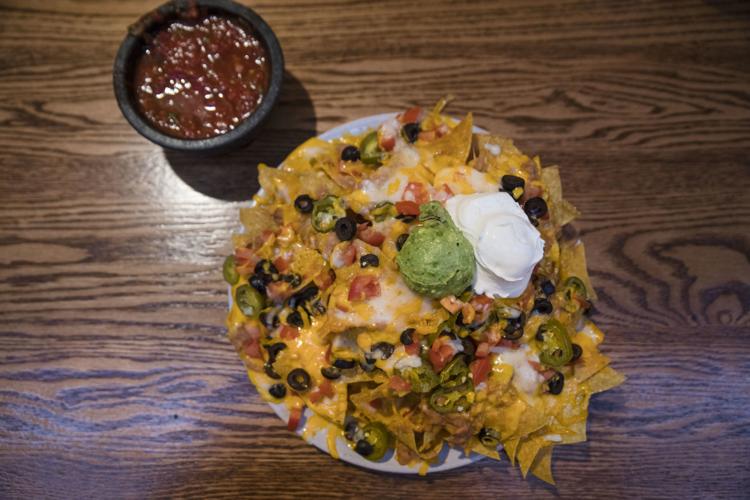 Very few servings of nachos are made to eat alone. Most are made to share. And there's a very special other few made for families.
If you haven't tried the Merry Piglets Mexican Grill's "Bueno Nachos," they certainly fall into the last category. The serving is huge, not gigantic. They're filling, but easy enough to finish with a moderately sized group (four would be comfortable; three is manageable) before the rest of your meal comes. And they're also equal parts salty and savory, without any spice bombs that would alienate the least spice-inclined member of your family.
But, if like a bunch of other people around these parts, your biological family is far away, don't worry. They're perfect for friend groups, too, especially if you're interested in a filling snack to round out the margaritas on a Friday night.
Pica's Mexican Taqueria, 1160 Alpine Lane
$7.50 for a small order; $9.25 for a large
It was a pleasant surprise to discover the nachos at Pica's were so inexpensive. With homemade chips and two giant dollops of guacamole, it's a shockingly filling portion for only $8 or so. The restaurant uses the unheralded tactic of piling the chips over a healthy bed of pinto beans, a delightfully tasty protein boost you find when you're halfway done. With pico de gallo, sour cream and crumbly white cheese, they're not your average nacho.
The only con is that the queso fresco doesn't distribute and melt as evenly as a handful of shredded jack might, so some chips are weighty with cheese and others have none — but that's a small concern when the rest is spot-on and a better-than-average eater can go home full and slightly sleepy.
Snake River Brewing, 265 S. Millward St.
$11 (add $5 for chicken; $9 for steak)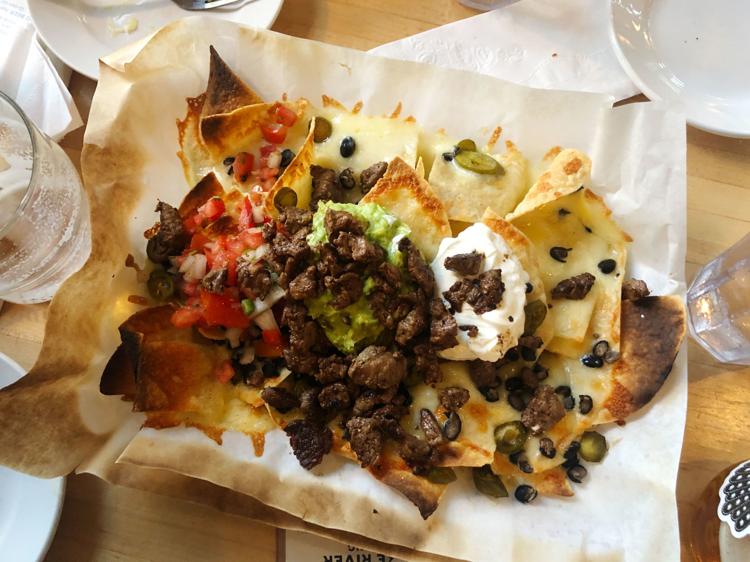 Like microbrews, Boujee Brewchos are a bit hoity-toity and certainly a bit pricy. But Brewchos have 'tude for a reason — they're heavy hitters and they know it. If you're looking for the Coors Light of nachos, keep walking.
Brewchos (ordered as "Wood-fired Nachos") are loaded with classic toppings: cheddar cheese and queso, black beans, pico de gallo, jalapenos, freshly made guacamole and a large dollop of sour cream. And these toppings are well dispersed. Have you ever dug into a pile of nachos to find the top chips are carrying all the weight, while the next layers are left naked? That's not the Brewchos style. They're well layered right until the end.
But there are two factors that really push Brewchos to the next level.
First, the thin and lightly salted corn chips. Not only are these delicious on their own, but wood firing crisps the chips for the delicate crunch you didn't know you'd been missing.
Second, and by far most important, add the Snake River Farms wagyu flank steak. Sure, it's a $9 upcharge, but the juicy hunks of steak give the Brewchos a delicious spicy kick that pairs perfectly with a microbrew — and makes them worth the boujee price.
Sidewinder's American Grill, 945 W. Broadway
$12; $3 extra for chicken or beef, and $6 extra for carne asada
Picture this scene: a sports bar lit by neon signs and flashing screens. There's dark, wooden tables covered with freshly poured drafts and people of all walks of life splattered around the bar, some watching the game, others shooting the breeze with friends.
It's a classic American scene and one made all the more so by the nachos on the table: Sidewinder's American Grill's ultra-classic take on what's become an American bar staple. Fairly even-keeled, they're served with olives, jalapenos, tomatoes and, of course, an unbelievable amount of cheese and sour cream, which is lumped on top in a big, goopy glob that spreads across the creation while you're eating.
The last few chips are going to be covered in dairy-produced grease from the few remaining centimeters of cheese and cream — and it's going to be worth it.
Sidewinder's plate is one that's sure to appeal to the younger groups of sports-crazed friends in the room, as well as the old, mustachioed man sitting at the bar to watch his favorite team.
The Silver Dollar Bar, 50 Glenwood St.
$15 for the meatless option; $17 for chicken or beef with onions and peppers; $18 for chicken and beef and onions and peppers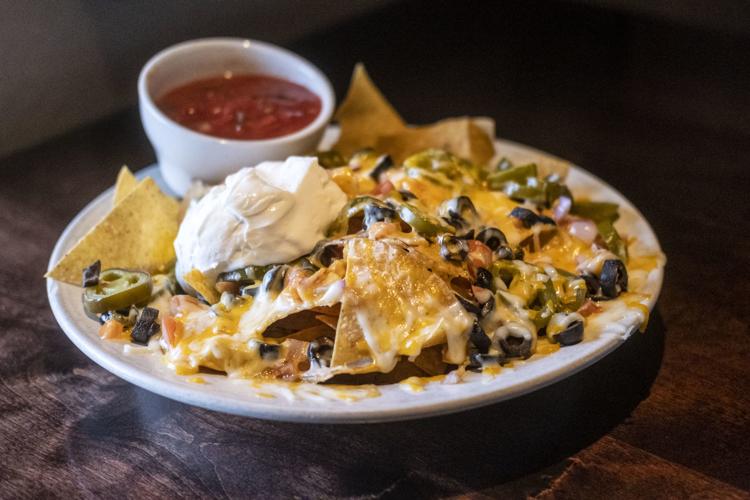 The Wort serves up a brand of nachos fit for hungry cowgirls and cowboys.
If you haven't been out on the trail working up an appetite, but still have a hankering for the salty, shareable snack, you can get a half order.
These nachos come with chicken or beef — the indecisive can order both. But beef wins hands down. The savory, well seasoned meat tenderly falls from the fork, a utensil required to rescue the festive red and white corn chips, which are a bit too fragile to handle the load.
Prodigious layers of cheese accompany the beef along with a tasty smattering of black beans, black olives and sauteed bell peppers and onions. The heat level is just enough to require a refreshing beverage but not too hot to overpower the other flavors.
Generous dollops of guacamole and sour cream round out this appetizer, ideally suited for bellying up to the bar with a buddy.
Sweet Cheeks Meats, 185 Scott Lane
On most Fiesta Fridays at Sweet Cheeks Meats you can get nachos served on a sheet tray for $11.50. The helping is fair, perfect for two people to share, but if you're super hungry you can probably eat the whole pile.
But Sweet Cheeks keeps things interesting by giving the customer some obscure meat options to mix into their chips. The options last week — they vary week to week — were beef tongue and heart, as well as lamb, chicken or pulled pork.
The crispy and not-too-salty chips are nicely layered with onion, pico, crema, melted cheese, cilantro, a lime wedge and a homemade chili pepper sprinkling that makes the nachos just the right level of spicy.
Trapper Grill or Deadman's Bar at Signal Mountain Lodge, 1 Inner Park Road, Moran
$13.95 for a reasonable portion for two; $20.95 for a real mountain of 'chos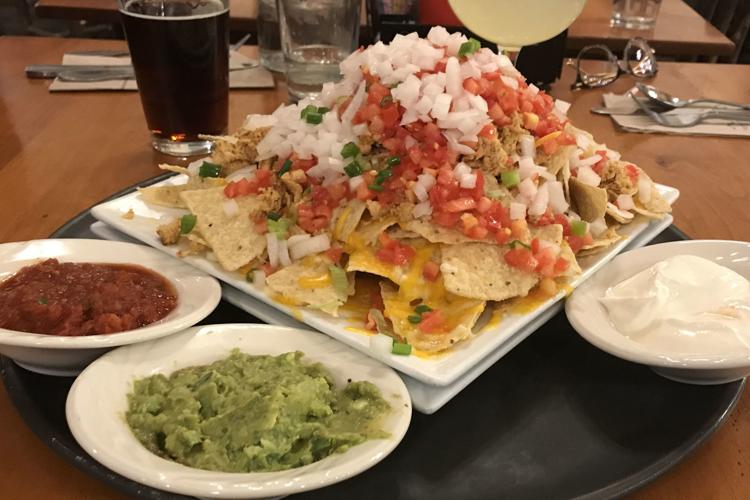 Dinners at Signal Mountain Lodge are a uniquely Teton experience. The western wall of the restaurant features large windows facing Mount Moran which, at sunset, provides streaks of violent reds and yellows. The restaurant's Signal Mountain of Nachos emulates this view.
A literal mountain of nachos, complete with couloirs stuffed with streaks of diced cherry red tomatoes and yellow cheddar cheese, is what awaits. As you tear into the nachos, avalanches of white and green onions rip down the slopes at horrific speeds.
The pile was huge. The pile was delicious. It was more than two humans should ever eat in a single meal. I recommend wearing pants that stretch.
It is worth noting that Signal Mountain Lodge has recently closed for the season, so put it in your calendar: "Nacho Pile – Spring 2020."