What do you do when you hear the words "off season"?
Lifting your blinds and peering out on the street to see if the crowds are gone is one option. But for long-time valley residents like Beverly Vik, who has lived here since 1969, and Judy Hammerschlag, who has been around for the last 15-or-so years, there's another choice: two-for-ones.
"It's a nice thing they do for the locals," Vik said, referring to the restaurants across town that put together some kind of food deal for county patrons. "It's really nice to try all the different ones."
On Sunday night Vik, 81, and Hammerschlag, 76, were outside Trio, where they'd just finished a meal. The two said that two-for-ones have been going on in the valley for as long as they remembered, but it's only in the past few years that the season of culinary giving has become as big as it has. And now, the friends said, with social media and the two-page ads that run in the Jackson Hole Daily and News&Guide, it's bigger than ever.
Still, the meal-and-deals are worth it for the two friends.
Vik and Hammerschlag's offseason hangout used to be Blue Lion but, as the years went on, they became regulars.
"Now, as we get older, we'll go eat even if it isn't two-for-ones," Hammerschlag said, as if she was letting you in on a secret. Vik laughed.
They weren't planning to drop by their old haunt this year, but they did have a list of places they wanted to hit in the coming week: Orsetto Italian Bar and Eatery and Local Restaurant and Bar.
Trio was just the first stop on their list.
Inside, Matt McDonough, a long time waiter at Trio, said that was somewhat common for the local two-for-one crowd.
"I definitely see some couples and, you can tell, they don't go out often," McDonough said, "They know they're getting a deal, a really nice meal, and it's great. You get to have your date night, the kids get a baby sitter. It's awesome."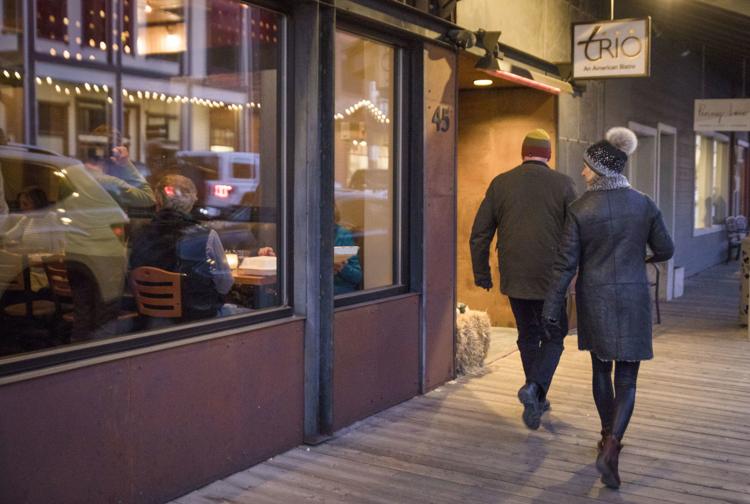 Those sorts of people — the people that know what offseason in restaurant world is all about — are typical two-for-one goers, McDonough said. But he's also seen "deal hunters": those who come for the deal and dash, often without tipping a fair amount.
Just because you're meal is half off doesn't mean you should tip like it costs $50 rather than $100, he said.
The minimum wage for tipped employees in Wyoming is $2.13 an hour, the idea being that tips make up the difference. McDonough suggested, rather than tipping 20% on the $50 discounted price ($10), tip 20% on the $100 pre-discount price ($20). (More is fine too, he said.)
"From a server standpoint, we make less money [during two-for-ones] because if those people recognize the tip on the 'before' amount, we're not giving any less service with that free meal," McDonough said. "So sometimes that gets tough."
Moral of the story? Treat your servers fairly. And if you're a loyal return customer, drop by your favorite restaurant.
"I think it is a way of saying thank you," McDonough said, especially to people who recommend their favorite establishments to friends and visitors. That keeps business going year round.
And, of course, take time to enjoy. Vik and Hammerschlag certainly did.
Their meal at Trio was "creative and interesting" without being too fancy, Hammerschlag said. It also seemed like more or less what she wanted for two-for-one season.
"It's wonderful," she said. "People should all take advantage of the opportunity. It's a nice way to contribute to the local economy."
Looking for some two-for-one love? The News&Guide has rounded up some deals across town. Enjoy and, remember: Tip accordingly.