Steve Gilmore leaned back in his chair, hands clasped behind his head. It was a wet early winter Thursday in Victor, Idaho, and, with one ear, Gilmore was listening to Kerry Wallace track vocals in the room next door, separated by a wall of glass.
With the other he was taking in conversation in the monitor room, alternatively cracking deadpan jokes and offering wisdom about recording.
"It's kind of like making sausage," Gilmore said. "It's not very pretty, but you get a good product in the end."
As Wallace sang, Ben Winship sat a computer, watching the tracks come into his recording software, ProTools, and, occasionally, taking a minute to talk with Gilmore.
When Wallace finished tracking her vocals, Gilmore called out advice.
"The last 'bandy' was a little wavy and the last 'whose love was true' was — just do those two things again," Gilmore said.
Wallace didn't seem to hear him. Winship, realizing what was going on, flipped a switch. The mic was off.
"You're talking behind my back aren't you," Wallace said, gleaming.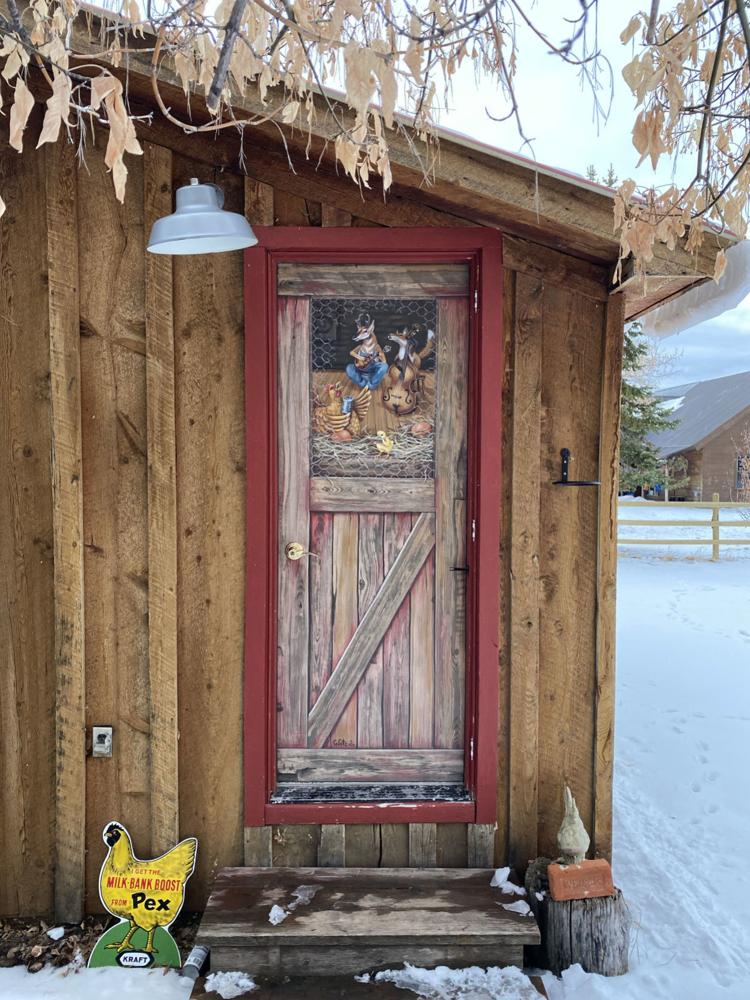 "Well, yeah," Gilmore said, deadpan.
Gilmore, Wallace and Winship were all assembled at The Henhouse, a recording studio Winship runs in his Victor backyard, to record tracks for Wallace's forthcoming album. It's a collection of songs anchored by Emmylou Harris- and Alison Krauss-esque folk, with bits of bluegrass-inspired strings thrown in around the edges.
Winship, who was engineering the album, manned the computer, microphones and metronome, cutting the best parts of each take into a complete, layered track. Gilmore was operating as the producer, giving Wallace feedback with an equal dose of tough love and friendly affection. Wallace was the star in the other room, for the time being, tracking her lyrics and guitar chords.
She also worked with Gilmore to determine the time to record another instrument, be it bass, guitar, mandolin or, later in the day, a cittern, a 10-string instrument with five pairs of twin strings.
While Gilmore was working on his cittern lines, Wallace sat in the monitor room and offered a few thoughts of her own on the process. Before coming in to record, which she'd done many times before with Winship, she said she always made sure she had her song written out. But that didn't mean she wasn't up for changes.
"Was it Churchill that said you have to have a battle plan, but be prepared to abandon it when you actually start fighting?" Wallace asked.
Winship nodded, following along.
"That's the way I feel about this. You've got to have a really good plan, subject to change."
That Thursday, Wallace, Winship and Gilmore were working on the vocals and string instruments for a new song, "Darcie Farrow." Though all three are studio veterans, the process wasn't all smooth sailing. They spent hours recording tracks, then re-recording them on a second, third, fourth or fifth pass. They focused on minutiae, trying to get particular phrasings or strumming right.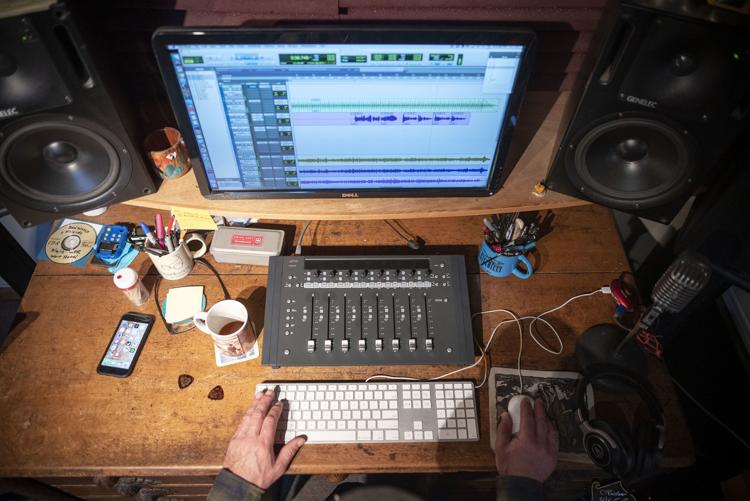 "I'm thinking I said the 'K' too hard on 'walker,'" Wallace said.
"Yeah, yeah," Gilmore said, rocking back and forth in his chair, rubbing his chin.
They retried the track, with Wallace suggesting she break two notes into three over a few specific words. She sang it again, then retried the whole verse, then retried the opening line, then tried it again ... and again, and again ... until the timing and phrasing was right.
On what seemed like the 12th take, Gilmore relented.
About 10 takes later, he had successfully laid down a cittern track to back Wallace's guitar and vocals. Winship and Wallace declared it good a few times, but Gilmore didn't stop until he thought he got each part down pat.
"That was all right," Gilmore said with a nod of approval.
"Could be better, though," he said. "Could always be better."
And the process started again.
Winship has been running The Henhouse for decades. The building started as an old cabin or guest office in his backyard. He's added to it twice, first the recording room and then another room in the back. The original building has been turned into the monitor room, where he sat throughout the afternoon, layering tracks and offering opinions and advice to Wallace and Gilmore.
Winship is primarily focused on string-oriented music — bluegrass, folk and the like — because of his location in the Tetons. Very few hip-hop or acid jazz groups, for example, travel here to record.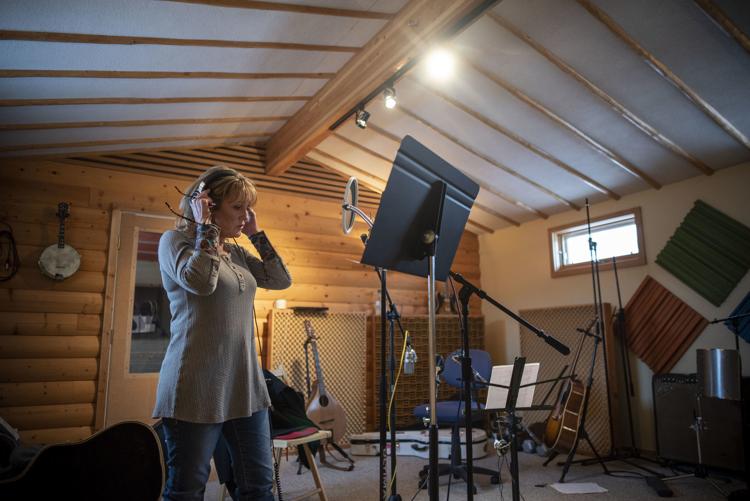 When setting things up with musicians before they enter his studio, Winship usually goes over a few things with them. Those include how much they'd like him involved, what the musical arrangements will look like, whether or not they want him to play on their tracks, if they'd want him to serve as producer, where they wanted him to make comments on tracks, whether they'd want him to hire outside musicians and so on.
Still, one of the biggest decisions artists have to make before entering the studio is whether to record as a group or individually, he said.
"That's like an intersection of technology and psychology," Winship said. "It's equally influenced by who the people are and what their comfort level is and what their ability level is."
Wallace and Gilmore did a little of both, playing together the night before, then recording one at a time over a click track, or metronome, the following day. That track, essentially the rhythmic backbone of the recording session, ensured everything was held together. Since both musicians were keeping good time, it meant Winship could cut and paste takes together to make the complete track.
Still, the process remains a painful one for musicians.
Winship, Wallace and Gilmore said they rarely return to their recorded material after it's finished, describing like reopening an old wound. They can remember every cut on the track and remember singing a verse 10 or 12 times to get it right.
"The problem with going into the studio is there are so many things that can go wrong," Gilmore said. "What you end up doing is you start hearing where stuff's punched in and punched out and you relive that trauma of where something didn't really work out very well."
They do, however, play the songs live.
"In a live situation, you don't have to worry about that," Gilmore said. "It's gone."
Revisiting a track over and over again doesn't mean the final product is perfect. The three musicians expressed a fondness for a certain rough-around-the-edges feel.
Wallace, who has recorded in Nashville, said she much preferred recording at a smaller place like The Henhouse, as she's done many times. With larger commercial studios, Wallace said, she's been through the whole recording process only to be disappointed by the final product — such as the studio taking her favorite chorus and plugging it into each chorus or messing up the rhythm. In one case, she turned to Winship to fix it.
"That was the best decision I ever made," she said.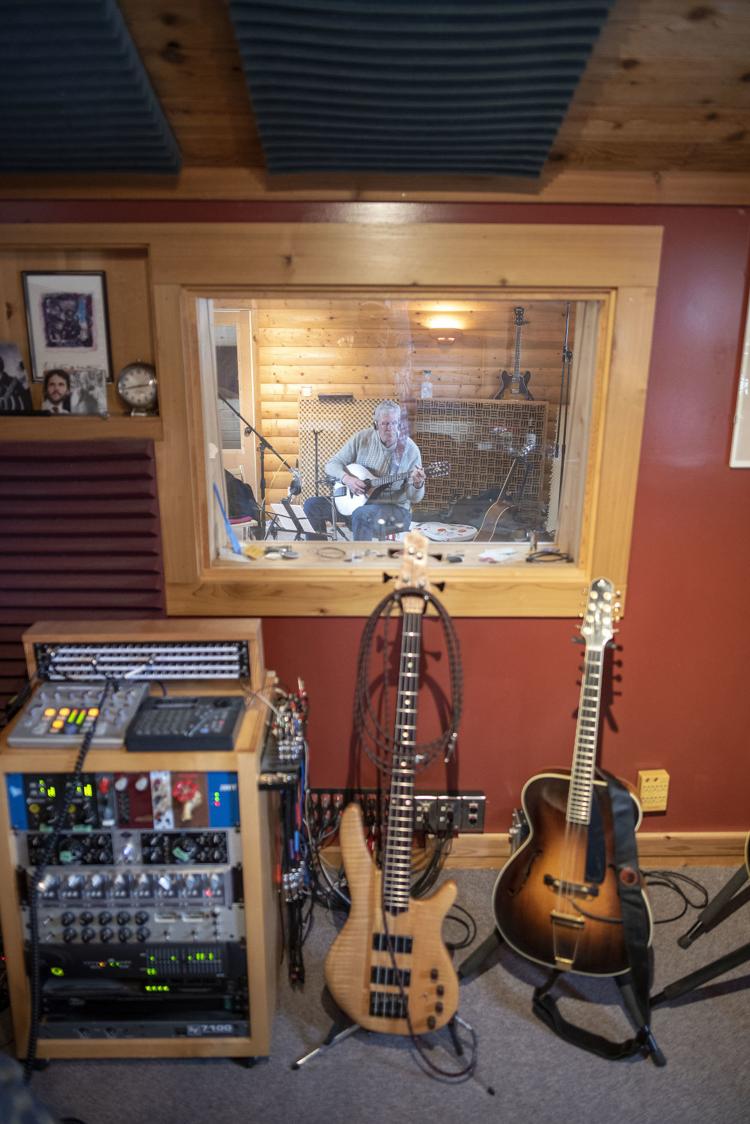 In contrast to a bigger commercial studio, Wallace said, what comes out of Winship's studio maintains its "uniqueness."
"Every verse is different," she said. "Every chorus is different."
And though for her, Gilmore and Winship calling something "unique" is kind of a joke, a way to josh someone when they mess up, they weren't all too bothered with perfection, either. For them, being in the studio is something of a give and take. They were focused on getting the timing right but weren't dead set on keeping errant notes out.
"You have to draw that line," Wallace said. "The perfecting it is endless. There's no end to it."
"Sometimes those wrong notes are the perfect ones," he said. "It's really kind of true that perfection is overrated."