The rules for post-quarantine musical performances have yet to be written, but some local venues are cautiously trying to establish them.
"The 'Sit Down, Get Down' is our reality, and my job is to put on the classiest show possible," said Justin Smith, talent buyer for Silver Dollar Inc. and member of One Ton Pig.
In the "Sit Down, Get Down" concert series solo performers, duos and bands have taken the stages at The Wort Hotel's Silver Dollar Showroom and The Million Dollar Cowboy Bar in front of a "socially distanced" crowd.
It's a twist on live music shows available pre-crisis.
The series began May 19 and is expanding. The Cowboy has shifted to an 8 to midnight set, and beginning June 22 will offer six-nights-a-week live music. The Wort will add a Saturday night to its schedule starting June 13.
Both bars adhere to strict hand washing protocol between serving and bussing tables, and all employees wear masks, said Smith. Tables are spaced apart and a good airflow system has been incorporated. The dance floors, sadly, are closed.
Smith said that Silver Dollar Inc., which owns both bars, is pleased to bring live music back to Jackson and "get the musicians back to work in a responsible way." They hope to be an example of a venue that can provide concerts without sacrificing public health.
"It's not like businesses can micromanage every scenario," Smith said.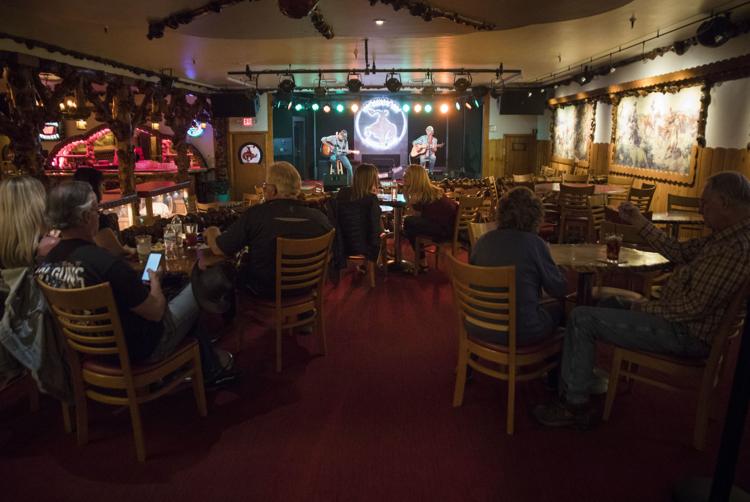 He recognizes that everyone has different comfort levels as they venture out of quarantine, but hopes that the steps that Silver Dollar Inc. has taken helps patrons to feel at ease.
As for how it feels to entertain the "Sit Down" crowd, singer Ashton Lee said, "It's a little weird, but it's not as weird as doing the Facebook live streams." The singer performed at the Cowboy for a three night run last weekend.
Lee is grateful for the opportunity to be making money and doing what he loves again, albeit to a smaller crowd. Jesse Cornett, who performed alongside Lee at The Cowboy last weekend, concurs.
"It's a lot different, because we play so many clubs where people are just there to get drunk or have a good time and they don't really listen. So it's cool — it's almost like forcing them to listen to what we're singing," Cornett said with a laugh.
Both artists traveled without their bands to entertain the Jackson crowd. Similarly, One Ton Pig has been performing at The Wort as a trio, alternating performing members from its usual six-man lineup. It's part of Silver Dollar Inc.'s effort to limit gathering size.
The series is bringing out a more emotional response than Justin Smith expected.
"I saw tears on Tuesday," Smith said.
It was a couple that regularly comes to The Wort's bar to dance. Now that they're relegated to table seating, it's easy to imagine the emotions they felt.
Cornett, Lee and the members of One Ton Pig are eager to play for audiences again. Like Lee said, they're "just happy to bring music back to people's lives."