For Oliver Wood and his brother, Chris, their band, The Wood Brothers, is a family affair.
And, as cliche as it sounds, it's true.
Before the Wood brothers became The Wood Brothers they grew up listening to their father, Bill, a musician who worked with Joan Baez and others in his younger years, play music around the house. In their dad's later years, Oliver Wood said he became a professor, "probably with some pressure from his parents." So it was especially significant when he took the stage with his sons last December to play a few songs in their hometown, Boulder, Colorado.
When The Wood Brothers play Friday at JacksonHoleLive after an opening performance from Upstate, their dad won't be in the crowd. Wood, four years older than his brother, Chris, said he thinks his father still gets a lot of satisfaction out of watching his sons play music.
"I think he loves it," Wood said. "He gets some bicurious satisfaction out of seeing us do it."
The band has been around for about 12 years on what Wood called "a slow train to the middle." The brothers both came into the band after successful careers with other groups — Chris played with the legendary jazz trio Medeski, Martin and Wood, and Oliver with Tinsley Ellis and, later, his own group, King Johnson — and hit the road touring in a minivan.
They later moved up to a sprinter van and, finally, a bus.
But acquiring bigger tour gear (Wood said now that he's 50 he's grateful to be able to get on a bus and let someone else do the driving) isn't the only upgrade the brothers have made.
They added Jano Rix as a percussionist and multi-instrumentalist and, in 2018, were nominated for a Grammy Award for their album "One Drop of Truth."
And though that album was a bit more electric than past releases like "Paradise" (2015) or "The Muse" (2013), the sound was consistent with the hard-to-pin-down Americana-style licks of their previous work. Some of the lyrical themes carried over as well.
On "Happiness Jones," Oliver Wood sings, "All of my wisdom came from all the toughest days/ I never learned a thing being happy." It's a line that's reminiscent of the sentiment he expressed two albums earlier on "Sing About It," a song all about singing about letting tough times go.
"Even if I'm writing about someone else, or for someone else, or if I'm inspired by someone else, I'm writing to remind myself of a truth that I know," Wood said.
Wood, like his dad, is now a father. His oldest son is 17. After noting that he'd probably have to buy the teen a car because he missed "a few" birthdays while on tour, Wood described himself as a "terrible empath." He constantly reminds himself to let his kids "go out and fail."
"That's where you learn," Wood said. "That's where actual growth comes from and, anyway, I think that theme is a good one to be reminded of."
Being away from home is tough for him. He said what makes it worth it is performing, as well as the small moments on tour that show him he's connecting with people, like when his road crew asks him and his brother to play "Neon Tombstone" more often.
As an artist, Wood said, it's nice to have an outlet for all of his emotions, but he said performing gives him an idea of how people who aren't artists find an outlet for theirs.
"Listening to and appreciating art is analogous to creating it," Wood said. "It's not about creating it or being the guy who creates it, but it's about the way it makes you feel."
Making people happy makes the sacrifices he takes on to tour worth it.
"When I'm playing music to a crowd and everybody's singing with us," Wood said, pausing for a moment, "there's no difference between anybody. Everybody's just connected and feeling the same thing at the same time. It's the best, and that totally makes everything worth it."
Wood also said he loves performing with contrast, usually between the opener and the main act.
Upstate, a five-part band from — you guessed it — upstate New York, fits that bill perfectly.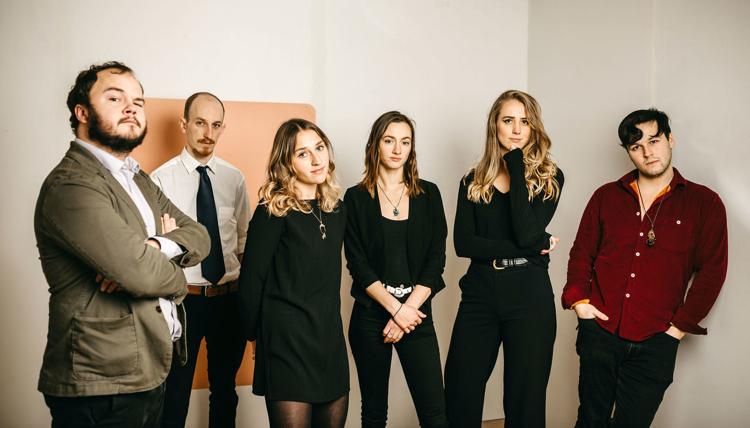 Led by three women vocalists, who harmonize and play guitar over upright bass, mandolin, saxophone and a cajon (think drum box) rather than a drum set, Upstate has a unique sound. With a taste of harmonies from groups like I'm With Her and the energy — and upright bass — of groups like Lake Street Dive and The Wood Brothers, the band's a breath of fresh air.
But with five songwriters stepping on one another's feet in the studio, recording can be challenging.
"We really have to learn how to relate to one another and understand each other," bassist Harry D'Agostino said.
Like Lake Street Dive, which D'Agostino counted among the band's primary influences, songs originate with one person, are shopped out to the band, adapted and then approved by the original songwriter before they make it on a record.
"The buck has to stop somewhere," D'Agostino said.
In the studio recording the group's latest album, "Healing," one of those stops was with Jano Rix, the Wood Brothers' percussionist and multi-instrumentalist, who produced the album.
D'Agostino said Rix was great at managing the dynamics in the room.
"He had good bedside manner," D'Agostino said,
A producer's job, he said, is to deliver bands "difficult truth": They're the "kill your darlings" people.
But Upstate's dynamite working relationship with Rix isn't the only reason D'Agostino said the group is excited to play JacksonHoleLive.
The core members of Upstate — the bass player, Melanie Glenn, Mary Kenney, Allison Olender and Dean Mahoney — listen to a bunch of different types of music. D'Agostino said The Wood Brothers are at the center of their musical Venn diagram.
"The Wood Brothers are certainly my favorite band, personally, and among all of us they're our band's favorite band," D'Agostino said. "This is a really exciting experience."