A 7-year-old boy recently asked me a question I've heard often over my career studying raptors in the Greater Yellowstone Ecosystem. This time, there was one word he inadvertently altered. It was a small change, yet profound. When folks ask me if I study golden eagles, great gray owls or any of other 10 or so raptor species I regularly research, the question is usually: "What species do you work on?" But the profound change to that commonplace question this young man asked was just one word: "What species do you work for?" For me, this triggered introspection about a critical question for any professional wildlife biologist: Are we simply recording data and bearing witness to the rapid change we are seeing across the globe, or are we using our data to do something about it?
I have spent two decades working as a wildlife biologist. It's a been long road and ultimately led me to a successful career as a raptor ecologist in one of the most spectacular landscapes in the world. I knew that every day, my goal was to borrow information from eagles, hawks and owls — often to their chagrin — so we can better understand how to manage those raptors and their habitats. But the disconnect between collecting data and putting it into action was lost on me for years. It was not until I began thinking like that 7-year-old did that I finally figured it out.
One of the roles I play as a conservationist in Wyoming outside my work as a researcher is as a hunter. Basic ecology trains us about the interconnectedness of fauna, flora and ecological functions and the complicating factors humans have woven into those connections. I knew that my small role in helping maintain the balance of ungulate populations was important since elk and deer herds were out of whack in Wyoming due to generations of predator control and supplemental feeding. And having worked on eagles and ravens for many years, I also felt good about feeding those birds when I walked away from the gut piles from my successful harvests every fall. But that changed when my research started shining light on a hidden human ecological influence we hadn't considered.
Fresh out of graduate school in 2004, I began collecting data on lead ingestion in avian scavengers like ravens, bald eagles and golden eagles. Over the next decade, I led and was involved in studies that conclusively documented these scavengers eating lead inadvertently left behind in gut piles from antelope, deer, elk and bison. We found the average ungulate's gut pile had more than 150 lead fragments from the rifle bullet that struck them. Raptors were eating and dying from those fragments. Our research also showed that using lead-free bullets eliminated this risk. I did what most biologists do. I spent years studying an issue, determined the cause, found the solution and published the data so that managers could take the torch and fix it. I thought it was all wrapped up in a pretty bow.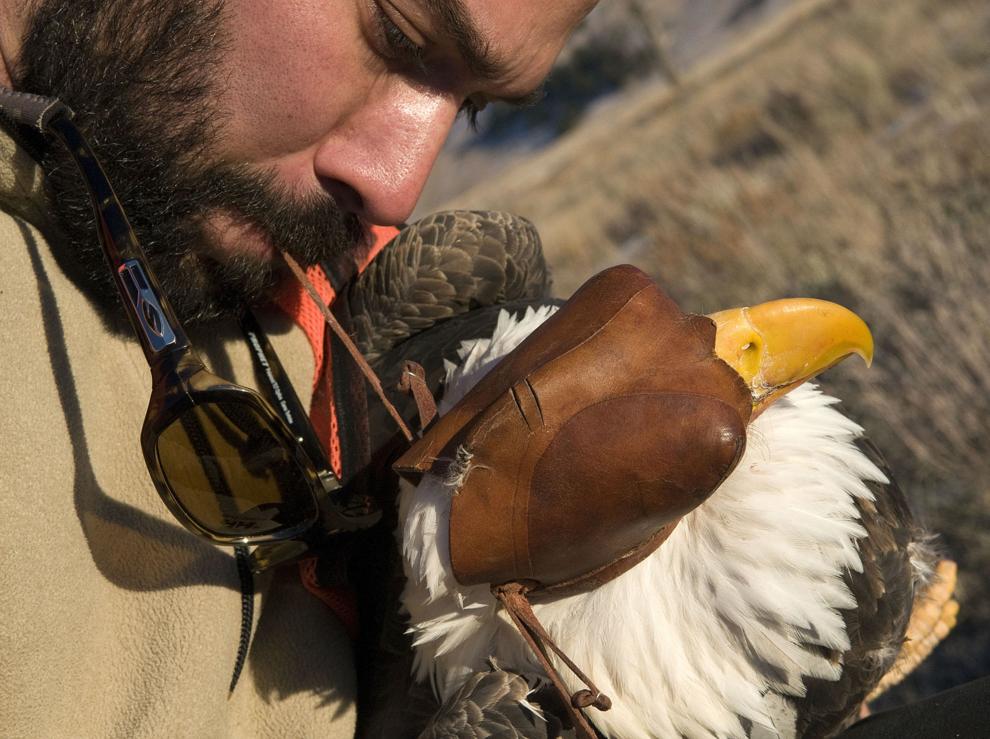 Fast forward another decade, and little had changed. Sure, our work motivated nearly half of Jackson Hole hunters to switch to lead-free ammo, but eagles across the United States were still eating lead every fall. A little voice in my head reminded me to ask, "What species do I work for?" I captured and took blood from hundreds of birds over the years to identify this issue and its solution. I put transmitters on the backs of dozens of eagles to document the implications of lead ingestion in eagles across the continent. I altered the lives of dozens of birds to get those data. I owed it to those birds to get off the sidelines and use the data I had collected to help those raptors. I needed to go to work for those birds.
Shifting my perspective from working on raptors to working for raptors has led me down the path of helping spearhead a new educational initiative, named Sporting Lead-Free. Scientists are often hesitant to be labeled as an advocate, but advocating for what the data tells you is needed is just as important as collecting it. Sporting Lead-Free is an educational initiative built from data and science, driven by hunters and anglers, to encourage sportspeople to voluntarily use lead-free ammunition. The benefits are clear: This reduces unintentional risks to raptors from eating lead left behind in the field. We are using collaboration and education to teach people how the easy switch to lead-free ammo safeguards wildlife and ecosystems, and I've found this to be a far more effective approach than forcing people to change via regulation and assuming they know the science about raptor lead ingestion and its implications.
The paradigm of keeping science and conservation separate needs to shift. While we clearly need to retain objectivity in data collection and analysis, our natural world is changing too fast to wait for someone else to create positive change. Scientists are borrowing the information from the animals we study, and it is our responsibility to speak on the behalf of the data and those individuals. For me, it is time to stop witnessing change and time to start effecting change.