Out in the middle of the Kelly hayfields, a family of five Nebraskans, clustered around a Dobsonian telescope, looked up and couldn't contain their excitement.
Their choice word for the evening of stargazing was "crazy." The darkness of the sky, the plethora of constellations overhead, the incredible quiet — it was spectacular. Samuel Singer of Wyoming Stargazing first focused his tour group's attention on the planet Jupiter. "Oh boy," Singer said. "It looks nice tonight. Tonight is a gem."
Only a sliver of the moon hung in the western sky. By 10 p.m. the Midwestern family and a woman from Chicago cemented their status as part of the 20% of the U.S. population who will see the central band of our galaxy, the Milky Way, during their lifetime. Thanks to light pollution that's worsening, a whopping 80% of Americans and just over 30% of people worldwide never will, Singer said. (Or, maybe, didn't know what they were looking at.)
Locals and visitors are amazed by Jackson's starry night sky, especially when it comes on the heels of a sunset over the Tetons. But what they might not know is how much clearer the constellations and planets could be, here and elsewhere, without light pollution. Jackson looks the same as Flagstaff, Arizona — population 72,000, from space. "For a town of 10,000 people," Singer said, "we have a lot of light pollution."
The Bortle scale, which goes from zero to nine, measures the night sky's brightness. As the interference of light pollution grows, the number climbs and the observability of celestial objects falls. In Jackson light pollution clocks in at a five on the scale; in Grand Teton National Park it's a three.
Singer hasn't collected new measurements for a couple of years, but he thinks light pollution has increased due to ineffective outdoor lighting ordinances. The trend counters goals to lower measurements on the Bortle scale by one point in the park and in Jackson by 2025. Compared to other mountain resort towns "we're behind," Singer said. Breckenridge, Colorado, has a stronger lighting ordinance, and so does Whitefish, Montana.
"Dark night skies are the national parks above our heads," Singer said. "Once we start thinking about it as part of the national park, I think people will start caring and changing their behavior. We don't have any protection for the skies like we do the ground. And that's what I'm trying to change."
Singer started Wyoming Stargazing, a nonprofit, with the goal of making astronomy accessible to everyone. His own interest is longstanding: He built telescopes while studying physics and astronomy in college — the first of many degrees that led to a doctorate in science education. Singer recalls seeing Saturn's rings through the first telescope he ever constructed. "I flipped out and jumped up and down," he said. "That's when I knew I'd be doing this for a long time."
He can rattle off why you should care about light pollution. One argument is philosophical: It says something about people if they allow their night sky, and the wonder it provides, to die. "If you look at all cultures across the globe," Singer said, "they have myths about the sky, and it's because we've been mesmerized by it for 2 million years." There are also scientific reasons for keeping the stars in sight. And for communities, dark sky protection in action can save money. Light pollution wastes an estimated $3 billion a year in the United States.
Then there's wildlife that depends on darkness. According to National Geographic, researchers have found artificial light to be harmful to bats, insects, plants, fish, primates and even marine invertebrates like corals. Light pollution disrupts the circadian rhythms and disorients migratory birds during flight, causing collisions with buildings and ultimately death, a 2018 study in Scientific Reports found. And artificial light can even prevent trees from adjusting to the seasons.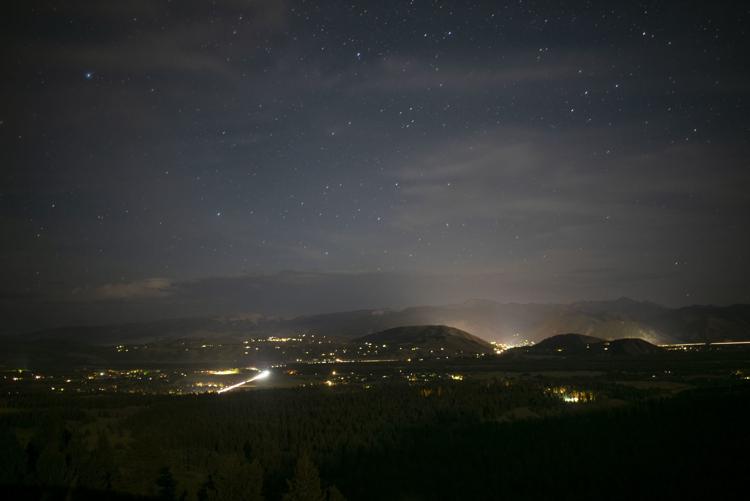 There's also research suggesting human health could be compromised by nighttime light. The American Medical Association and the Council on Science and Public Health have warned that breast cancer risk could increase and that there could be affects on obesity, diabetes, depression, mood disorders and reproductive health.
Turning off all lights at night isn't the answer, and Singer isn't advocating a blackout. He'd like to see more responsible lighting. There was progress in 2015 when the town of Jackson rewrote the outdoor lighting regulations with dark skies in mind. The ordinance states that lights, except for decorative winter holiday lights, can't be directed upward. Teton County code compliance officer Miranda Adams said new building permitting is the chief means of ensuring compliance with lighting standards. Lighting plans and site inspections accompany developments and can catch violations. She also responds to complaints, though she noted that compliance is high. But fixtures predating the ordinance are grandfathered, and outdoor public lighting is exempted.
Singer knows elected officials have "bigger fish to fry," like determining how to house workers who have no place to live today. Longer-term, there are benchmarks to strive for. The town could become what's called "dark sky certified" by the International Dark Sky Association, joining the ranks of places like Ketchum, Idaho. "It's just another feather in your cap for a community to say, 'Hey, we care about our night sky, and we've done something about it, come and check it out,'" Singer said.
In the meantime, people can take steps to reduce their light pollution by buying shielding fixtures that direct light downward and by switching from LED lights to warmer, yellow-orange bulbs. Fully shielded lighting fixtures are tough to find in town but are available online. Obstinacy in the face of environmental regulation can be strong in Wyoming, but reducing light pollution, in Singer's mind, is a "win-win for everyone and everything — nobody loses."
Back in Kelly, Singer taught his stargazers about the evolution of a star. It began from a planetary nursery with baby stars formed from gas, matured for eons and finally became a dead star, he explained. His clients were bundled in cozy blankets and sipping hot cider. They learned how to find Polaris, the North Star, using the Big Dipper's bucket as a guide, and listened eagerly as Singer pointed out features like globular clusters, the bright star Vega and the giant interstellar cloud of the Lagoon Nebula in the constellation Sagittarius. They were all visible in Jackson Hole's night sky — still relatively intact, for now.
"Whenever I'm talking, don't look at me," Singer told the group. "Look up. It's much more interesting up there."