Dusk comes quickly in the mountains. The summer sun had just slipped behind the Tetons, the peaks painting a long, dark shadow on the valley floor below as I descended Blacktail Butte in Grand Teton National Park. I was alone as I stepped into an open meadow, and the grizzly bear less than 100 feet ahead captured my gaze. The lone bear's thick front legs and characteristic humped shoulder were working hard to dig up pocket gophers from their shallow tunnels. He was close enough that I noticed his silver-tipped fur glistening in the twilight.
Moments before I had been completing another plant survey for my job with the The Nature Conservancy and Northern Rockies Conservation Cooperative. I was building on the legacy of famed grizzly biologist Frank Craighead, who started making twice-weekly observations at Blacktail Butte and nearby in the 1970s. About a half-century later I was redoing it. Beginning in spring 2017 I'd been making routine observations of phenology, the science of the seasonal timing of ecological events. Craighead was especially interested in the first events of spring: quaking aspen's first leaves, the first flower of the arrowleaf balsamroot or the first mountain bluebird sighting
From 1973 to 1979 and again in 1988, Craighead rigorously recorded these occurrences on plants and animals in his field notebook. In 1994 he compiled them in a book, "For Everything There is a Season." As a public school student raised in Jackson Hole who attended Teton Science Schools programs, I was familiar with the book, which helped cue me in to the seasonal pulse of nature. Nearly 50 years after Craighead began his observations, I was living my dream as an ecologist in the Greater Yellowstone Ecosystem, retracing his legendary footsteps. Along with Nature Conservancy colleague Corinna Riginos, we hypothesized that wildflowers today would emerge earlier than in Craighead's day due to warming temperatures.
This fieldwork is what brought me to the bear encounter. Up on Blacktail Butte the grizzly towered above me when he rose on his hind legs to get a better view. Even in evening twilight I could see the shine in his dark wild eyes. Our gazes locked. The bear shook his massive head side to side and in one fluid motion dropped to all fours and began to charge straight towards me. I readied bear spray, releasing the safety clip. My heart was beating out of my chest. But at the last moment the bear cut towards the aspens and crashed through the timber.
Besides Frank Craighead's phenology studies he was a pioneer of grizzly bear research, alongside his twin brother John. When they began an 11-year study in the 1970s there were fewer than 150 grizzlies in the region. Now their numbers have grown beyond 700, a true conservation success. In that moment of fear and exhilaration, I wondered if Craighead was ever charged by a grizzly during his fieldwork and if he felt that same sense of wild excitement 50 years ago. In a strange way, I felt more connected to this project than ever.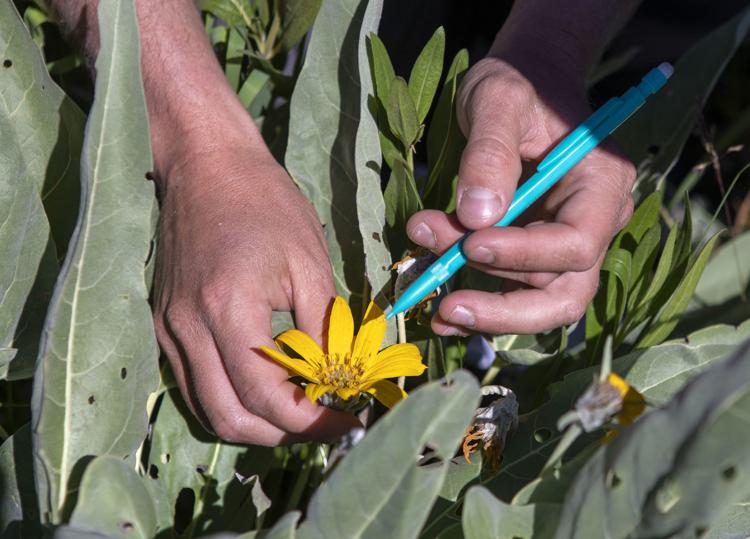 Although grizzly numbers have rebounded the Greater Yellowstone Ecosystem and landscapes beyond face new challenges. Climate change, increased wildfire frequency and habitat fragmentation are among the largest ecological threats. We are now seeing flowers emerging earlier than observed by Craighead. Early spring flowers are blooming nearly three weeks earlier now than in the 1970s. Climate change is here, and species must adapt or fall from existence. Will berry bushes produce fruit at the right time for bears to load up on vital calories before hibernation? Will there be enough nectar for hummingbirds when and where they need it? How will elk change their migrations to track spring green-up? How will humans and wildlife respond to more frequent, widespread drought and wildfire as summers stretch on longer and grow warmer?
Yet it's not too late. There are actions we can take as individuals and as a community to help ensure that the next generation can also experience the wild Wyoming landscape we know today. We can push for policies and funding that keep the habitat intact and functional for migrating wildlife. We can support the land conservation efforts of local and global organizations and vote with our wallet to curb industrial activities that contribute to climate change. It will take ingenuity, votes and lifestyle change to counter the threats posed by a warming planet.
Yet the most important step, in my opinion, is to continue to form personal connections with nature and share those experiences with others. Get outside, and get others outside, especially children. Hit the trail, taste a huckleberry, smell a wild rose, feel the tug of trout on a fly line and experience the thrill of seeing a bear or moose in the wild. If we don't know what we stand to lose, we won't stand up in the fight to protect it.