We've all done it. You're on a trail doing (insert favorite activity here) and you spook a deer. It sees you, eyes flashing momentary alarm and stress, and it bounds away into the brush.
The moment might seem insignificant, a byproduct of living in a wildlife-rich landscape, an interaction that happens to everyone from time to time. With a fast-growing population around the Greater Yellowstone Ecosystem, however, forest managers and scientists are beginning to investigate a crucial question: How do these cumulative disturbances impact wildlife?
As it turns out, there are no easy answers.
"I wish there were clearer guidelines about, 'OK, this activity affects animals in this way and here is the limit on the number of people,' but those kinds of hard-and-fast guidelines just don't really exist," said Courtney Larson, a Lander-based staff scientist with The Nature Conservancy.
To quantify the impacts of population and recreation growth on wildlife, land managers and conservationists started the Jackson Hole Recreation-Wildlife Coexistence Project. The aim is to understand recreation's impacts and map wildlife and human movement patterns to discover where they overlap.
"We're trying to get a baseline to understand what we have to lose, because this is, of course, a world-class wildlife resource," said Jason Wilmot, a biologist with the Bridger-Teton National Forest.
Beyond gathering hard data on wildlife and recreation patterns, the project is gauging people's values around wildlife conservation as they relate to their outdoor activities. Partners in the work also enlisted Larson, whose doctoral and postgraduate studies have looked into such interactions in other parts of the country, to delve into scientific literature on the topic. She's got the credentials: As a doctoral candidate, Larson was the lead author on an extensive literature review of well over 200 recreation-wildlife studies.
Prior studies have run the gamut in that space, investigating a number of species and a variety of activities. Still, much more work remains to be done. Though the conclusions don't provide an exceptionally clear roadmap, one overarching finding stands out.
"Our big main result was that 93% of those articles found at least one significant effect of recreation on wildlife," Larson said. "And further, we found that most of those effects of recreation were negative."
Not every slice of life is equal
Forest managers and scientists emphasize the importance of nuance when talking about wildlife-recreation interaction. It would be easier, in many ways, if they could say mountain biking pushes a certain number of ungulates out of an area or hiking disturbs birds in a particular type of way. And yes, some generalizations can be made, but the reality is unfortunately more complicated and conclusions aren't as specific as desired for management purposes, Larson said.
One truism is that the timing of a disturbance is important.
"If you stress them out for 1% of their life, not all 1% of their lives are equal," Teton Conservation District wildlife specialist Morgan Graham said. "There are certain times that are more important to the survival of that individual and to that population than others."
Seasonal changes in behavior and resources already add stress to animals' lives. During summers, when food is abundant and the weather milder, they are more likely to recover from a disturbance. That's not so true in winter and spring, when food is scarce and movement restricted by snow.
When animals are pushed out of safe, rich habitat by people recreating in the winter, they waste valuable energy and fat reserves. If an animal can't move because of snow or topography, stressors can compound when disturbance is repeated. By that same token, when animals are rearing young, recreation can force them to make choices between avoiding humans and staying to protect offspring poorly equipped to survive alone. Then there are even rare, infamous cases where people even pick up separated young animals, such as the Yellowstone National Park tourists putting a baby bison in their minivan in 2016, or when a short-term Jackson resident took home a bighorn sheep lamb this year.
Another broad finding is that off-trail travels, even non-motorized, are more impactful than movements along trails. So winter recreation, like backcountry skiing and snowmobiling, can be especially deleterious to wildlife, which don't expect people to be crawling over every slope or hiking up every drainage.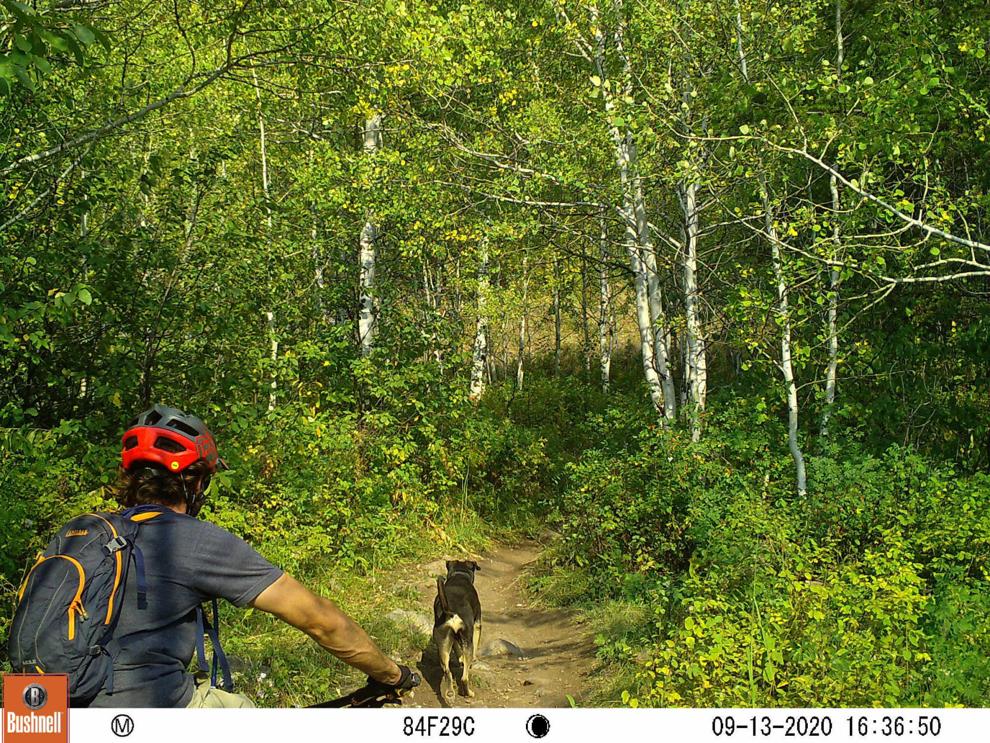 "Animals can kind of habituate [when] they know the trail is over there and that's where people are if they want to avoid that area," Larson said. "When people are doing off-trail, off-road sports and popping up in areas where animals don't expect, that can be more stressful."
That finding in particular goes against one prevailing public perception about people's impact on wildlife. The project found most forest users are unaware of impacts on wildlife or believe the effects come from other types of recreation, not theirs.
"A lot of people say, 'Well, you know, it's just those mountain bikers or it's just the motorized folks,' " said Linda Merigliano, recreation program manager for the Bridger-Teton's Jackson and Blackrock districts. "A trail runner is probably just as likely to have a surprise encounter."
No matter their sport, recreationists say they value wildlife and spend time outdoors to connect with nature. Forest managers believe that means they can be convinced of their impact and adapt to limit harmful wildlife interactions.
Closures also have their place in recreation and wildlife management. Totally off-limits winter range protects many south-facing slopes in the Jackson Hole area that ungulates frequent. Several Teton Range mountains, like Static Peak, are closed in winter to give bighorn sheep space, and rich riparian zones along the Snake River are also seasonally set aside for wildlife.
"People generally respect those, especially if it's a very localized spot and people know exactly the reason why," said Abby Sisneros-Kidd, a University of Wyoming recreation ecology professor involved with the project.
However, closures are not at the top on the list of potential management strategies. Instead, forest managers often seek regulations that can minimize disturbances without eliminating human activities.
Making that work requires a culture, Merigliano said, of responsibility and education, because some of the local findings go against some people's intuition. What may come as a shock is that the heavily used, ecologically varied Cache Creek area showed continued high wildlife use even though, Merigliano said, many people may view it as a "sacrifice zone."
Those are realities land managers like Merigliano hope will inform people's behavior. It'll take more than signage, though. Research shows people want to know why they are changing their recreation patterns, so volunteers armed with knowledge at busy trailheads, like the Teton Pass ambassador program, are more likely to be effective.
"Volunteers are a super great way to communicate with recreators," Sisneros-Kidd said. "You can have ambassadors at trails or at campgrounds to help direct people to where they can find information to establish that norm of when you go to a place you look at the signage."
While Bridger-Teton land managers can start to develop new wildlife-friendly plans, information from the coexistence project shows only a snapshot in time. Research in Jackson Hole and around the world has not been widespread or long-running enough to make specific conclusions nor to create ironclad data-driven management strategies.
And so, forest employees plan to continue long-term monitoring, though what that looks like is still being sorted. Other partners in the project, like the Jackson Hole Wildlife Foundation, are gathering data on recreation and wildlife to further our understanding.
The foundation's Neighbors to Nature program has 27 trail cameras in the greater Snow King area, program coordinator Hilary Turner said. The volunteer-based program captures data on wildlife movements throughout the near-town national forest, which dovetails with Nature Mapping Jackson Hole, another initiative in which citizen scientists log wildlife sightings.
Used in conjunction with trail counters maintained by Friends of Pathways, Turner said, all this wildlife information could start to form a clearer long-term picture of how wildlife move around us while we recreate — and help us discern areas of high conflict potential.
Our understanding of how recreation impacts wildlife, and what we do about it, will inevitably continue to evolve now that a baseline has been established. As it does, Turner is hopeful people will change their habits for the sake of the animals around them.
"I always like to think of recreationists and conservationists as kind of one of the same," Turner said. "We have very similar values, and often we are simultaneously conservationists and recreationists."