To the casual observer the National Elk Refuge's setting looks idyllic.
Verdant grasslands bisected by a gliding stream sprawl beneath the Sleeping Indian. As autumn's snows dust the meadows, throngs of tawny, 500-pound beasts — many sporting regal headgear — gather for the next six months. With Jackson Hole's ski season in full swing, diesel-powered yellow behemoths deliver daily rations of alfalfa to the elk. This kindness — the National Elk Refuge's most visible program — began a century ago as excessive killing snuffed out western Wyoming's elk migrations to distant winter ranges in the Little Colorado and Red Desert ranges and nearly exterminated the country's large mammals from coast to coast.
The refuge was thus established in 1912 to help rescue a natural treasure. Mission accomplished. Now it's one of 560 National Wildlife Refuge System sanctuaries dedicated to maintaining the "biological integrity, diversity and environmental health … for the benefit of present and future generations of Americans." That's its federal mandate. Although elk is the featured species, 175 bird and 47 mammal species plus other wildlife benefit from the refuge.
The practice of feeding elk in winter became tradition and part of Jackson's culture. Rather than the elk ranging across prairies and foothills, a century of habituation to meals on wheels produced a sedentary herd, a veritable outdoor zoo at Jackson's doorstep. Idyllic, right?
But this human intervention has stuffed too many hungry mouths on too little habitat, compromising the refuge's conservation mandate. Habitats have suffered. Just 5% of tall willow that once grew along Flat Creek's banks remain. This does no favor for moose and beaver, songbirds, spotted frogs and cutthroat trout. The cost of cultivating overabundant elk numbers is diminished biodiversity. But who speaks for the absent MacGillivray's warbler?
Some consider this a small price to pay for Jackson's elk abundance. But those who've followed years of controversy and legal challenges recognize the refuge's veiled liabilities. Jackson Hole's elk are likely the most diseased wild herd on the continent, chronically afflicted by scabies, foot rot, hemorrhagic septicemia and brucellosis. On the horizon looms an illness far worse: chronic wasting disease, and last fall a mule deer found dead a stone's throw from the refuge turned up positive. It was the first known case in Teton County. An infectious neurodegenerative disease shared by North America's deer, elk and moose, it's caused by aberrant proteins called prions. Infection is always fatal.
This is a disease to be taken seriously. It's relentless. CWD persists, fueled by nearly indestructible prions. Shed in the saliva, urine, feces and carcasses of infected animals, they accumulate and contaminate the environment. Infected animals survive for months, even years, while shedding the pathogen like Typhoid Mary. There's no way to "treat" and no vaccine to prevent CWD.
Almost everywhere that CWD exists in cervid populations (25 states and three Canadian provinces), it is spreading and its prevalence is climbing. Witness Wyoming. Every county except Uinta now has infected herds of wild deer. CWD infection rates of mule deer in some areas have reached 25% to 50%, with consequent population declines of some herds.
It's the same as with other diseases: Crowding of animals speeds transmission and amplifies infection rates. More animals die.
A recently published analysis forecasts declining Jackson elk numbers when CWD infection rates reach 7% to 23%. That's without any hunting. A plan promised a decade ago detailing how the refuge will confront CWD is still not done. In 2011 a federal appellate court ruled on a complaint that challenged the refuge feeding program. The three-judge panel noted the refuge cannot provide sanctuary for healthy elk "if, every winter, elk and bison are drawn by the siren song of human-provided food to what becomes, through the act of gathering, a miasmic zone of life-threatening diseases."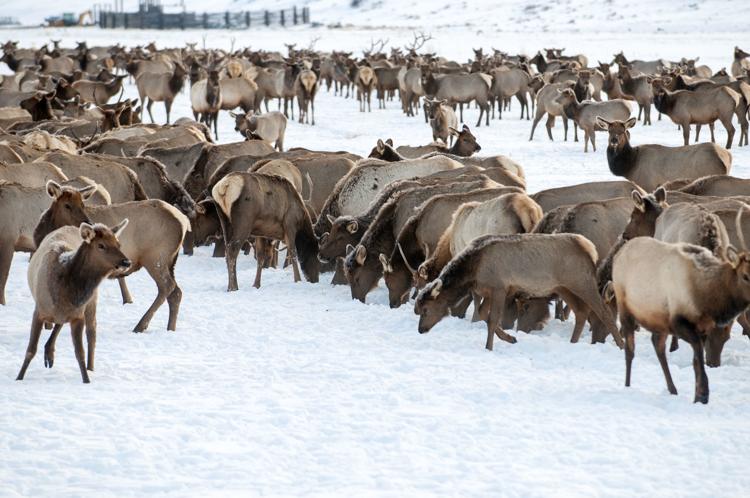 Where national forests, parks and refuges are clustered and linked, as in the Greater Yellowstone Ecosystem, each unit plays an essential role in the function of the whole. The pieces serve the year-round needs of resident and local migratory species that spread across the landscape.
Under the National Wildlife Refuge System Improvement Act of 1997, sustaining higher than natural densities of any wildlife population on a refuge is acceptable only if it doesn't degrade habitats or compromise biodiversity and wildlife health. The refuge can best contribute to the Greater Yellowstone Ecosystem and fulfill its purpose as a sustainable, healthy haven for wildlife by adhering to those conservation precepts set forth in this federal law.
Why should you care? Because CWD has the potential to significantly damage not just cervid populations but the food chains they support, and therefore the region's ecology and economy.
During my 22 years as a National Elk Refuge staff biologist, I often heard, "You're exaggerating the threat," and usually in more colorful language. Maybe CWD prevalence in western Wyoming won't reach the destructive levels experienced on elk game farms, the closest analogy to elk feedgrounds. Perhaps CWD will never become a risk to humans, as some other prion diseases are. But CWD is just one among a number of newly emerging diseases. The next disease to exploit overcrowded hosts may prove more pathogenic. We just can't know.
You should care because wildlife are a public resource. State and federal agencies are merely entrusted with conserving them for all of us. Feeding elk at the refuge and state elk feedgrounds is a discretionary practice, not required by law. In fact, University of Wyoming law professor Debra Donahue has written that the practice undermines the agencies' conservation missions. Instead, this taxpayer- and sportsmen-funded practice is designed to protect private property and to maintain larger numbers of animals for hunting than available winter range can support. Neither objective is specifically authorized, much less required, by state or federal law.
You should care because time is of the essence. When the first sick and dying animals are seen on the refuge, many more will already be infected. To avert the disease's worst effects requires managing elk numbers in concert with carrying capacities of natural habitats while phasing out winter feeding.
Can this be done? If we can restore bald eagles and peregrine falcons nationwide and recover wolves and grizzly bears to the Greater Yellowstone Ecosystem, then we certainly can wean Jackson Hole's elk off handouts. Jackson could have all its elk (and eat them too) by restoring ancient migrations to southwestern Wyoming winter ranges. A more pragmatic alternative prescribes reducing numbers to winter range capacity within the herd's current distribution. (See a discussion of both alternatives in my 2011 book, "Where Elk Roam." )
Will this ensure that CWD will not infect the herd? No. But a smaller, free-ranging herd will prove more resilient than the status quo. In the long-term interest of the elk, other wildlife, and the ecosystem, it's an easy choice.