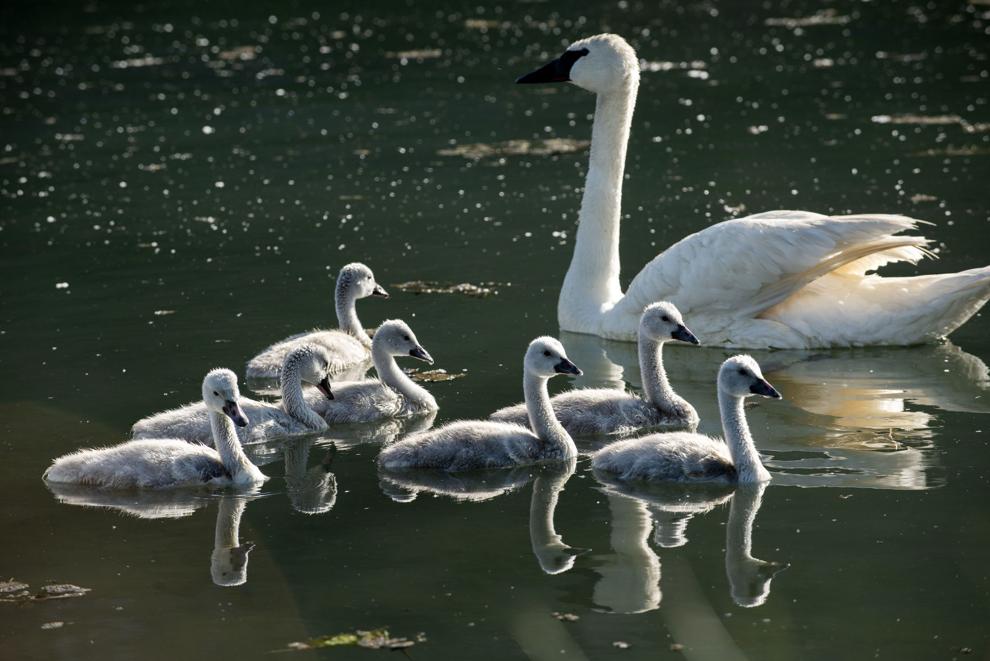 It's early November and I'm perched high on East Gros Ventre Butte, overlooking Jackson Hole, hunched over my spotting scope, eyes watering in the bright afternoon sun and gusting wind. Far below, the braided channels of Flat Creek cut intricate patterns through the National Elk Refuge's golden dry grasses. The water gleams with white dots. Magnified through the scope, the dots transform into white trumpeter swans — one of Jackson's iconic wildlife species — and there are hundreds feeding, resting and calling.
Viewing trumpeter swans creates for me a strange ache within, a reaction to both their beauty and history. In a sense they are living ghosts, a remnant of a huge population that once nested across central Canada and south into northern areas of the United States. Most migrated south in winter seeking unfrozen habitat as far south as Texas and Louisiana. By the 1920s ornithologists believed that this once abundant species was near extinction.
Commercial fur traders in the 18th and 19th centuries not only wiped out beavers in North America but proved equally efficient at removing swans. This created a double whammy for the trumpeters. Not only were their numbers decimated, mainly for skins and feathers, but much of their prime shallow-water nesting habitat disappeared — along with the industrious, wetland-building beavers. Try to imagine Jackson Hole before the early massive removal of beavers and construction of human-engineered dams and dikes. The valley's flood plains must have been extensive, a soggy, dynamic complex of marshes and ponds teeming with wildlife.
Fortunately, a small number of trumpeters persisted in Yellowstone National Park and adjacent areas. By the 1930s approximately 70 resident swans remained, the only survivors in the Lower 48. They were joined each fall by a similar number of swans migrating from interior Canada to winter in the geothermally heated, open waters of Montana's Centennial Valley. A few determined federal biologists saved this isolated population in the Yellowstone area, but after peaking to about 600 swans in the mid-1950s, numbers have since fluctuated widely and failed to increase. However, the species is now considered secure in northern America with restored but disconnected nesting populations in the Midwest, Montana, Alaska and Canada. The successes deserve celebrating, yet here in Jackson the future of our nesting trumpeters remains somewhat tenuous.
I had the great privilege of managing Wyoming's trumpeter swan program as part of my job as the state nongame biologist in Jackson, which I held from 1999 until retirement in 2018. When I first moved to Jackson 33 years ago, I quickly connected with Bert Raynes and the Jackson Hole Bird Club and became familiar with the research of Dave Lockman, a state waterfowl biologist. Lockman marked local trumpeter swans in the 1980s to map their seasonal movements and discovered that Jackson Hole's 50 to 60 resident nesting birds would stage on the refuge in early November for a few weeks, mingling with migrants from the Canadian interior. This swan gathering continues to the present day and is likely an important congregation event for mate finding, refueling and swan gossip before most birds move on to other Jackson-area wintering sites and points south.
While Jackson's breeding population has remained stable since Lockman's first surveys in the 1980s, ranging between 40 to 64 mature birds, the influx of migrants from the north has soared. Interior Canada's population has grown steadily since the 1970s, and these swans continue to migrate to different sites in the Greater Yellowstone area. There are now approximately 10 times more swans wintering in Jackson Hole than dwelling here year-round, creating the impression of abundance.
All the swans that previously migrated to other regions were long ago wiped out by humans, a tragic demonstration of how migration memory loss can occur in a species. To expand the range of swans now requires the use of translocations, a technique of relocating either wild-born or captive-raised swans and eggs to restore birds to new summer and winter ranges. Lockman used translocation techniques to entice swans to winter in the Star Valley, where none had previously ventured. The Wyoming Wetlands Society's captive flock that Bill Long established in Jackson 34 years ago has supplied swans for restoration projects from Wyoming's Green River Basin to Oregon. Currently, they're being tapped to supplement swan numbers in Yellowstone National Park, where the historic nesting population has declined dramatically.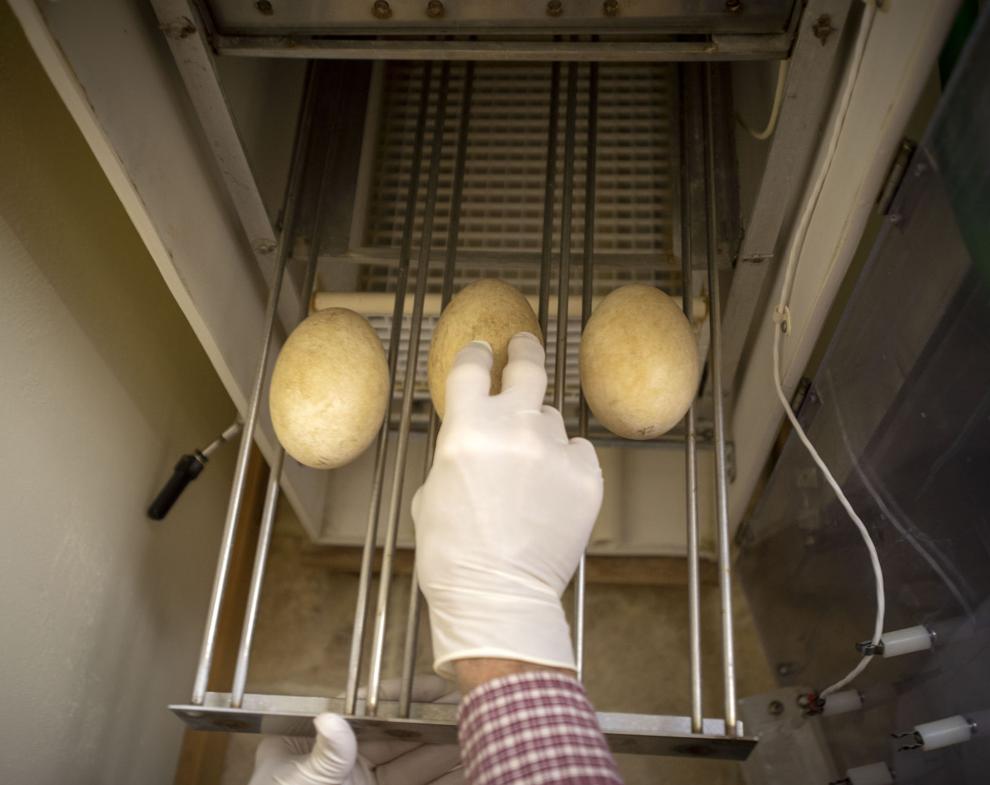 Interestingly, the first successful translocation occurred at the National Elk Refuge, which received four swans from Red Rock Lakes National Wildlife Refuge in 1938. The Elk Refuge provides by far the most extensive year-round swan habitat in Jackson Hole. Pairs nesting on the refuge account for nearly a third of nest attempts in Teton County. But only a few nest sites produce young consistently, on or off the refuge. If wintry conditions linger into May and early June, nests fail. Often, female swans won't even attempt to nest if they are in poor body condition. Young, inexperienced pairs can take two to four years before they successfully raise a brood. Some years can be tough, and I documented this firsthand as I surveyed swans seasonally using airplane and ground surveys over my career. On average, just seven out of 16 nests were successful in Teton County, with 23 young hatched yearly. A third of these cygnets died by mid-September.
Every local swan nesting area is a precious commodity that should continue to be monitored and enhanced, whether on public or private lands. Managing water levels, maintaining secure nest sites and preventing disturbances are critical. A great example is a floating nest platform added to the Flat Creek marsh this year. A pair used the platform and hatched five cygnets, the only successful nest on the refuge in two years.
In the long run, higher temperatures, earlier spring runoff and more erratic weather will likely degrade our local wetlands. To restore existing wetland habitat or construct additional shallow-water wetland ponds to support nesting swans is complicated and often costly, but no opportunity should be lost. Allowing beavers to flourish wherever possible will also be valuable.
I have no doubt that Jackson Hole will continue to support migratory trumpeter swans in the winter. The breathtaking sight of white swans circling against a backdrop of snow-covered buttes will not disappear. But maintaining our resident nesting pairs will be more of a challenge. It is critical that Jackson Hole residents and our agencies, land trusts and environmental groups keep swan conservation a priority. Let's not allow nesting trumpeters to silently disappear from this landscape.