At 3:45 a.m. I climb on my bike at the Elkhart Park trailhead, one of the many gateways into Wyoming's mighty Wind River Range, and ride away from the mountains. I'm not entering the Winds here. Instead, I'll pedal 65 miles to the Green River Lakes trailhead, then walk, climb and swim through the Winds until I'm back at Elkhart Park.
Yes, swim. This is my third attempt at the Winds Picnic, a ludicrous adventure I've created that entails swimming five lakes on the way to the top of Gannett Peak, Wyoming's highest point, then swimming five lakes on the way down, and linking both ends of this watery alpine traverse with a bike ride. Besides pedaling 65 miles, I'll walk 40 miles, swim 10 miles, climb 8,000 vertical feet, and try to do it all in four days. This will be the adventure of my life, so far.
But why? For the experience, the challenge, and to assuage the demons remaining from my brief time leading a small nonprofit advocacy group that championed a species of high-elevation pine tree.
I founded TreeFight in 2009 to bring awareness to the devastation pine beetles caused whitebark pine due to the effects of climate change. After years of not noticing these distinctive, candelabra-shaped pines while skiing and climbing, I learned of this cataclysm to their numbers (50% of mature whitebark would eventually die in a five-year period) and was floored by what we were losing.
It was the generosity of whitebark that struck me. These are the high-altitude inhabitants of the Tetons, the Winds, the Beartooths and all 22 mountain ranges in the Greater Yellowstone Ecosystem, plus many other ranges in the West. In this region, they live between 8,500 and 10,000 feet, in the coldest temperatures, harshest winds and thinnest soils, their roots often dug into bare granite seams. Yet they also produce the best durable fat and protein in the ecosystem. Their nuts — identical to pine nuts we eat — feed birds, deer and grizzly bears roaming forests sniffing for cones cached by squirrels. Ancient (living up to 2,000 years old), twisted and beautiful, whitebark pine are living wizards, turning granite into grizzlies on wind-blasted mountaintops.
Such real-life magic was a revelation. For the journalist in me it felt like the story of a lifetime. For the lifelong treehugger in me it felt like I'd found a soulmate who was dying in front of me. I had to do something.
So I recruited volunteers from Jackson to staple verbenone pouches to whitebark, in a half-dozen whitebark stands that the U.S. Forest Service picked for us. Verbenone is a pheromone that mimics the mountain pine beetles' own pheromones, warning other beetles away from trees already infested. It's a crude forestry tool with mixed results, but it might protect some pines while also coaxing the public into these forests to learn about the magic of whitebark and the tragedy of their annihilation.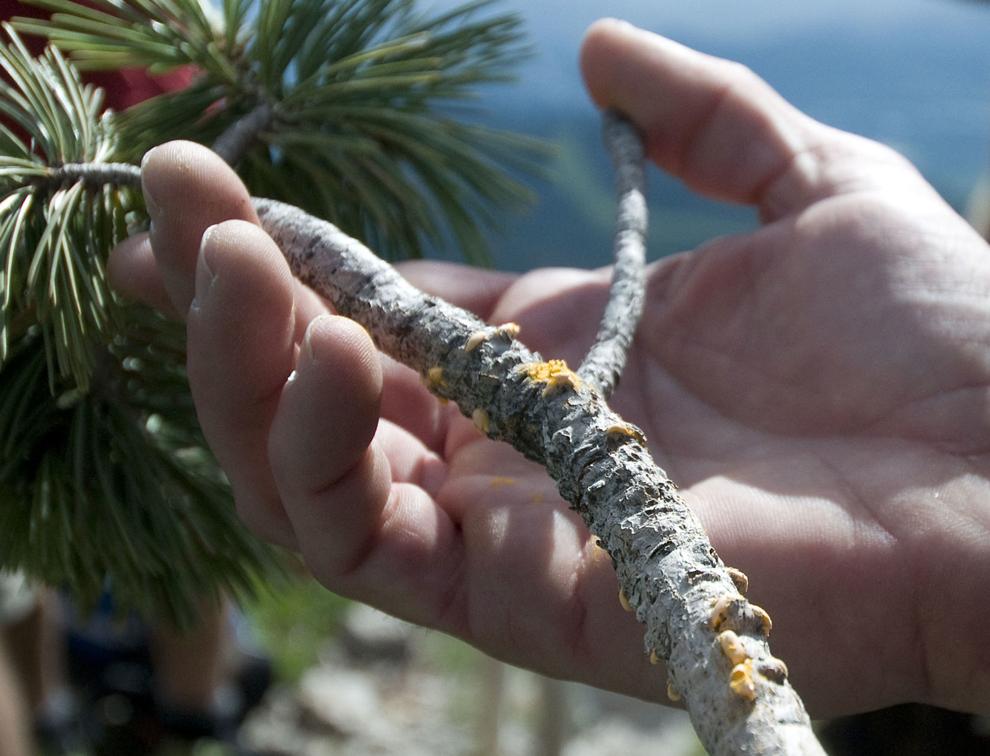 In 2010 and 2011 we did get a few hundred people into whitebark forests where we'd pin these little white pouches of hope on these big, beautiful trees. The verbernone seemed to help the few stands we protected, but tens of millions of surrounding pines were aflame in a terrifying, heartbreaking, silent conflagration, as beetles consumed their inner bark, turning their nutrient-starved needles scarlet red. Entire forests perished in a single summer.
Moreover, it became apparent that volunteers considered their treefighting less a contribution than an experience to add to their collections. Once they'd done it, they were over it, since summer is short and it's a pain to get to these high, remote forests. Recruiting enough treefighters to return to all our trees became impossible, and I soon tired of dealing with the strong-smelling chemicals.
With the continued support of the U.S. Forest Service and Grand Teton National Park, we switched to tree-planting, which made a lot of philosophical sense, but planting attracted even fewer people than the verbenone-stapling because it didn't feel as virtuous or as exciting to plant seedlings as "save" a towering, ancient being. Also frustrating were friends who'd go straight from a morning of treefighting to an afternoon of waterskiing on Jackson Lake, despite all the conversation about the overuse of fossil fuels lying at the heart of the whitebark devastation. But was it even fair to feel annoyed? Did I just want to go waterskiing too?
I'd hoped that if the people of Jackson and beyond understood what we were losing, we might take real steps to mitigate our emissions and overuse of fossil fuels. But this is the classic foible of any awareness campaign, where you're hoping to induce others to confront a problem; it's called passing the buck. And few among us takes on any problem until it becomes a personal threat, or until inaction means losing a step to the Joneses.
The only thing you can change in this world is yourself. That's my most enduring lesson from TreeFight, and the partial impetus for the creation of these contrived adventures called picnics. As TreeFight struggled through 2012 and 2013, I distracted myself with a new goal: to ride my bike from Jackson to Jenny Lake in Grand Teton National Park, swim the lake, climb the Grand Teton, swim back across Jenny, and ride back to town, a new sequence of human-powered adventure in the Tetons.
It took a few tries, but I pulled off the first picnic in 2012 and repeated it with friends in 2013, while KGB Productions filmed us. Their short documentary, "The Picnic," was a hit, and prompted other Jackson folks and visitors to take on the challenge. Now Jenny Lake is crossed daily during July and August by swimmers on their way to and from the Grand Teton.
Delighted by this turn of events, I've created even more picnics, in the Tetons and in other states, that others have repeated, and that have grown in scale and complexity until now, when I find myself pulling on a wetsuit on the shore of the 2-mile-long Lower Green River Lake, psyching myself up to swim over the Continental Divide in icy waters surrounded by some of the most beautiful remaining stands of surviving whitebark pine.
By embracing my own human power through these epically strenuous picnics, I've inspired others to embrace their abilities, too. The savings in fossil fuels, thanks to picnickers cycling instead of driving, is infinitesimally small, but in my own mind I've allowed myself a tiny thrill of redemption: The only thing you can change in this world is yourself, but in the process you may inspire others to change, too.