On the tail end of an intensive effort to research how recreating people affect wildlife, Bruce Thompson threw himself into a funk.
"I was blown away," Thompson said, "and I had to do some soul searching."
A former Jackson Hole resident who now lives along the Wind River, he was examining what the scientific literature said about recreation and wildlife because the wheels were in motion to convert a landscape he cherished, the Dubois Badlands Wilderness Study Area, into a national conservation area. That's still a relatively protected class of Bureau of Land Management property, but it's a designation that would likely draw a lot more people on bikes, buggies and foot to what's currently a relatively desolate area. As an ecologist and a lover of wild spaces and the animals that live there, the findings depressed him.
"I came a way from it thinking, 'None of this is good,'" Thompson said. "And I had a distrust that any of it was going to change. It was just all negative." Thompson was in a bad headspace, dejected about his and others' roles in an intractable problem. Amid the emotional turmoil, he was asked to start giving public presentations about his findings before groups like Backcountry Hunters and Anglers, the Northern Rockies Conservation Cooperative and the Jackson Hole Bird and Nature Club.
Digging into around 25 peer-reviewed studies, one conclusion that Thompson found is that no one type of recreation is blameless. "All human activity, no matter what it is, impacts wildlife," he said. "That's the nature of the beast." Trying to create a hierarchy of the worst recreation types is a fool's errand, he said, but there were some common findings. Traveling off trail, for one, expands a person's "area of influence" that causes wildlife to flee by two to three times compared to moving along a trail that animals are used to seeing people on. And when those animals are influenced, they get more freaked out. "It's partly because they're more surprised," Thompson said. "The degree of fear that they experience compels them to move at a faster pace, burn more energy and not stop for a longer period of time. It's terror, rather than modest fright."
Traveling with a dog was another factor that moves the needle toward increased impact on wild environments, Thompson said. On-trail hiking without a canine companion causes responses from wildlife within around 150 feet, but the reach of disturbance about doubles when there's a dog accompanying on a leash. Free roaming dogs increase the influence more yet.
Relative to other Rocky Mountain resort communities and more peopled parts of the American West, Jackson Hole's land and wildlife decision-makers and planners have done a commendable job managing recreation in a way that prioritizes wildlife. Vast swaths of Jackson Hole's critical wildlife habitat close to humans entirely during the toughest five months a year. Trails have seasonal closures to protect calving cow elk. Some 97% percent of the county is public land, much of which is highly protected, and this lack of fragmentation has enabled the retention of an ecologically intact and connected landscape where close to the full suite of natives species still exists and, mostly, thrives.
But picturing a less-rosy future is easy. There are more people destined to carve out a life in the valley, and inevitably they will demand more trails and access in more places. There are templates out there of rampant recreation crashing populations of wildlife that have lost their places of refuge. Writing for High Country News, journalist Christine Peterson recently documented the sorry state of the resident elk herd nearest Vail, Colorado, where numbers have plummeted from over 1,000 to a low this past winter of 53 animals. She interviewed a retired Colorado State University wildlife professor whose research on the herd suggests recreation's impacts on calving success was a driving factor in the decline. "About 30% of the elk calves died when their mothers were disturbed an average of seven times during calving," Peterson wrote for High Country News. "Models showed that if each cow elk was bothered 10 times during calving, all their calves would die."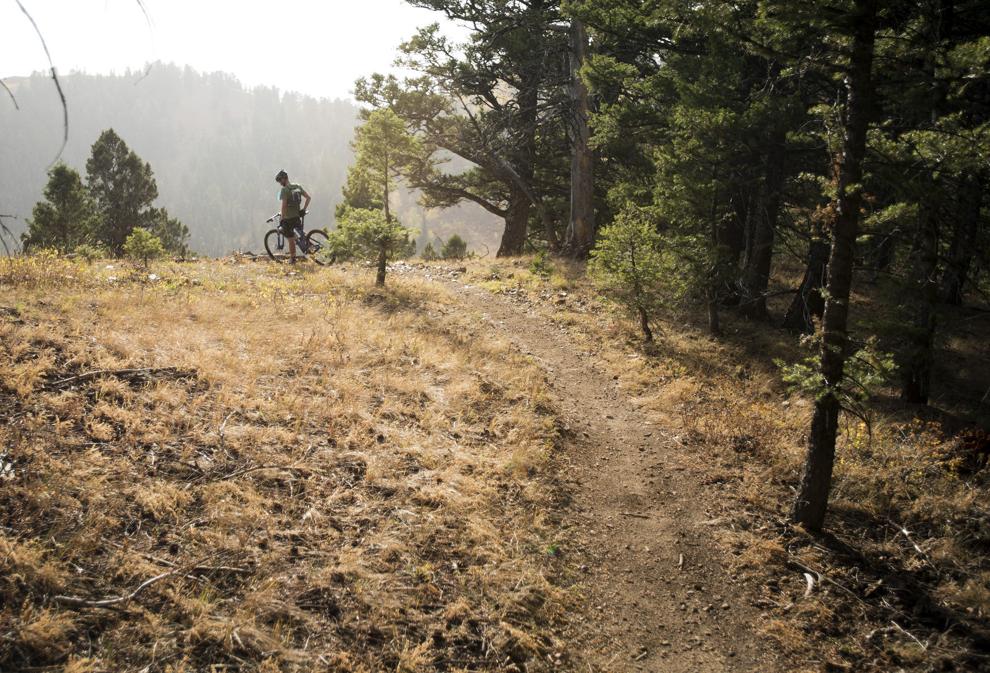 Jackson Hole is not there yet. "There are signs of problems, I think," Bridger-Teton National Forest wilderness and recreation manager Linda Merigliano said. "The Teton Range bighorn sheep issue is one of the most obvious signs." Before taking a job as a Wyoming Game and Fish Department wildlife biologist, Aly Courtemanch studied effects of backcountry skiing on the Teton's native sheep for her University of Wyoming graduate research. The herd, whose historic migrations were severed by development and highways, now lives out winters on windswept Tetons ridgelines. And when those ridgelines double as popular backcountry skiing lines, the sheep abandon them completely. "In a nutshell, what we found is that the Teton bighorn sheep are extremely sensitive to human activity during the wintertime," Courtemanch told a working group panel of bighorn experts last winter. "Due to this backountry skiing activity, the habitat is still there — but it's in effect unusable for the bighorn sheep because they don't want to go there because there's so many people."
Some Jackson Hole residents argue that these types of impacts are the exception. Jesse Combs, who co-founded the pro-recreation group Advocates for Multi Use of Public Lands, says that Jackson Hole and its land and wildlife managers have done a "really good job" at combatting and responding to overuse and preventing impacts by smart planning. One example, he said, was the Bridger-Teton National Forest's recent decision to move a mountain biking trail that was proposed within a bottleneck portion of the Red Desert-to-Hoback mule deer migration corridor. Instead, the trail proposal was moved a few miles away toward the White Pine Ski Area. "They didn't say no to recreation, but they said this is going to work better," Combs said. "To me, that's a win-win. Recreation isn't going away. It's an important part of human wellbeing, and mental health and fitness. Plus, it gives us that connection to the land — which turns us all into advocates for the environment and conservation."
At the Bridger-Teton, Merigliano is gearing up for a big planning effort to help forest managers take steps to diminish the effects of recreation. "If we are really serious about addressing this, we've got to be willing to sit down and take a deeper dive into the problem," Merigliano said. It's human recreation's impacts during the winter that the community really needs to get a grip on. If the National Elk Refuge lives up to its guiding management plan and weans its resident elk off feed, causing more animals to spend the season out on the broader landscape, it's going to increase the need to give wintering wildlife space, she said. Solutions could possibly include setting more lands aside as off-limits winter range. Expanded leash laws for dogs could also be coming. The community will need to be understanding, and avoid finger pointing and fracturing along lines of different types of recreation, Merigliano said. "We need to get away from that," she said.
For Thompson, who's retired from his ecological consulting business, there's been an internal struggle to grapple with the impacts of his use of the Greater Yellowstone Ecosystem's wild landscapes. As an avid solo off-trail wilderness traveler, he knows that his brand of recreation is prone to surprising and temporarily displacing wildlife.
"You want to find sanctuary," Thompson said. "I don't want to see a lot of people. So we're always trying to find the road less traveled … but the best solution would be to go on the trails that everybody goes to, like String Lake."
Thompson doesn't preach that people should cut out their favorite outdoor activities and places for recreation, but he is an advocate of people learning and being real with themselves. "Unawareness, ignorance, indifference, carelessness and just obstinacy — the don't-tell-me-what-to-do attitude — are root causes of our impacts to wildlife," he said. "I think that soul searching needs to start with what each of us does, learning about that impact, and acting accordingly."