The beautiful rainbows of color found in Yellowstone National Park's boiling springs don't just punctuate the landscape. In simply existing where they do, the organisms responsible for those vibrant hues defy human expectations of where life can and cannot live. Yellowstone's environment as a whole is one of extremes: frozen in the winter, while also boasting hundreds of hydrothermal features that can exceed 235 degrees Fahrenheit. "We're working at the boundaries of life," Yellowstone hydrologist Erin White said.
The microorganisms that dwell in these places are known as thermophiles, which means heat loving. Their optimal environments range from between 104 and 113 degrees up to about 158 degrees, so somewhere between the temperatures of a typical hot tub up to deadly hot water. The number of thermophiles present taper off above 161.6 degrees, but Montana State University biological engineering professor Brent Peyton has seen "hyperthermophiles" exist up to 251.6 degrees, well past the boiling point. "They've adapted to a large diversity of conditions," Peyton said. "Hot boiling acidic springs have organisms in them, and the hot alkaline springs also do."
How do they survive? The enzymes in thermophile proteins have extra structure and stability compared with human proteins, and they adapted to higher temperatures. Water temperature, chemistry and pH, or acidity, determines what grows where and what color it presents in. Invisible to the naked eye, microscopic thermophiles are sometimes tricky to detect. They're so small, Peyton said, there can sometimes be a million cells in every teaspoon of water.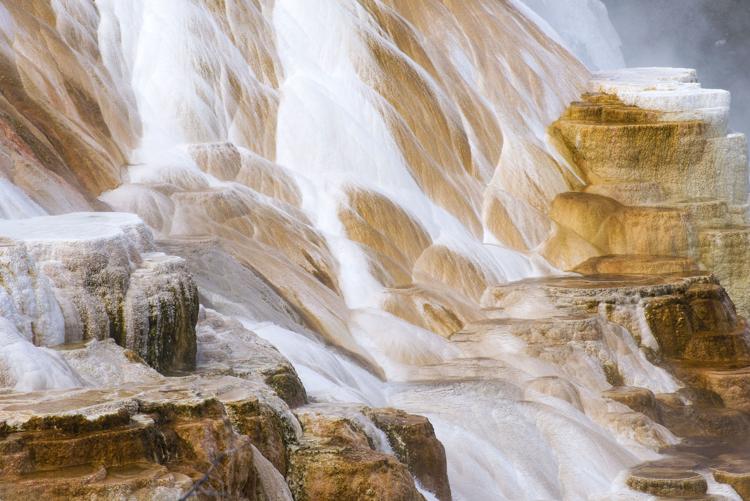 But when clumped together in mats they can morph into brushstrokes of vivid colors. And visitors have been wowed by this display since day one. Explorer and geologist Ferdinand Hayden named Grand Prismatic Spring on his 1871 federal expedition of what would become Yellowstone National Park. "Nothing ever conceived by human art could equal the peculiar vividness and delicacy of colour of these remarkable prismatic springs," he wrote at the time. "Life becomes a privilege and a blessing after one has seen and thoroughly felt these incomparable types of nature's cunning skill."
Yellowstone's unique thermophilic organisms — bacteria, archae and viruses — are now the subject of intense scrutiny. On average, between 20% and 25% of the park's research permits are related to microbial ecology and thermophiles, more than any other subdiscipline, according to White. And that research has paid dividends. As the COVID-19 pandemic ripples around the world, we can thank a specific Yellowstone organism called Thermus aquaticus for helping with the testing process. "Right now we are all being profoundly impacted by something very small," White said. "COVID is dominating the headlines, and we're all adjusting our activities and behaviors to accommodate a very small organism. So why should we care about the small things? Well, sometimes they can really have a profound impact on our life."
Microbiologist Thomas Brock didn't want to come to Yellowstone in the early 1960s because of its reputation as a heavily visited "amusement" park, he wrote in his memoir. But following a 1964 Grand Teton National Park backpacking trip he went anyway, and the trip was a "revelation." Brock returned the next year, curious about thermal algae and cyanobacteria, and began serious research in the park in 1966. He became convinced that bacteria were living at higher temperatures than previously suspected. That year, undergrad student Hudson Freeze collected pink and yellow bacterial mat samples from sources like Mushroom Spring in the Lower Geyser Basin. Back in a lab, Freeze and Brock worked in tandem to isolate strains from the samples. Voila, Thermus aquaticus was found.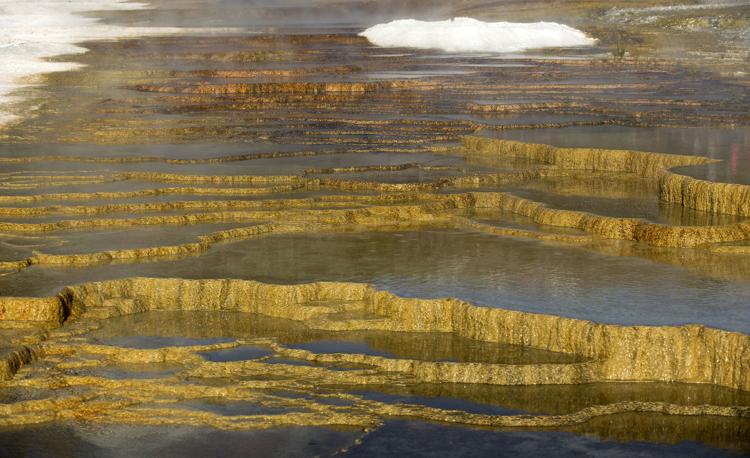 Fifty-four years later it's playing a role in detecting a novel coronavirus that's claimed hundreds of thousands of lives. "Without Thermus aquaticus," White said, "we might have a very different methodology and it may not be as rapid as our current method." Biomedical researchers have capitalized on Thermus aquaticus because the organism contains a microbe that produces heat-resistance enzymes. Those enzymes are now used in the polymerase chain reaction technique that amplifies small sections of DNA for closer inspections. It's used to screen patients for COVID-19.
Scholars in the field say one reason thermophilic organismal research is still in its infancy is that people thought they knew the boundaries of life and turned out to be wrong. "If you don't believe life can exist," Peyton said, "you're not going to look as carefully." Brock's discovery changed that, but contemporary researchers like Peyton say that by scientific standards thermo- and hyperthermophiles are a relatively new discovery and not much is known.
It was once thought that boiling thermal features couldn't harbor life. Water in Yellowstone boils between 197.6 and 199.4 degrees, depending on elevation. But thermophiles redefined what "inhospitable" really means. Brock publicized breaking this barrier in a famous 1967 journal of Science article, writing, "It is thus impossible to conclude that there is any 'upper temperature of life.'"
There's a lot scientists seek to better understand about these tiny organisms that thrive at high temperatures. But in the laboratory they faced uphill challenges from the get-go. Thermophiles are notoriously finicky and hard to manipulate in the way scientists would like. For starters, how do you grow them? "If I knew that, I would tell you," Peyton said. "I would grow them. We can get a lot of them to grow for a few weeks in the lab, and then they just mysteriously die out."
Much of Yellowstone's 2.2 million acres and 10,000 hydrological features remains unknown to microbial ecologists and hydrologists alike for that very reason. Every time Peyton's Thermal Biology Institute lab looks at water from a new spring, somewhere between half and a quarter of the DNA sequences that come back lack matches to species with existing names.
In an environment of extremes, humans are still trying to understand what's exactly there and how it may be useful to society. Enzymes found in thermophilic bacteria help digest oil in oil spills and are used as an ingredient in laundry detergent. They can help convert cellulose to ethanol in biofuels that propel vehicles. And Peyton is hoping to get more funding to further examine the use of thermophiles to break down plastic into its primary compounds so they can be reused.
Looking at the extremes of life on Earth could give researchers a better understanding of life on other planets. A team of Montana State University researchers, led by professor William Inskeep, recently discovered a new lineage of microbes living in Yellowstone's thermal features that thrive in iron-oxide-rich habitats — not unlike Mars. Scientists have also found organisms in Yellowstone that can metabolize hydrogen and perform low-energy reactions using minerals instead. That shatters the notion that oxygen is necessary to support life, White said, and changes the perception of where the boundaries of life might be in the universe. "That's a paradigm shift," she said. "That provides a lot of opportunity and excitement for innovation, not only for technology but also for the origins of life."
In a way, Yellowstone's boiling springs and steaming vents teeming with microscopic thermophiles are not unlike the deep sea or the deep tropical rainforest. Those ecosystems are also still relatively unknown by humans and could hold medical breakthroughs, deepen our understanding of the building blocks of life and push our assumptions of what's necessary to sustain it.