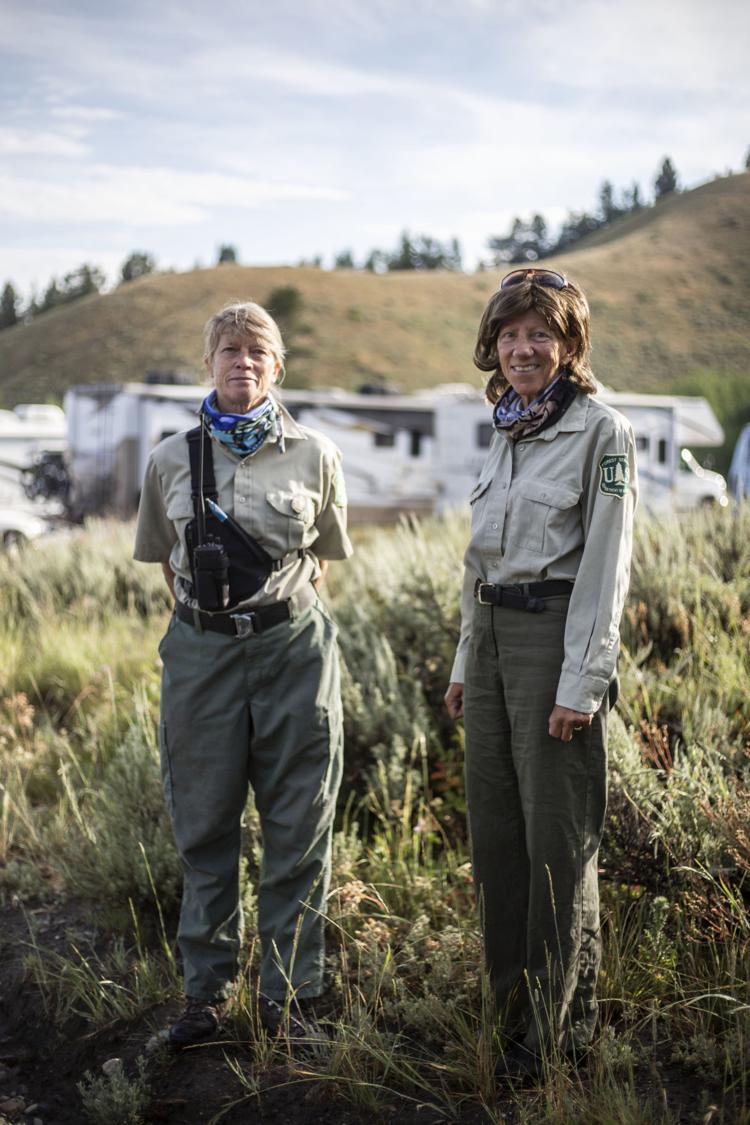 We get it. People had their summer plans upended, and they came to Jackson Hole looking for fun and the chance to release some pent-up energy after months of being cooped up. This summer will be one for the record books in Jackson, as road trips were the activity of choice. Was 2020 just a blip driven by the COVID-19 pandemic or is it a glimpse into a new normal on the Bridger-Teton National Forest? The Shadow Mountain, Toppings Lake and Spread Creek areas were valued for timber in the 1980s; now they are recreation meccas valued by people drawn to free camping near Grand Teton National Park. As we look into the future another few decades, how might the value of these areas evolve again?
Most visitors do not intend to do harm and, by all indications, most had a grand time. However, the cumulative effect of so many people resulted in many problems: hundreds of abandoned campfires, exposed piles of toilet paper and human waste, and food left out in violation of bear regulations. Rangers also dealt with campers moving in on top of each other and creating new sites, vehicles driving around barriers, trailheads full of camping vehicles and noise complaints from late-night parties.
As a public land agency charged with "caring for the land and serving people," the U.S. Forest Service strives to provide recreation opportunities. But providing access without managing use does not uphold our mission. Resolving the camping issues that emerged in 2020 will require planning, interagency cooperation, funding, information and education, and public buy-in and involvement. We'll need dedicated rangers for building infrastructure, enforcement and monitoring. Effective planning starts with a clear statement of what we hope to achieve. Ultimately, what should the camping experience look like, both for the visitor and for the land? What specifically needs to change and in what places? Analyzing the problems we're experiencing with visitors is key, including the amount, type, timing and location of use — and people's behavior. To date, we've sorted the problems into five categories:
Expectations. Many people come to the Bridger-Teton believing that dispersed camping means unlimited opportunity with no regulations. Social media often spurs the idea, and visitors often arrive to camp in a certain location that is already full, making it difficult to redirect their planned itinerary.
Evolving types of use. Instead of sleeping in tents, more visitors are camping with large RVs that are poorly equipped to drive on rough forest roads. The van life is also gaining popularity. Many people are looking to stay just one night. Currently, we don't have locations for people who just want to park for the night, especially near Jackson.
Behavior. Recreating responsibly means little to people who don't know what they need to do, are not prepared with the right equipment or have a selfish attitude. Take campfires. For some people a campfire is out if there are no flames. But a campfire is not truly out until it is cold to the touch, and that requires water, a shovel and a little extra time. How about human waste? Small portable toilets are an option. Do people who camp really know how and where to dig a cat hole and dispose of toilet paper? Or do they just go, assuming someone else will deal with it?
Distribution. During the height of the summer, dispersed camping areas nearest the Tetons were overflowing, but there still were campsites available south and northeast of Jackson. Near Grand Teton National Park and the town of Jackson, there are simply not enough sites to accommodate the demand during the peak season.
Funding. Dispersed camping is free for the visitor, yet providing this opportunity is not free. Roughly 10 Bridger-Teton staff bolstered by 12 volunteers dedicated most or all of their summer to patrolling, educating visitors, repairing and cleaning up what they could and issuing citations for the worst abuses. There is no doubt these efforts made a difference. Funding from the Friends of the Bridger-Teton, a partner nonprofit organization, supported many of the volunteers and provided one porta-potty at Shadow Mountain. Still, donations alone are likely not sufficient to address what is necessary to resolve the issues long term.
So how should we prepare for the summer of 2021 and beyond? Two years ago the Bridger-Teton started "designating" dispersed sites at popular areas like Shadow, Curtis and Toppings, and we knew the program would need to adapt over time. Based on lessons learned this summer, we've developed some short-term goals. We need funding for a few more restrooms, metal fire rings, and log and rock barriers to confine campsites to their current footprints. We'll to need to establish and clarify campsite capacities, step up visitor education efforts and identify better places for RVs to go. More volunteers willing to spend the summer educating visitors are also needed. Enforcement will continue, but it cannot be the only answer.
Beyond next summer, the forest and its users are poised to keep changing. Should we build campgrounds in some of the most popular areas to handle the concentrated use? Can existing campgrounds be expanded and dispersed use shifted to these locations? Should more areas near Jackson be managed for day use only, with dispersed camping prohibited? Can we charge a fee for dispersed camping in the most heavily used areas? Should we implement a permit or reservation system for camping during peak summer? These are just some of the options available. Determining a path forward will require constructive public dialogue and setting collective goals for the Jackson Hole camping experience and our natural resources. Stewardship is a joint venture that falls not just on agencies but requires the cooperation of visitors, the outdoor and tourism industry, and nonprofit partners. We welcome the challenge of crafting a future for the forest's frontcountry camping areas that honors Jackson Hole's wildland conservation legacy.