An ocean of paint has been applied to a continent of canvas since the first Fall Arts Festival in 1985.
Jackson and the number of people involved and the intensity of attention have all been magnified in those three and a half decades, but the original idea is still much the same: Jackson is a business and its business is tourism — and art can't be separated from either.
The Fall Arts Festival "was created by business for business," said Terry Ray, owner of West Lives On gallery and a chairman of the event for six years.
It's remembered the same way by Suzanne Young, who in 1985 was director of the Jackson Hole Chamber of Commerce and one of the main creators of the festival.
"It's hard to realize now there was a time in the 1980s when September was flat dead," Young said. "The time was right for it."
"It was a way to showcase an asset that really needed to be promoted during a time of the year that needed to attract some people," said Carol Waller, then Carol Dahlen, who was the Chamber of Commerce's marketing director.
People knew all that back then: "Art is a clean business and needs to be promoted," Jennie Promack, the owner of Powder River Gallery and one of the organizers, told the Jackson Hole News the week before the first festival began.
There was an art scene in Jackson back then, had been for years, and September was considered a good month for the gallery business, after the road-trip rush of summer.
But Ray remembers that Jackson's September business was mostly hunting, and Young recalls a big focus on retailers' sidewalk sales.
It was before the explosion of art galleries, back before there was a National Museum of Wildlife Art or a Center for the Arts.
The idea for a festival that involved all the galleries and a two-week schedule of special events was pushed by Young, who had seen Ann Arbor, Michigan, create an arts festival that grew in its first 10 years to an event that was attended by millions.
Young knew Jackson already had something good going with its art scene, but thought a push would make it even more of a draw for the town's economy.
"Another reason for the festival is to bring visitors to the valley in September, to develop that season," she told the Jackson Hole Guide in 1985. "And also to develop a base for the arts community in general."
She thought it was a good way to "broaden the reasons why people come here."
"We had such a rich arts community," Waller said, "so why not do something in the fall?"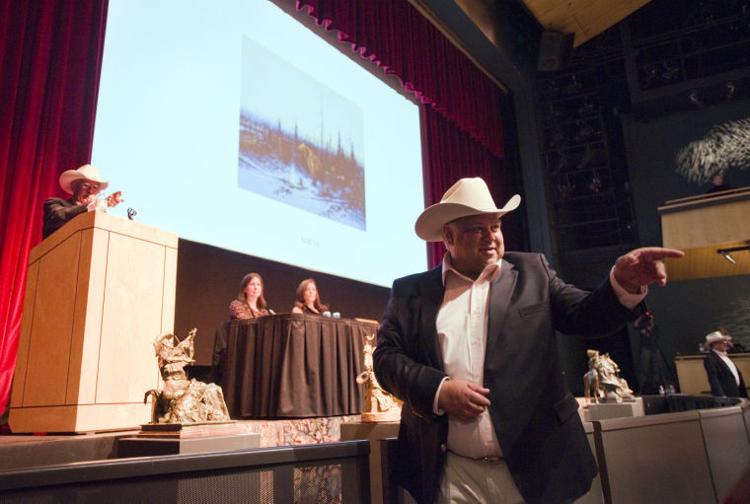 Young pledged $2,500 of chamber money and wrangled another $2,500 from the Wyoming Travel Commission. Promoters managed to convince Southwest Art and Art-Talk to give some editorial coverage. Artist Bill Schenck, then a Jackson Hole resident, signed on to do the first poster for the festival.
Young was in her office late the night before the state grant application was due, and in her last-minute rush she made a decision on her own that has stuck ever since. Reaching the line that asked the name of the event — "you had to have a name" — she realized that detail had been overlooked until then.
"So I just wrote in 'Fall Arts Festival,'" she said. "I thought we could figure out later if there was a better name."
Humble beginnings
There was support for the festival, but it wasn't universal or total.
"It was a little bit of a hard sell at first," Waller said. "It took some convincing to get everybody on board."
No one had a clear idea what would be involved. Young and Waller decided the chamber would market the festival and coordinate with galleries but wouldn't actually invent the event. Instead it would rely on the galleries to come up with their own ideas. One decision by Young and Waller was to make the event as broad as possible, to include any and all arts, and Dancers' Workshop was an early participant.
The inclusive approach wasn't universally accepted, Young remembers.
"Some gallery owners felt it should be an art gallery festival," she said. But widening the focus, she said, was vital because the Jackson art scene then, though healthy, still was confined in "a fairly narrow niche ... with cowboys and Indians."
"We decided to encourage all kinds of arts organizations, not just galleries but everybody," Waller said, "to do arts events that we would compile and market as one event."
A couple of the early ideas faltered in the first year: A big gathering called the Beaux Arts Ball aimed to attract 300 people, but fewer than 100 tickets were sold.
Another bust seems to have links to a later success: Palates and Palettes.
Organizers started with the idea of pulling together all the galleries in one big exhibition to emphasize the inclusive nature of the festival. The plan was to rent a conference room at The Wort Hotel for what was envisioned as an "all-gallery exhibition and cocktail party" at which all the galleries would display their featured art while people mingled with drinks in hand.
It soon became apparent to one organizer, Powder River Gallery owner Jennie Promack, that the plan promised to be a bigger headache than celebration.
"The mechanics of getting all the artwork to The Wort was simply too complex for this year," Promack told The Guide.
Instead, an idea was born to have the people walk from gallery to gallery in what was called "a traveling cocktail party." Even that event "did not meet with much success" a story in The News reported.
But it seems to have been the inspiration for the Palates and Palettes opening night event — when galleries and restaurants team for a giant party stroll — which began officially in 1997. It's since grown to be one of the festival's most popular offerings.
Starts and Stops
Another event, the QuickDraw — with artists working for an hour in public to create a piece for immediate auction — wasn't part of the schedule until 1995. And then it was held for several years at the Spring Creek Resort, atop the butte and away from every other activity.
Gallery owner Ray said he urged moving it to Town Square, though some resisted.
"The premise was to get people into town, into the galleries," he said. Plus, he said, "at Spring Creek it was raising $12,000 or $15,000. Then the first year it was at Town Square it raised $50,000."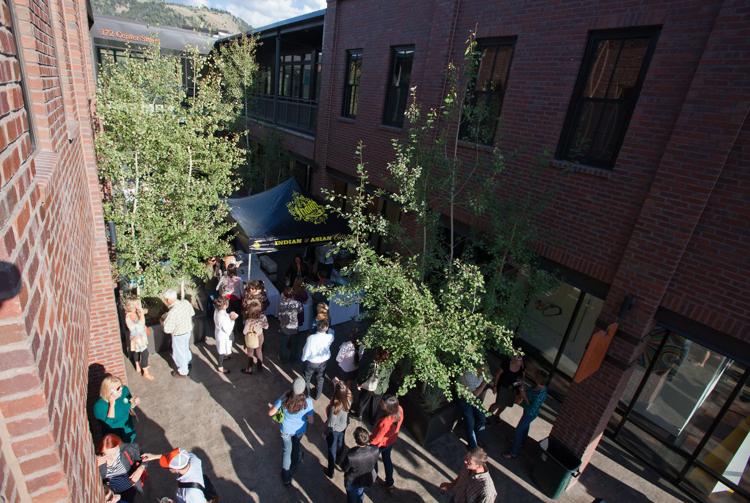 Other events have also been part of the Fall Arts Festival but later disappeared. From the start the festival was associated with the Arts for the Parks Top 100, a National Park Service-sponsored show that gathered works done at parks and monuments around the country. It later came to an end. Also running concurrently in many years was Quilting in the Tetons, a premiere national quilting gathering. It's also defunct.
But despite early false starts and the successes that eventually went away, the Fall Arts Festival has survived and thrived.
"In those early days we never knew it was going to be successful," Young said. "But the community got behind it and breathed life into it."
"It used to get quiet around here in September," Ray said. "Now it's one of the biggest months of the year."