Some public art projects in Jackson are large and imposing. Thomas Dambo's newly installed troll sculpture, "Mama Mimi," in R Park is one of them.
But others are somewhat innocuous: Town of Jackson utility boxes adorned with furry creatures from the Greater Yellowstone Ecosystem, downtown trash cans and benches molded in the style of the elk antler arches, and pathway underpasses decorated with images of wolves and pronghorn going bipedal — to pedal bikes.
Those Jackson Hole Public Art projects blend into Jackson Hole's community infrastructure. And, unlike Dambo's troll, cash for those projects came in part from contracts with the town of Jackson, and the Jackson Hole Community Pathways department, which answers to and is funded by both the town and Teton County. Some also receive other funding that Public Art raises.
But local public funding is a relatively small portion of Jackson Hole Public Art's budget. The vast majority of money for public art projects in Jackson comes from other sources: private philanthropy, foundations and grants from larger public entities like the National Endowment for the Arts.
Carrie Geraci, executive director of Jackson Hole Public Art, hopes her organization — and public art, more generally — can play a larger role in town and county projects.
She's advocating for two art-centric policy changes to make that happen.
"It's trying to get a commitment to invest in the arts when we invest in infrastructure," Geraci said.
One is to see the Jackson Town Council adopt a policy setting aside a mandatory 1.5% for public art in budgets for major capital projects. That percentage, Geraci said, would apply only to qualifying parts of the budget. So dollars allocated to air conditioning systems wouldn't count. But money for more public-facing parts of the infrastructure project would.
That idea has been floated for years, but the Jackson Town Council, the only local board to consider adopting such an ordinance at length, has yet to support such a move. Geraci said she hasn't had the capacity to advocate for that policy at the county level — yet.
The other is to expand the Public Art Taskforce, which, among other things, advises the Town Council on what infrastructure projects could benefit from art installations.
Geraci would like to see that board become joint so it can advise both the Town Council and the Teton County Board of County Commissioners on including art installations in large, jointly funded infrastructure projects. One that's on the top of Geraci's mind is the forthcoming, $22 million voter-approved expansion of the Rec Center.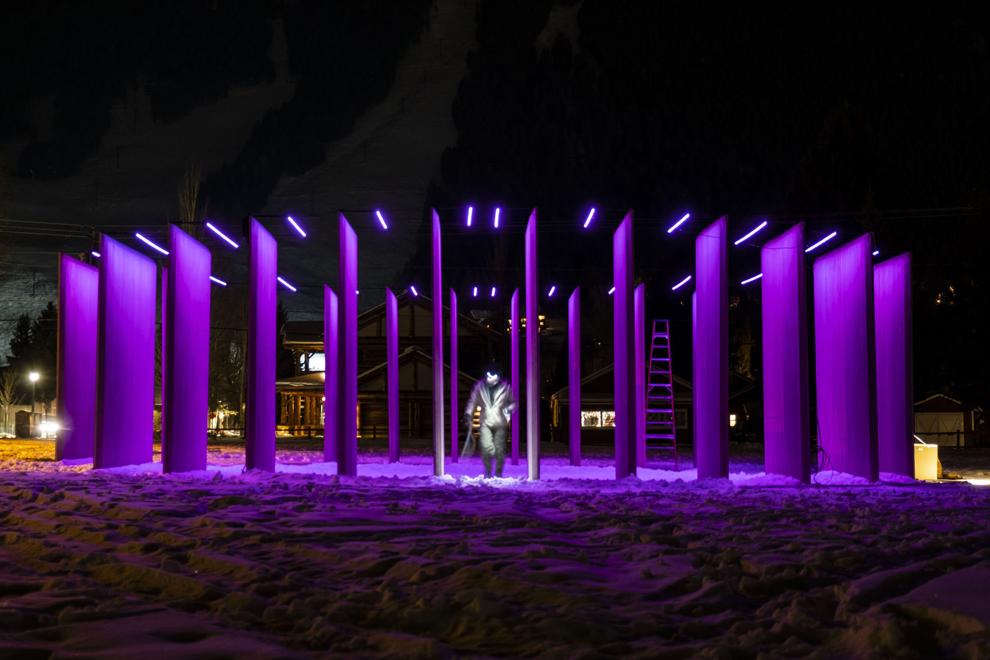 How is public art funded?
As it stands, Jackson Hole Public Art is set to receive $20,000 from the town and county in this fiscal year, which ends next July.
That's a small portion of the nonprofit's $240,000 operating budget and a small portion of the town and county governments' spending plans, which combined top $100 million.
But Geraci said those contributions are critical, helping her make the most of grants and private donations that make up the rest of that budget.
"It's a really important part, because it helps us leverage that private investment," Geraci said.
Officials felt similarly: that their spending, however small, is important.
"Jackson Hole is a quintessential arts community," said Councilor Jim Rooks, who described himself as an amateur artist. "Town should be involved in supporting arts wherever we can."
The $20,000 in local public funding will go toward Jackson Hole Public Art's operational budget, which supports Geraci's overhead and salaries for herself and Program Manager Alex Keenan Pope. That in turn supports programs that Pope coordinates, like the Summer ArtMobile, which brings free art projects to kids across Jackson throughout the summer. But that operational budget is only part of what Jackson Hole Public Art spends in a given year.
The balance is in its program budget, which can add another few hundred thousand dollars annually to Public Art's total spending, depending on what the nonprofit is working on.
Some of that money comes from public contracts for projects like the utility boxes, trash cans and pathway underpasses. More comes from private donations and grants and goes to projects like Dambo's troll, GlowNights — wintertime installations celebrating phosphorescence around Jackson Hole — and the WildWalls mural project (which is sponsored by the Nature Conservancy and sees local artists paint murals across town centered on the Greater Yellowstone Ecosystem).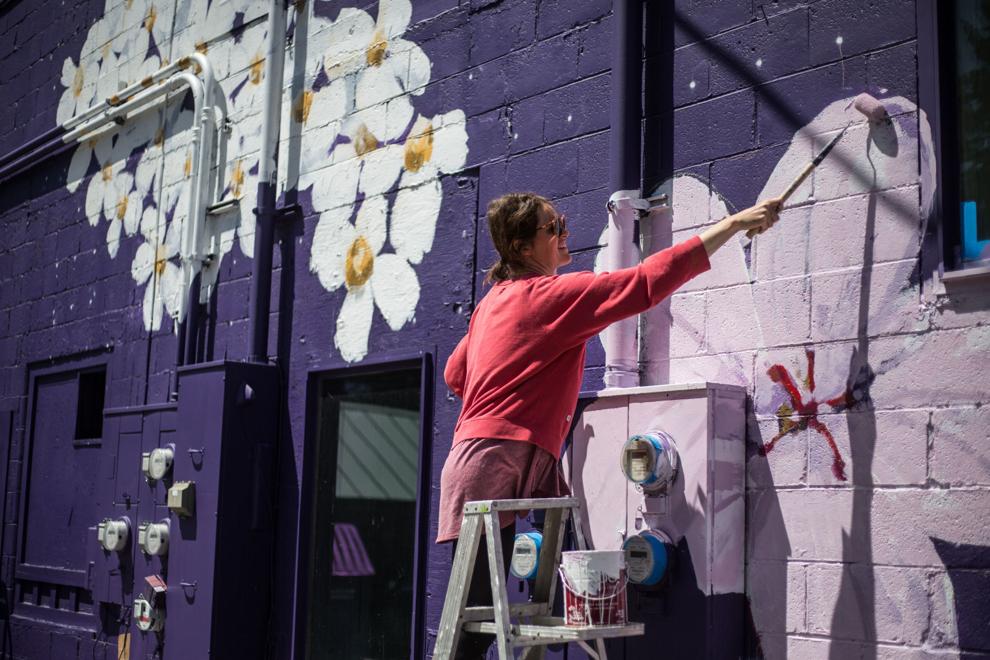 The town and county are not mandated to spend anything on public art.
What they currently give is discretionary and, while the Town Council does have a policy outlining how it can choose to spend up to 1.5% of a capital project (at least, the qualifying parts of that project) on art installations, it doesn't have to. The County Commission does not have a public art policy.
Cementing that spending on art in large capital projects would theoretically increase the number of public art displays included in public infrastructure.
It would also increase the amount of work Jackson Hole Public Art gets every year with the town and the county.
But Geraci said the increase probably wouldn't be that significant: A project every year or two with a budget of $30,000 or $45,000, by her estimate.
She said having that commitment early on would allow Public Art more time to raise other, private funds for the project and integrate artists into the process early on. That, she said, provides the benefit of having artists talk with designers to make sure a piece is thoughtfully integrated into the larger project.
The Public Art Taskforce currently advocates for including public art projects by reviewing proposed capital improvement projects and making recommendations to the Town Council about what could use some beautification. Once it makes those recommendations, Geraci delivers them to elected officials for review.
But Geraci said getting the town, which has been a good partner with the nonprofit, to include funding for public art still takes that advocacy work.
"They are getting very professional advice on what projects should include public art," she said, adding that "it still takes all of us saying, 'Hey, don't forget — this is a good one for public art.' And sometimes we get a budget and get to do a project. Sometimes we don't."
Expanding the Public Art Taskforce to the county could mean that the local artists, curators, designers and engineers who sit on the volunteer board would be advocating in similar ways on jointly funded projects like the Rec Center expansion.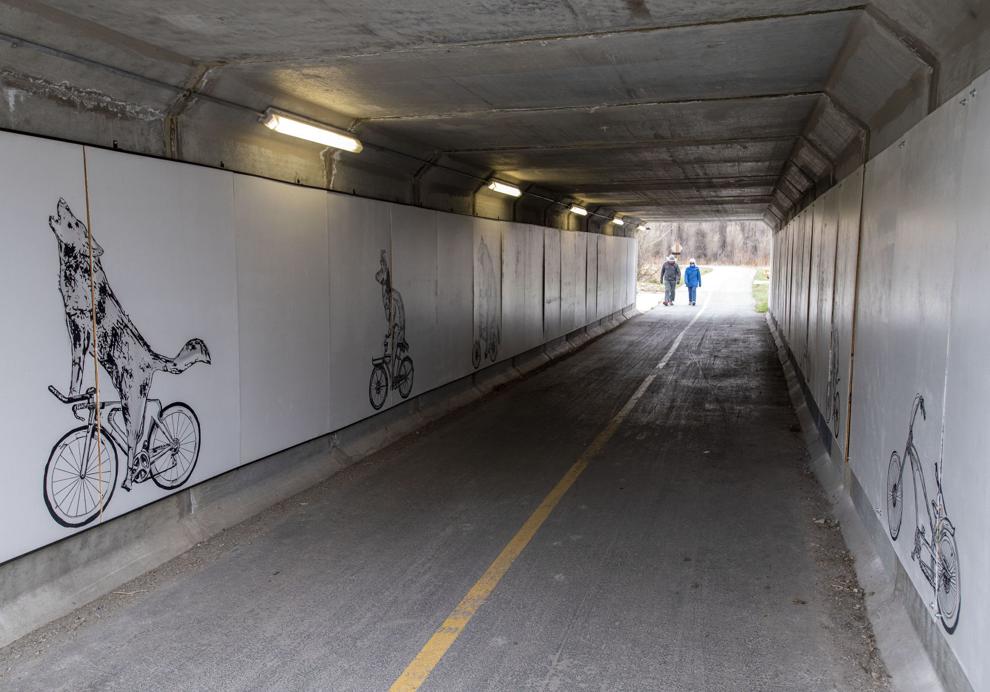 Officials' opinions, as is frequently the case in Jackson, are mixed on Geraci's proposals.
Approving a so-called "percent for public art" would require a majority vote on the town and county boards. Making the Public Art Taskforce joint would require the same.
A handful of officials spoke with the News&Guide about both proposals, and it's hard to say where the Town Council or County Commission will land.
The two boards are set to consider making the Public Art Taskforce joint, and the Town Council is looking to evaluate the 1.5% ordinance soon as well, Vice Mayor Arne Jorgensen said.
Some officials, like Commissioner Mark Newcomb, said they were supportive of making the taskforce joint for joint projects, like the Rec Center. Others said they needed more information.
And, in general, officials were more loquacious about the "percent for public art" proposal. Generally, they were supportive.
"We are the richest county in the richest country in the history of the world," Councilor Jonathan Schechter said, "and if we can't support the arts, support the things that are the apex of civilization, then who can?"
Jorgensen said he was in favor but wanted to have an "honest" discussion about cost and how the policy could impact other priorities, like housing.
"There's no reason why we can't be doing both," he said.
"But,' he said, "I think we need to be honest with ourselves, that when we make these kind of decisions we're increasing costs."
Councilor Rooks said he was interested in the idea, but wondered if 1.5% was too high.
"For me it comes down to the percentage," he said. "Perhaps, a half a percent versus 1 1/2 percent?"
On the county side, Commissioner Luther Propst, like Rooks, said he was open to the idea but wasn't sure whether 1.5% across the board was appropriate.
"Who knows what the percentage is?" he said. "I don't like the idea of a narrowly targeted amount because on some projects it might be more than others."
And Newcomb supports testing out the idea but is wary of the government having too much of a say.
"I like public art and some of the art projects that have occurred but I'm always wary of government trying to dictate what they think public art is," he said.