Artist Dennis Ziemienski has never been too comfortable on a horse.
But his daughter, Sofia — also an artist and, in the painting "Teton Reflections," a muse — is made for the saddle. In Ziemienski's featured Fall Arts Festival painting she's the cowgirl seated on the sorrel horse that is drinking mountain water.
She's also, at least part-time, her father's teacher.
"It's an exchange," the illustrator-turned-painter said. "I teach her traditional painting techniques, and she teaches me digital. Right now I'm learning how to use Illustrator."
When Ziemienski started making poster sketches for this year's Fall Arts Festival he went into the archive of posters from festivals past. He wanted to create something different.
"I hadn't noticed a cowgirl before, so I decided to go with that," he said.
The inclusion of a cowgirl is a nod to the current momentum of the women's movement.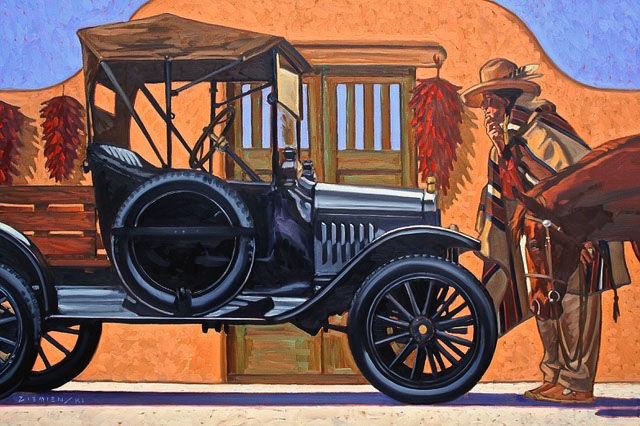 "Women are getting into politics more," he said, alluding to events of the past year that have led to some people to dub 2018 the 21st century's "year of the woman."
The reference wasn't lost on the panel of poster judges.
"We were looking for something more contemporary" both in style and content, said Chamber of Commerce Director of Special Events Maureen Murphy.
Every year the Fall Arts Festival committee chooses the following year's poster competition winner at the end of the festival. Next year is the centennial anniversary of the women's suffrage movement — 1919, the first "year of the woman."
Murphy explained that Ziemienski's cowgirl nicely tees up the festival to celebrate the centennial in conjunction with its 35th anniversary in 2019.
'The new Old West'
The combination of traditional themes in modern contexts showcased in "Teton Reflections" is characteristic of a lot of Ziemienski's Western work.
Ziemienski is interested in pictorializing what he defines as "the new Old West."
Growing up in a suburb of San Francisco in the '50s and '60s, Ziemienski would often drive out of the Bay Area to visit family in the Central Valley.
"There was an old romance to all those old neon signs and motels and pickup trucks," he said. But Ziemienski was more interested in the fragile time between tumbleweeds and neon signs, "the interim time between the 1910s and 1940s where things in the West started changing."
"Before I started doing the Western work, I thought Native Americans are either shown in fine art as in the olden times, with tipis and horses, or shown in modern times," he said. "Watching the old movies, you start wondering when did they start having pickup trucks?"
The transition period wasn't regularly pictured, and Ziemienski capitalized on the opportunity to capture the West as it move from one era to another.
Once an illustrator
Ziemienski's style is no doubt inspired, but not tied to, his career as an illustrator.
After attending the California College of the Arts in Oakland, Ziemienski moved to New York City in the early 1980s to further his career. During his relatively short career as an illustrator, Ziemienski racked up a long list of commissions, including works for Time-Life, Levi Strauss, Rolling Stone, The New York Times and Super Bowl XXIX.
He became known for his modern take on a vintage style, particularly drawing influence from the old citrus fruit crate labels of the '50s and '60s he was accustomed to seeing growing up in California.
After six years establishing himself in New York City, Ziemienski moved back to California, opting to relocate to the rural Sonoma wine country.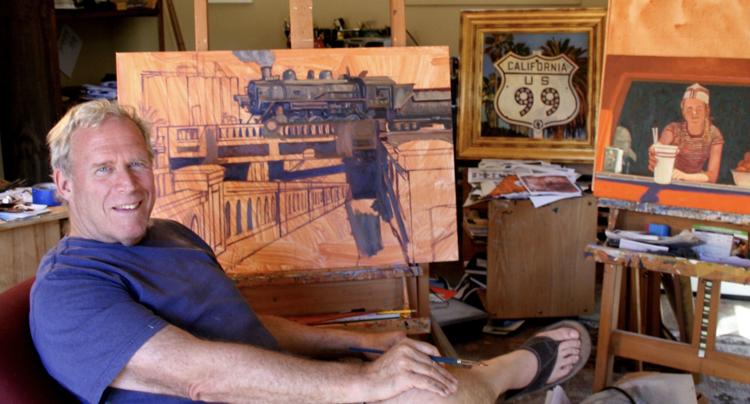 "I love the city, but too much of that you want to have the country," he said. "Too much of the country, I want to have the city."
Ziemienski now splits his time between California and New York.
Ziemienski continued his illustration career into the early '90s, until he was confronted with a period of rapid modernization.
"Computers started coming into vogue and I was still working in paint," he said.
In the contemporary world of illustration, paint is to a horse and buggy as Adobe is to a Model T. Ziemienski opted to stick with the horse and buggy but refashion it for a different purpose.
"I started working on my own, painting my own pictures for my pleasure," he said. "But then people started saying they wanted to have my illustrations for their walls, and I started thinking I could sell my work in galleries."
Ziemienski adopted a more painterly approach to his work.
"It doesn't have to look like illustration," he said. "It's just my style."
Ziemienski was briefly lured back into the world of illustration in 2006 when he was commissioned by Churchill Downs to create the official poster for the Kentucky Derby.
As with "Teton Reflections," Ziemienski studied the archives of past posters and opted to paint something new. For the first time in the Derby's history, the poster featured only one horse, which Ziemienski randomly numbered 8.
As luck would have it, horse no. 8 won the race.
A contemporary artist
Ziemienski has been showing with Altamira Fine Art for almost a decade. Altamira Executive Director Mark Tarrant picked up Ziemienski shortly after the Recession, when sales were finally beginning to pick up a bit.
"Mark had most of my colleagues from another Southwestern gallery I was showing in and a lot of people that I like," Ziemienski said. For him the most important factor in deciding to show in a gallery is being surrounded by other artists he admires.
With locations in Jackson Hole and Scottsdale, Arizona, Altamira distinguishes itself in the Western art market by pushing the boundaries of the genre and including fresh takes on traditional themes. The gallery's focus is on contemporary art above all else.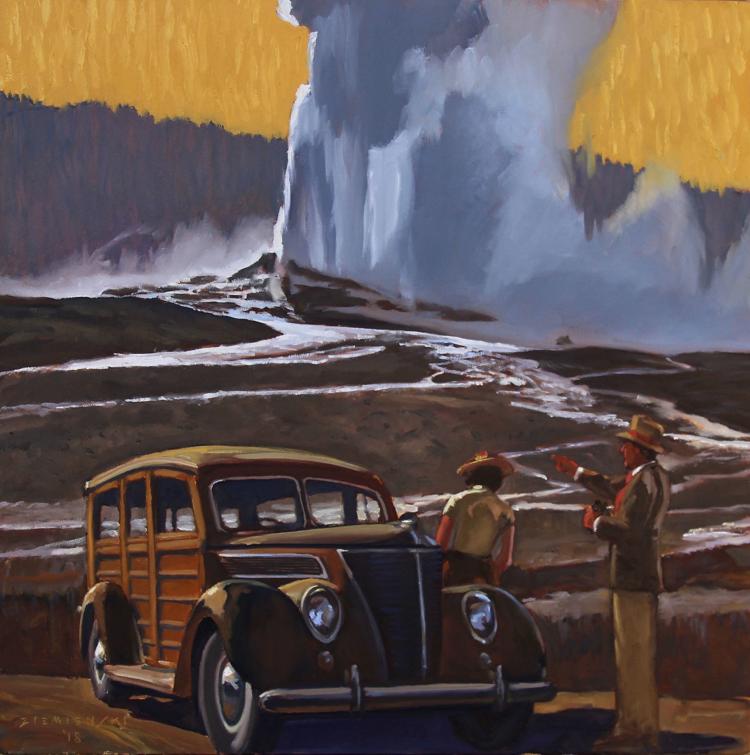 Ziemienski has a hard time defining himself within the realm of contemporary and Western art.
"Even though I'm known as a Western artist in some circles, I love doing everything else too — seascapes, urbanscapes, portraits," he said. "That's an old illustration attitude I guess. If I just do one thing I'll miss the other.
"There are several different styles I like doing, some are more impressionistic, others more representational," he said. "It's rough to categorize myself because I am at a loss for saying where I fit."