It wasn't supposed to end like this.
Usually the end of senior year is replete with ritual. Senior Skip Day. AP tests. Pranks. Prom. Graduation.
Students spend their primary and secondary school experiences ramping up toward it, watching older siblings, cousins and friends walk across the stage, seeing senior photos on the mantel or bookshelf.
Such rites aren't indicative of students' academic experience, but they are intrinsically tied to their feelings about them. Environmental psychologists talk about a concept called place attachment, an emotional connection to a location developed through meaningful experiences. Part of a typical senior's educational experience is the end-of-year ritual.
Not so for the Class of 2020.
"It feels really anticlimactic," senior Lily Duquette said.
Gone are pretty much all the communal events and congratulatory banners hung in hallways. In their place is distance education, a measure taken to help slow the spread of the coronavirus.
Rather than celebrating with friends, students have been glued to computers working on final assignments. That fact could be cause for self-pity. It could mar the end of their high school careers.
Instead, most are taking it in stride.
"There's bigger things happening in the world than like a prom right now," senior Sterling Smith said.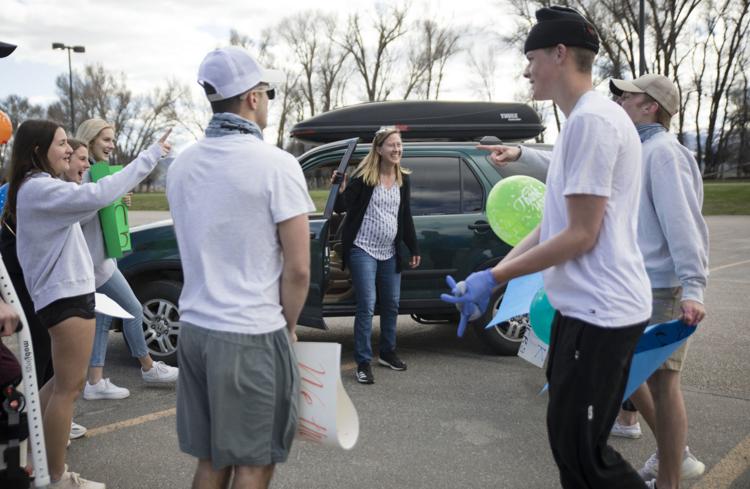 Despite their matter-of-factness about the odd time they are graduating in, the fact remains that these seniors are finishing school in a time like no other.
"It's honestly pretty sad," senior Anna Brown said. "I think we're making the most of it, but it's a little strange. It doesn't quite feel real. It does feel we are missing out on milestones."
One of those landmarks, perhaps the most important, is graduation. Schools across the country canceled their ceremonies, while some adopted unconventional means to celebrate their kids.
A school district in New York state enlisted a drive-in theater for its graduation. Firefighters and other community members regaled graduates —all 220 of them — at West Craven High School in North Carolina at their homes after their graduation was canceled. Two Alabama high schools still held normal graduations, but did so in 10,000-person arenas to allow space for social distancing. Celebrities from former President Barack Obama to actor Tom Hanks taped speeches for graduates.
Administrators at Jackson Hole High School decided in May that an in-person graduation was necessary, that the experience was worth the effort. In just a few days, graduates from both public high schools, the other being Summit Innovations School, will have the chance to walk across the stage.
It won't be in the auditorium. Rather, it will be in the parking lot, with decorations that include blown-up photos of the seniors and one huge surprise.
"At the front entrance we'll have a gigantic banner It'll be the biggest banner we've ever made," Registrar Mary Tisi told parents at a video conference in May. "It's going to surprise you with the details. You are going to love it."
Public schools aren't the only ones getting in on the action. Mountain Academy, Teton Science Schools' primary and secondary school, is holding a socially distanced ceremony today, June 3, at its Jackson campus. The Jackson Hole Christian Academy is doing something similar Friday.
However, these aren't the graduations of yore, when students received lots of tickets for family and friends. Private schools are keeping their ceremonies to just family, and public school kids will have only as much support as they can fit in one car.
Parents asked Activities Director Mike Hansen during the graduation meeting whether kids with big families would be able to bring two cars, but he said space in the parking lot allowed only one.
"We simply don't have enough spaces for more cars," he told them.
For most students, pragmatism wins the day regarding graduation. Even if all their friends and family can't be there, the sheer fact they'll walk across a stage is heartening.
"It's a bummer we don't have a regular graduation," Jael Lopez Garcia said. "But it's OK as long as I know I graduated."
Garcia is one of many students who have taken the lockdown in stride. He's heading to the University of Wyoming on a Cowboy Commitment scholarship, and he received a Hathaway award as well.
Though he misses seeing his friends every day and would prefer to learn in a face-to-face environment, knowing his postsecondary plans helped him look past the pandemic to the next step.
"I'm really excited" about college, he said. "I'm ready for high school to be over and to take the next step."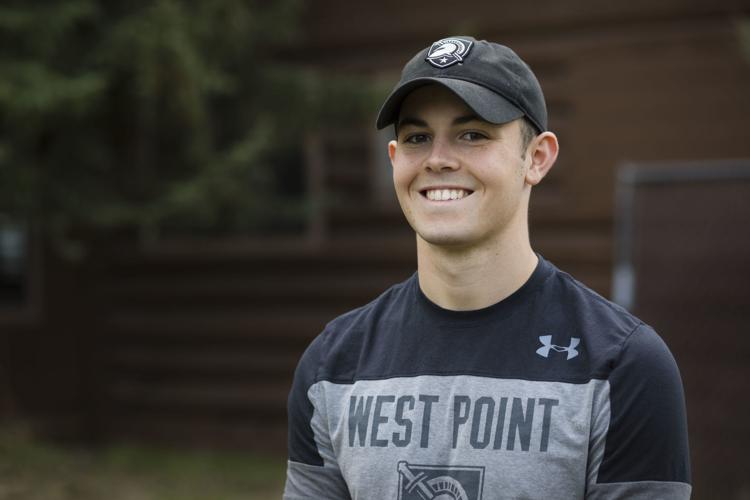 As anyone who has graduated from high school understands, knowing your postsecondary commitments can make it tough to focus on the last bits of high school, and Garcia isn't the only senior with an eye on the future. Ben Phocas is headed to West Point Academy for college. He was supposed to leave for basic training at the end of June, though the date was pushed to mid-July because of the outbreak.
It's "cliche," Phocas said, but his decision sophomore year that he wanted to join the military gave his life structure, encouraging him to start exercising, volunteering and participating in extracurriculars like the National Honor Society. Like many who choose to enlist in the military, Phocas did so in part because of his heritage.
His grandfather was in the Battle of Okinawa and later became a Green Beret. Growing up, Phocas heard his grandfather's stories of his time in the military, and he kept them in mind as he chose his path.
His postsecondary life looks a bit different than someone heading to a traditional college. After his four years at West Point, he will spend at least five or six years as a military officer. Knowing he has the next decade already mapped out has made it a bit hard to focus, especially in light of distance education.
"I got into West Point on Feb. 6," he said. "Since then, for me, I've been taking a mental break."
Even though, like Garcia, he would like to see his friends, Phocas has enjoyed the routine the pandemic has afforded him. Not surprisingly, given his enlistment in the military, he's fond of working out. Now that he has more control over when he does his schoolwork, Phocas is able to get a three-hour workout and a nap in before school.
Workouts and naps may not be exactly what school district administrators envisioned when they devised a distance education plan, but students' flexibility and resilience in the face of adversity have not gone unnoticed. Administrators support the self-care tactics that help students sit at a computer.
For Superintendent Gillian Chapman, what sticks out about the seniors in this moment — all students, for that matter — is that resilience. Ending high school doing distance learning could have been a reason to check out, or a cause for despair.
Instead, the seniors rose to the challenge.
"I'm really proud of our seniors," Chapman said. "They have pulled through and are going to be better and stronger because of this."
Some of the seniors of 2020 are headed to faraway liberal arts colleges, others down the highway to the University of Wyoming. A few will enter the military; many will take jobs this summer.
No matter their plans, they are taking stock of what they've learned and the friendships they've developed in their many years of school, rather than pining over missed milestones.
"When something's out of your control like this situation, it's a waste of time to throw out your accomplishments in despair and forget about all of that," senior Jerry Henderson said. "It's definitely a bummer, but it's a time to be grateful and be excited."