When the pandemic is over, Erin Crow plans to buy a game show buzzer and quiz the grocery store staff on product locations.
On which aisle would you find cat food? Bleach? Parmesan cheese?
The last one, she said, is a trick question. It's in three places.
Crow, along with a handful of other staff, has become intimately familiar with Jackson Hole's three major grocery stores by picking up food and supplies for the community's most vulnerable. While seniors shelter in place the Senior Center of Jackson Hole has adapted its services to keep its clients healthy, including expanding a program that checks off all the items on a senior's weekly grocery list and delivers the goods.
"Things have changed up a lot," said Crow, the Senior Center's home care manager. "We made the call the morning of March 17 that we were going down to only essential services."
It was a big adjustment for many of the center's clients, who are accustomed to daily meals in the dining hall, regular fitness classes and weekly card games. Dozens of others connect with the Senior Center each day for personal, respite and homemaking care. But as of mid-March the center streamlined its services to get the most vital ones to their clients while keeping them — and its staff and volunteers, many of whom are also in the high-risk category of 60 years or older — safe and healthy.
One such change has been a boost to its home delivery program, which skyrocketed from eight clients to over 60. The program was designed to provide goods to those who face a "physical hardship" getting out to the grocery store. But because of shelter-in-place recommendations — and many adult children calling their elderly parents and grandparents, encouraging them to stay put, Crow said — more seniors have shut themselves in their homes.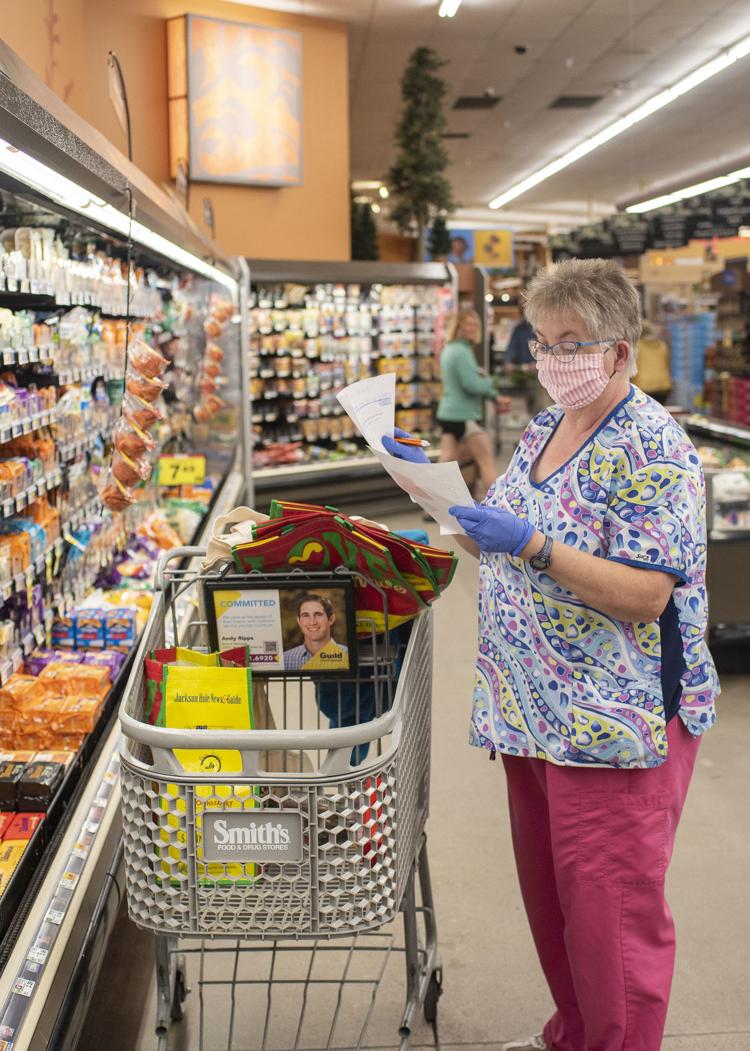 In turn the center expanded its outreach, a move supported by a few grants and one that has also kept Senior Center staff employed.
"I would have a lot less work and it would not be as gratifying," Crow said.
Seniors pay for the groceries themselves, but the center provides the labor and delivery free of charge. Crow sits at incident command, taking orders by email, phone, occasionally by photo of a piece of paper. She compiles the lists and deploys a masked shopping team, who check items off two to four lists.
"It's really important to have the support and the personalization as far as having someone call you to say, 'Hey, I had a question about your list,'" Crow said. "When you hear a familiar voice it goes a long way, especially with isolation, of course."
Bobbi and Ed Taylor, 73 and 75 years old, started using the program about three weeks ago.
"The shopper has been really good," Bobbi Taylor said. "Janette [Miller] has been a lot of fun and she's prompt."
Keeping seniors in their homes
Though much of the home-care program has been scaled back, the center has kept about 20 clients in rotation for personal care, which includes assistance with things like getting out of bed, showering and toileting.
Other services that fall under homemaking, specifically light housekeeping, have had to temporarily go by the wayside in an effort to decrease the number of people entering the homes of the elderly.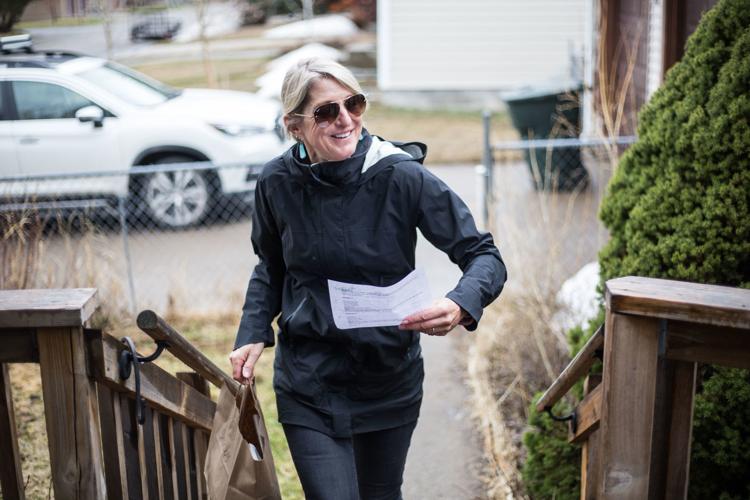 But, knowing these changes are disruptive, the staff has worked hard to adapt, Crow said.
During regular telephone check-ins they ask how the client is feeling, if anyone they know has contracted COVID-19, what they're doing to keep busy. They ask if they have a mask and how things are going around the house.
Then the staff will problem solve.
If a person needs a mask, someone will drop one off. If a senior is struggling to stay on top of the dishes, the center will bring over a stack of paper plates or offer Meals on Wheels meals, Crow said.
"We want people to stay independent as long as possible," she said.
It's mostly the staff doing the work, as many volunteers have had to take a step back. But a new wave of helpers came forward in mid-March to pick up Meals on Wheels shifts and help pack curbside meals, Senior Center Activities and Volunteer Coordinator Hannah Sell said.
"I think we have had between 15 to 20 new people who have reached out," Sell said. "They've just all been amazing, just stepping up and taking things seriously. They are just ready to do what we're asking them to do, and that's been amazing."
Though some services have been cut back the Meals on Wheels program has picked up with hot meals going out to anyone 60 and over who requests meals to be delivered, a change from the typical program that has additional qualifying requirements.
The center eased program requirements as a way to encourage seniors to stay at home and provide for those who do.
"There were a lot of people that we were already serving, and that continues to be the case," Sell said. "But now there are new people who are on Meals on Wheels for their main meal of the day, and that's keeping them out of the grocery stores. They're able to stay in their home more because they're getting their food delivered."
In addition to delivering hot meals and stocking pantry shelves, the programs are also a way for the center to check on its clients, one of the most important parts of senior health. A 2018 survey conducted by Cigna showed that "Loneliness has the same impact on mortality as smoking 15 cigarettes a day, making it even more dangerous than obesity."
"When we talk about seniors, social isolation is a risk factor for people because it can be that detrimental to your physical health," Sell said. "On a regular basis a lot of seniors already report being lonely, so the programs that we have here fill the need for people wanting to socialize and be around other people.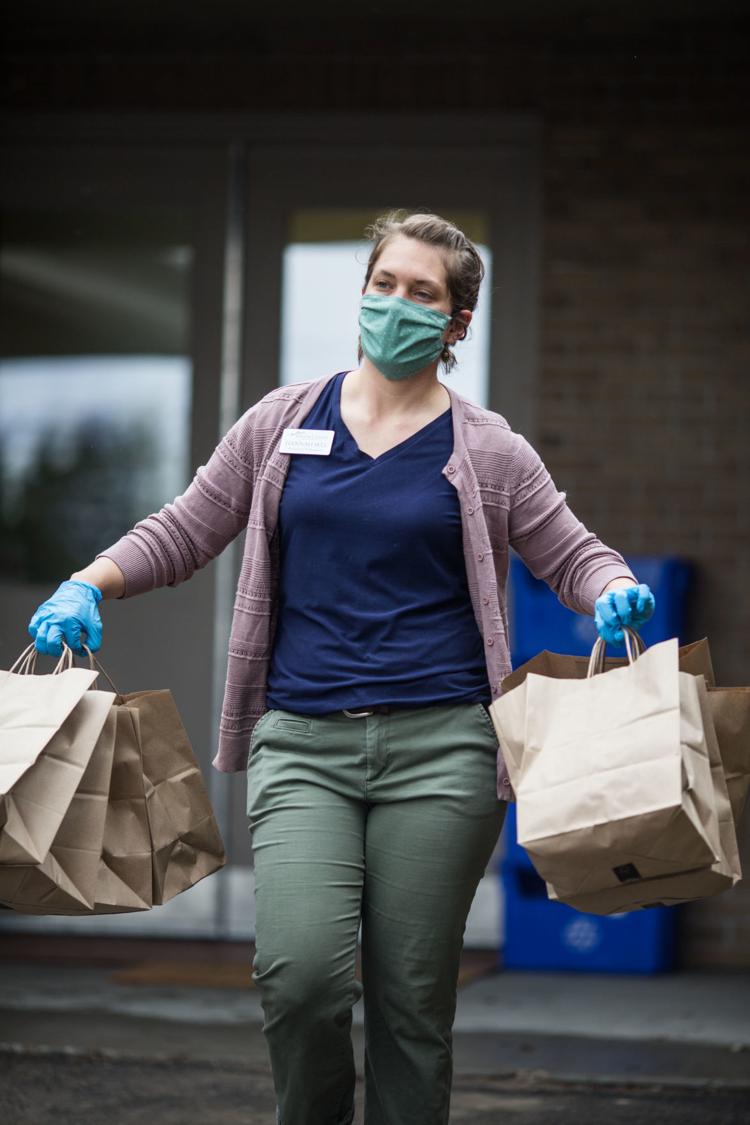 "Now, in this time in COVID-19, we're all isolating. I think we're going to see what the effects of that are not only on our community but especially seniors. We've been trying to stay creative with it — we've been doing some check-in calls."
Many of the calls are being conducted by staff, but one voice on the line is Beth Shockley, who has been a Meals on Wheels volunteer for the past three years. She started about a year after she was a client of the program after two hip replacements.
She stepped back from her regular Friday delivery duties — she's 72 years old herself — and has been placing phone calls to those on her route.
"I've been keeping in touch with my people, 'my peeps,' because you get to be friends with them," she said. "Consistency is really important in all of our lives. I just don't want them to think that I abandoned them just because I'm not over there delivering the meals."
Those on the other end of the program anxiously await the meals, which now include breakfasts.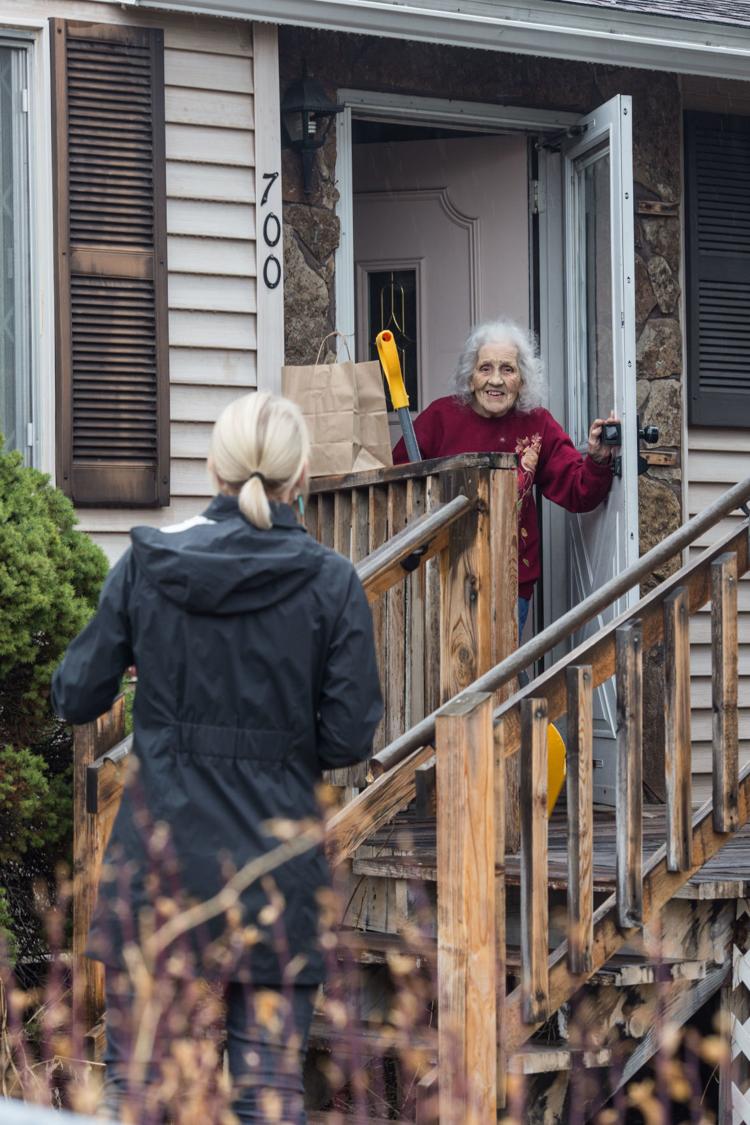 "Boy, I really swear by them. They are very good," 89-year-old Jeanine Mayer said. "Usually I eat the breakfast at lunchtime and eat on the meal during the afternoon."
Those who are still mobile can also tap into the Senior Center's curbside pickup, which provides inexpensive or free meals to seniors Monday through Friday. The Taylors have been regulars at the drive-thru, picking up meals two to three times a week for themselves and their disabled adult son, Jonathan, who is also at home with them all day during the pandemic.
Though they hadn't connected with any of the center's remote services prior — they were regulars in the fitness center — they found the transition into their new normal pretty seamless.
The Senior Center "just let us know about something and asks us if we want it," Bobbi Taylor said.
"They make their services very available," she said. "You don't feel like you're really asking for charity or help. They just really have stepped up."