Highest. Richest. Wealthiest. Most generous.
There's an oft-repeated trope about Jackson, and Teton County as a whole, that it is one of the most philanthropic places in the country.
"This place probably has more nonprofits than any place I've seen," Center for the Arts President and CEO David Rothman said. "It seems to me that this is a pretty incredibly rich environment."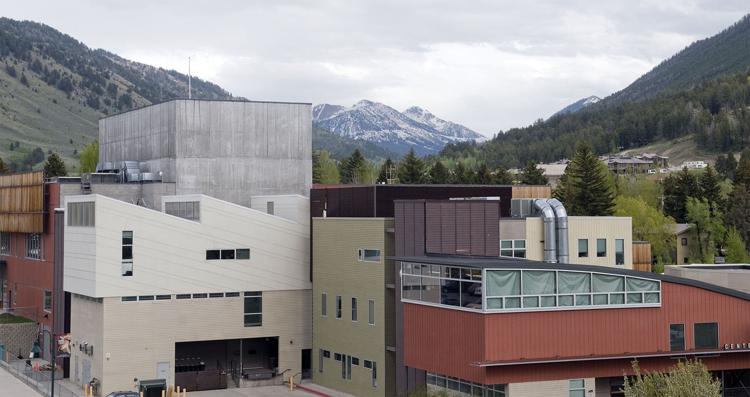 Wealth is an inextricable piece of Teton County's fabric, but what effect do affluence and its related generosity have? From a bird's-eye view, it's hard to argue with the assertion that Jacksonites are generous. Old Bill's Fun Run for Charity raised nearly $14.4 million from 4,000 donors, which correlates to roughly 17% of Teton County's population.
By almost any measure that amount of money can do serious good, but the benefits of giving are not spread evenly, and the trends that guide giving in Jackson reveal a community that places value — and philanthropic might — more heavily on certain sectors. Philanthropy is by nature a personal act, and donor desires and feelings, rather than empirical social needs, often drive it.
Yale University sociologist Justin Farrell spent several years with the ultra-wealthy of Teton County conducting research for an upcoming book, "Billionaire Wilderness: The Ultra-Wealthy and the Remaking of the American West." He found people in Teton County often donate for reasons ancillary to the mission of the organizations they support, and focus their giving on two main sectors.
"Aside from private foundations, the most economically powerful nonprofits include organizations broadly related to environmental issues, such as the Jackson Hole Land Trust and the Teton Science Schools," he wrote, "as well as arts organizations such as the National Museum of Wildlife Art, the Community Center for the Arts and the Grand Teton Music Festival."
That environmental and arts nonprofits receive the bulk of philanthropic giving is not ultimately surprising, nor inherently bad. However, when those sectors receive a higher percentage of the giving, human services organizations are left with a smaller piece of the pie in what is one of the most economically inequitable places in America.
The need for exorbitant amounts of philanthropic giving arises in large part from Teton County's economic inequality. Data that Farrell collected for his book shows that the top 1% of earners in Teton County make 233 times what those in the bottom 99% make, the highest income disparity in any county in the country.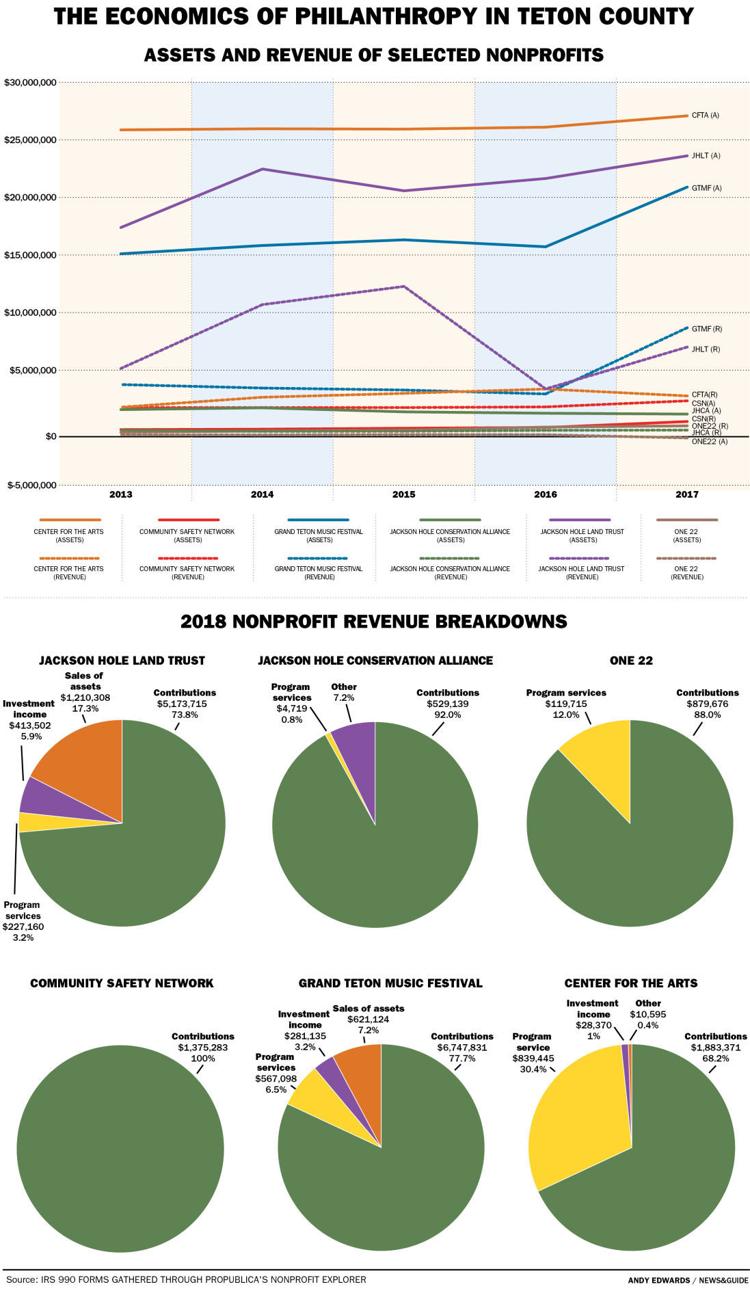 In real dollars that means the top 1% make an average of $28.2 million annually, mostly through investment income. Wage earners who pull paychecks from hourly or salaried jobs make an average of $41,052 a year.
That income inequality, Farrell argues, creates some of Teton County's socioeconomic issues. Lack of housing supply, high prices and the need for people to commute from outlying communities are tied to the high economic disparity.
In Farrell's estimation, wealth, in part, has created the need for philanthropy, but the related giving is in no way tied to those needs. Instead, donors with the ability to shape industries give for social, cultural and personal reasons.
"The real reason is that people give because they want to," the Center for the Arts' Rothman said.
Freedom of giving is an inherent part of philanthropy. Farrell's research (as well as the News&Guide's conversations with nonprofit leaders) shows that donors give to organizations that align with their moral and philosophical views or their personal experiences. In a place like Jackson, which draws tourists and residents for breathtaking scenery and untrammeled landscapes, those proclivities favor environmental nonprofits like the Jackson Hole Land Trust.
"We are a tangible aspect of this place that has drawn them here and has real meaning in this part of the world," Land Trust President Laurie Andrews said. "It's really front of mind."
Left to their own devices, donors' tendency to give to organizations like the Center for the Arts or the Land Trust has created its own kind of income inequality analogous to the disparity seen in individual incomes. Environmental and arts nonprofits generally have higher annual revenue and more assets than those in other sectors, though that doesn't apply to every organization.
In general, more money means more stability. The Grand Teton Music Festival, for instance, pulled in roughly $8.7 million in 2017, mostly through contributions, sales of assets and program revenue, according to IRS Form 990 financial filings. After spending $3.7 million to put on its programming, which includes a multiweek summer classical music festival in Teton Village and several wintertime concerts, it had a net income of almost $5 million that year.
That windfall is not always the case — the festival ran a deficit of $600,000 in 2016 — but that high level of fundraising makes it possible to weather the lean years. In looking at the Center for the Arts, a similar trend emerges. In 2017 the Center's overall revenue was almost $2.8 million, with more than two-thirds of that coming from contributions, while its expenses were just under $1.9 million.
Again, surplus is not always the story at the Center. It ran a deficit of $58,535 in 2016, which Rothman said is to be expected.
"That's how we all operate," he said. "That's why we're nonprofits."
But some nonprofits are more equal than others. The Center and the music festival garner big-dollar donations and have compiled large asset holdings, particularly in real estate, but many human services nonprofits function with revenue that doesn't come close to $1 million. Between One22 and the Community Safety Network, two prominent social services nonprofits, in just one year between 2013 and 2017 did one of them make more than $1 million (the Safety Network in 2017).
The disparity between the arts and environmental sectors may come down, in some part, to a general feeling of connectedness.
"A lot of people come here for the idyllic lifestyle that Jackson is, and it is a great arts community," said Sarah Cavallaro, executive director of Teton Youth and Family Services. "It's harder to sell human needs, harder to sell hunger and abuse and neglect.
"They want to be away from that."
While Farrell was researching for his upcoming book, he conducted extensive interviews with ultra-wealthy Teton County residents, some who lived here full time and others who split their time between Jackson and other places. His aim was to understand what motivated them, particularly philanthropically. He asked about their lives and their giving tendencies.
He found they were keen to discuss the environmental issues they valued — open space, wildlife crossings, migration patterns — but less inclined to discuss socioeconomic ills.
"In addition to the inability of human and social service organizations to offer the kind of social prestige, fun events and connections to power," Farrell wrote, "they are associated with what one Teton County employee called 'buzz-kill issues.'"
As Cavallaro and Andrews noted, many people move here because of a connection to the natural world. Farrell writes that the environmental stewardship that flows from that creates social networks with status and intangible benefits.
Putting conservation easements on land, of course, does carry tax and financial benefits, but being able to point to a tract of land and claim responsibility for its preservation also grants a kind of social capital. The events that come along with being in the donor class, from private dinner parties to concerts like the annual Center Benefit or the Land Trust Annual Picnic, are part of the way donors integrate into the community.
To be uninformed or disengaged is undesirable.
"Among all these issues, environmental topics carry the most social weight," Farrell wrote, "and to be ignorant is to risk embarrassment among one's peers, or to be exposed as an out-of- touch carpetbagger."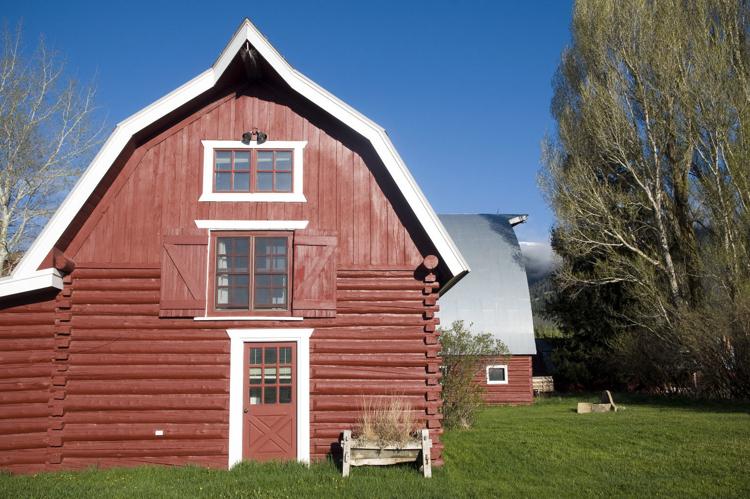 Poverty, hunger, trauma, the main issues at the heart of human services, don't have the same cachet. Some of the tangible benefits that come with being a heavy-hitting donor, like having one's name put on a building, can't replicated in those fields.
Farrell categorizes the avoidance of such "buzz-kill" issues as a willful attempt to maintain a view of Jackson as a paradise. One22 Executive Director Sharel Lund said it also has to do with the nature of human services. Even in a massive capital undertaking like the Land Trust's Save the Block campaign or the Center's drive to build its downtown facility, many arts and environmental fundraising efforts have a distinct finish line.
Human services are an ongoing enterprise, so they can't offer that same sense of accomplishment to donors.
"The notion that we solve our human service dynamic is oftentimes flawed," Lund said. "You might help Client A reach the finish line, but Client B is right behind them."
Whatever an individual donor's reasons for choosing organizations to support, the disparity in giving creates a tenuous perch for human services organizations. A nonprofit like the Grand Teton Music Festival can weather its $600,000 shortfall in 2016 because it has years like 2017 that replenish its coffers.
Human services organizations that are already stretching their budgets to provide the level of assistance community members need don't have the cushion of millions of dollars in assets or general funds that substantially roll over each year.
"All of us try to have reserve accounts," Teton Youth and Family Services' Cavallaro said. "But it can't take a $700,000 hit."
All the nonprofit executives who were reached for this story — regardless of sector — were quick to note their gratitude to the Jackson donor class. But Cavallaro said it can still feel as though human service nonprofits catch short end.
"I would love to see human services be as important as wildlife and the environment. I love to see a [specific purpose excise tax] for $10 million for human services," she said. "I think our humans are as important as our animals.
"It's easier to look at the moose sometimes than it is to look at each other."
Last year sociologist Farrell spoke at the 22 in 21: Philanthropy summit that Jonathan Schechter hosted at Spring Creek Ranch. Something he said rankled a few of the high-dollar donors in attendance.
Farrell drew a distinction between old and new money in Jackson. The older, more established families, he said, are more likely to spread their money across a wider swath of the community. Newer donors — wealthy individuals and families that recently moved here — fall into the trends he notes in his book.
He said they are more likely to use their giving to develop social capital and pursue passion projects. One22's Lund said Farrell's research holds true but that the trend is due, in general, not to donor selfishness but to unfamiliarity with the issues that confront the community.
"I think in many cases people buy or build a mountain getaway in this pristine beautiful place," she said, "that doesn't look to have the same social problems or despair of their old community."
Once they get to know the community, that obliviousness dissipates.
"After a few years of participating and being part of it, going to church, going to the grocery store and relying on someone to shovel their driveway and roof," she said, "they start to notice those individuals as individuals."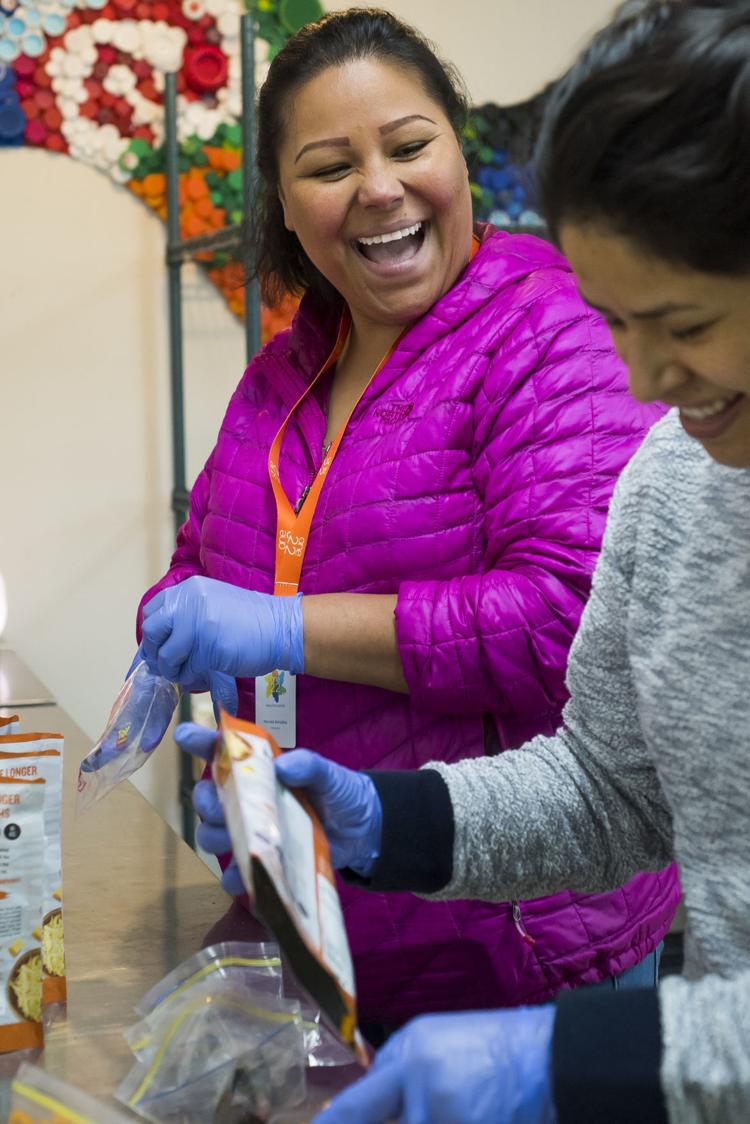 The new donors Farrell pointed to didn't grow up in Jackson, don't have family ties to the original settlers, haven't seen the town as it has evolved over the years. Convincing them to give their dollars to human services, Lund said, is simply about education.
Her theory is that donors are "financially astute" people who know what they pay for services and what rent, groceries and other expenses cost in Teton County for those working hourly jobs. Once they have steeped themselves in the community, it becomes harder to engage in the ignorant bliss Farrell described.
Judging just by the numbers, an organization like the Land Trust would seem to be much better off, but Andrews said her nonprofit is not immune to the struggles. A campaign like Save the Block seemingly brings out every large- and small-dollar donor Teton County has, but funding day-to-day operations takes its own kind of benefactor.
"It's hard to say to a donor, 'You're keeping the lights on,'" Andrews said. "Those donors that help us have consistency and predictability in our budgets and the future. They make it so we can invest in staff."
Human services leaders pointed to those kinds of donors as the ones who give to their organizations year after year. Lund said developing relationships with those donors shows them the good their dollars can do and demonstrates her clients' needs. Doing so, she said, "takes time," and that donor is more likely to be someone who has lived in the community for at least a while.
Lund and Cavallaro said the donors that return to them yearly with donations, or give their time to help run programming, are a special breed — people who genuinely care about those who make the community function. But they also pointed out that human services organizations everywhere have the same struggles.
Funding for counseling, interpretive services and other assistance for low-income families is always hard to come by, no matter where you live. Though Jackson donors do funnel more money to arts and environmental causes, they still keep organizations like One22 and Teton Youth and Family Services in mind when they open their checkbooks.
Cavallaro is thankful for those who do.
"We have affiliated programs around state that can't provide the same breadth of programming," she said. "We are grateful for living here and having the philanthropic community we do, regardless if we're not the biggest part."