With funding down and demand for services up, the failure of the seventh penny sales tax in November's election means social service providers will likely look to private donors to plug budgetary holes.
But if those dollars don't come through, cuts could be on the table.
"The penny failing means that we have less options for being able to fix the hole that's being created," Sarah Cavallaro told the News&Guide. Cavallaro organizes the Human Services Council, a group of the valley's 10 largest providers of social services.
She's also the executive director of Teton Youth and Family Services, a nonprofit that serves as a clearing house for struggling children and teens in Teton County and the surrounding area. Among other things it offers a center for youth in crisis — like those experiencing homelessness — and works with families to prevent child abuse as well as behavioral, emotional and mental health problems.
Wyoming's human services providers are nonprofits that use philanthropic dollars and a combination of federal, state, and local government funding to deliver their services.
"We're going to be looking to local government and looking to our donors to be able to fill the holes," Cavallaro said. "And if we can't do that, we're going to have to reduce services."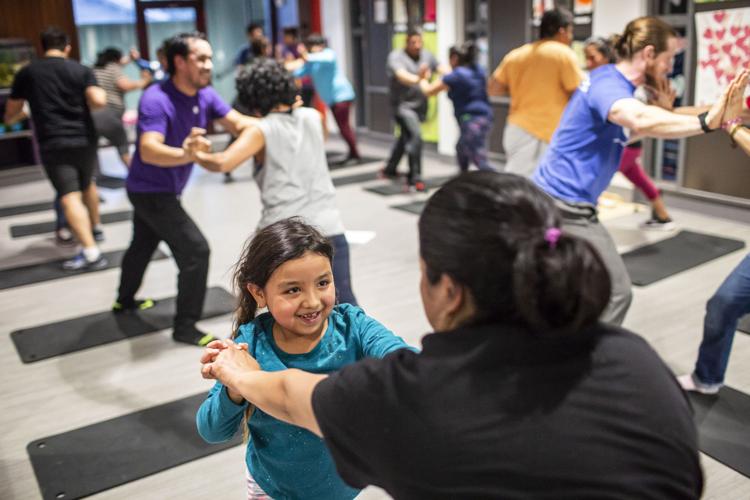 Gov. Mark Gordon has signed off on $250 million in budget cuts since March and is proposing another $515 million. Those cuts are a result of the economic slowdown caused by the COVID-19 pandemic. But they build on cuts that past administrations and legislatures have made as demand and prices for the fossil fuels that shored up the Cowboy State's government fell.
Town and county governments, as well as private philanthropy, have largely stepped in to fill the void for social services providers in recent years. But the cuts this year are significant.
Members of the human services community in Jackson Hole are estimating the cuts will leave a $3 million or $4 million hole in the roughly $16 million worth of services that nonprofits like Teton Youth and Family Services, the Jackson Hole Community Counseling Center and the Children's Learning Center provide the community — and, often, the community's lower-income residents.
"These are big-time cuts. These aren't, like we're cutting a program here and there," Cavallaro said. "These are limiting mental health services to people, limiting substance abuse services to people. It's everything, and it's going to have very significant ripple effects statewide."
They come as demand for services is increasing — the 10 nonprofits on the Human Services Council are serving roughly twice as many people as they were in 2013 — and as COVID-19 has ripped a hole in the country's social fabric, exacerbating mental health problems and the like. Trudy Funk, the executive director of the Curran-Seeley Foundation, which offers adults substance use and abuse counseling, told the News&Guide in October that her organization saw a lot of crisis calls during the April and May lockdowns. Those calls dropped off, but recently Funk said the level of crisis her staff has been seeing has been elevated.
Deidre Ashley, the executive director of the Jackson Hole Community Counseling Center, said in November that her organization has seen a similar trend. In addition to the normal, summertime spike in demand for the Counseling Center's services, Ashley said her staff saw a number of people who were struggling to balance working with safety in the workplace, and educating kids from home.
"Those kind of things I think just have compounded," Ashley said. "And over the summer, and definitely in the fall, I think we've we've seen an increase in demand, for sure."
But budget cuts don't have to equate to cuts in service.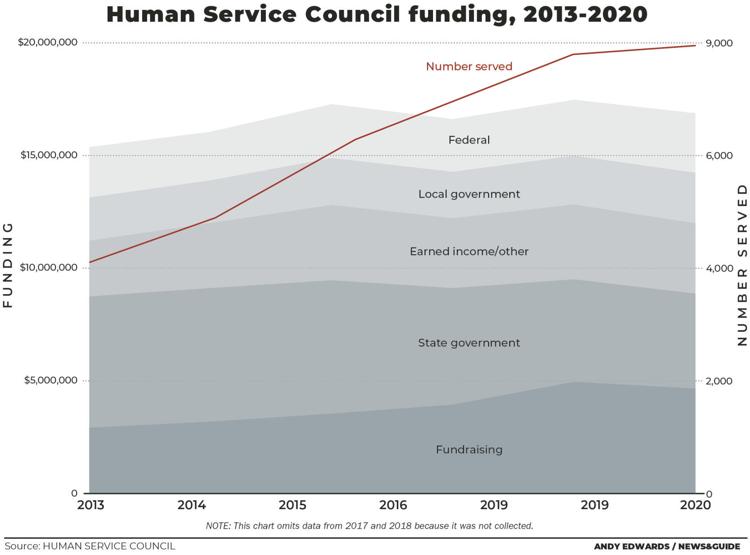 If the lost money can be replaced, whether through philanthropy or local government funding, services could be maintained. That would mean organizations like Youth and Family Services could continue providing the number of crisis beds it needs to for children who are suicidal, as an example. The Community Counseling Center could maintain the staff levels needed to continue offering traditional counseling, as well as other programs that are free for some and provided on a sliding scale for all Wyoming residents. That's thanks in part, to a state funding formula that may soon change amid the statewide budget cuts.
Town and county officials who supported the seventh penny sales tax said the money it was expected to generate — $9 million for the county and $7 million for the town — could have been used to plug the hole. The tax would have been paid by locals and visitors, but there was no way to specifically earmark funds for spending on human services.
Voters shot the tax down in November.
Despite budget cuts of their own, the town and county both fully funded human services requests for this fiscal year. But whether elected officials on both boards will cough up more money without the seventh penny sales tax remains to be seen. The Jackson Town Council is talking about budget cuts as it considers levying a property tax for the first time in recent history.
But property taxes like the town's proposal would generate less money than the sales tax — $3 million or so as the town looks to plug a projected $4.8 million budgetary hole of its own — and be paid by Teton County residents who have already seen rising taxes.
So that leaves philanthropic donors, whose support for human services organizations like Youth and Family Services and the Community Counseling Center has steadily increased from about $2.9 million in 2013 to about $4.6 million in 2020.
Ashley said philanthropy already makes up about 15% of her organization's budget. State funding makes up 32%, town and county funding another 23%, and fees for services, including billing Medicaid, complete her organization's fiscal picture.
The Counseling Center, she said, avoided cuts for this year. But the state government told Ashley to prepare for 20% cuts in the next two. Chopping 20% out of her current budget would be a reduction of about $150,000.
Next steps for Ashley's organization are uncertain, pending changes the Legislature is considering to the Counseling Center's sliding funding scale.
"My idea would be that we continue doing what we're doing" — providing that sliding cost of service — "and try to sort of fundraise to make up the difference, which I think we probably could do for a little bit," Ashley said.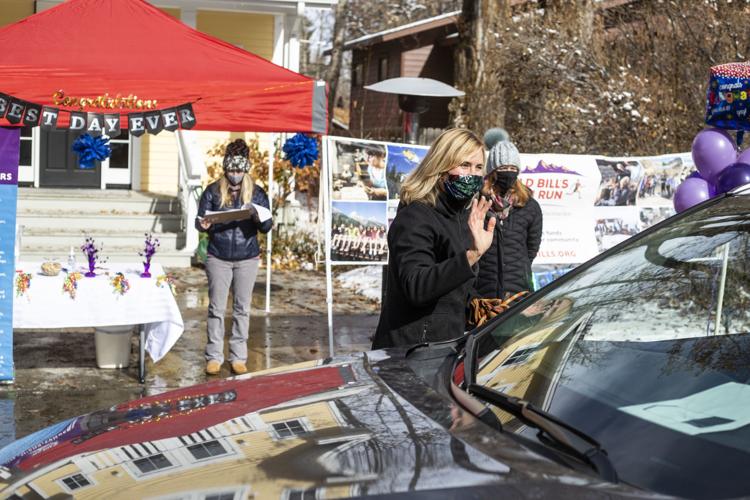 But finding $150,000 in philanthropic donations would require the Counseling Center to beef up its fundraising by 35%, Ashley said. And the organization would be competing with others, some of whom took substantial budget cuts in the current fiscal year.
"Not to say we couldn't do that. It would definitely be kind of a stretch," she said.
But Cavallaro said adding $3 million or $4 million to the human services sector's annual philanthropic haul would be a challenge: "That's basically trying to double our fundraising budget."
She and Ashley lamented the sales tax's failure, but recognized the reality.
"It's disappointing knowing that could have been an avenue," Ashley said, "but, you know, understandable. Passing a tax right now — I don't know if that was anybody's favorite option."
Cavallaro, like Ashley, said she would forge ahead. And, she said, a budgetary shortfall at Youth and Family Services or another human services provider isn't just that nonprofit's problem. She framed it as a community issue that needs a community solution.
And COVID-19 recovery, she said, is a 100-mile race in which Jackson Hole's on mile 25.
"We've got to make it to 100 to make sure that our community stays whole," Cavallaro said. "These services make sure our community stays stable and healthy and vibrant.
And, she said, "we have to come together as a community to make sure that it stays that way."