When Anne Ellingson works with Dionis Risto, it sometimes feels like "a dance."
The social workers, co-facilitators of the Curran-Seeley Foundation's domestic violence prevention program, aim to model the complexities of a healthy relationship.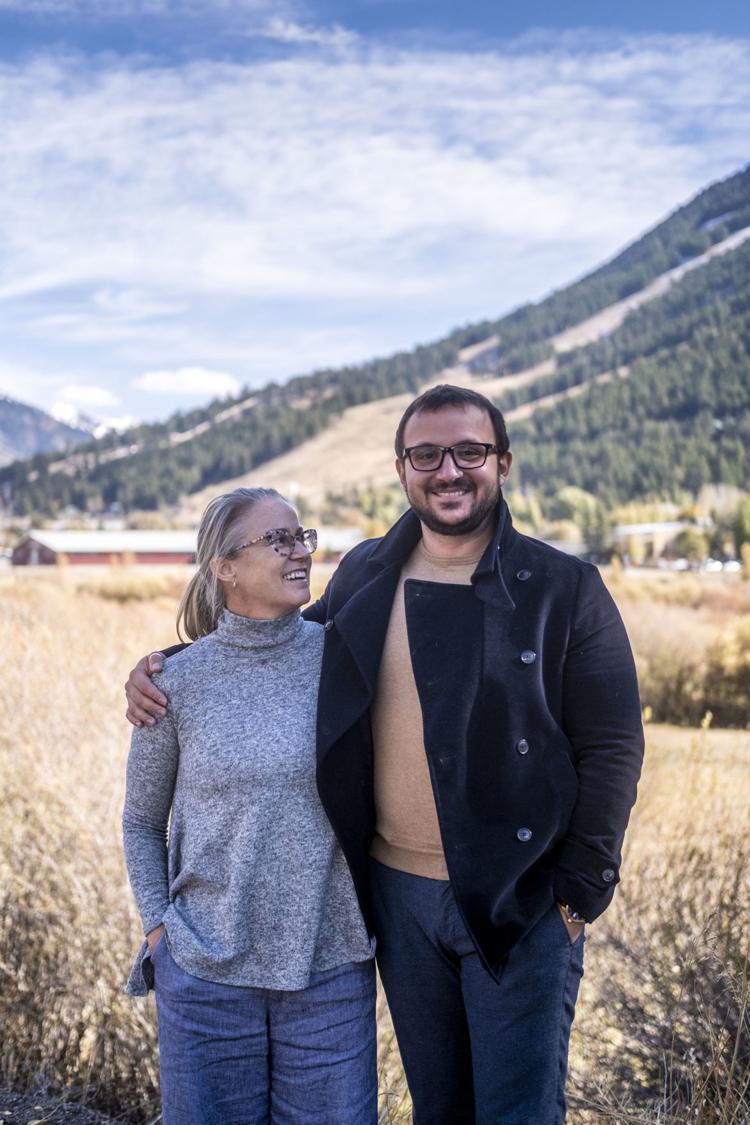 The two work with men who have problems with power and control and those who have been court ordered to attend the 26-session program following a domestic violence-related plea or conviction. In Teton County, prosecutors say those sort of cases are fairly common.
Teton County Chief Deputy Prosecutor Clark Allan, who recently prosecuted the case against Mathew Seals, said he deals with cases of domestic violence daily.
In 2018, six offenders pled guilty to felony-level domestic-violence related charges in Teton County. The Prosecutor's Office has handled four cases in 2019 so far, one of which was Seals' jury trial. Another is pending trial and two defendants have pled guilty.
The office has also handled about 40 misdemeanor domestic violence charges in 2018 and 2019 so far.
"It's one of the biggest things that we deal with," Allan said.
It's also an issue across the state, where police departments responded to over 1,800 domestic violence-related incidents in 2019, according to the Wyoming Division of Criminal Investigation. The vast majority were related to physical assault (about 88%) and in those physical incidents, the majority of offenders were men (about 67%). That trend is borne out across the nation.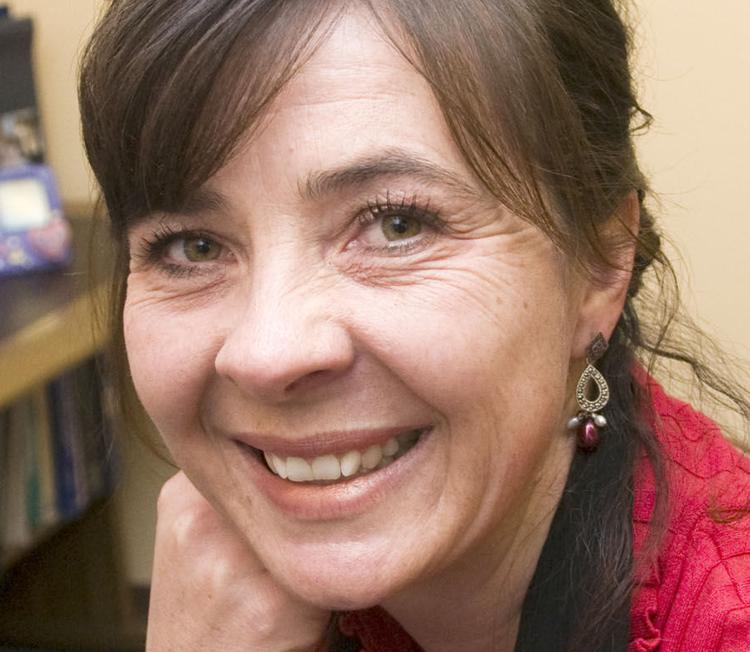 Trudy Birkemeyer Funk, Curran-Seeley's executive director who facilitated the batterer re-education program in the past, said it's important to work on preventing domestic violence in the first place. Doing so requires starting early to dispel gender stereotypes in places like high school health classes.
But for her and the team at Curran-Seeley, working with the men who perpetrate domestic violence is a recognition of reality — domestic violence is happening, including in Teton County. The program is also an attempt to stop future violence from occurring, or occurring again.
"The larger umbrella goal is to keep people safe in our community," Funk said, "and so if we can do that through re-educating and helping [batterers] learn new skills, practice new skills and learn new ways of being in a relationship, then we can hopefully stop that next act of violence."
In Teton County, domestic violence has recently made headlines.
One case was the Seals trial, which ended with a guilty conviction on eight of nine domestic violence-related counts. That was in early September. Less than a month later, an officer with the Jackson Police Department was arrested after two alleged incidents involving his fiance. He was later fired.
But such events don't capture the full scope of the issue.
Before ending up in the prosecutor's office, these cases start when the Jackson Police Department or Teton County Sheriff's Office respond to a call, as they did about 70 times between Oct. 1, 2018 and Oct. 1, 2019 for domestic-related events.
In that period, the Sheriff's Office made about 10 arrests. The Police Department took enforcement action over 20 times (Note: the department's records management system does not distinguish between citations and arrests).
On the prosecutorial side, Teton County Prosecuting Attorney Erin Weisman said the numbers her office was able to provide the News&Guide by deadline were "a snapshot."
"There are a whole range of cases that come to us, which maybe have that underlying component of domestic violence," Weisman said. "There's any number of charges that could be related to a domestic incident."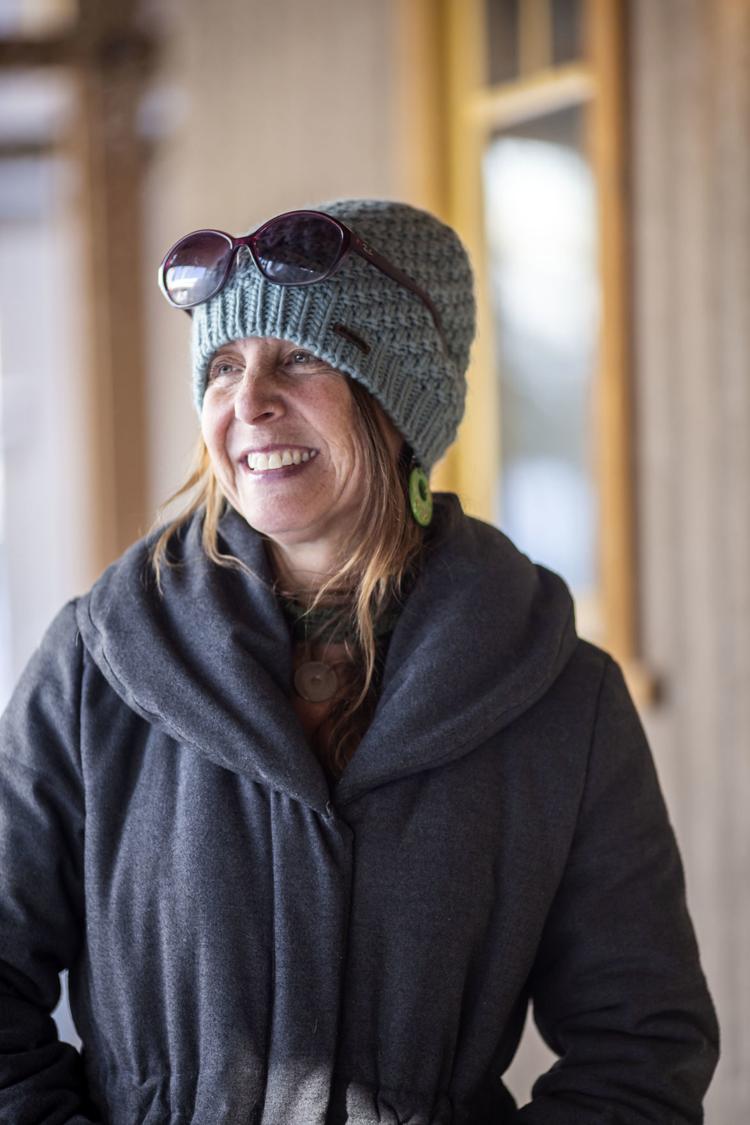 Still, Karin Waidley, director of prevention and education for the Community Safety Network, known as CSN, said even all of those numbers do not reflect the full scope of the problem.
The nonprofit advocates on behalf of victims of stalking, sexual assault and domestic violence, including that committed by an intimate partner, which is often referred to as "intimate partner violence."
In 2018, the nonprofit served over 180 survivors, which for reporting purposes CSN classifies as a "physical violence or the threat of physical violence." That distinction recognizes that domestic violence can occur in any number of ways, both physical and not.
Waidley said the reason for the discrepancy between the number of cases responded to by CSN and local law enforcement was likely that domestic violence — and violence committed by an intimate partner in particular — is "underreported" in Teton County.
"We may have people who come here who have no intention of ever reporting along law enforcement lines," Waidley said.
The reasons why vary, she said.
Immigration status may prevent someone from seeking legal help for fear of retribution.
Victims may have had bad experiences with law enforcement. Children are often involved, and victims may fear that they'll be separated from their kids or that their abuser will harm them as well.
Finances are also often a deterrent for reporting violence to law enforcement. If the offender is arrested or sent to jail, financial security — and in Teton County, housing — may disappear.
"There's a lot of different reasons why people might stay in a situation that involves intimate partner violence," Waidley said. "So the number in terms of official reports is probably quite low compared to reality."
Started in the early '90s by a former executive director, the Curran-Seeley batterer re-education program has served anywhere from five to six men to groups of 15 or 20 at a time. In recent years, numbers have been on the lower side.
Asked about the discrepancy between those numbers and the 60 or so incidents law enforcement responds to, as well as the 180 or so CSN handles, Funk said the legal process can be long.
"Sometimes those cases will go very quickly through the system and sometimes they take forever," Funk said.
Attendance is also largely court mandated, to the tune of 90%, she estimated.
The other 10% or so come voluntarily, in some cases while their case is pending. Men who show up voluntarily often do so because they've self identified problematic behavior — or they've come dangerously close to committing an act of violence.
"It's a situation where maybe a guy's starting to recognize that, 'In my relationships I keep doing this and I keep having these control issues or these jealousy issues and I gotta get a handle on this,'" Funk said.
Both groups of men participate in the same program, which is substance free, enforced by urine testing, and lasts for 26 weeks. Programs in Idaho and Colorado have 52-week mandates under state law. Wyoming, by contrast, has no laws mandating batterer re-education programs.
Once in the program, clinicians like Ellingson and Risto walk participants through different topics of conversation each week, oftentimes using principles developed by the Duluth Model, a system of intervention that originated in the early '80s after other intervention programs failed.
At first, clinicians focused on having women in the relationship "make sure things were done perfectly," what Funk called the "white picket fence view."
Next came couples' counseling, where the women who were abused would either not speak out or speak too candidly and abuse would continue at home.
Focus then shifted to addressing substance abuse, which Funk said affects 70% to 80% of men who perpetrate acts of domestic violence, and managing perpetrators' anger. Substance abuse counseling only showed abusers a path to recovery from drugs and alcohol, she said, and anger management courses didn't curb abuse because, as Funk put it: "You can abuse without ever raising your voice."
What then emerged was the Duluth Model, which focused on addressing the underlying reason that research found men abuse: establishing power and control over a partner, a decision often deeply rooted in philosophies of how men and women should behave.
Programs like Curran-Seeley's are based on the Duluth Model and use some of its principles and materials, including the "Power and Control Wheel" and the "Equality Wheel." The former is used to unpack the social dynamics that lead to violence, the latter aids in teaching what equitable and healthy relationships look like.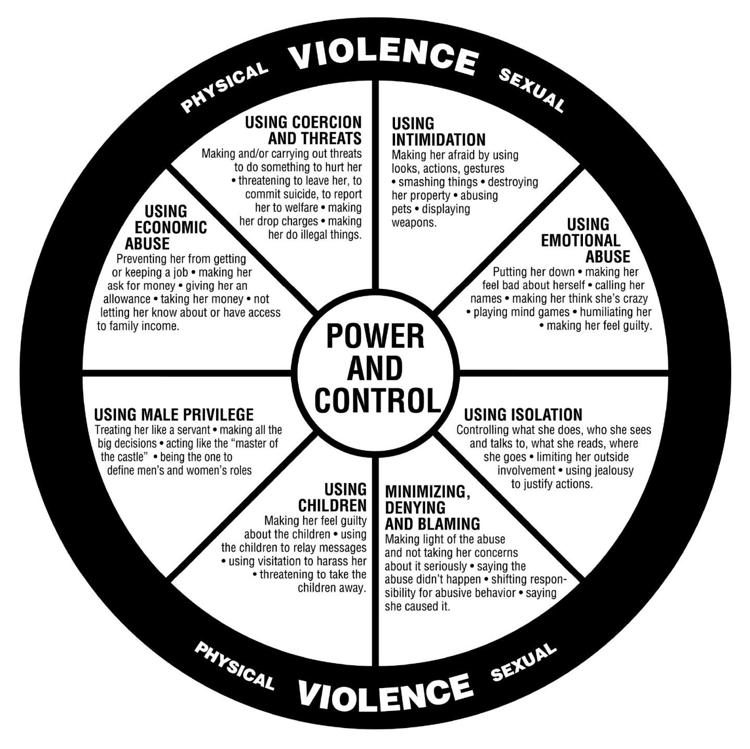 Risto said classes usually focus on a specific aspect of attaining power and control, economic abuse being an example that's not typically thought of as a form of intimate partner violence. Facilitators start with the status quo — how, for example, money is managed in a participant's home life — and then break it down, asking questions like, "How did we create this opinion that the man is in control of the money?" Risto said.
Of course, the situation isn't the same for everyone.
In session Ellingson and Risto work through individual issues, and unpack larger societal norms that can lead to violence. Examples include the idea that men are supposed to be the head of the household or that women are supposed to be the primary caretakers.
The goal, the facilitators said, is to have the men begin to understand what makes a relationship equal for both genders — the same sort of relationship Ellingson and Risto seek to model in their facilitation.
Doing so shows "how to have an equal relationship rather than a one-up relationship," Funk said. "And that's a very foreign concept to men and women. … They're used to that one-up. That's how they saw it growing up and that's how they've continued to utilize it."
But teaching the fundamentals of an equal relationship is not always easy.
Risto said he and Ellingson work with many men who "are actually more open than sometimes we would expect them to be," but coming to an understanding takes time, certainly more than a single session.
The clinicians see that process of back and forth and disagreement as an opportunity. They have the opportunity to put the "Power and Control" and "Equality" wheels into practice, showing that disagreement can happen without violence.
"There is still some opportunity to teach something even when we disagree," Risto said.
So, when Ellingson said she feels like she and Risto are dancing, it's more of a mental game in which she and her co-worker take turns facilitating the class, modeling what an equal relationship looks like.
"It's really nice to have both — a male and female facilitator," Ellingson said, adding that if the energy rises in the room, it's powerful to have a woman say, "Hold on, wait a minute."
If the men in the room don't want to listen to Ellingson, Risto backs her up.
"If something is off with the guys, he'll step in or I'll step in," she said.
Funk said that back and forth is critical.
"It's not like you're walking into a group where one person has more power than the other," she said. "They're co-facilitating as equals."
Still, domestic violence remains a problem, including after offenders leave programs like Curran-Seeley's.
Waidley noted that batterer re-education programs are "important," especially in the context of the larger conversation around rehabilitation rather than punishment.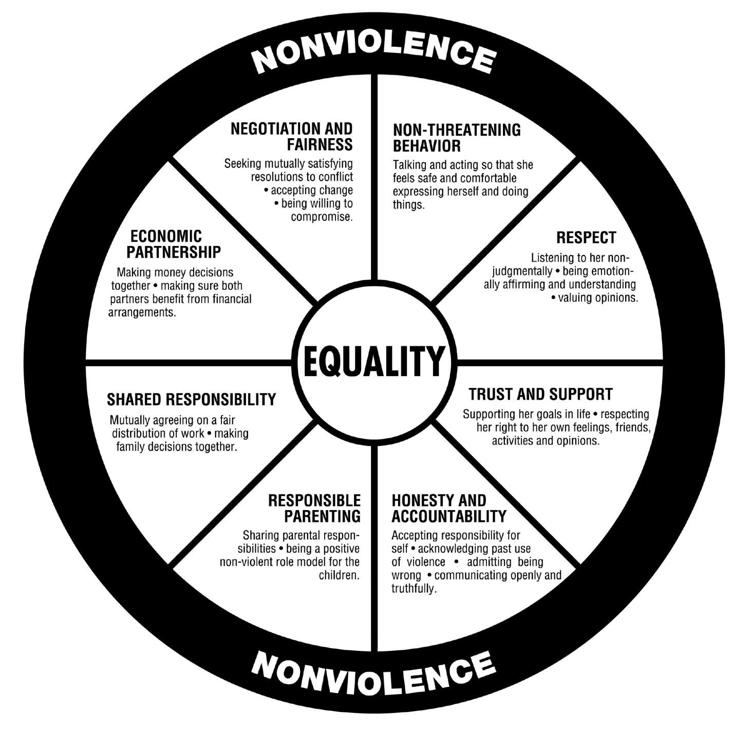 But she also said most offenders of intimate partner violence "are serial offenders," which is supported by a Department of Justice report that states "approximately one-third of abusers will reabuse in the short run, and more will reabuse in the long run."
It's also common for victims to return to their abusers, Waidley and Funk said, for a variety of reasons, many similar to the financial and familial barriers that keep victims from reporting violence in the first place.
"It's a really common trend," Waidley said. "The national statistic is that it takes seven times for somebody to leave an abusive relationship."
That means victims often find themselves in a tenuous situation with their abuser, who is statistically likely to abuse again. That reality is complicated in the world of batterer re-education programs, where research has shown mixed results. In many cases, recidivism still happens.
Funk acknowledged the Curran-Seeley program, anecdotally, does "see re-offenses," though she didn't have internal statistics to review.
She also said the number of repeat offenders they see coming through the Curran-Seeley program is "minimal" to the number that don't re-offend.
"This is a lifelong journey," she said. "This is changing behaviors that have probably been ingrained for 20, 30, 40 years. It's really difficult to say, 'This person is cured' — we would never say that. Instead, we'd say they've learned some skills. Now they need to continue to use them."
The reality of recidivism has led some people to criticize the programs as ineffective, but Funk asserted that a "cure" is never promised. Men can come back into the Curran-Seeley program at any time.
"Does it work for all? No. Can we guarantee it? No. But does it work for some, and does it improve some lives and does it eliminate some potential victims in the future?" Funk said. "I believe it does."