They've branded themselves the "Tampon Team."
These distribution avengers of feminine protection items have spearheaded an effort mirroring a national movement to make period products — pads and tampons — easily accessible to girls and women.
The idea was sparked by an Always ad, one of a few #EndPeriodPoverty advertisements the company has been running. One such ad reads, "This paper is not a pad. But it's all some girls have.
"Millions of girls in the U.S. don't have access to period protection and are forced to use things like newspapers instead," it continues. "This lack of protection can cause girls to miss school."
It was that last line that caught Margaret Hutton's attention.
"I had experienced that in Africa and Cuba, but I was surprised to read those statistics for the United States," she said.
Hutton, director of faith, care and action at St. John's Episcopal Church at the time, was curious to know if period poverty — lack of access to feminine hygiene products — was a problem in Jackson Hole. She called around, starting with school nurses, and found that "yes, it is a problem," she said.
It's hard to quantify exactly how much money Teton County School District No. 1 spends on feminine hygiene products or how many products are given to students, but information coordinator Charlotte Reynolds said the district is limited in what it can offer.
In response, Hutton started networking with nonprofits likely to be interested in tackling the problem, starting with the St. John's Hospital Foundation.
"I had just started to do my own research on [period poverty], so as soon as she called me I was like, 'Yep, know what you're talking about, let's get it done," said Katie Long, the St. John's Hospital Foundation's director of annual giving and database management. "I immediately went home, started a Facebook fundraiser for what I called 'period pouches.'"
In addition to the pouches — cloth bags designed to discreetly hold menstruation products — St. John's and the foundation partnered with Jackson Cupboard to pool money to purchase pads and tampons in bulk. The products were organized into baskets and placed in women's bathrooms around town.
The message, "Please take what you need," however much is needed.
"Our hope is, especially at the schools, that girls will take them home to their mothers and their aunts and their sisters," Hutton said. "Our main goal is for girls to go to school rather than stay home due to a lack of access."
In the first four months of the program, which started in the spring, 5,200 products were distributed, Hutton said.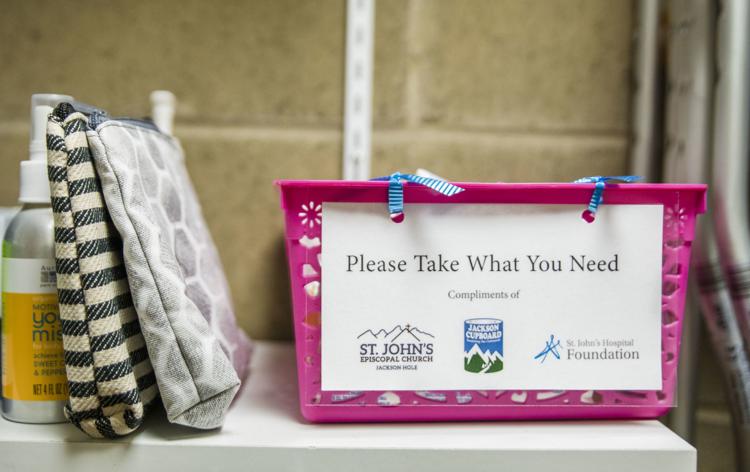 The program increased "the availability of these products for girls in our community and in a way that allows them to take what they need without seeing the school nurse," Reynolds said, "allowing students to quickly get what they need and return to class."
The Tampon Team has also put baskets at 10 other locations in Jackson, as well as 11 spots around Jackson Hole, two schools in Fremont County and the Community Resource Center of Teton Valley in Driggs, Idaho.
When the baskets empty, school nurses or staff replenish the supplies. When that batch runs out, the Tampon Team swoops in with more materials.
The cost, at this point, has been covered by the three nonprofits spearheading the project — St. John's Church, the hospital foundation and the Jackson Cupboard — though individual donations have also been received. Long collected funds via Facebook — to the tune of $1,600 in 10 days — and one man wrote a check to St. John's for "unmentionables."
Though the topic of periods can make some guys squeamish, men have been some of the biggest supporters of the project, organizers said, possibly having their eyes opened to struggles that their sisters, wives and daughters have faced.
The issue is not a hard one to explain, Long said.
"The main thing that I've been saying to everybody that I talk to is if it's a problem in this community, which is so well-to-do, it's a problem in anyone's community," Long said. "This is a global issue and one that really needs to be addressed."
Organizers have also given thought to the sustainability of the products being distributed, choosing tampons with non-plastic applicators and exploring reusable products like menstruation cups and Thinx period panties.
"But our number one goal was just to get products into the schools," Hutton said. "Then we can work out all the kinks and expand later."
Flying under the umbrella of St. John's Church, products are purchased tax-free — a luxury that regular shoppers don't have, because tampons, pads and other menstruation products are subject to a "luxury tax."
Ten states have repealed a tax on those products: Connecticut, Florida, Illinois, Maryland, Massachusetts, Minnesota, Nevada, New Jersey, New York and Pennsylvania.
California approved a repeal of the tax on menstrual products and diapers, but it lasts only two years; Ohio is considering a repeal of the tax.
Alaska, Delaware, Montana, New Hampshire and Oregon also don't tax tampons, but that's because they do not have a general sales tax.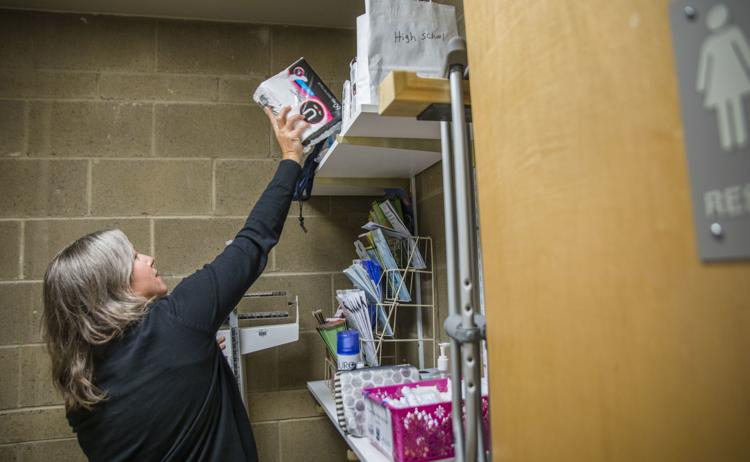 The remaining 33 states tax menstruation products. Period Project organizers are aiming to change Wyoming law to join the short list of states that do not.
The next legislative challenge is at the federal level, organizers said, because menstruation products cannot be purchased with SNAP or WIC benefits, which are distributed through the Supplemental Nutrition Assistance Program and the Special Supplemental Nutrition Program for Women, Infants and Children.
Changing how these federal program work, however, will "literally take an act of Congress," Hutton said.
Smith's Food and Drug donates health and beauty products to the Jackson Cupboard, including open boxes of tampons, said Leslye Hardie, a Cupboard volunteer and Period Project organizer.
Often the boxes are opened for one or two tampons, which signals to Hardie that young women are in a bind.
"It's just an absurdity that [lack of access] would keep people from school or work — or have them stealing things from Smith's," Hardie said.
Smith's Food and Drug recently became one of the locations at which the Tampon Team stocks baskets. While the products do cost money, the problem seems like one that is surmountable, Hutton said — which has driven donations and volunteerism.
"Dynamic women who can tangibly make a difference," Hutton said. "We're talking about buying supplies and distributing them. It's a doable, solvable problem."