Nearly every night a fifth dog in need joins Kelly Neubauer at home with her Chihuahua, puggle, cockapoo and hound.
"I found myself needing to contribute," Neubauer said, "and this is how I could do it."
Neubauer is a regular foster caregiver on a list of nearly 400 community members who take in the Animal Adoption Center's dogs for "sleepovers." From reducing stress to increasing adoptability to improving behavior, foster homes provide a long list of benefits to homeless pets, executive director Carrie Boynton said.
"That our community is willing to open their homes to 2,500 sleepovers a year, I think that says a lot about the philanthropic nature and our community's desire to help homeless animals," Boynton said. "That's exceptional."
Each day and for weekends — Friday through Tuesday — foster caregivers pick up the animals between 4 and 6 p.m. at the Adoption Center, where they are provided with food and a crate, harness and leash. The dogs are dropped back off between 9 a.m. and noon the next day for potential adopters to come meet and walk them.
Adoption counselor Jenna Stafford said the staff works hard at matching dogs and foster homes.
"We want to make sure we're sending home a dog that's going to thrive in your home," Stafford said. "We would hate to send home a puppy if you want an older couch potato."
Even one night in a foster home provides a lot of information about a dog, Stafford said. That makes the adoption process easier, because the shelter can provide potential adopters with more detailed information about what the dog is like.
"The fosters report back to us daily, saying, 'Hey, her housebreaking is really great, she'll ask to go to the door, maybe don't feed her around other dogs, she loves kids,'" Stafford said.
The overnight caregivers also get the animal out into the community, meeting people. You've probably seen an Adoption Center dog out and about wearing an "Adopt Me" vest.
Boynton said the foster caregivers are "incredible advocates" for the dogs, showing them off to friends, posting about them on social media and taking them out into the world.
Heather McDonald, a regular, said she once took a Chihuahua she was fostering with her to a haircut. Her hairdresser ultimately adopted the dog.
"People will stop you, especially if you're out walking in public and they have on the 'Adopt Me' vest," McDonald said.
Dogs also gain "life skills" while in a foster home, which can aid in their adoption.
"It socializes them," McDonald said. "When they can come into [my] home where I have a dog and a cat, they get used to being around other animals. As an active member of the community I'm out and about, I take them with me in the car, take them out on walks. They get to socialize and meet other people and animals."
Dogs often come to the Animal Adoption Center from other overcrowded shelters throughout the region. Upon arrival they're stressed and scared, said Eva Perrigo, a certified dog trainer and behavior counselor. She said the uncomfortable shelter environment can augment bad behavior in dogs, like excessive jumping or barking, spinning and "full-blown panic attacks."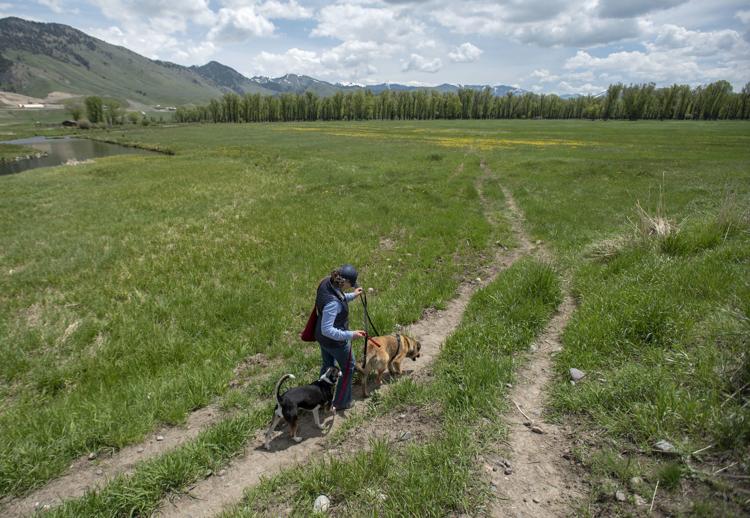 "It can be a very stressful environment for animals," Perrigo said. "It's loud. They're very isolated. Dogs are very social animals, so being in isolated kennels separated from humans and other dogs can be stressful."
But fostering helps the dogs calm down. McDonald thinks of it as providing an animal "a soft place to land."
"It gives these dogs a new outlook on life and lets them know that people are out there who are kind, and really want to have a dog, and are ready and willing to take on the responsibility," McDonald said.
Neubauer once took in a shepherd-husky mix that had been tied up under a trampoline for her whole life.
"She came over with absolutely no social skills at all, and she was a big dog and she was scared," Neubauer said.
Fostering allowed the dog to decompress, and after a few nights the dog realized she was home.
A recent study measured cortisol, a hormone indicating stress in dogs, before and after short-term sleepovers. The study found that across shelters, temporary foster homes reduced stress hormones in dogs.
Anyone who's willing to open their home can foster with the Animal Adoption Center.
"It can be people who are not in a position to be able to take a dog home permanently but they do want to help an animal out or want to share their lives with animals," Perrigo. "It can be people who are searching, who want to adopt. It gives them an opportunity to feel out what it's like to have an animal in the home or to find the right fit."
Saying goodbye after temporarily hosting a dog in your home can be tough. Sometimes a foster home results in a "foster failure," Boynton said, in which the foster family ends up adopting the animal. Or they just develop a relationship.
"It's not rare a foster cries dropping the dog back off because they love them so much," Stafford said.
It might not be goodbye, though. McDonald said she often runs into past foster dogs out in the community with their adopted families.
Nancy Buskirk is the volunteer coordinator at the Jackson/Teton County Animal Shelter. She is working to get new foster programs off the ground for the animals housed there. A "foster-to-adopt" program would offer potential adopters to take animals for "a test run."
"It does take a lot of pressure off," Buskirk said. Adopting is "a big decision; it's an important decision. We want people to make it wisely. We don't want the dog to be coming back."
Buskirk is also looking into programs that would place animals who require intensive medical care in the homes of more experienced foster caregivers, and a program that would allow approved fosters to take a dog out on a hike or for a sleepover.
"It's a great way for people who are in a position where they can't have an animal to still really make a change in an animal's life," Perrigo said.