Almer Nelson, who volunteered for service and sailed for France with the 15th Engineers about two years ago, returned home on last Monday's stage. ... The Engineer Corps with which Almer was identified saw strenous [sic] service and he can well feel proud, along with other Jackson Hole boys who had a chance at the Hun for having done his bit.
One hundred years ago that item ran at the top of page 1 of the Jackson's Hole Courier, an example of what made the news back then.
But just about anything made the news in Jackson a century ago. The Courier was the only source of news. There was no competing paper, no radio, no internet, nothing except what people told each other face to face. But the Courier had news from around the world and from around Town Square.
From the May 22, 1919, Courier: Several public spirited citizens, and some who have friends and relatives buried in the Jackson cemetery went out to that place last Sunday and did quite a bit of cleaning up and improving the appearances of the place. But quite a bit of work yet remains to be done. ... Messrs. Frank Van Vleck and Frank Wilhelm, who have ranches in Hoback canyon, were up to Jackson after seed grain and supplies the latter part of last week. ... W.P. Redmond has been quite ill from an impacted wisdom tooth since the latter part of last week. ... The Jas. Budge Ford turned turtle last Friday night when the front wheels skidded and ran up on a high bank near the Government ranch, east of town. ... Mrs. J.H. Discus and her daughter, Miss Rosamond, moved back to their ranch, in the lower end of the valley, last Saturday.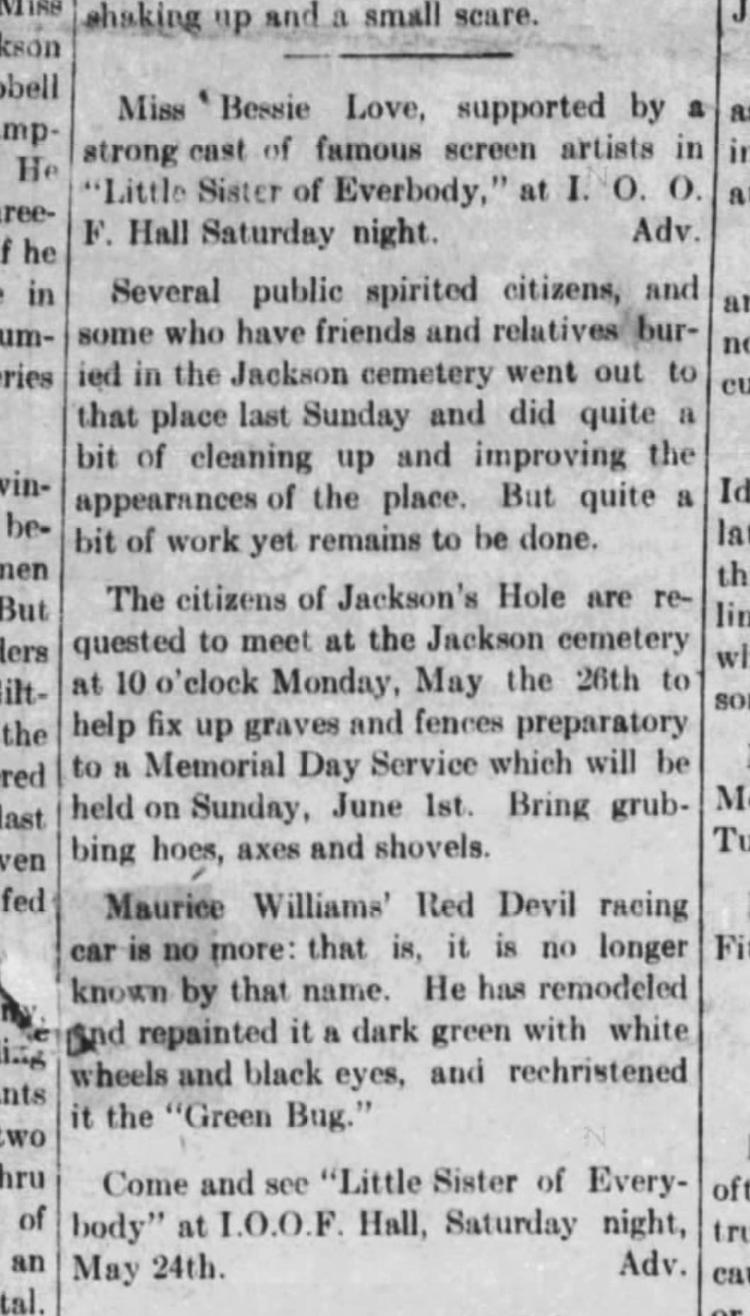 For Jackson, as for hundreds of small towns around the country, the weekly paper was where you learned about everything. The May 22, 1919, Courier included returning soldiers, people visiting from Kelly and Wilson, cattle being sold, and mailed news service stories about what was happening on the other side of the world. It was filled inside with comics and jokes, how-to articles, sports and medical advice, with bits taken from other newspapers.
That paper had a report about negotiations for the peace treaty with Germany next to a giant ad for Wrigley's spearmint gum. You could read ads that looked like stories that recommended life-saving products like Dr. Kilmer's Swamp-Root — "the great kidney, liver and bladder medicine ... Swamp-Root had stood the test of years," or Chamberlin's Colic and Diarrhea Remedy — "Buy it now it may save life." (sic)
It was usual to run a serialized novel. A 1935 Courier continued "Hilltops Clear" with this synopsis:
Prudence Schuyler comes to Prosperity Farm, inherited from her uncle, to make a new life for herself and her brother, David, his health broken by tragedy. The second day on her farm Prue falls from the barn loft into the arms of Rodney Gerard, rich young man, a neighbor. There is at once a mutual attraction, but Prudence suspects men since her sister's husband ran away with her brother's wife.
The style of neighborly, gossipy reporting continued into the 1950s, and survives even today in the News&Guide's "Circling the Square" column, which traces its history to the 1950s in the Jackson Hole Guide.
For instance, from a 1926 Courier: Every one in Wilson is enjoying the Influenza these days.
Or from 1939: Along with numerous lambs, ducks, chickens calves and kindred livestock, the stork left a three-legged calf and a five-foot horse at South Park ranches last week.
And, depending on the quality of the Courier staff, there was real news, such as: I.N. Powell, a rancher living in the Gros Ventre river section, was critically wounded Wednesday when he was shot at the climax of an argument resulting from his dog chasing elk." The paper reported that "well known game warden" Fred Deyo shot Powell when Powell reached for his rifle, which was on a nearby hayrack.
And from 1942: County Treasurer Lee Johnson, whose son, Lee Junior, fell into Jap hands when Wake Island was captured, received his first letter this week from his son since he was taken prisoner.
Sometimes it seemed that Jackson just wasn't ready for news, as in this page 1 lead from 1914: A good crowd turned out to the mass meeting Saturday night to discuss the matter of incorporating Jackson. No headway was made, on account of the fact that no one had come supplied with facts and figures.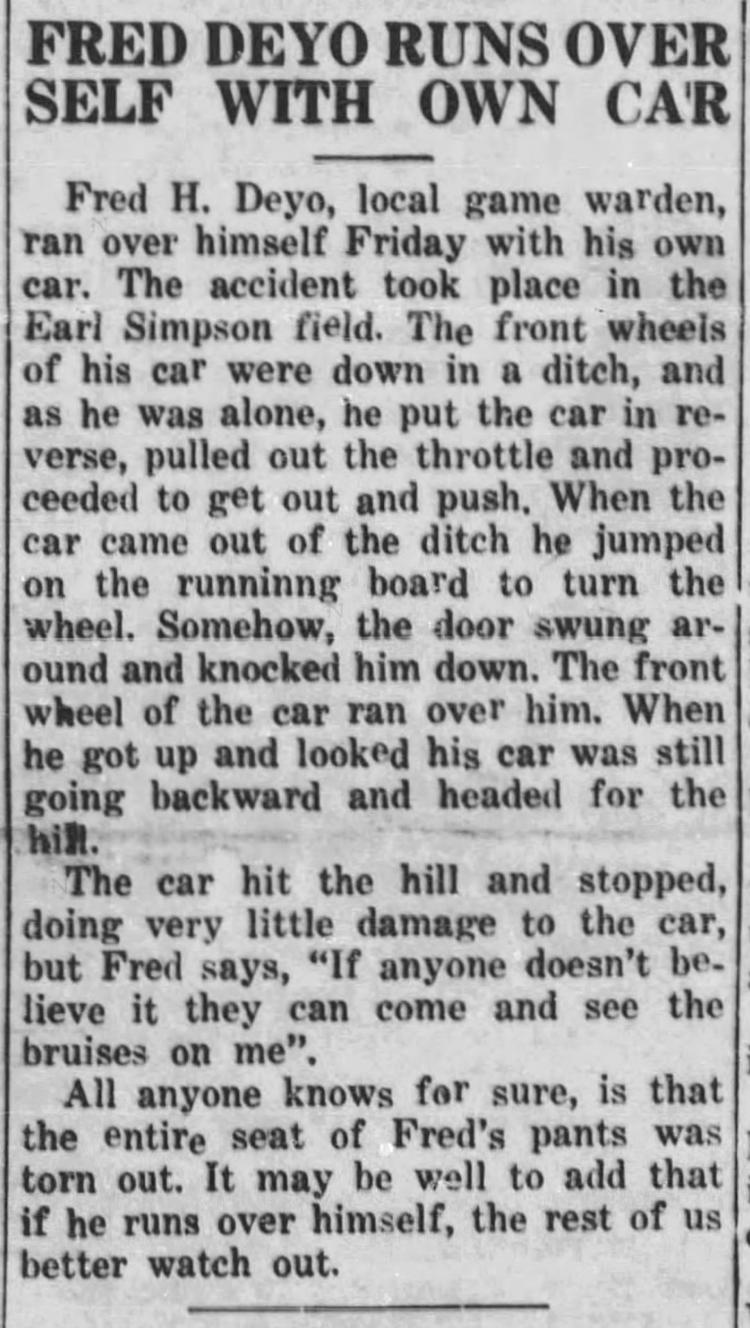 Over the years the amount of over-the-fence news gradually declined, and the real news increased. In the old Courier, Jackson's first paper, how much hard news was reported depended on the skill of the editor, and the level of skill varied. Some editors were pros who came for the job; others were in the style of folksy. The Courier's first editor, Douglas Rodebeck, was described in a 1956 reminiscence as "a Horace Greeley, type; he liked to dream and write, but he couldn't print."
Those papers now seem old-fashioned, with a style that's quaint, antiquated, cute. But reading them shows a history, and a sense of community, that today seems much harder to find in Jackson.
From 1914: Ray Storer, of Grovont, met with a pretty painful accident Wednesday evening. While having a friendly scuffle with Ben Goe, he somehow twisted his leg, breaking it in two places. This is hard luck for Ray, and it is to be hoped that the broken bones will rapidly mend.
From 1930: Mr. Bishop is now at the Crabtree Hotel giving permanent waves. If interested make appointments now as his time is limited.
From 1939: Fred H. Deyo, local game warden, ran over himself Friday with his own car. ... The front wheels of his car were down in a ditch, and as he was alone, he put the car in reverse, pulled out the throttle and proceeded to get out and push. When the car came out of the ditch he jumped on the running board to turn the wheel. Somehow the door swung around and knocked him down. The front wheel of the car ran over him. ... All anyone knows for sure is that the entire seat of Fred's pants was torn out. It may be well to add that if he runs over himself, the rest of us better watch out.
And from 1951: Mr. and Mrs. R.D. Reimers are home again, and report a delightful winter in Arizona and California.
The valley has a rich history of newspaper tradition, some of which endure today.
When pioneers moved west, one of the first things every new frontier town wanted was a newspaper.
In the early days of Jackson Hole newspapering, being an editor was a job anyone might do, often while doing something else at the same time.
The Jackson Hole Guide published its first issue in July 1952, challenging the up-and-down Courier for business. Editor Floy Tonkin, herself a…
People start newspapers for many reasons, but one of the most common is that they are upset with — or oppose, despise or loathe — the paper th…
The Jackson Hole News and The Jackson Hole Guide went nose to nose for three decades, chasing the same news, selling ads to the same people an…
Take a look behind the scenes of printing operations at the Jackson Hole News&Guide, and see this week's paper for a special retrospective…