Rodeo is a family affair. Rodeo royalty is often no different.
Take Jodi Edwards and her twins, 8-year-olds Mylie and Chloe. Her daughters started riding, you might say, before they were born.
"I ran barrels with them when I was pregnant," Edwards said. "We just stuck them on horses when they were able to have balance and sit up. So it was easy for them."
After riding on their own at age 2 and competing at age 3, her daughters are following in her footsteps, beginning as Pee Wee Princesses with the Teton County Fair and Rodeo Royalty program.
Now a professional barrel racer, Edwards has been on horseback her whole life. In addition to rodeo, her father plays polo, and the family scheduled their year around riding, traveling to Palm Springs, California, to rodeo in the winter.
"I was the Pee Wee Princess as well," Edwards said.
Her daughters have been a part of the royal court as well.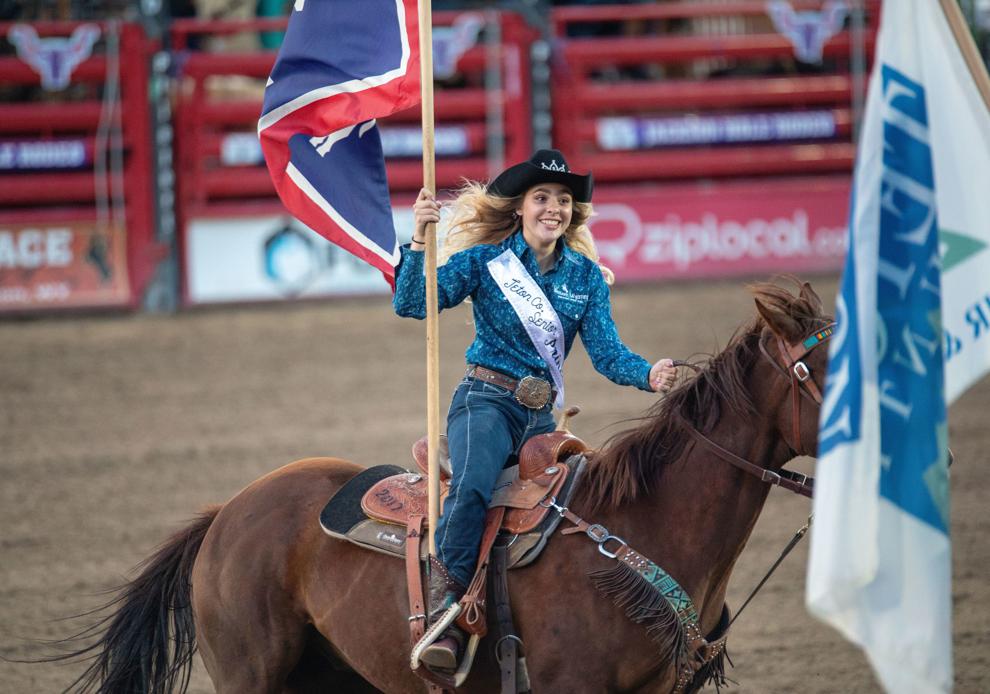 "They're following in my footsteps," she said. "They just wanted to do it."
The Teton County Fair and Rodeo Royalty competition seeks to attract young female leaders in the community. Those elected to the court promote the Western way of life, display high moral and ethical character, treat animals humanely and understand all aspects of the rodeo. While in office, rodeo royalty serve as representatives to the general public.
The "Miss Teton County Fair and Rodeo Royalty is not a 'beauty pageant' however, she should act, speak, and dress according to the prestige the title deserves," the program's rulebook states.
Participants in the competition are judged on modeling, speech, impromptu questions, rodeo knowledge, horsemanship and riding skills.
"I have rodeo queen flashcards," Senior Princess Jordan Lutz said.
You can spot the rodeo royalty at the Labor Day and Fourth of July parades, most (if not all) of the Jackson Hole Rodeo events and community service events like a Special Olympics breakfast and the '49er Ball.
Lutz has wanted to be rodeo royalty since she was 8 years old. Her mom long served as a model, being part of the Dandies, a group that represents Cheyenne Frontier Days at rodeos and events across the Rocky Mountain West.
Lutz even attended a rodeo queen bootcamp in Utah.
"I want to make people love rodeo just as much as I love rodeo," the 17-year-old said.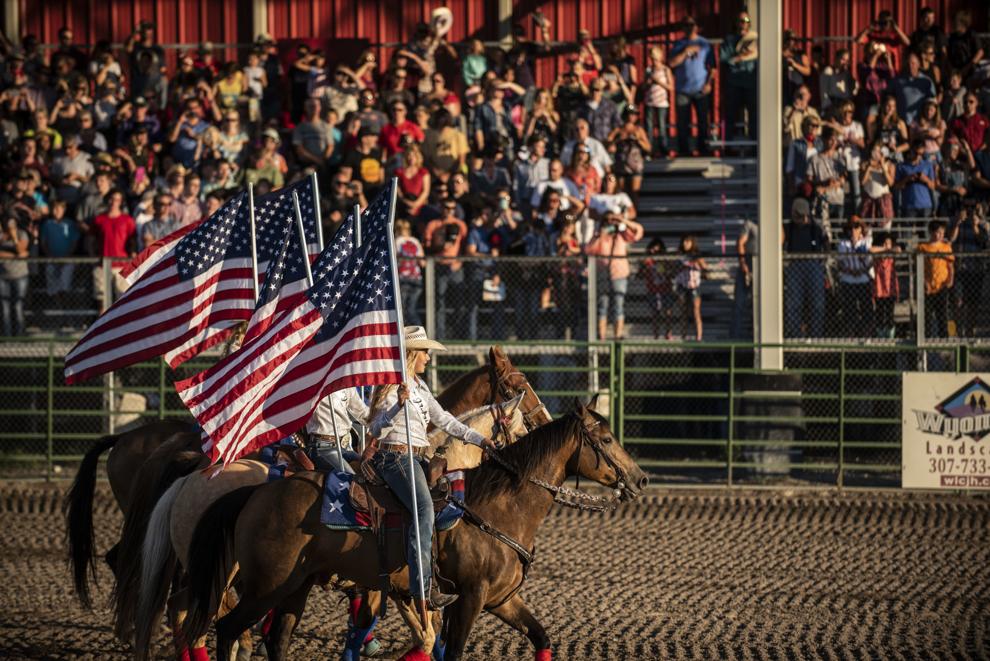 Lutz plans to pursue a career that inculdes horses and perhaps cosmetology, once she graduates from Jackson Hole High School.
"I can't imagine my life without horses," she said. "It would be boring."
At age 6, first grader Lucila Scharp is the youngest in the bunch who joined because she loves horses. She has been riding horses since she was 3 at Flat Creek Ranch, a dude ranch run by her parents, Shelby and Trey. Now, she's working on training her horse how to ride in an arena.
"My whole life, I've been on trail rides on horses," she said. "But never in an arena. This is really new to me."
Her mom said the role makes perfect sense for her daughter, who is quoted in her rodeo royalty biography saying, "I like princesses, horses and I'm good at riding horses."
"It was horse and princesses at the same time," Shelby Scharp said. "When she found out that was an option she wanted to stick with it and give it a try."
She showed her guff by competing for her title — Mini Princess — on a horse she'd never even been on. Now she wants to nail the sparkly part of the job, riding a "queen lap," which has a rider ride one-handed at a canter around the arena and wave.
She's likely be inspired some of the older court as she moves through the ranks, at least, that was the case for Teton County Rodeo Queen Lexi Daugherty. She joined the program at 15 because she was inspired by queens who inspired her to "make good life choices."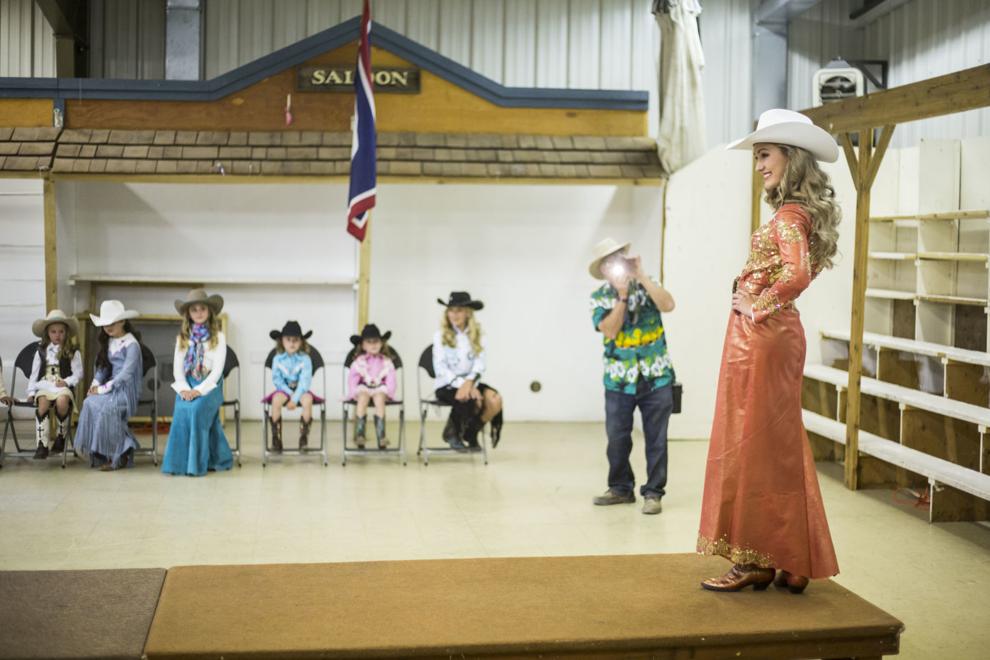 She's now 19 and a sophomore at the University of Wyoming.
"My dad always said I've been riding since I was 6 weeks old," Daugherty said. "It was the only way he could get me to sleep. I was lulled by the walking motion of the horse."
Now, she wants to be a positive role model for the younger girls and get her hands dirty with community service work, "getting in there and leaving it better than I found it."
"I mainly took this position because I would really like to grow the program," Daugherty said. "I know it changes lives. I know it changed mine.
"I just remember watching them at the rodeo and being so in awe of what they were doing. Just being in the program, it keeps girls out of trouble. You're too busy with horses and rodeos."
Speed, smiles and speaking
Girls of all ages have favorite parts about being rodeo royalty.
"I say I have a need for speed," Lutz said. "I love barrel racing; I'm smiling the entire time."
Daugherty also said it's fun to ride "at top speeds" with the American flag flapping proudly.
"I know I was super inspired by that," she said. "It's a super fun thing to do. No matter what happens, the crowd cheers for you."
Besides knowing how to ride expertly at top speed doing barrels and poles, Daugherty said she has learned life lessons from rodeo royalty. She and others echoed that the rodeo royalty program has helped them shed their shyness.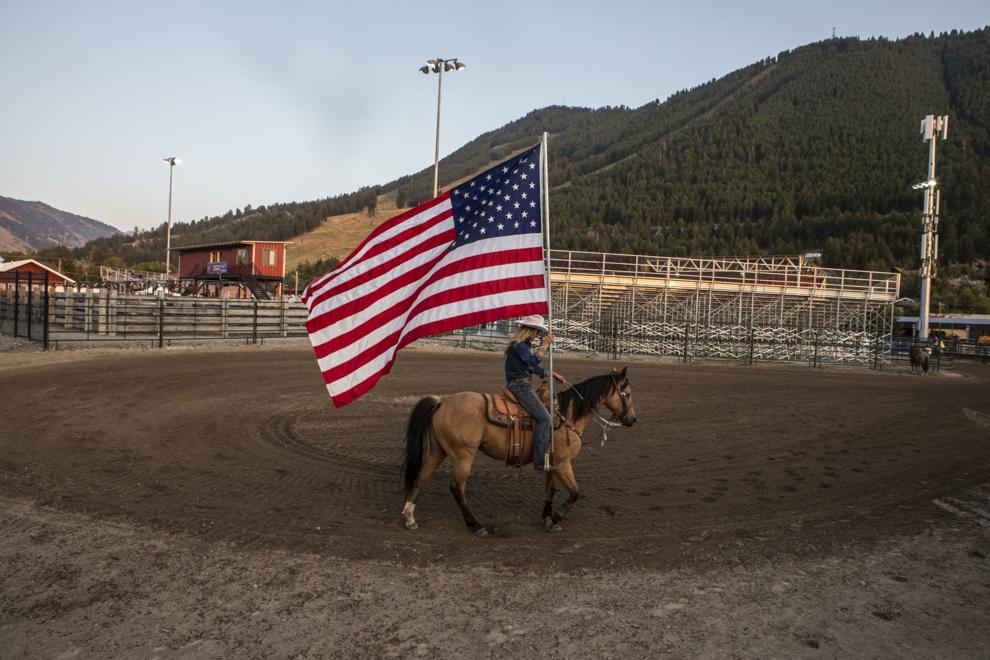 "It's taught me great public speaking skills, people skills," she said, "so many skills that will last you throughout your whole life."
Chloe's favorite part is smiling, which she's becoming an expert in with a princess tip she learned from her mom: Vaseline on the teeth. Even with a nervous, dry mouth, Vaseline helps princesses keep their smiles upright.
As for her twin, her favorite part is chatting up adoring fans.
"I get to meet new people and promote the Teton County Fair and Rodeo," Mylie said.
The twin sisters practice their rodeo wave at home in a pasture. They like to pretend they are at the National Finals Rodeo, accompanied by Lady Gaga singing the national anthem.
The hardest part about the rodeo life, they both agreed, is waking up early.
Alarms go off at 6 a.m. for competition days and parades, meaning it's time to prep horses and clean tack, curl hair and apply makeup (and, for some girls, lots of hairspray). Horses get a bath the night before.
Dedication is a theme the older rodeo royalty girls brought up, too. It's a three-night-a-week commitment in the summer.
"It does keep you pretty busy," Daugherty said.
"For us, the rodeo is everything," Lutz agreed. "That's what we do all summer. I don't travel. Everyone at my school knows I'm a rodeo queen."
That dedication means when winter comes to Jackson and most of the town is playing in the snow, the Edwards family makes the trek to Wickenburg, Arizona, (about 60 miles west of Phoenix) to continue rodeoing.
"I tried to ski once," Jodi Edwards said. "But it was ugly."
Daugherty said she sees her role as necessary year-round, anyway.
"I think rodeo queens are super important nowadays because I think there's growing concerns about the sport of rodeo and how animals are treated," she said. "We're the voice and the face of rodeo, and being knowledgeable about what's going on in the sport of rodeo, explaining to people these animals are very well taken care of, they're part of the family — explaining stuff like that is important."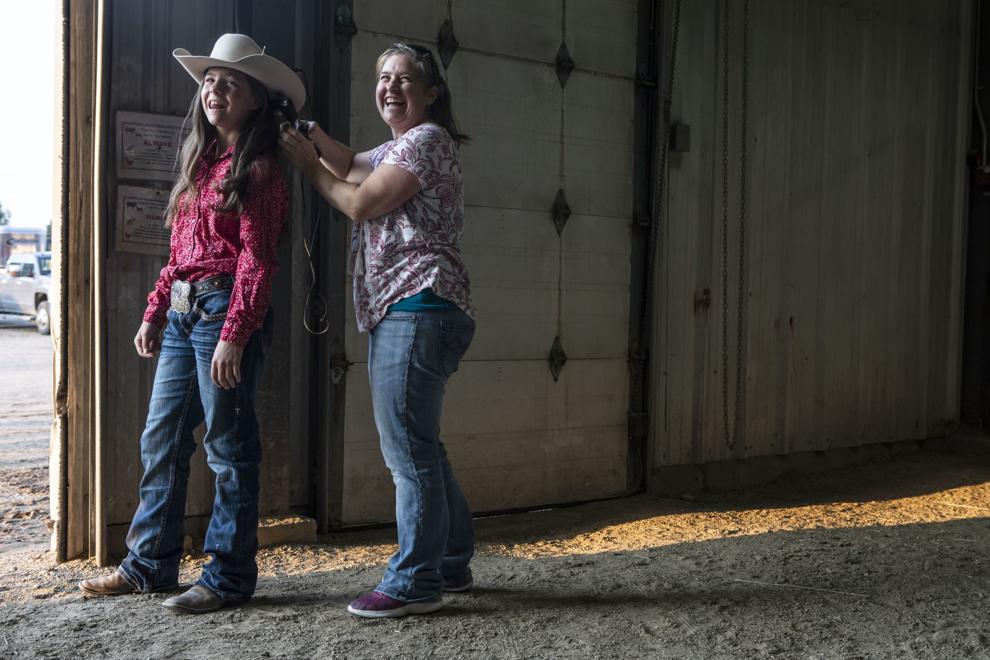 Lutz said she is asked "a lot of questions about how rodeo animals are treated," even from her teachers at school. She likes to explain rodeo roots and how the sport ties into the way horsemen historically trained and controlled stock.
"The sport evolved from that," she said. "It's really just keeping the Western heritage alive."
You can tell when Lutz talks about her horses — Danno, CC, Rat — that she and the other girls have a unique bond with their animals.
"When I was little, I used to call them my boyfriends," Lutz said. "Who needs a boyfriend when you have a horse?"
Those in the rodeo world say devotion to the sport in the 21st century is crucial.
"It's a part of the community that's missed out on in a lot of different ways," Scharp said. "I think the horse culture in general is a little bit passed up on. The outdoors and skiing and hiking, that's what people really like to focus on. They think, 'Cowboy stuff, that's for the tourists.' Nope, there's really a cowboy culture left in Jackson."