When Mak Gavin landed an arrow square in the cheek of the black panther lounging in the field in front of him, he had only two words to say: "head shot."
"I head-shotted the panther," the 9-year-old said. "Should I do it again?"
He did, but missed a few shots later.
"Ooh, my arrows are rigged now," he said, shooting another into the dust in front an elk target.
Mak was one of 15 or so kids shooting arrows as part of the Teton County Fair's 4-H archery showcase, which took place July 19 at a private home near Hoback. The elk and panther Mak was shooting were part of a collection of about a dozen 3D animal targets: forlorn, arrow-ridden creatures arranged at varying lengths throughout the field.
Besides Mak's panther there was an imitation skunk that had taken an arrow to the eye , a grizzly punctured by three arrows to the heart, and an elk that had been hit by a few arrows in the chest, as well as a few up and down its neck.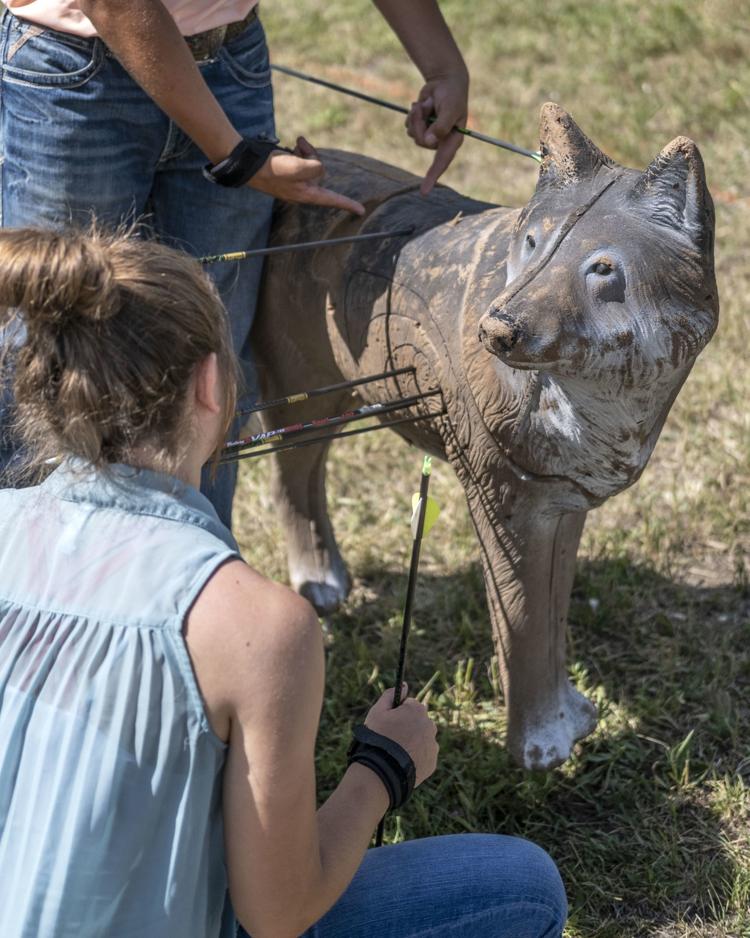 For the kids in the showcase the 3D targets were a unanimous favorite across the four-part competition, which started off with traditional and compound target shooting. 4-Hers like Jacob Bentlage, 16, and Nevin Griber, 16, were practicing for fall bow hunts, so they were having fun peppering something closer to the real thing with arrows.
"These are kind of just like more natural and funner because they're animals," Bentlage said.
Griber agreed. He found shooting compound bows more useful — that's what he hunts with — but enjoyed shooting the less-accurate, difficult-to-shoot traditional bows.
"Traditional's fun just to mess around on," he said. "You're just flinging arrows."
And that's exactly what it looked like when the 4-Hers switched from compound to traditional bows on both the 2D and 3D targets: flinging arrows.
Accuracy took a nosedive as all of the kids competing tried to maintain the accuracy of their sighted compound bows, with the unwieldy traditional longbows.
"For the most part they don't practice traditional, and we try to get them to," said Jared Kuhns, a parent who runs 4-H archery with his friend Buck Wilson.
The kids are always focused on honing their grouping with their compound bows, but when the fair shoot comes around, they all get out to practice traditional.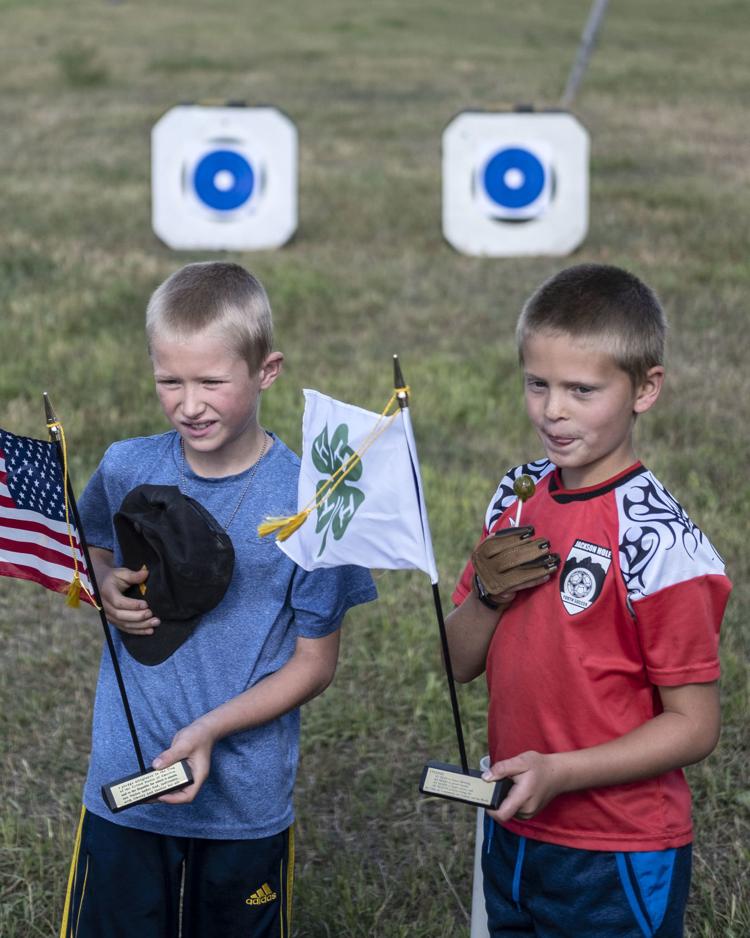 But Kuhns and Wilson agreed that the tightest grouping wasn't necessarily the point. They were there to teach the kids a thing or two about shooting, while spending time with their own kids in the program.
"Our goal is just to teach them to go back to shooting bows and having fun," Wilson said.
"It's something to hang out with them," Kuhns said. "We never take time and shoot with them really, but we're there to yell at them and keep them in line and have fun with them."
And from Mak to the older kids in the program, like Griber and Bentlage, fun seemed to be had by all, including Kuhns' daughter, Katie, and Wilson's son, Tucker.
Katie, 14, said she liked showing up for practice and making small competitions with her friends.
"It's awesome because we can all just kid around and laugh and have fun," she said.
Tucker, who said he hadn't had his best day, wasn't concerned about messing up.
"I'm just really here to have fun and have a great time with friends and family," he said. "You got to concentrate a little bit, but it's all about having fun for me."
PHOTO GALLERY: Teton County Fair
Sights and highlights from the 2019 Teton County Fair and Rodeo.