Sheriff Manny's head comes about to the waist of a full-grown man.
Sheriff Manny has a gun, lasso, uniform and boots with spurs. Sheriff Manny has "fringe — lots of fringe," said his creator, Maeve Linehan.
Sheriff Manny is made of duct tape, with sheets of the polyethylene and fabric material pressed together and wound around a mannequin, hence the name.
"We found a mannequin on the street while we were biking," Maeve said, "and we brought it home."
The mannequin, and Maeve's interest in creating projects out of duct tape, led to her building Sheriff Manny for entry into the Teton County Fair, where Manny spent the better part of a week hanging out in the exhibit hall next to Maeve's brother's creation.
On the table next to the sheriff was a replica Crazy Creek, also created from duct tape. Both Maeve and her brother, Eamonn, submitted entries in the Reduce, Reuse, Recycle category and received blue ribbons for their work.
Ribbons adorned a plethora of things around the Exhibit Hall, from the traditional fair offerings like quilts and baked goods packaged in Ziploc bags — for looking only, not tasting — to some that are a bit out of the ordinary, like Lego Deathstars and villages. The Exhibit Hall is a great place to learn things you didn't know you wanted to learn about, like all the different kinds of hedgehogs. The exhibits are a community-building way for people to showcase their skills and receive a bit of recognition.
"This is my favorite part of the Fair Book," Heidi Hughes said, pointing to a section about the exhibits. "'Entries are judged on the Danish system.' What is that?"
Hughes, who is Maeve's mom, and several other parents were standing near the door of the Exhibit Hall as their kids prowled the hall, talking to any interested stranger about their entries.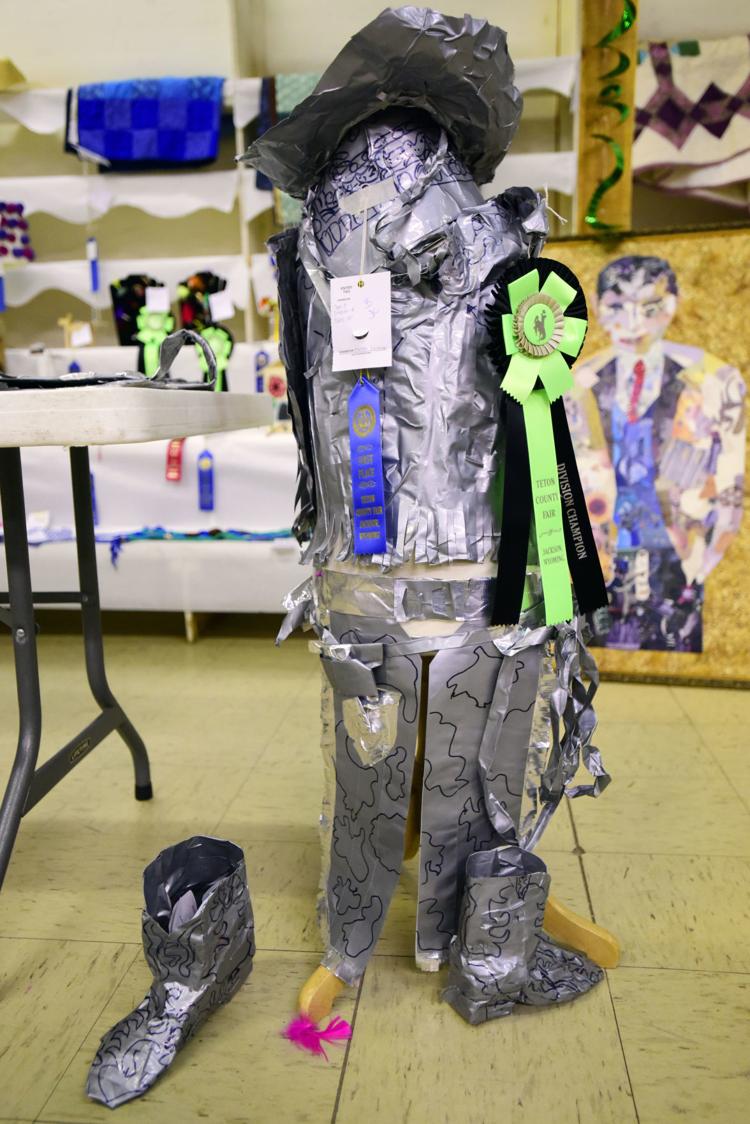 Jim Linehan, Maeve's dad, pulled out his iPhone.
"'In the Danish system, entries are not judged against each other,'" he read, "'but rather against a standard.'"
The revelation that the exhibits were entered only into competition against themselves, and not against each other, caused a brief outcry among the parents, whose children all attend Kelly Elementary School.
"No wonder everything has a ribbon," Jen Baxter said, laughing.
The Danish system, common in 4-H around the country, is intended to recognize all entrants' efforts. Scores are given according to a rubric, with those receiving a score of 90 or better being given a blue ribbon for "excellent" work. Red ribbons recognize "very good work" and yellow ones "good quality that will benefit from further improvements," according to the Rutgers University Extension.
"The purpose of using the Danish judging system is to give every 4-H member the recognition deserved for the work that was done," says a handbook from the extension.
After the laughter over the Danish system died down, Baxter plugged the entry of Maria Hayashida, an artist and a parent of another Kelly student. Her blue-ribbon work was a large framed collage of her father.
The entry, also in the Reduce, Reuse, Recycle category, employed years' worth of cards her father had sent her after he moved out when her parents divorced.
"I have decades of these cards, and one day I was like, 'Dad, I can't throw them out,'" she said. "I cut them up, and that's him."
For the parents and kids alike, the Exhibit Hall was a gathering place, somewhere to display their ingenuity, and an air-conditioned stopover between fair events. But for the Kelly school families, entering the exhibits in the first place was also simply an extension of the community they have built.
"I think Kelly thrives on these sorts of community events and programs," Hayashida said. "Dungeons and Dragons, Harry Potter night at the library, the kids are always first in line."
PHOTO GALLERY: Teton County Fair
Sights and highlights from the 2019 Teton County Fair and Rodeo.