Gigi Mahood has been a part of 4-H for the last four years, but this is her first year working with lambs.
In the lead-up to the 2019 Teton County Fair, she spent months preparing, walking her lamb every night and feeding it twice a day: 7:45 in the morning, 7:45 at night.
She had a chance to put her work with her lamb to the test Thursday at the Teton County Fair Sheep and Goats 4-H show at the Heritage Arena, where she won Reserve Showmanship Champion in the intermediate division.
But not only did Gigi enjoy spending time with her award-winning lamb, 4-H is a chance for her to make friends.
"4-H is really fun and you learn about leadership a bunch and stuff like that and it's just fun to hang out with friends," the 12-year-old said.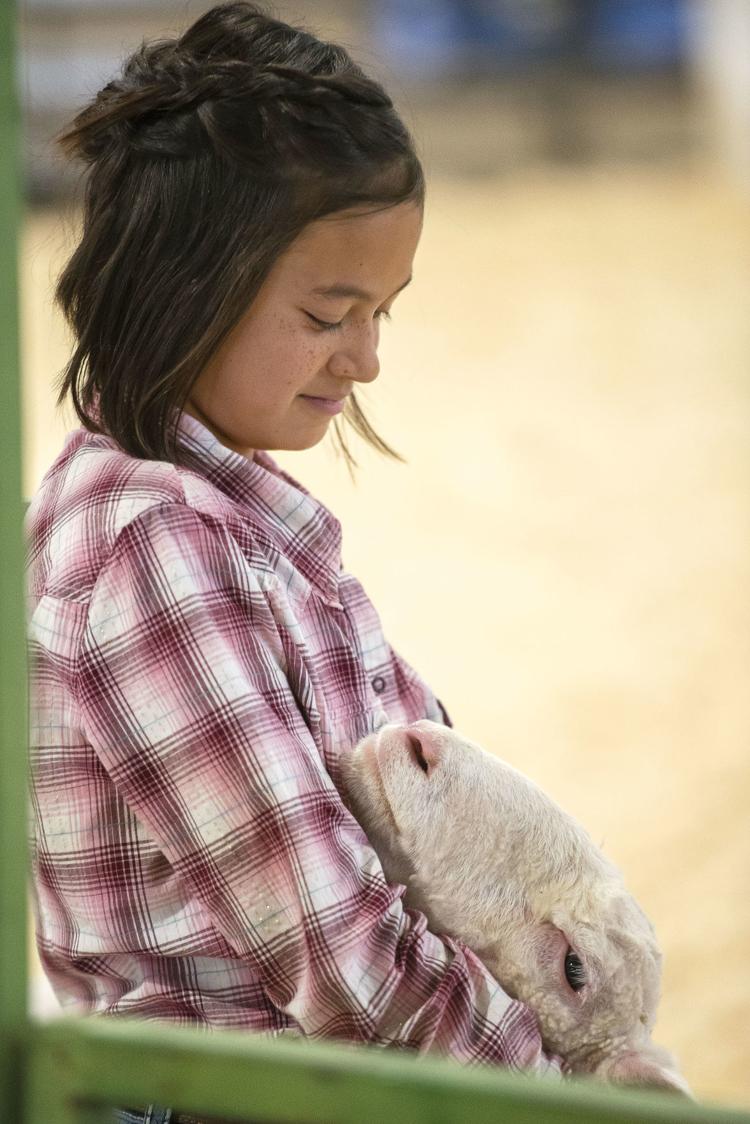 For many 4-H participants it's a family affair. That's true of the three siblings Deegan Moncur, Leilana Moncur and Kalia Moncur, who all started 4-H-ing when their family moved to Alta from Hawaii two years ago. This was their first year of showing 4-H livestock.
They have two younger siblings, who while still too young, might join them in the 4-H circuit someday.
Kalia, 14, eldest of the Moncur siblings as an eighth grader, showed with her 6-month-old lamb, Charlie. She explained that she spends up to an hour every day with the lamb.
"At first he was pretty hard because he just didn't really like me, didn't know me and didn't want to work with me. Just really stubborn," she said. "But then, towards the end, he started working with me a lot better."
As the big sister of the group she can feel some pressure to set a good example for her siblings, but she enjoys the chance to work with them. The siblings will often help each other on the farm by sharing tasks and feeding the other's lambs when they can't.
"I really like working with my lambs and also I really like spending time with them," Kalia said. "And I like learning new things about them every day."
When Leilana, 10, first started working with her lamb, Ocean, he would barely listen to her. She said she enjoyed getting to know him better and getting him to be more responsive. She earned Reserve Showmanship Champion in the junior division and a blue ribbon in market.
One of the biggest difficulties, Leilana said, is keeping them in control. Another challenge is setting them up correctly in the show ring, making sure their legs are in the proper position.
Kalia's younger brother Deegan, 12, showed with his lamb Darth Mater. He has been working with her since April and loves training with her. He knew he'd reached a good level of progress with Darth Mater when she got a little too friendly.
"Once they get used to you," he said, "they start trying to eat your clothes."
Deegan placed third in showmanship and third in market.
The process of raising livestock is a bittersweet affair for the kids, who get attached to the animals they work with, making it hard to auction them following the shows. But the competitors take it in stride.
"What I hope will happen," Deegan said, "is I'll find a generous owner that will buy my lamb, that will take care of her and then make really good meat."
PHOTO GALLERY: Teton County Fair
Sights and highlights from the 2019 Teton County Fair and Rodeo.