Gandalf and Merlin were born and raised exactly like full-size horses, despite being only 33 inches tall at the withers.
The minis live with their larger counterparts, but their size makes them perfect for therapy, said Anpeytu Neier, who brought the two to the fairgrounds for a demonstration during the Teton County Fair.
Neier, a horse enthusiast and former 4-H participant, discovered her love for miniature horses when she was 11 years old. She has been working with Gandalf and Merlin for several years, prepping them for the healing work she'd like to do with them.
They were a sight to behold Thursday, as they walked alongside the pigs, goats, cattle and regular horses at the fair.
"They were so calm and very well behaved around everyone," said 16-year-old Samantha Fairbanks, who attended the demonstration. "I can see how these horses are therapeutic and help people."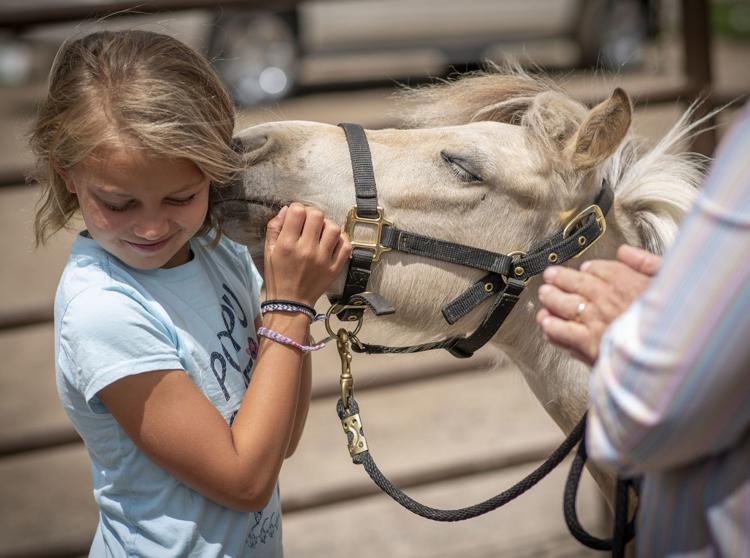 Though people react differently to the minis than other therapy animals, Neier said, they receive similar training — it just takes a little bit longer.
Gandalf has been more willing to learn some things, but have both been "well socialized and adapted to loud noises, new people and walking on new surfaces" in order to provide comfort and peace.
An although they're set to provide therapy — at places like the new Sage Living Center — they are also reminiscent of live teddy bears.
Even down to the small booties they wear when they travel indoors that come from none other than Build-A-Bear.
PHOTO GALLERY: Teton County Fair
Sights and highlights from the 2019 Teton County Fair and Rodeo.