Twenty-five steers weighing a combined 30,314 pounds were paraded, admired, bid on and sold Friday at the Teton County Fair, but the surprise of the day came with feathers.
The crowd fell silent when Jake was prodded into the arena. In world of beef and pork and lamb, Jake was a big serving of white meat — a turkey.
That didn't matter. The event is characterized by sky-high prices, with the sale benefiting a variety of nonprofits and with bidders often shelling out to give a boost to 4-H kids known to the buyers.
Jake went — after spirited bidding — for $825. If you could get that price for every turkey in the United States, the turkey business would gobble up Google.
"I knew he would bring a couple hundred," said Nevin Griber, the 16-year-old Jackson kid who raised Jake. "But I had no idea. ... I thought maybe a couple of hundred."
About 90 kids participate in the animal-raising projects programmed by the Teton County 4-H Club, out of 200 who take part in all the organization's activities. The annual auction has been held — by guesstimate — since 1957, when it was conducted in the middle of Center Street, in front of the old Jackson State Bank. This year's sale was auctioneered by Brian Taylor, Hunter Christensen and Jim Loose, who was there for his 30th straight, and still enjoying it, he said, because "it's a local crowd, local people."
On display at the fairgrounds Friday were — by quick tally — 35 steers, 55 pigs, 31 sheep, four goats, 49 chickens, two ducks, three turkeys, and 16 rabbits (at least at that exact moment). Some were there for judging and sale. Others had higher goals — a steer owned by Kinzie Castagno was on his way to the state fair after winning local ribbons. She also raised an award-winning swine.
One seller was 11-year-old Tyler Fisk, up from the Hoback with his lamb, Q, named after the Bond character.
"He can be mischievous," Tyler said of Q. "But most of the time he's relaxed."
Tyler, in his second year entering a lamb, said he liked the experience.
"I enjoy it, the work you put in, the rewards that come with it," he said. "It's worth it."
Q eventually went for a wool-raising price of $31 a pound to Jack and Carole Nunn.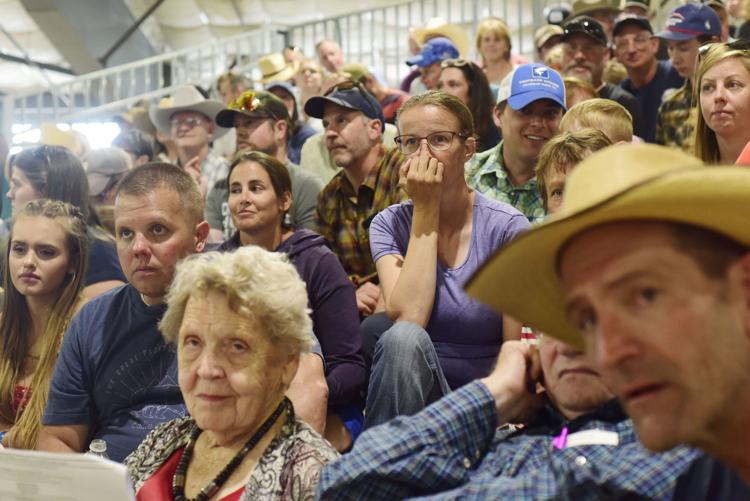 "We've known Tyler over the years and we wanted to help him," Jack Nunn said.
"These kids work hard with 4-H," Carole Nunn said.
Q was likely to go to Teton County Youth and Family Services or to the Jackson Cupboard, the Nunns said.
In the adjoining pen were lambs Borghini and Baahhb! The pair were raised by Isabel Mixter, 10, and her brother, McIntosh, 8. They live in Wilson and were wrapping up their first year raising lambs.
Their mother, Krista, said it was daunting to jump into livestock raising: "It was totally terrifying," she said. "Our whole goal was just to keep 'em alive."
One thing they didn't anticipate was the lambs' liking for the house.
"They'd look at the windows and see themselves" and find any way they could to get in, Isabel said. "They see themselves and think some other lamb is in there ... or that I'm in there."
The sheep made a memorable mess when they found a way in, said Jed Mixter, father of Isabel, McIntosh, Borghini and Baahhb!
While a steer was being hosed down steps away and then having its rear fluffed with a Shop-Vac, mini-steer owner Casey Loewer, 12, of Hoback, said raising an animal that weighed a mere 783 pounds had been a good choice. A mini-steer can be no more that 4 feet tall at the shoulder — about Casey's shoulder height — and that means it weighs only a bit more than half what a full-size animal runs. The bigger ones "are a lot to handle," Casey said.
Her steer, Fruit Loop, was calm leading up to the auction.
"He normally has a bunch of energy," she said. "My steer gets a little frisky."
Fruit Loop was a bit more energetic when he reached the auction ring: Casey was supposed to lead him around to show him off, but the steer seemed more often to be doing the leading. The steer went to Creed and Clarene Law for $9.25 a pound.
Part of the lesson for 4-H'ers is hard work and responsibility. Another part of what they learn is that livestock animals aren't pets, even though no kid can live with an animal and not form some bonds that are torn when the animal is sold and on its way to — well, on its way.
"We try not to get too attached," Casey said, sounding a bit wistful.
And would lamb-raiser Isabel miss her charges? "Yes," she said, and nodded her head with a frown.
"I'd gladly pay the money back to have my lamb back," Tyler said. "I'm sad about it. I'm going to miss him."
But the education and the labor and the reward and the good done for Teton County good causes are also part of the equation.
Jake, the high-end turkey sold by Nevin Griber, was bought by Dan and MJ Forman, Jackson veterinarians who knew Nevin and who are involved in 4-H. They said Jake would go to an organization that could use him, that needed him.
"Our goal is to touch as many people as possible," Dan Forman said.
"With our turkey," MJ added.
PHOTO GALLERY: Teton County Fair
Sights and highlights from the 2019 Teton County Fair and Rodeo.