Marybeth Hansen is busy. Not crazy busy where she doesn't have time to stop and chat — in fact much of her busy-ness comes from her unending desire to stop and chat. And that's not because most of her on-the-street conversations start with some sort of well-meaning jab: "Hey, MB! Get back to work. This isn't a country club!"
She likes being busy but doesn't like being rushed. Being rushed takes the joy and connection out of it for her. It's that fusion between connection and giddyup that led to her being honored this year as Teton County's Volunteer of the Year.
A tireless volunteer for the Teton County Fair Board, Hansen leads with her heart. You will know where she stands on something about a nanosecond after it comes up.
Horses? Yes. Dogs? Yes. Keeping her trailer clean? No. Making people take their shoes off in her house? That's a no. She just wants you to come inside.
Why does she volunteer for the Fair Board, serving as its president in 2020?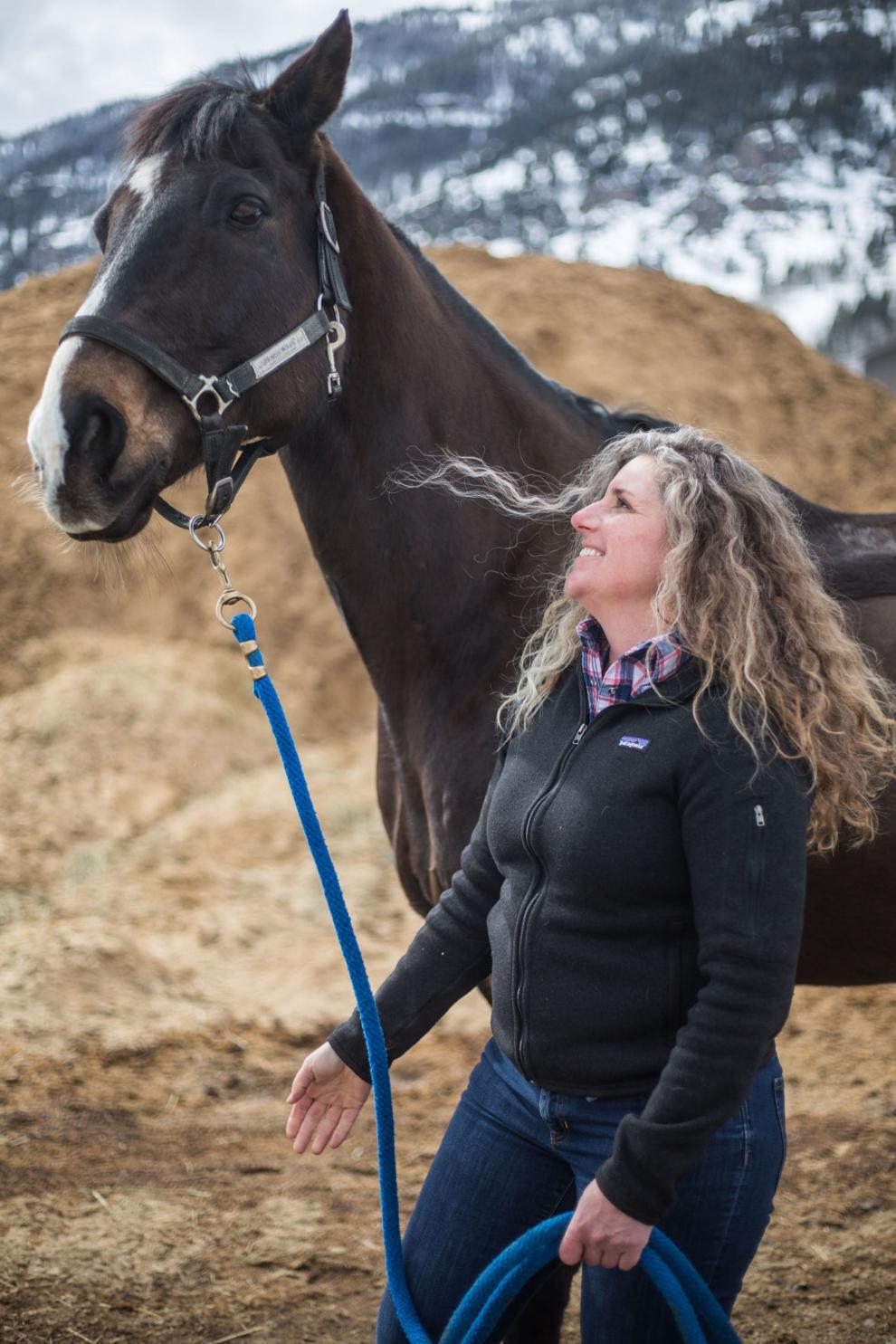 "Are you kidding me? We get to put on Teton County's biggest party of the year," she said. "Everyone comes out to the fair."
With that, she thinks about everyone in the community and what might draw them. Rides, food (giant potato chip, anyone?), bake-offs, quilting exhibits, 4-H livestock auctions and horse shows.
The fair, every summer at the end of July, is a huge undertaking. For Hansen it primarily starts at the horse arena — categories of jumping, equitation and Western dressage and many others. Last year equestrian events had double the normal number of entries because riding was one of the only COVID-friendly activities.
Hansen is a horse girl herself. With her horse Zip Wyatt she rides four to five days a week out at the Flying W, often with her daughter Ellie Max, 11, and her horse Susie Q. (Ellie Max is also part of the Wilson Hoofbeats 4-H club.)
"The horse shows are my favorite part of the fair," she said. "I just love seeing these kids come out to ride in the arena. They don't know if they're going to get a ribbon. They don't know if they're going to have the perfect ride. But man, they give it all they've got. They've got a connection to these animals they want to show off. Seeing that is the best thing for me."
Most people know the fair from the carnival rides taking over the fair grounds parking lot.
Hansen has the inside scoop for the summer of 2021. Will the rides be back? Yes. All of them? No. The Zipper and the Freak Out and the fun houses? Yes. Petting zoo? No. Grounds with food and items for sale? Yes.
Hansen estimates she spends some 20 hours a month with the Fair Board, more in the summer when the fair is nearing.
She credits many people with developing her love for the Fair Board, especially people from the old Demo Derby days.
A real estate agent for her day job, Hansen has also received the Best Realtor" award in the Best of Jackson Hole vote two years in a row, 2020 and 2021.
"Keepin' real estate real," is her motto.
The accolade of Volunteer of the Year — bestowed by the Teton County Board of County Commissioners — means a lot to Hansen.
"There are a ton of people who volunteer here, who give the gift of their time," she said. "To be honored among them, I'm pretty humbled."