On an icy January morning Jane Frisch walked around the short stretch of snow-covered walkway between the Emily's Pond parking lot and the Snake River dike path, scraping frozen lumps of dog-doo into mutt mitts.
One bag, two, three … all told she transferred about two dozen bags' worth of the brown stuff from trail to trash can.
Making poop go "poof" is a passion for Frisch. She recalls cleaning up 17 piles in half a mile in her old neighborhood in Scottsdale, Arizona, and more than 50 piles while walking on the Stilson-to-Wilson path in her new home of Jackson Hole.
Call her a "poop fairy." She wears the title proudly.
"This is something I've been doing in communities I've lived in for over 25 years," she said.
Frisch, a West Bank resident in her mid-70s, believes in tackling problems, not griping about them. She thinks people should return grocery carts to the proper spot, for example, so if she spots abandoned carts in a parking lot she rolls them to their racks.
It's the same thing with dog poop. Though she'd prefer pet owners to take care of their own messes, she's ready to pitch in when they don't. That's become especially important to her in Jackson Hole, where she and her husband, Ron, have lived full time since 2016.
"I think we should respect the beauty of this place," Frisch said. "We need to help this environment, and we need to do what needs to be done instead of waiting for people to change their habits."
She knows others are out there retrieving full mutt mitts that people drop along trails and sometimes even bagging excess dog-doo. She's so devoted to clean paths and trails that she hopes to create a new PAWS of Jackson Hole volunteer corps of poop-picker-uppers.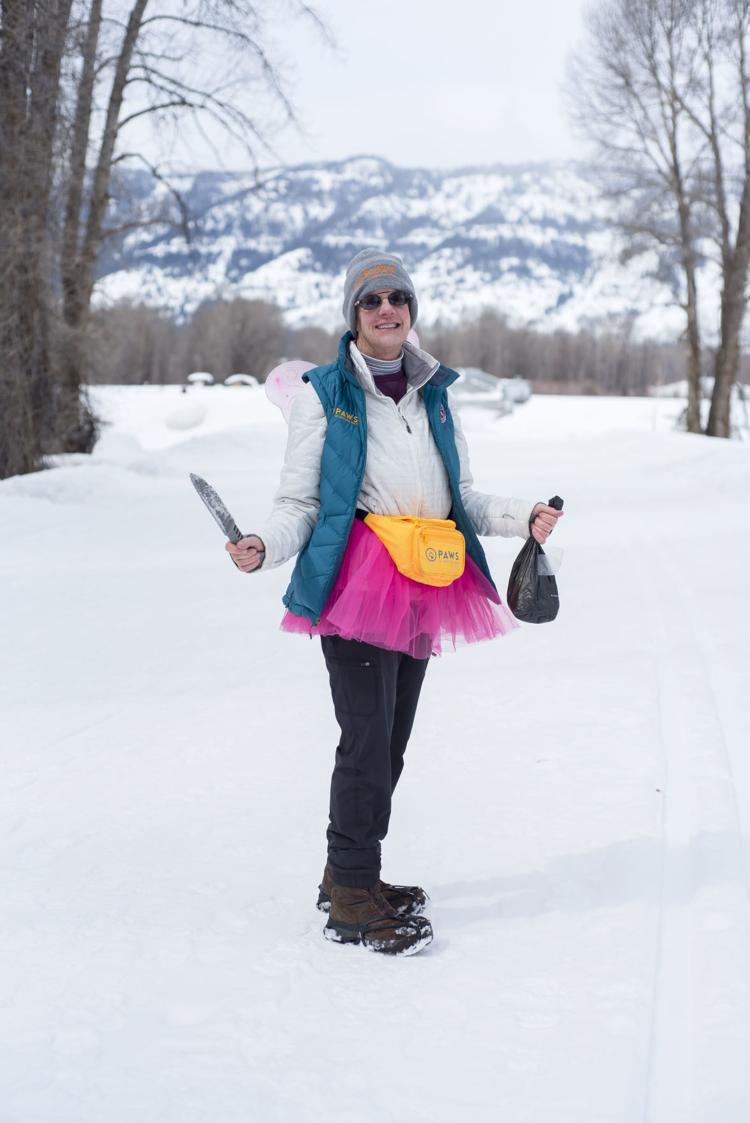 "If enough people want to be the solution rather than complaining about the problem and contact PAWS, I will commit to helping get the 'Poop Fairy Brigade' organized," she said. "There are many poop fairies on all of our trails making a difference every day, but with a little organization together we can make a big difference."
In no way is it Frisch's goal to let lazy or careless dog owners off the hook. In addition to her unofficial role as poop fairy she has an official volunteer position as one of PAWS' trail ambassadors, whose job is to educate dog owners on how they should behave and then gently persuade them to do it.
It's things like always carrying a leash and using it where required, not letting dogs chase moose and deer and keeping dogs from jumping on people or nipping at bikers. And, yes, it's about dog-doo, too, not only putting it into a bag but making sure that bag goes into a trash receptacle.
Frisch tries to get out at least once a week — usually on the dike or the Stilson path in the winter and less-traveled spots in warmer weather — to do double duty as a PAWS trails ambassador on the outbound portion of her walk and as poop fairy on the return leg.
As an ambassador "I come out here to encourage people to do the right thing," Frisch said. As for the dog feces, "I pick it up on the way back. That's my personal thing."
PAWS is lucky to have Frisch in its volunteer ranks, said Jess Farr, who is program director at the nonprofit that promotes responsible pet ownership.
"She's awesome," Farr said. "I really like her outlook. Her attitude is 'I'm just going to be the solution to the problem.' I think that's an amazing way to confront something like that."
Dog-doo cleanup is not a requirement for the trail ambassador position, "but most ambassadors take it upon themselves to do it," Farr said.
"Our premise is to lead by example," she said. "If you want other people to pick up poop, do it yourself and try to recruit them."
The ambassadors are all about positivity. PAWS outfits them with fanny packs filled with Greenies dog treats, leashes and even some goodies for people.
Let's say you're out on a Cache Creek trail with your pooch and nearing the trailhead/parking area, where there's a leash rule. An ambassador might ask if you have a leash, explain why you need it and, if you don't have one, pull one out for you.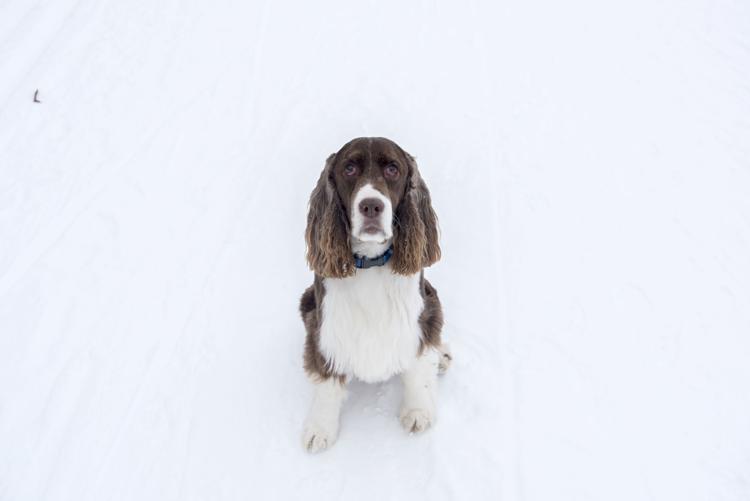 "I like ambassadors to tell them why," Farr said. "Then they hand them a leash and say 'Thank you.'"
The ambassadors are also keeping an eye out for the many pet owners who are doing the right thing. You might get a coffee or beer token for giving your pet a drink of water on a hot day or putting him on a leash because some deer are browsing nearby.
Engaging in what Farr calls "poop karma" could also earn you a treat. That's when you carry away a bunch of full mutt mitts, not just your own, and pick up other dogs' splotches in addition to your pet's.
"Our whole premise is that it's a reward-based program," Farr said. "I don't want anyone feeling uncomfortable or feeling confrontational. It's all about 'Let's give everybody the tools to do the right thing.'"
Frisch has no problem talking to dog owners. She has worked in real estate and automotive sales — careers that require being comfortable with conversation.
And she's a canine lover herself. "Dawgswirld" is part of her email address, and she and her husband are raising a standard poodle named Ranger.
"We're dog people," she said.
As a pet owner Frisch understood why there was so much mess near the Emily's Pond parking lot.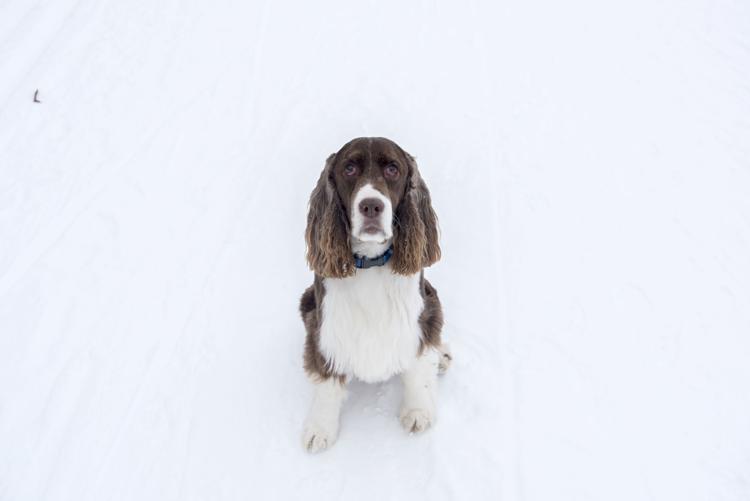 "The biggest problem in any of these areas is where the dogs are getting out of the car for the first time," she said. "The dogs tend to relieve themselves when they're in new territory. The owners are getting their gear ready, and they don't see it.
"At any of the trailheads, if the owners could just be a little more observant ..."
Actually, keeping an eye out throughout a walk or hike is important.
"On the trails dogs may drift behind or ahead of us and we don't see the surprises they leave," Frisch said.
But once she was out on the dike on that January walk it seemed as though the PAWS message of responsibility was getting through to people. The snow was pretty clean, for example, and the dog walkers were prepared.
"Can I give your dog a Greenie?" Frisch asked each one to get the conversation rolling. "Do you have a mutt mitt? Do you need another one?"
The people all carried mutt mitts, even spares, and had leashes, too. No one seemed to mind being queried, and their dogs appreciated the treats.
"On the trail with PAWS I love visiting with people," Frisch said. "I love rewarding the people doing the right things and maybe helping other people understand the importance of keeping it clean."