When babies are about to arrive it's tiny quilts. When homeowners move into new homes it's pillowcases. And when a virus invades the community, they make masks.
As Janet Monahan, president of the Jackson Hole Quilt Guild puts it: "I'm a maker. Makers gotta make."
Though they'd never made face masks before it was an easy decision for the guild, a group of approximately 60 seamsters, to change out their thread and run their pedals for another project, Monahan said. All it took was an email with an idea; before they knew it, dozens of masks were piling up.
"I think most of the quilters had a fabric stash," said Laura Harrison, keeper of mask-making supplies and the master spreadsheet that tracks the guild's work.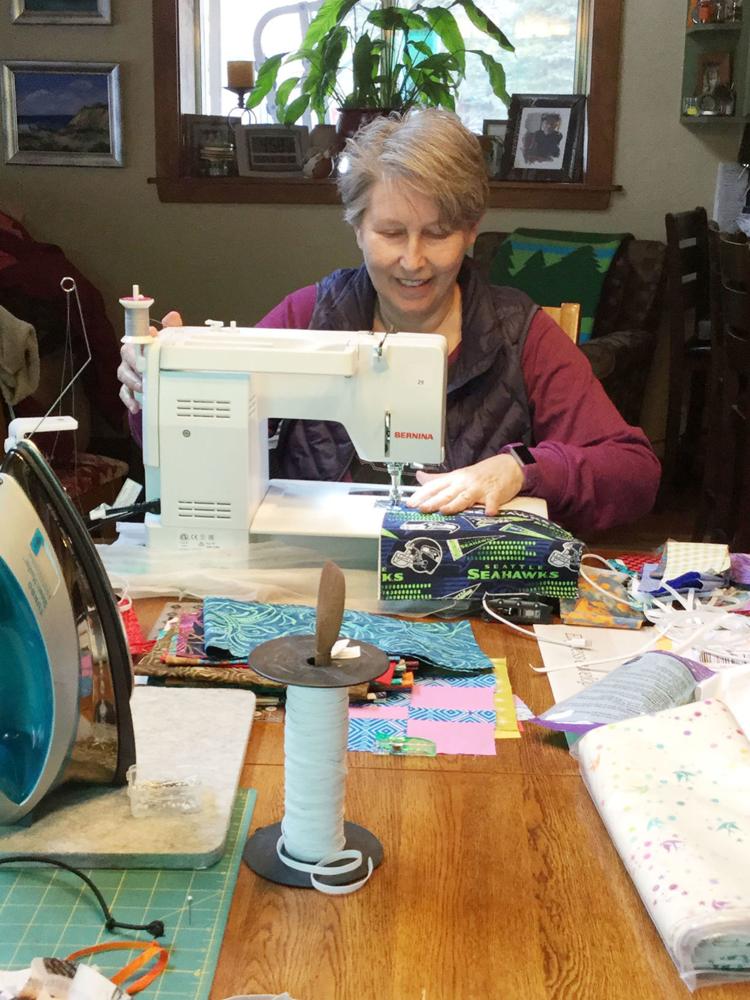 Once the idea cemented the guild connected with the St. John's Health Foundation and settled on two approved patterns, one with elastic and one with ties. The project then ballooned into the Jackson Hole Community Mask Project, the umbrella under which the communitywide mask effort was organized. In addition to supplying patterns and collecting and distributing cloth masks, the project also collects other personal protective equipment for hospital employees.
The guild set an initial goal of sewing 1,000 masks, and as of an April 5 interview its members had made 999.
Harrison admits she was tempted to sew one more before jumping on the phone call, but there was no need. The masks have continued to pour in. By last week the guild surpassed 1,500.
There are so many hands at work on the project that Harrison has become the point person for supplies, stacking bags of cotton fabric and elastic on her porch for those running low on supplies but not sewing skill. And in her home she keeps a list of how many masks have been made, by whom, and where they were delivered.
"We'll keep sewing as long as there is a need," she said.
Though most of the masks have been dropped off at St. John's Health, hundreds have also been delivered to Albertsons, Smith's Food and Drug, Jackson Whole Grocer, Hungry Jack's, the post offices, UPS and other businesses still operating.
"It just keeps growing," Monahan said. "Every day Laura and I both get texts and emails and Facebook messages from companies needing masks."
And they are being worn. Monahan is sure she's spotted a few familiar fabrics around town.
"I was at the Pearl Street post office a couple days ago mailing out some [masks] to family, and there was a woman in a batik mask that I could have swore I made," she said.
The batik prints are popular with many quilters and as such have become a popular pattern in many of the guild masks. Monahan made her own prototype mask (with a paperclip nosepiece — not a feature on most cloth masks in the community) out of blue floral batik fabric.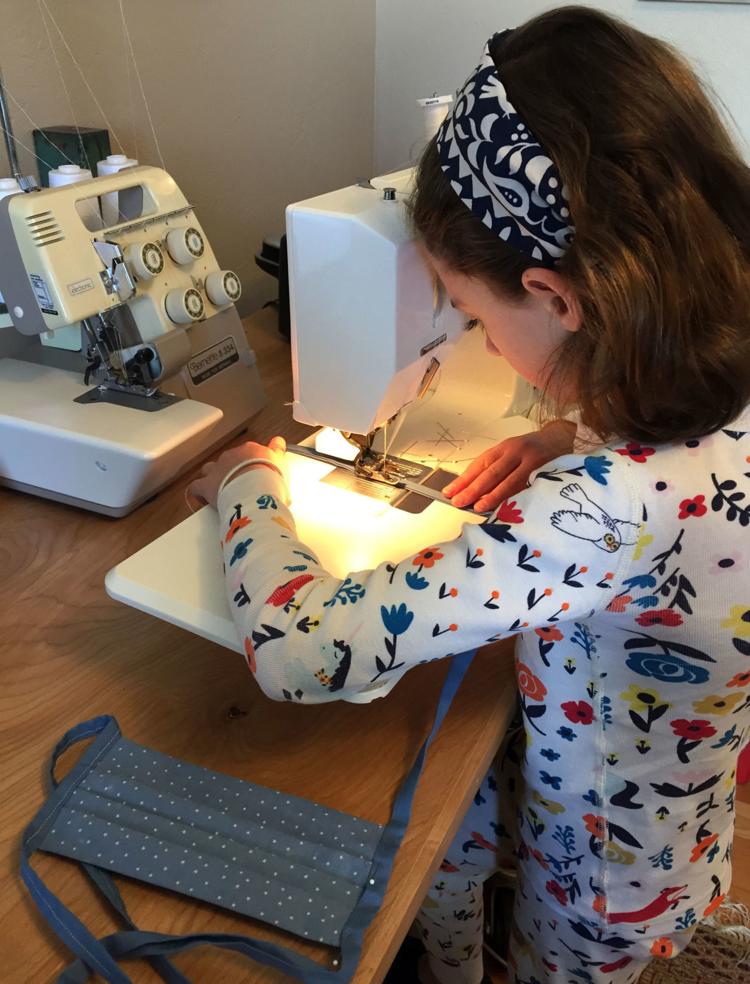 Harrison made her mother a burgundy floral batik mask, one her mom was so proud of that she wore it during one of their FaceTime sessions.
"The batiks are a really high-thread count, and they don't shrink much at all," Monahan said. "They are one of the best choices, and they're so colorful and fun.
"They're becoming a fashion statement a little bit, I think."
And if you spot Seattle Seahawks patterns — like one that ER nurse Keegan Pfeil has been wearing as his "go-to mask" around town — it's also likely to be Monahan's work.
Pfeil heads the Jackson Hole Community Mask Project, something he wanted to contribute to (in addition to his role in the emergency room, which he's held for six years) after seeing a need for PPE at the hospital and a desire in the community to contribute.
"I had a lot of people reaching out to me prior who were asking how they could help the community," Pfeil said. "I thought this might be a good way to get community involvement."
The guild also launched a Facebook Group — Jackson Hole Quilt Guild Masks for Many — where guild members, or any seamsters, can connect to share photos of their work, get tips and tricks or find supplies.
"The wonderful thing about this project is that it has brought out sewing machines in the community that have been dust-covered for years," Harrison said. "And people that never really sewed before have taken this on and made it a project of their heart."
Monahan, one of the more prolific seamsters of the mask project, said the masks are easy to make. It takes about 10 minutes to finish the elastic design, a few more minutes to sew one with ties.
It's also an easy family project, Harrison said. Her kids, 7-year-old Julia and 9-year-old Henry, helped their mom make a few dozen masks in "a little assembly line."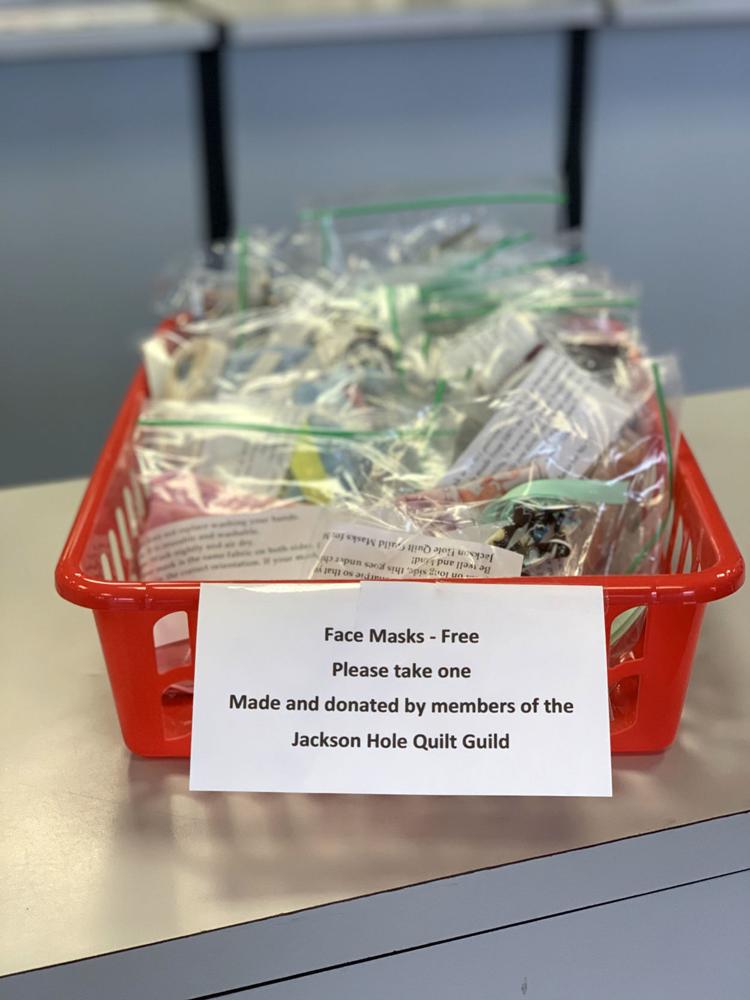 Harrison, one of the newer members of the guild, said the group's giving spirit is largely what prompted her to join. While the guild has recently gained recognition for the cloth masks, it's no stranger to charitable endeavors. The group sews quilts for the first babies of the year and patients in hospice care, and pillowcases for new Habitat for Humanity homeowners, among other projects.
The pillowcase project is organized by Tatyana Ramella, a 15-year member of the guild, who said her role is simple: "Ask for pillowcases, collect and deliver." Once the call is out she often receives more pillowcases than they have pillows.
"Ladies love making them," she said. "They all contribute so much."
They're also always ready to contribute. Quilters never seem to run out of fabric. Ramella said: "Every quilter on the planet is well prepared."
Monahan's response: "Oh, dear God, no."
And Harrison has so much on hand she's giving it away to anyone willing to sew.
"And just like that overnight I went from a fabric hoarder to being prepared," she said with a laugh.