Fly rods had long been put away and a giant white tent at Snow King served as the banquet hall for the 170-some anglers who spent the weekend on the water.
Over a steady hum of conversation among those anglers, lubricated at least slightly by the free-flowing beer and wine on hand, tournament heads took the stage one by one to hand out awards and tell their tales.
The biggest laughs went to angler Mike Menolascino, who accepted the Angler Spirit award mostly for the retelling of his battle with a pelican. It was last year, he said, when a pelican scooped his brown trout and rested it in his gullet. When the bird began to send the fish down the hatch, Menolascino yanked upward, freeing his fish and startling the pelican, and then reeled in his prize, which was still swimming and flopping after its near-meeting with stomach acid.
But of all the awards given and the many stories recounted, perhaps the biggest takeaway from the 2019 edition of the tournament was the resounding victory of the Colorado Casters, a team of four from outside the Denver area that put up 3,153 points to take the team championship following back-to-back second-place finishes.
The team was led by Bryan Byerly, who laid claim to the Top Gun individual championship as well for his 1,134 points accrued across two days on the water.
"Being second last year and losing by 13 points, that was humbling," he said. "But this year getting over the hump — it made it all worth it."
Byerly was unique in his approach, choosing to forgo the standard dry fly or streamer in favor of nymph fishing both days.
The tournament allows fishermen just one fly each day, as the name implies. So if a nymph attracted no action, Byerly would have been without luck watching the field lip fish after fish on the surface.
"Nobody else really did that," he said of his fly choice. "Growing up in Colorado, I learned how to nymph fish really well. That's why I chose to do a nymph, especially when there was inclement weather over the weekend, I knew there was going to be action subsurface."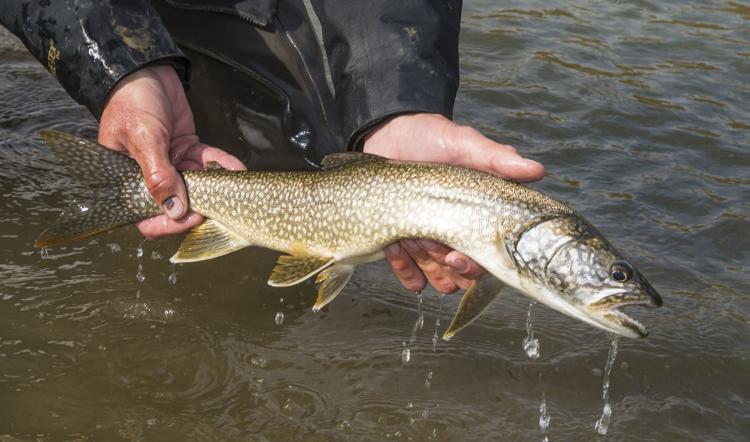 Teammate and brother Bob Byerly not only took a share of the team title but also finished with the second-biggest fish caught across the two days.
Joe De Briyn took first with a 22 3/4-inch trout, and Byerly's 21 1/4-inch catch came on a streamer on Day Two.
Anglers had the chance to "buy themselves" for $100 ahead of the tournament. The money from the buy-ins was split, with half going to the biggest and second-biggest fish and the other half going toward conservation.
That contest alone raised $15,100 with De Briyn taking $5,662 and Byerly taking $1,887.50.
Byerly was up at 1:30 a.m. Sunday putting the final touches on the streamer he'd tie on for the final day of rainy, ugly competition. He said he epoxied and glued the hell out of it, showed it to his teammates and gained their approval before heading out for Day Two.
His large land came below the dam on the Snake River, when his guide, Chris Doeberl, suggested he throw into a deep pool. Byerly was pleased with the fight, but when the fish got into the boat, he wasn't sure it would score.
"Sure enough, second strip, stabbed a fish," Byerly said. "Brought it up, fought it, fought it, fought it — I go, 'Oh my gosh, it's a lake trout! Those score, right?'"
"What a fish," he said. 'What an experience. It was about 90% my guide and about 10% me getting good and lucky."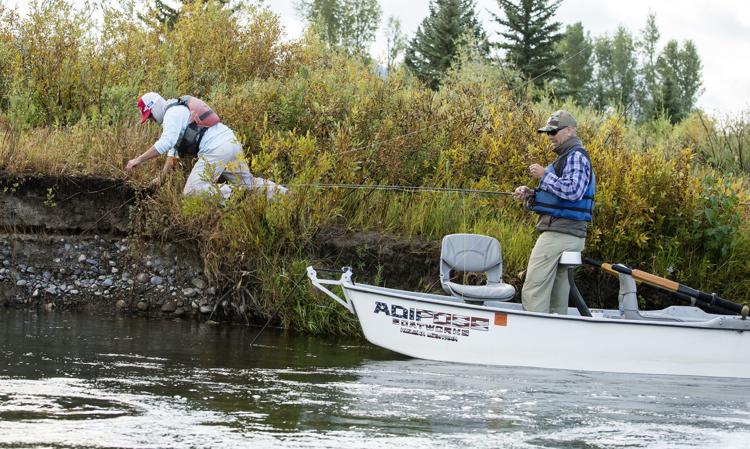 Longtime local guide and angler Will Dornan was on hand taking in the festivities, and he heaped praise on a tournament that seems to just continue to grow and grow. Of all the tournaments he's attended, he said, the One Fly is the one that puts strangers together in one boat, under the eye of an impartial guide, to ensure fair play throughout the weekend.
It not only keeps anglers honest, it develops a bond that spills over into the closing ceremonies and seems to keep anglers from surrounding states coming back year after year.
"It's gone through its ups and downs," Dornan said. "But I think right now it's on its best footing I've ever seen."
And for Bryan Byerly, the top fisherman from the weekend, his haul of plaques, a rod and gear was a sweet go-home package for his team's weekend of redemption.
"It's a huge tournament," he said. "It's one of the most prestigious fly-fishing tournaments in the world. The people it draws — it makes it one of the biggest awards on my list."