The hum of ski trips being squeezed in this time of year left town a bit early in the wake of COVID-19 precautions rolling out across the country.
Chairlifts have stopped running, gyms are closed and all sporting events have been called off for the foreseeable future. Still, there's an outlet. Take a walk over to Snow King Mountain and look at the hillside dotted with skinners and hikers going up and, eventually, those same folks flying back down.
On Thursday, Matt Larson was among them, slipping into ski boots from the parking lot. He said he had not skinned up the King yet this year, until now.
"I'm just itching to ski," he said. "Normally I'm a Village rider."
Snow King was no exception to the early closure of ski resorts, but the mountain did receive an exception from Teton County Health Officer Dr. Travis Riddell for uphill recreation along with grooming.
How long Snow King remains a bastion for valley skiers is entirely up to the skiers themselves. With chairlifts dead, there is no revenue stream for the mountain, so running the groomer will rely solely on fundraising, with the goal of reaching $6,000 to keep the corduroy fresh through the end of April.
"It's a little different picture for us because we're shut down, and there's no income for us," Snow King General Manager Ryan Stanley said. "But I think it's a positive thing people are getting out and enjoying the hill, and that's why we're doing this campaign."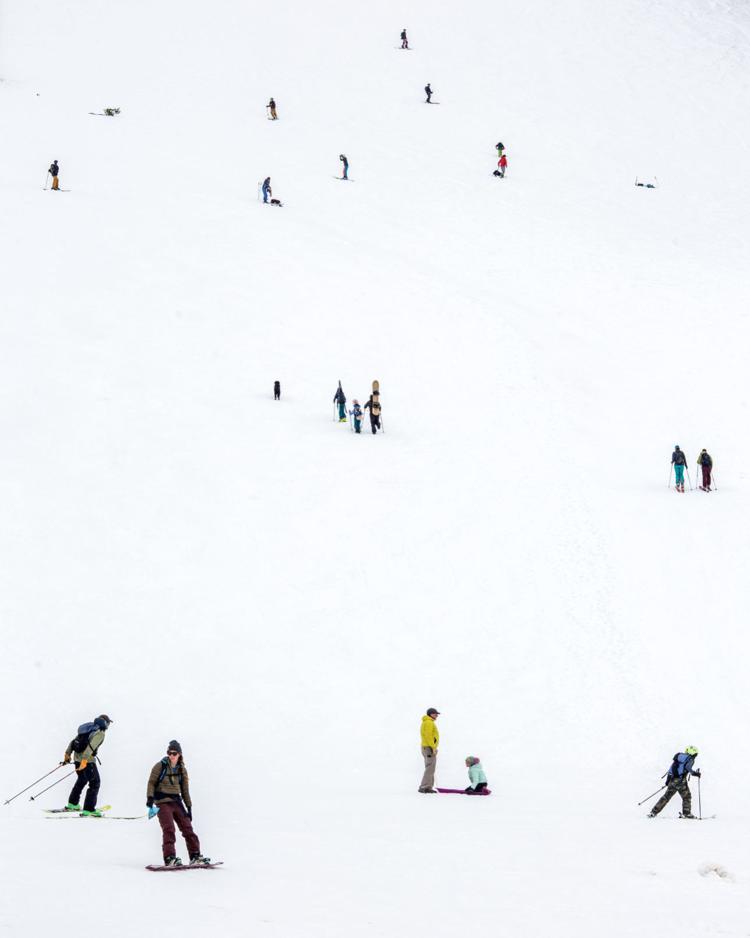 Luckily enough, the infrastructure for the fundraising effort was already in place a year ago, albeit under starkly different circumstances.
This time last year, the new venture kept the groomer running for four weeks, with $3,000 raised and Snow King chipping in the fourth one for free. Stanley said each groom costs about $1,000, factoring in fuel, labor, maintenance and repair to the machine.
That iteration came on the heels of a thought from Exum Mountain Guide Brenton Reagan two years ago, who noticed the grooming on Snow King late in the season, and thought to himself, "Why don't we do this every year?"
"I just kind of put that in my memory bank, and then last year I ran into Ryan [Stanley] … he was into it."
The money was raised within 45 minutes of in-person raffle ticket sales last year. Considering the stringent social distancing measures undertaken in the valley, an in-person raffle is now off the table.
This year, the fundraising effort has moved online at SnowKingMountain.com, where every person who donates will be entered into a raffle for thousands of dollars worth of gear from Stio, ArcTeryx, Black Crows and Snow King Mountain itself, among other prizes. By Monday evening, Snow King announced on its Facebook page it had already raised over $3,000.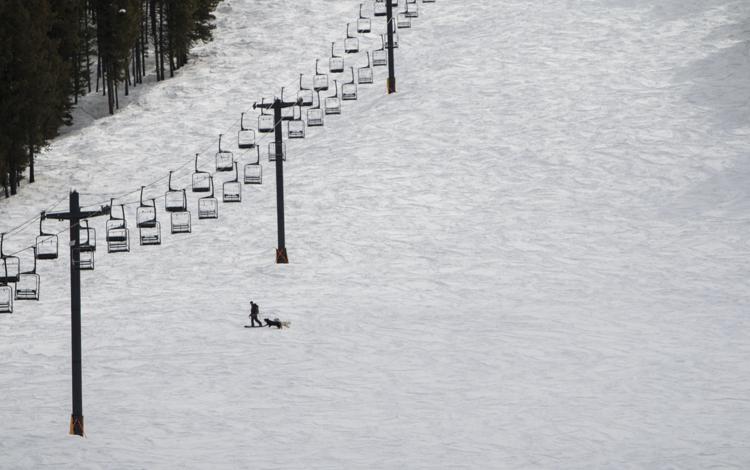 Reagan said on the first day the fundraiser opened last week, a $1,000 donation came in immediately. The donor didn't want to be recognized, only asking that the first day of grooming be named after her two beloved and deceased dogs, Marley and Pilot.
"People really hold that place in their heart," Reagan said. "The value and the return is good because it's so close. One lap, depending on how hard you push it, you can get so much in and then you can be back at the bottom in less than two hours. It'll totally change your perspective."
That was the case, at least in part, for skier Chris Leigh, who wrapped up a lap at Snow King last week. He said the coronavirus situation didn't so much instill anxiety in him, but caution.
"This is self-isolation on Snow King," he said. "You can get away without violating the [social distancing] rule, get some good exercise, get out, get some sun, see some people, say hello."
With meeting the fundraising goal almost a certainty, the only thing left will be for those who take advantage of the grooming to not congregate at the bottom of the mountain and to be ever-vigilant about abiding by social distancing precautions, namely keeping groups to less than 10.
Safety on the hill, too, is entirely on each skier who is using it.
"There's some liability exposure," Stanley said. "But we hope everybody recognizes that and takes care of themselves."