A few dinosaurs, a scantily clad man playing a saxophone, and a man giving a woman with what appeared to be a broken leg a piggyback while he skied.
Those were just three of the sights at this year's Gaper Day celebration at Jackson Hole Mountain Resort, an annual April Fool's Day end-of-season slopeside celebration.
But this year the rowdy party ended with a short-lived fire.
The cause of that fire is unclear, though officials suspect it may have been sparked by an errant firework because the blaze started midway up a stand of trees just south of the Sundance run under the Bridger Gondola. That had at least one Gaper concerned about the party's future.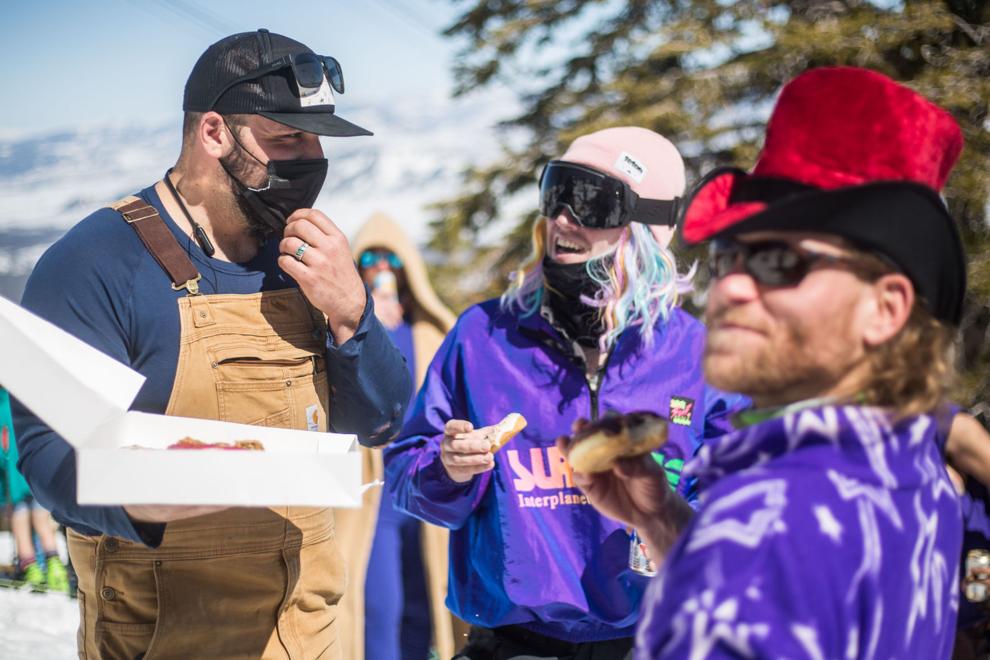 "I just come from the school of 'If somebody makes a mistake, sometimes it ruins it for everybody else,'" longtime resort skier and Gaper Day participant Richard Mogan said.
"I just didn't want anything to get tarnished," he went on. "It's always a fun day for everybody."
Mogan reached out to the News&Guide worried about a perception that the celebration had ended in "chaos," a somewhat glib assessment another skier earlier expressed to the paper. And he also worried about coverage of the event in outlets like Unofficial Networks, an online ski news platform that runs articles like "Idiot tourist nearly gets killed for the perfect shot" and "Guy loses pass for naked lap at Arapahoe Basin." That publication did pick up the story about the Gaper Day fire.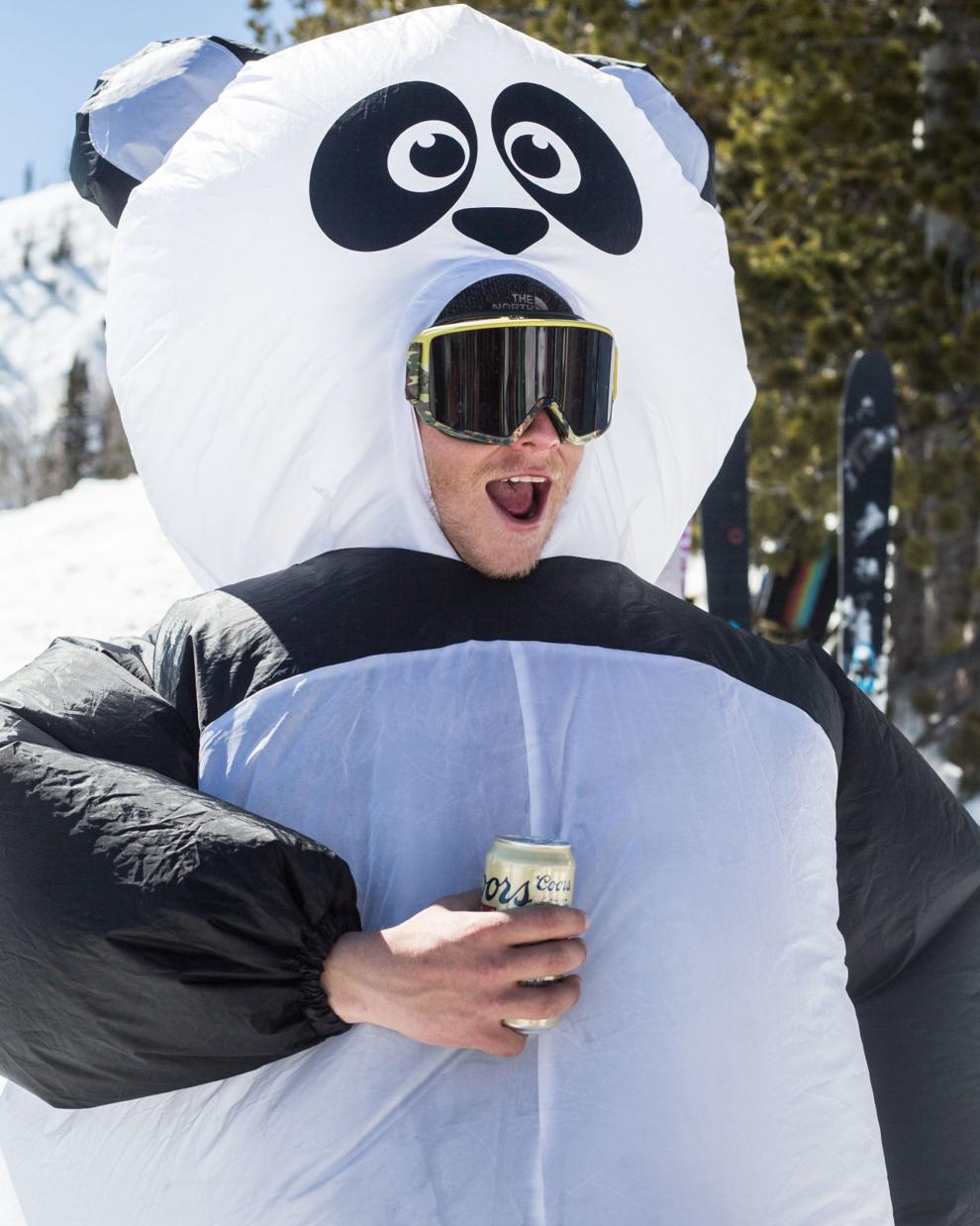 The end-of-season celebration was certainly rowdy this year. But it may not have been much rowdier than years past when revelers gather on Grand, underneath the Thunder lift.
In contrast, last Thursday the day's largest party started near the base of the Casper lift and the Casper Restaurant, an area of more mellow terrain usually crowded with intermediate skiers.
The resort decided to shut the Casper lift down around 12:30 on Gaper Day, resort spokeswoman Anna Cole said, because that fete was a little out of control, especially for the COVID-19 pandemic. People weren't wearing masks, were hanging out in large groups and drinking on the lift.
But skiers and resort and law enforcement officials seemed to agree that this year's Gaper Day was more or less in line with April Fool's Day parties in years past.
Jon Bishop, the resort's risk director who doubles as the Teton Village Fire Department's chief, said that people throwing snowballs at people on the lift at Casper was a bit much.
"Apart from that I wouldn't say it would be terribly different from years past," he said.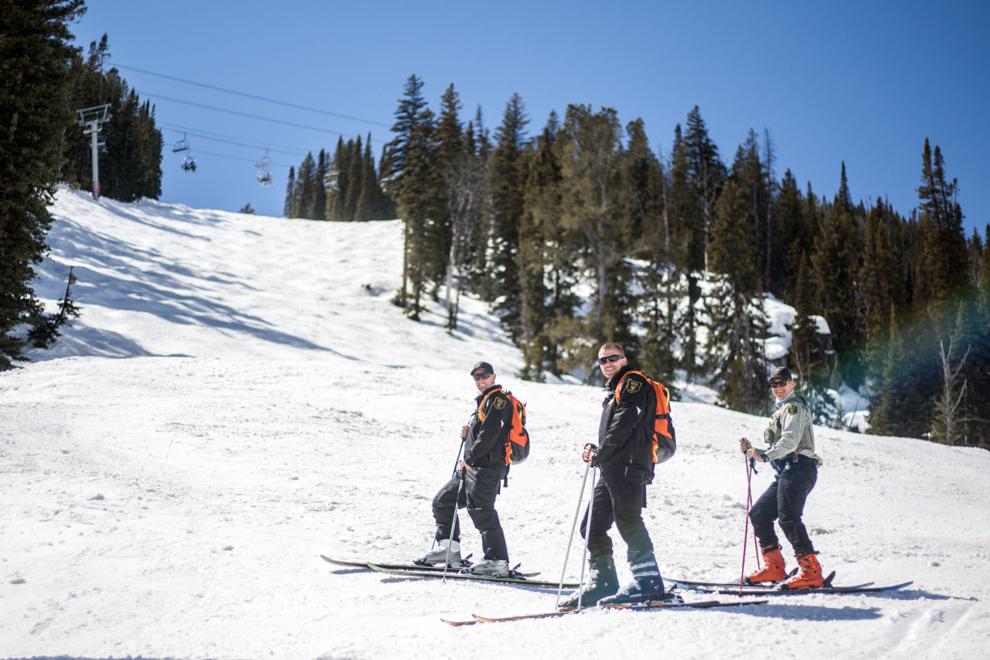 Asked whether he'd had any problems with any guests Thursday, Teton County Sheriff's Office Deputy Brad Goering said the crowds were about what he'd expected.
"No, nothing out of the ordinary for Gaper Day," he said.
Goering said deputies usually patrol Gaper Day from the bottom of the hill, at Jackson Hole Mountain Resort's request. But this year the office had enough staff with skiing ability to get up higher and ski around themselves. They skied around in uniform most of the day.
Mogan felt part of the reason things felt rowdier than usual was that the party was under Casper, rather than Thunder, a typically less busy area with more room to spread out.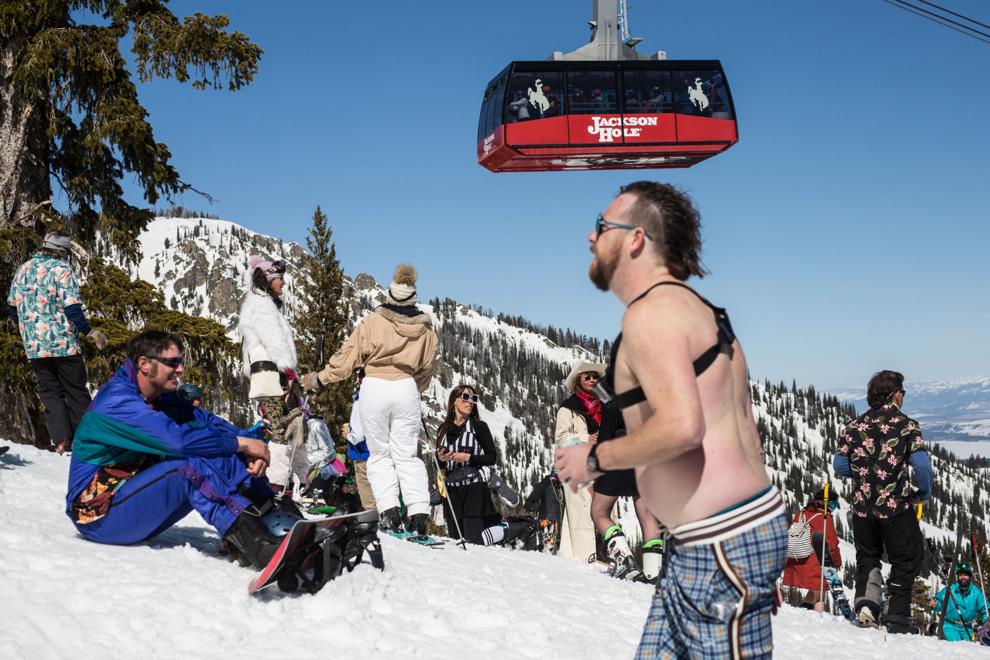 "To me it seemed completely normal," he said. "If it was over at Thunder and not at Casper, then the whole chairlift incident never would have happened."
The fire was, however, certainly a departure from the past. Bishop said it was still under investigation. Though it was extinguished quickly, fire officials cautioned that an early season blaze like that could have spread, especially in the dry April weather that's settled in over Jackson Hole.
Cole more generally cautioned against combining booze and skiing — a Gaper Day hallmark — and said the resort might think about handling alcohol differently for future Gaper Days. One part of that might be shutting down on-mountain alcohol service before 1 p.m., like the resort did this Gaper Day, and has for April Fool's celebrations of yore.
"Our business and our sport has inherent risk and adding alcohol and irresponsible behavior and snowball throwing is just unnecessary," she said. "We want people to have a good time. We love the costumes. But we want people to do it in a safe way."
But before all the hubbub about the Casper lift party and the fire, participants on the mountain still had fun, burning off some steam after a long, crowded winter season.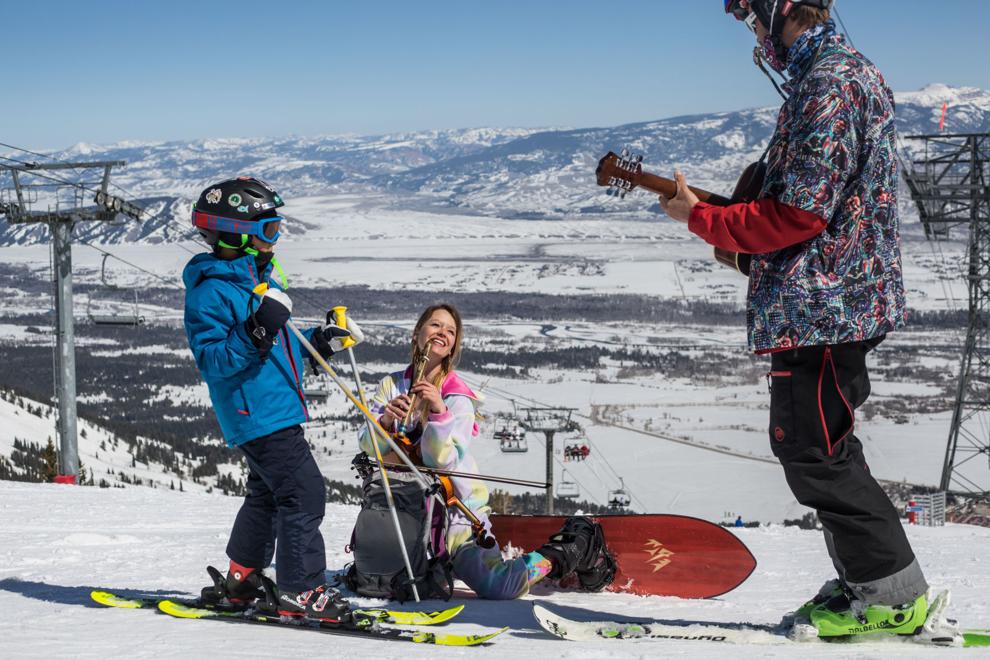 Natty Hagood and Talia Atkins skied around, playing stringed instruments and singing for passersby. Another skier carried a saxophone and played "Sexy Sax Man" ad nauseam. And then there was the sunburn, slush and other shiny costumes that usually mark the day.
"I'm just out here in my $5 neoprene suit," said Ash Hillary, 28. "I'm having a great time."
The cops seemed to be too.
At one point one of the deputies hit a big jump underneath the Marmot lift — and stuck it.