Tristan Hansen took a short break from breaking colts on the other side of the Teton Pass last week, showing up for two bareback rides at the Jackson Hole Rodeo and leaving twice with the top go.
Wednesday's go had him matched against Cache Hill, a Montana cowboy who spent the better part of four years trading wins with Hansen when they were competitors in the Big Sky Region of collegiate rodeo.
That victory went to Hansen, who scored 77 points on B1 Miss Priss against Hill's 72. Hansen topped himself Saturday, logging 80 points atop 44 Yardvark, bringing his week's winnings to $429.
"I've just been breaking colts, riding six, seven horses a day for folks back home," the Victor, Idaho, native said. "I hadn't hit a rodeo since the whole COVID thing started."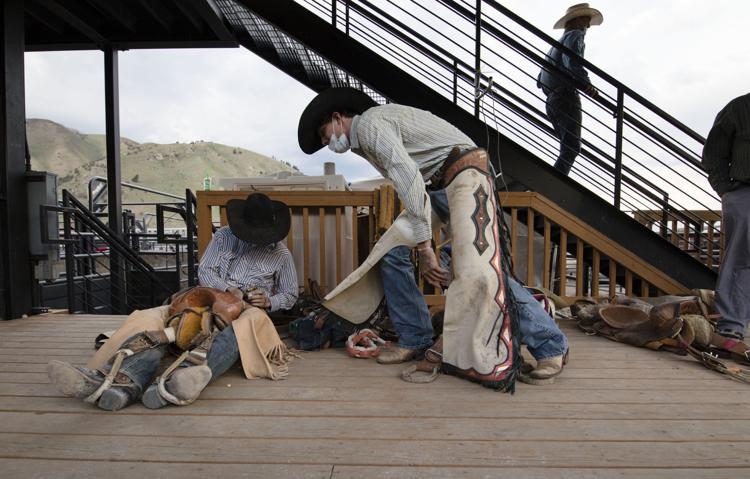 Formerly chasing rodeos out of his college town in Dillon, Montana, Hansen is now back home in Idaho, though he surely wishes he were on the road. This week will be somewhat of a return to normal for those like Hansen, with the July 4 weekend the most upbeat weekend of the year for those who prefer earning a living in arenas across the country.
Last week's venture over the state border into Jackson was mostly about shaking off some rust, Hansen admitted while acknowledging his labored breaking post-ride.
And for that, he's not alone. He's not alone among the other cowboys, and he figured he's not alone among the stock, either.
"He was supposed to stack up a little more and he just wasn't having it," he said of 44 Yardvark. "He's probably rusty, too, in some spots."
Hansen surely isn't alone in shaking free of the COVID-induced lethargy. Coloradan Garrett Upton, a staple of the Mountain States Circuit Finals, made the trip from the northwest corner of his home state to Jackson on Saturday, electing to chase pocket money in both saddle bronc and bull riding.
His saddle bronc ride atop 002 Buckshot was near-flawless, a winning go that went for 89 points and $333.
"I didn't really know what the horse was, just talked to Brandon (Wilson) and he said he was supposed to be real nice," Upton said. "Gave him quite a bit of rein and shoot, just felt really good."
GALLERY: Back in the saddle – JH Rodeo week two
The Jackson Hole Rodeo hosted its second weekend of crowd pleasing competition and excitement Saturday night.
Upton's trip to Jackson came on the advice of friend Levi Wilson, he said. Wilson has turned in two good weeks of his own on the young season, and found himself with the final ride of bull riding on Saturday night with a chance to make it two Saturdays in a row with the winning ride.
He was chasing Wylee Hurst, whose 89 points on 88 Trick Daddy had him safely in first place. Wilson was paired with 331 Injustice, and for most of his ride he matched the bull flawlessly. It was the final few seconds when Wilson began to slip off the side, narrowly defying his unfortunate position to upright himself and meet the 8-second buzzer.
Still, it wasn't enough. He scored 84 points, good for third place and $178.20. Hurst left with $445.50.
"That's just a really good bull, he got to hesitating and whipping," Wilson said. "I got a little out of time and off to the side, I just kept my hand shut and my eyes closed, and he popped me into the middle of him."
Spending most weekends at the Jackson Hole Rodeo is nothing new for Wilson, a member of the family that puts on the show. And though there's surely been some transients already filling up the day sheet in Jackson, Wilson said it's no more competition than bull riding at his home rodeo has had in years past.
"There's a bunch of good talent in and around this valley," Wilson said. "And there's a lot of young talent that's grown up to be superstars coming out of here."