Led by the "Fab Five," the 2016 girls cross-country team at Jackson Hole High School was one to remember.
Five seniors who developed in the program ran to a 4A state championship and came up only a bit short of reaching the Nike Cross Nationals just after. There were individual titles and team titles across both cross-country and track and field, and by the time graduation reared its head following the 2017 track season, all five were off to college with plans to carry on their running careers at the next level.
Four of the five went on to NCAA Division 1 schools. Anna Gibson headed to Brown University, Abby Brazil to Dartmouth, Emmie Gocke to the University of Pennsylvania, and Sarah Bentlage to the University of Wyoming.
The team's fifth runner, Eireann O'Connor placed 21st at the Wyoming state cross-country race her senior year, finishing in 20 minutes, 12.14 seconds, as the final points scorer for the Broncs. She was a member of the team's state championship 3,200-meter relay in the spring, too, but fifth runners generally don't find themselves courted by the big schools.
Instead, she took her talents to the University of Montana Western, just across the state border along the Beaverhead River in Dillon, Montana. Montana Western is an NAIA school, outside the three levels of NCAA competition. The program had just begun the year previous, and the face of the new program was another Wyoming-born runner who seemingly slipped through the recruiting cracks before landing at the small Montana school.
That runner was Alta native Mindy Kaufman, who ran her prep races at Teton High School in Driggs, Idaho. Her initial interest in Montana Western had nothing to do with running, because she didn't know there was a program there until she visited the school.
But after her first year on the team she was camping below the Grand Teton, wearing her college cross-country jacket. There, she remembers, she ran into Jackson Hole High School distance coach Jeff Brazil.
"He saw I was wearing my Montana Western jacket and talked to me about it," she said. "He was like, 'That's the new team that started up in Dillon.' I was like, 'We're only in our second year, how's he heard of us?'"
Kaufman said Brazil mentioned O'Connor might be a perfect fit. From there, Kaufman went into recruit mode.
"I basically Facebook stalked her for a whole summer before she came to Western," Kaufman said. "I just had this feeling she'd be a great fit, and she was. From the second she met the team she was a ball of energy, and we were stoked to have her."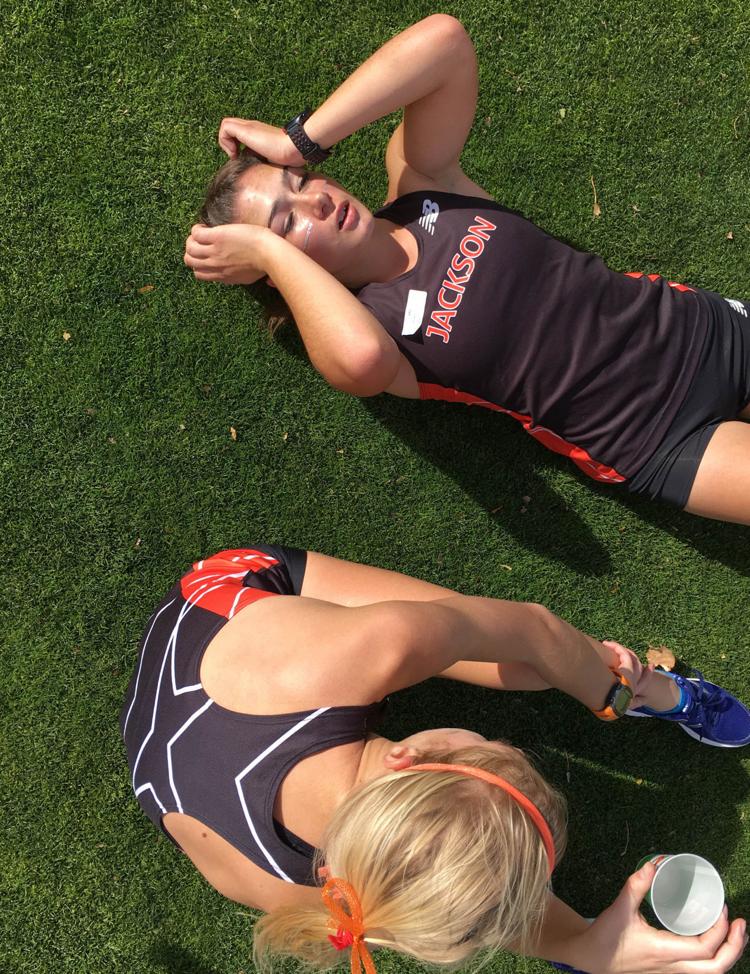 Beyond the opportunity to contribute to the team immediately, the culture and education at Montana Western made sense for O'Connor. She was a barrel racer at the Jackson Hole Rodeo with intentions of pursuing a degree in natural horsemanship. Western has one of the better rodeo teams in the country, and even though her college athletics were in a pair of spikes instead of a saddle, it gave her the opportunity to pursue her passion academically while carrying on the athletic career she started in Jackson.
"When I was younger I dreamed I could continue [rodeo], but I think running has just taken over," O'Connor said. "Natural horsemanship gives me a chance to have my horse time, but I also go straight from the arena to practice to get my running in."
Kaufman sees parallels in her and O'Connor as athletes. While the other Broncs runners went off to Division 1 colleges to compete at the highest level, the NAIA schools gave runners like them the opportunity to grow at their own pace. Instead of being bogged down at the tail end of a roster that runs 20 athletes deep, they're immediately scoring points and competing near the front.
"Because we're so small, myself and Eireann, runners like us can be at the top of the program," Kaufman said. "When we're put into a position of leadership and given that opportunity to have success, I think that's really positive affirmation.
"It lets you dream big because you don't compare yourself to faster and more talented athletes."
From the start O'Connor was a contributor to the fledgling team behind Kaufman. She was sixth overall at the conference meet her freshman year, running 18:53. The next year she was eighth at the conference meet, both times qualifying for the NAIA National Championships.
"Coming from Jackson, they had four really good years with really good teams," Montana Western coach Dylan Zitzer said. "But she was by no means one of the studs on that team. She's grown a lot in college. The amount of progress she's made to go from running 20 [minutes] to 18s is pretty considerable for a woman."
The initial shock of long runs, heavy mileage and recovery days that consisted of 60-minute "easy" runs were a bit hard to stomach at first. But O'Connor adapted quickly, continually building off the fitness from the training cycle before it. And that fitness began in Jackson, where the mental fortitude to get her training done like clockwork was born.
"I can definitely thank the environment I had in Jackson," she said. "Just the culture we had as a team there, it really made us tough. And there was nothing easy about it, but having that and going into college really helped me mentally."
Kaufman, meanwhile, continued to ascend the totem pole of NAIA cross-country. Her senior year last year, she was the Frontier Conference champion and an All-American at the national race, two firsts for the new program in Dillon.
Meanwhile, O'Connor continually took mental notes on how Kaufman led the program. With Kaufman graduating in the spring, the 2019 season would be led by O'Connor.
"I did a lot of watching to see how she led," O'Connor said. "When she left I realized how much she did for the team, and I just really wanted to keep that up."
Even though O'Connor is among the best runners in the conference with eyes on following in Kaufman's spikes in pursuit of the school's second All-American, it hasn't been without its hiccups.
There have been injuries, which had her down and out for much of her sophomore campaign in 2018. There's her asthma, too, which has hindered her with the rapid change in weather she faces in the Treasure State.
Still, there's a cool focus and a healthy amount of confidence heading into the postseason, which begins Friday with the conference championship in Billings, Montana. There are a handful of women that should be expected to compete for the individual title, and it's been a known goal that O'Connor would be among them come race time.
"It's been something we've talked about," Zitzer said. "She's one of those people that responds well to that kind of pressure, and I would say it's more internal pressure than from me. We had that conversation one time, and that's kind of it."
Kaufman, now away from the team as she coaches cross-country and teaches at Teton High School, has kept tabs on her alma mater as the season has worn on. She's in touch with Zitzer, too, and has no qualms about putting faith in O'Connor's ability to carry the torch she lit when she first arrived at the brand-new program four years ago.
"She's in the best shape she's been in so far," she said. "You get stronger every year in college. The fitness builds off the fitness. ... If the asthma doesn't get in her way, I think she'll be conference champion. I think she has the confidence in herself to pull that off."