With vaccines being doled out at a rapid pace, summer thrill seekers have flocked to resorts across Teton County at numbers like never seen before.
With the mountain biking market seeing major growth over the past five years, both Jackson Hole Mountain Resort and Snow King Mountain Resort are taking full advantage, with expansions at both set to accommodate this gradual rise in popularity.
Showcasing four new trails for the summer 2021 season, Jackson Hole Mountain Resort has provided bikers with a healthy mix of beginner, intermediate and expert trails to quench the desire of any adventure seeker.
Solitoga, Deer Jumps, Dirty Harry and Deepest Darkest — launching from the top of the Sweetwater Gondola — will be available this summer along with the lower bike park accessed by Teewinot Lift.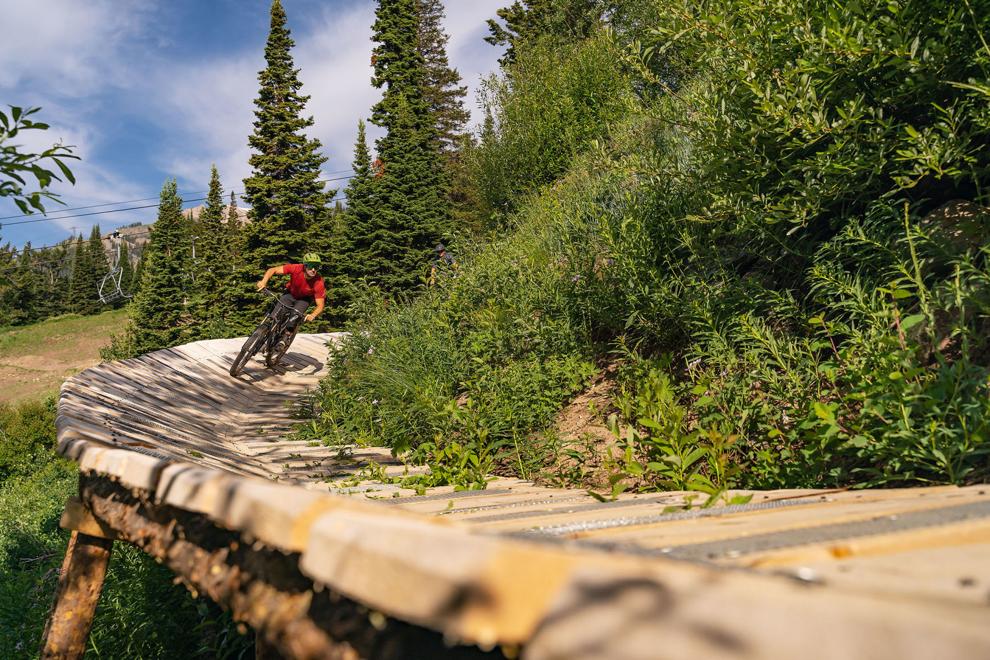 Lift-served mountain biking, on the rise for the past handful of summers, has only multiplied as tourists seek out new opportunities for recreation post-lockdown, according to resort spokesperson Anna Cole.
"It's been on an upward trajectory, especially in the last five years," Cole said. "I think the pandemic only enhanced people's interest in being outside and trying outdoor sports."
Cole said she has seen an increase in visitation at the mountain from both locals and destination travelers during the early summer months.
The newest expert level trail in the park, Dirty Harry, is highlighted by "steep terrain, big rocks and sharp turns." Although this particular trail is recommended for experts only, representatives from the mountain believe that their variety of trail difficulty in the expansion could continue to help grow the biking community even more.
"I think it's been well received," said Tim Mason, vice president of operations for Jackson Hole Mountain Resort. "I know there are some features down near the bottom that are of pro caliber. We've had groups of kids just sitting there over the weekend watching these riders take some of these features, and it's probably a dream for them to be able to do that someday in their future."
The resort employs between 15 and 20 summer employees to construct and maintain biking and hiking trails at the mountain. With input in the past from a third-party developer, staff at the resort were able to design and build their own trails during their expansion, something Mason said he is really proud of.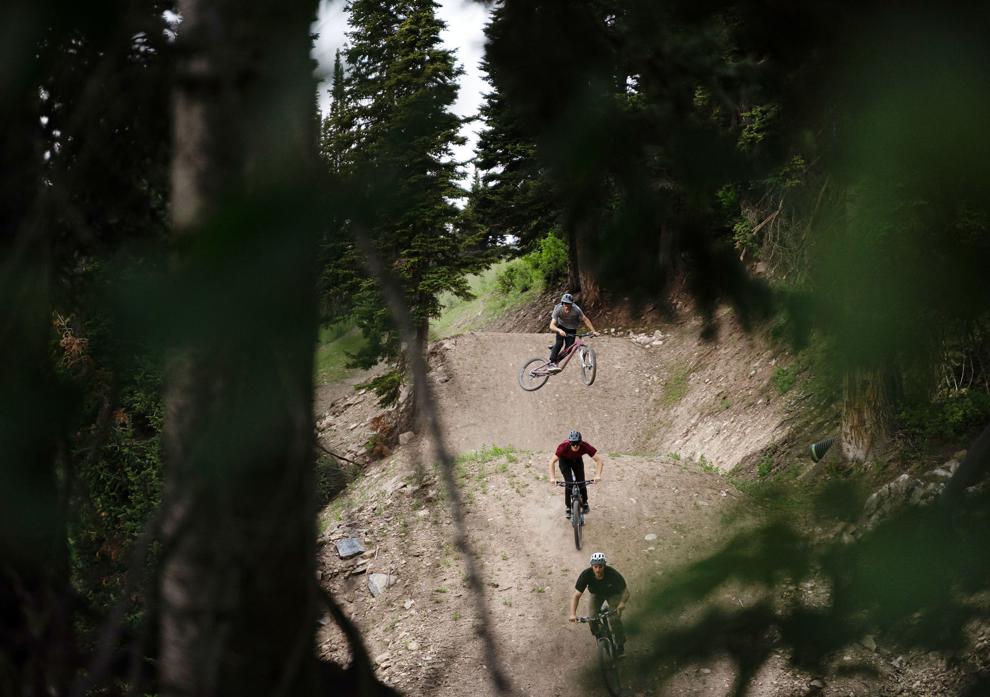 "They give us their recommendations. ... They do a nice report, but we have the talent in house now, and we have a great department that can take the ball and run with it," Mason said. "Our guys put out a great product. We take input from people and try to do the best we can to satisfy everybody's needs."
While one Jackson area resort is much further along in the process, another is just getting started, with plans years in the making finally starting to take shape.
Snow King Mountain Resort, downtown Jackson's hill for downhill skiing and summer recreation, has long planned to get in on the opportunity as well.
Snow King doesn't offer lift-served mountain biking, but that could change in the coming summers.
After a 10-year process of working with the U.S. Forest Service, Snow King is finally closing in on being able to begin construction on its first lift-served mountain bike trails.
Construction is expected to begin next summer at the mountain, according to Ryan Stanley, the general manager of Snow King Mountain Resort.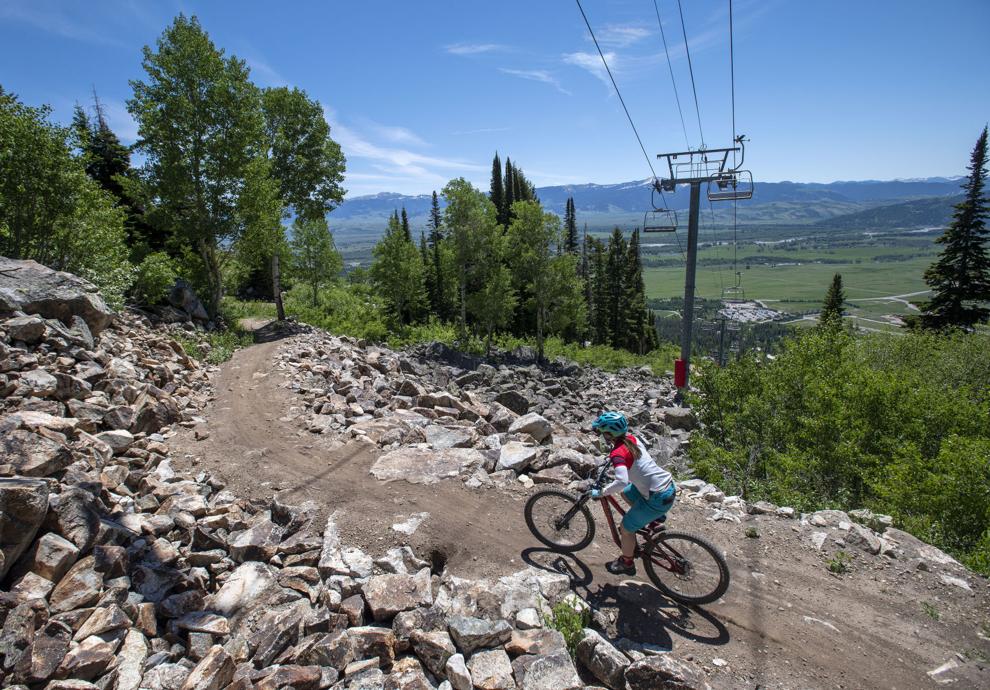 Stanley said the plan is to start with limited trails on the front side of the mountain and then, if all goes well, begin to figure out an adaptive plan to build on the backside, being the primary zone for biking. Trails in the backside section would interfere very little with the summer activities in the rest of the resort and would be perfect for a seamless expansion to its offerings.
While the pandemic may have accelerated the market, Stanley attributes the shift in the industry to kids getting into programs across the country, and parents who are bikers, allowing their children to join in on the hobby.
"Those kids programs have really blown up," Stanley said. "We're seeing growth in the industry start at a younger age, particularly with respect to mountain biking than in the past, where it was more of an anomaly for a young kid to get into mountain biking, 20 years ago."
With popular youth mountain biking programs such as Sprockids and the National Interscholastic Cycling Association growing in popularity, Snow King trails may end up being convenient. According to Stanley, those groups often struggle to get enough user days on national forest trails, making it much more difficult to learn.
Stanley said he views mountain biking clubs in the same way he views the resort's ski clubs: a way to offer even more programs for kids in the area.
"I think the convenience factor for Snow King is going to be one that is going to be the attraction," Stanley said.
With the increase in offerings, Jackson Hole Mountain Resort's Tim Mason believes the Jackson area is continuing to remain a "mecca" in the sport.
"I think we're established now," Mason said, referring to the greater Jackson area. "I think we can give any mountain town a run for their money now with what we have out here. The vehicles that I see in both valleys now with bikes on them compared to 10-15 years ago, it's totally changed."
This version of the article has been edited to correct the name of Jackson Hole Mountain Resort's spokesperson. — Ed.