A strong wind whipped as teams of 10 dogs cried out with eyes glued to the course ahead.
Anny Malo, the final musher to start her run, walked from her lead dogs back to her sled, giving affirmative fist pumps to her four-legged racers before getting onto her sled for Saturday's final stage at Lower Slide Lake. Only 32 miles separated her from a second consecutive Pedigree Stage Stop championship.
The Quebec musher won the final stage in 2 hours, 29 minutes and 17 seconds, giving her six of seven stage victories. She took the cumulative win by over 13 minutes, running away with the title in 15:55:11.
"My job was to make all the team work together and just enjoy," she said afterward, tending to her dogs resting at the Atherton Creek Campground. "And that's what they've been doing, so I'm super happy."
Malo's victories before the final run in Teton County had given her a 10-minute lead in the cumulative standings over two-time champion Lina Streeper. Likely the only way Malo would slip to second would have been with a mistake. That mistake never happened, with those at the finish line watching a cool team of 10 dogs — toting Malo — slide across the finish line with the championship well in hand, more than three minutes ahead of Streeper on the final stage alone.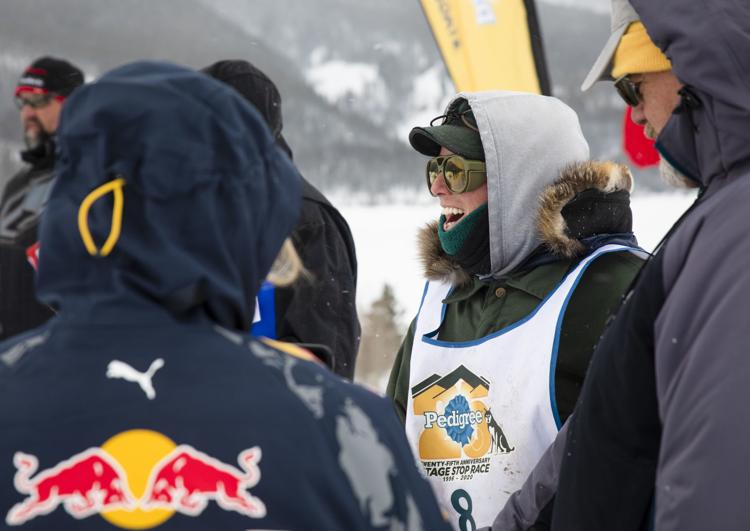 But for the mushers themselves, Saturday's conditions were rife with potential for that championship-spoiling mistake. The strong wind and spitting snow caused a full-blown whiteout halfway through the race.
"I've never run dogs like that," Streeper said. "I couldn't see the trail, but the dogs are really good. They can see it, feel it, smell the teams ahead."
Alix Crittenden, the Bondurant musher running race-founder Frank Teasley's dogs, put a cap on a largely smooth week with a fourth-place finish in Teton County that secured third overall. Still, those conditions may have given her some doubt with half the race yet to come.
"At one point the team disappeared; I couldn't see any of them," she said. "I could feel the front end wasn't moving, and then it clears out and I see my leaders piled up with the dogs behind them.
"They magically untangled and went perfectly. When you get into the stuff like that you've just got to be ready to slow it down and slam on the brakes at any second. And trust in your dogs."
Through the first three stages in Alpine, Pinedale and Kemmerer, race commenter Jerry Bath noted Malo was running flawlessly. Streeper was second each day, two minutes back in Alpine and Pinedale and three back in Kemmerer. The fourth stage in Big Piney — a stage Streeper won a year ago — went to Streeper by two minutes. It's where she had planned to make her move, the idea being that Malo's lead at that point could be cut into over the final three stages to create a neck-and-neck battle on Saturday.
But then in Lander it was Malo again on top.
"I made a big move last year [in Big Piney]," Streeper said. "I had a good run in Lander, but Anny had a better run in Lander."
2020 Pedigree Stage Stop Race
Images from the 2020 Pedigree Stage Stop Race
Malo said she took Big Piney as a race to simply execute conservatively before letting a little more loose on the final three stages for victory. It worked. She never lost a stage again.
Malo's run to victory this year is similar to last year's outcome only in the fact that she was on top. Heading into the second-to-last stage in Driggs, Idaho, last year, it looked like Streeper's race to lose. Indeed, a missed turn cost her well more than an hour, too much time to make up with only a stage left. She finished eighth, victory more than an hour ahead of her.
Streeper admitted that losing stings. Streeper Kennels has a history of dominance in the sport, specifically in the Stage Stop. Her husband, Buddy, had seven victories of his own before Streeper won her first in 2017.
Still, there was a comfort in the loss this year. There were no complaints about how the dogs ran, no complaints on how she led them. Malo was simply better.
"I didn't have any f---ups," she said. "Last year I didn't win, but it wasn't because we weren't ready to win. ... I had just started to turn the race around before I went off the trail.
"This year I got beat. She had a really strong team. I had good runs, and she had better runs."
While the top of the race was mostly clean, with the fittest dog teams guiding the stages, there were hiccups in the middle of the pack.
Bruce Magnusson, a 15-year veteran of the race, was in contention for a top-five finish, along with Alaska's Jeff Conn.
But in Kemmerer a snowmobile track that paralleled the course caught both their teams. By the time Magnusson realized he wouldn't be getting back to the right trail, it was too late. Stuck in waist-deep snow with a twisted-up team, he wound up losing 23 minutes from his run.
"That was the most scared I've ever been working on a dog team," Magnusson said. "I had a dog in heat, there was tangle after tangle, and you can't do nothing for them."
He finished seventh overall, 21 minutes out of fifth place. Conn dropped out two stages later.
"You hate to see that happen to anybody because you want to see the best dog teams win," Magnusson said. "But, hey, part of that is staying on the right trail. It was not the race's fault; it was purely mine."
Crittenden's third place marked her second straight finish in that position. Her team's only hiccup was in Lander, though there was nothing at fault. She said her team simply woke up off schedule and didn't have the groove to race. The finishing position didn't change for her this year, but what did change was just how much emphasis she put into the dog care. She said each night had her in the trailer with her dogs, heater on, full body massages for each with doctoring for any small splits in the feet.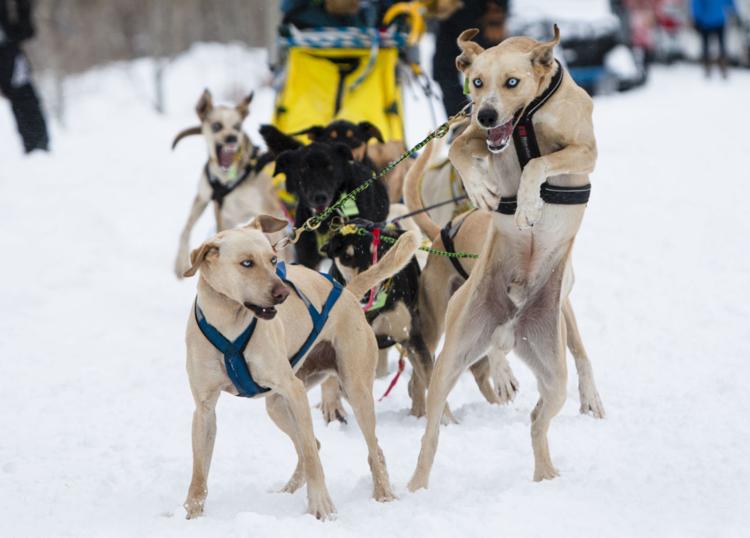 "I'm always good about my dog care, but this year that was really a main focus for me and it just about wore me out," she said. "I feel like it was well worth it, and it showed in their performance."
The trailers filled with dogs, marked trails and race officials will be gone from the rural Wyoming communities that the Pedigree Stage Stop calls home each year. But it's not the end for mushers like Streeper, Crittenden, Malo and Magnusson. Their season has only begun.
All will have almost no respite from the trail through the end of the winter, with races picking up this week in Canada and Alaska. For Malo, the Stage Stop is only a kick off for the season ahead.
Streeper has those races to look forward to as well, but she's already willing to talk about returning to the Stage Stop in a year, keying in on the intricacies of sled dog racing that may send her to the top of the final standings yet again.
"I had better be back stronger next year," she said. "It's a great event, we love coming down here, but I can't wait to sleep in a bit."
She was quick to retract the hope of sleeping in. There are no breaks for her and the dogs until the snow melts.
"I can't really sleep in," she said. "Because I've got to get up to give the dogs their breakfast and let them pee."