They boast an even split of vets and rookies, but everyone is out of practice.
The Jackson Hole Juggernauts are back in the roller derby arena, throwing hands and jams and hollering away after a two-year dearth of contact play on wheels. Getting the motley crew — now replete with fresh faces — into competition shape was no easy feat.
Some of the women signed on before they even knew how to skate.
But they're cruising for the crown this Saturday, in the first real bout of the season: A 7 p.m. opener with Rock Springs' Bittersweet Bombshells at Snow King Sports and Events Center.
"I'm really excited to see what all the new recruits bring to the table," veteran jammer and pseudo coach Toaster Brutal told the News&Guide during a recent practice. To get to know those fresh faces (and a few familiar favorites), we asked them to introduce themselves.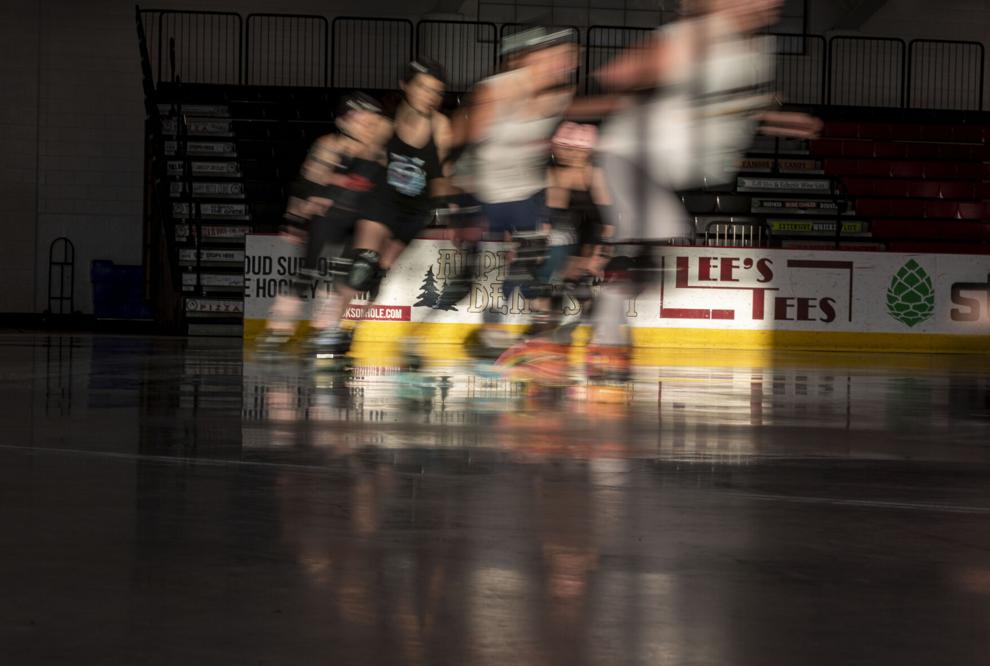 Honey Punch, No. 777, was born and raised in Jackson. She moved back to teach high school students after pursuing a masters degree in Colorado.
"I joined roller derby back in 2017 and immediately fell in love with it during my first practice," she said. "I am stoked to be able to bout with my team again."
Slam Chowder, No. 133, joined the team as a way to make friends when she moved to Jackson last summer.
"I couldn't have been luckier finding the Juggs. I've been jamming and blocking this year and will play wherever my team needs me," she said.
True to her, name, "fans should expect some jukey jamming and some hard slams," from the enthusiastic freshie.
Kat "Bastard" Gentleman, No. 208, has a degree in industrial design but is currently "libating the locals" as a bartender. The Victor, Idaho, resident is new to the team, planning to block and hoping to jam one day.
"Expect to see some hard hits and lots of laughs," she said. "This is a new sport to me and I feel out of my league, but I'm loving it."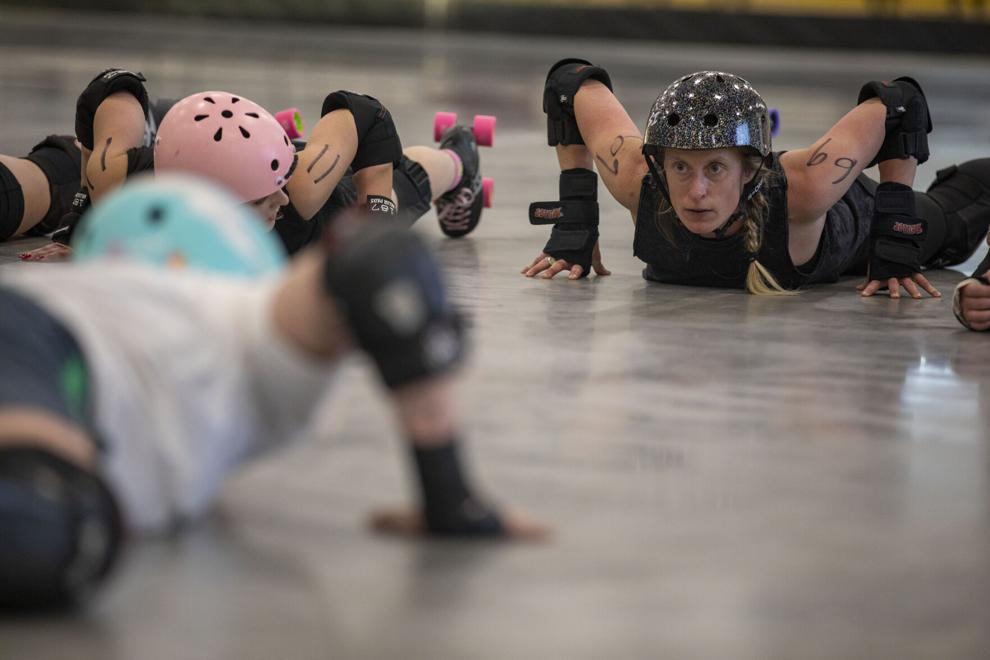 Sharkpit, No. 27, is a returning favorite who bills herself as "a blocker, pivot and reluctant jammer."
When she's not on the flat track, Sharkpit owns and operates Badger Creek Cafe in Tetonia, Idaho.
Techno Shit Whit, No. 69, is also from the Idaho side. Before derby, she spent her free time skiing or mountain biking, but as a full-time student she wanted a more social hobby. The Juggernauts proved to be just the community Ms. Whit was looking for.
"I have made so many amazing gal pals through roller derby," she said.
The fearless jammer had never put on a pair of skates before she rolled into the gym. On game day, she said, fans should expect to see "a sassy fun-loving attitude with a need for speed."
Frieda Prowl, No. 906, is a returning vet, hoping old dogs can still learn new tricks.
Although her jamming skills are "sub par at best," the Alpine-based accounting specialist said she's hoping to try on the star helmet this season.
Merciless Mamacita, No. 1101, said she was "stuck in rut" before she found roller derby. Now, nearly 10 years later, she's still commanding the flat track arena as a blocker/pivot. She also enjoys CrossFit and lifting. "I always looks for fun ways to challenge myself."
Manic Mouse, No. 11, said that "before derby I was just being a mom to two awesome kids, selling ice and running a small herbalism business."
The Driggs, Idaho, native and current Victor resident is a new jammer this season who said fans can expect to see "lots of team work and fun."
Kristi Yumicoochie, No. 15, started as a referee for the Juggernauts after playing and officiating women's rugby in college.
"I still play and officiate rugby when time allows, and I run a small farm with my wife in Idaho," she said.
On the track the self-proclaimed "freshmeat" is happy to fill any position, so long as it's physical: "I might not be the biggest, but I hit surprising and unapologetically hard," she said.
And last but not least, No. 444, Meg for Mercy joined the Juggs in January as a wide-eyed, new-to-town Jacksonite. So far she is "absolutely loving it."
"I will likely do a combo of blocking, jamming and, of course, cheering on the rest of the team," she said. "This season, fans will see a lot of chaotic yet well-intentioned energy from me."