For mountain bikers, "new trail day" is likely rivaled only by "new bike day."
Saturday was new trail day at Jackson Hole Mountain Resort's bike park.
Debutantes were the long, flowy Solitoga and jacked-up feature-packed Deer Jump.
Mountain bikers from the Jackson area were joined by opportune visitors and people who drove from several hours away just for the one-day preview of the dirt that will open to everyone in June 2021.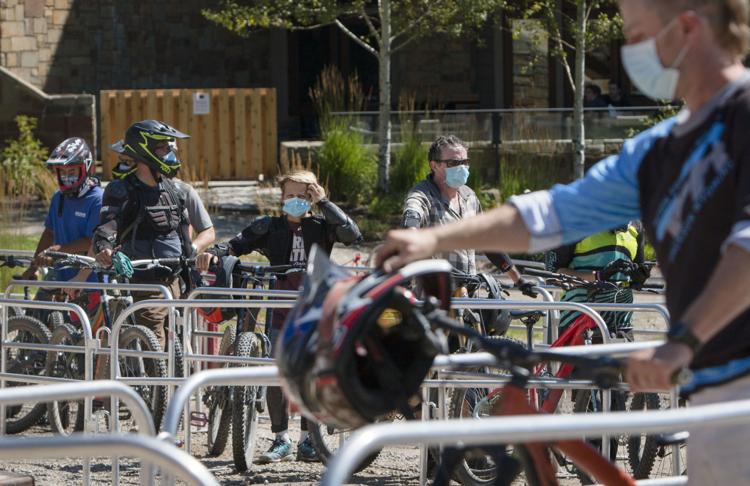 Fourteen-year-old downhiller Cadel Carrigan, who's been riding the Jackson Hole bike park since she was 7, said she's pumped to have a couple new trails to look forward to and use to advance some of her skills.
"Solitoga is kind of like a big Bronco," Cadel said. "It's like 2 miles long, really flowy, you don't have to be going super fast, you're able to meander a bit."
And the views from the terrain near the Sweetwater Gondola's upper terminus just don't quit.
"There's one berm that comes around, you just see everything that's below you, the town and the Snake River, it really puts into perspective where you live and it's amazing," Cadel said.
Deer Jump has long, straight sections where riders can build up speed before launching off the lip of tabletops, and some of the runouts are so long that "you can go as big as you want," Cadel said.
Brian Selmer, one of the men and women who spent countless hours with hand tools digging the new runs, concurred that "anyone who likes to catch air was really stoked" with Deer Jump.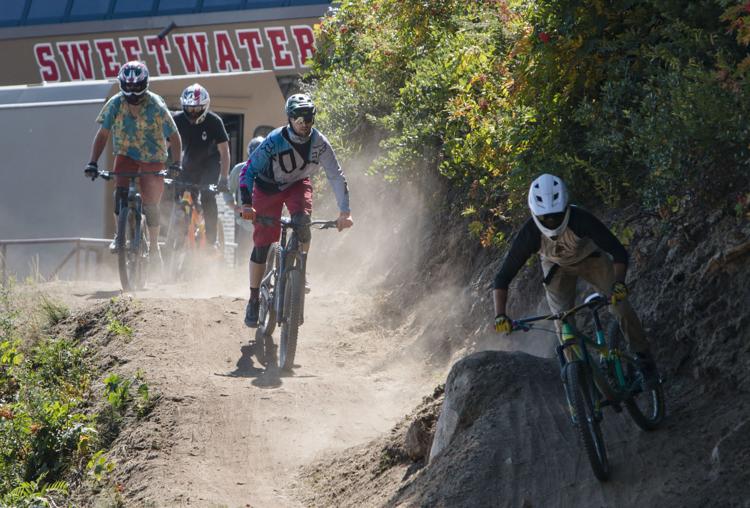 With a couple of months of hardly any precipitation, the new trails were a bit loose and dusty, and the traffic that hit them Saturday only loosened them further. Selmer described a train of a couple of riders in front of him that unleashed "an impenetrable brown veil of dust" that completely obscured his vision for a moment.
Originally conceptualized by the firm Gravity Logic, new trail construction gets turned over to the resort's crew, which took about two years to create these two new trails. The trail crew has been working on two more trails they hope to open sometime in 2021. One will flow down through the Deepest Darkest woods to the skier's right of Sundance Gully, and another steep trail will dive right down the fall line.
New mountain biking trails are part of the whole package of human-powered adrenaline sports above Teton Village, said Tim Mason, vice president of operations for Jackson Hole Mountain Resort.
"We've wanted to go up the hill" beyond the top of Teewinot Lift, Mason said. Locals and visitors have loved the bike park since it opened a decade ago but asked for higher, steeper terrain.
GALLERY: Mountain bikers flock to JHMR to test out new trails
Mountain bikers lined up well before opening Saturday morning to be some of the first to ride the new trails at Jackson Hole Mountain Resort for just one day. These two new runs, off the top of the Sweetwater Gondola, will be officially opened next summer and will off the more experienced riders some new terrain.
"You've seen the hiking come first" with trails like Wildflower and Cirque, "and now the mountain biking," Mason said. "The cross-country rider says 'What's in it for me?' We're trying to please all riders, hikers, runners with something on the hill. We try to cater to everybody."
The word is out in the West about the incredible extent and variety of mountain biking in Jackson Hole and Teton Valley, lift-served and not, Mason said.
"We're growing into a Mecca," Mason said. "It's untapped around here. We have a lot of potential."
Each summer, Bozeman, Montana resident Candace Mastel brings her husband and bike to Jackson Hole and hits the dirt.
"We do the trifecta: Teton Pass, Grand Targhee, Jackson Hole," Mastel said as she rode Teewinot for another lap on Saturday. "This is exciting to see all the transformation, the investment."
One thing she likes is seeing the range of ages, abilities and gender in the bike park in Teton Village.
"There are so many women here today, it's exciting," Mastel said, "especially young girls, it's hard to get them into the sport."
If she had one wish, it would be to see people protect themselves with tougher fabrics.
"I'd like to see less yoga pants and hot pants on the trails," Mastel said. "That never ends well."
Trail builder Selmer said he keeps testing the steep trail the crew is working on, which he predicts will get better and better the more it's ridden and worked on.
"Every time I've ridden it, it's a little terrifying, it keeps you on your toes," Selmer said.
Once that and the Deepest Darkest high-speed flow trail are built, "I think we'll have a well-rounded product."