Walking away from the fish-choked flows of Flat Creek underneath the intense August sun, a North Carolina fisherman was tickled with his morning on the National Elk Refuge.
The angler, Martin Robinson, plodded through the grass with Westbank Anglers guide Mack Musselwhite, who was instrumental in Robinson landing his best fish on Flat Creek in the years he's been making the trip for opening day.
The fish was a 22-inch cutthroat, which Robinson hooked at around 11 a.m.
"That was an unbelievable fish," he said. "Probably 3 or 4 pounds, big shoulders on it. It's great."
Then Robinson called it a day.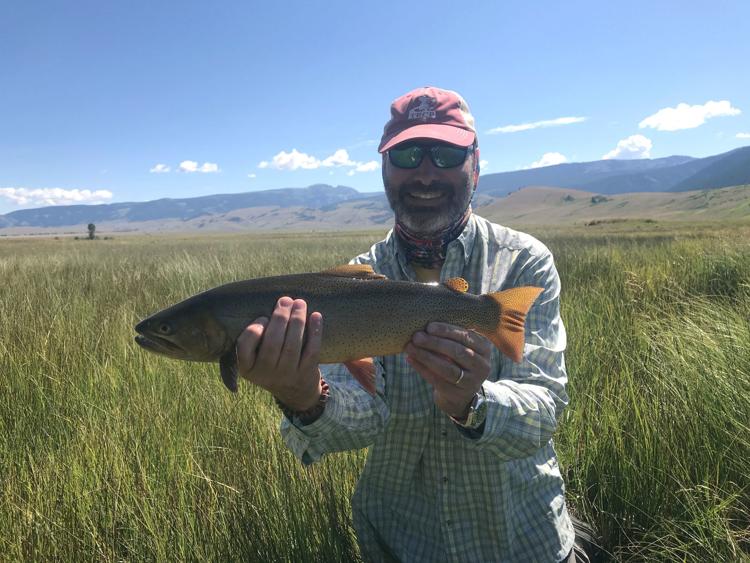 The pair arrived at the refuge at around 6:30 a.m. Aug. 1, just as the stretch of stream opened to anglers for the first time this year. Though Flat Creek will remain open until Nov. 1, an air of impatience hung over the parking area — as full of cars as the water was full of flies.
Some time later, Jackson's Tony Wall was making his way back to his car on his own. He had gotten out at around 7:30 a.m. for what he thought was probably his 40th year fishing the stream on opening day.
"Usually there's a surge of people that come right around sun up and then they take off to go to work," he said. "I used to come out here around 10 and a lot of people would be gone."
He was walking out around noon, and the bank of the creek was still peppered with anglers up and down.
Wall's tactic is more hunting, he said. A few times that morning he just meandered along the banks, far enough not to disturb a rising fish but close enough to spot it.
"As the day wears on they see more fishermen and they see more line," Wall said. "They get real leader-shy."
He had caught about a dozen fish, he said, with the biggest topping out at about 16 inches.
"I hear all these stories about giant fish out here, but anything that's legitimately 20 inches isn't that common," he said. "I don't know if there really still are those ones in the 24-inch range."
That's generally the sentiment of Snake River Angler owner Will Broeder, too. He said Monday that his guides have had a minor uptick in clients since the opener, but what he's seen more is a stream of tourists coming in and asking for the secrets to which fly patterns will work on the stretch.
He doesn't think he'll be casting into Flat Creek until the summer wanes and fall rears its head in late September, early October.
"The fish aren't very forgiving right now, because they see a lot of flies," Broeder said. "But that's also what makes it so great, such a challenging fishery."
Before Robinson landed his prize, there were misses, of course. Musselwhite then had him go back to his "bread and butter fly," and a few casts later the choice was vindicated.
Musselwhite said anything from small mayflies to big terrestrials were working, but key to the outing was patience and varying patterns until they found the ticket.
"They're super selective, and they're not always feeding," he said. "They're going to be moving around, and you've just got to see if you can spot the fish, then just kind of stay put and watch them. Then lay out the perfect drift."
The water was low, with anglers noting gravel bars exposed to the air in places they don't recall seeing them before. Traditionally swampy areas off the banks were dry enough not to suck in boots.
Broeder said it was a little drier out there than in years past, though he was unsure what to attribute that to. Outfitters the past few weeks have linked slow flows to a lack of a "big dump" in the spring runoff, with freezing temperatures popping in and out throughout June.
Robinson didn't seem to mind any changes in terrain. He wasn't terribly worried about the crowds, either. If he was he certainly didn't show it.
"This is, in my mind, sort of quintessential Western fishing," he said. "Slow, meandering oxbows, bends in the creek that allow for deep holes, cut banks.
"And then you hope you can catch the big one like I did in the end."