Bring your own scorecard and pencil. No touching the flag. One person to a golf cart, unless parties are members of the same household.
The hole itself has foam in, which allows you to putt but not stick your hand in for the retrieve.
Those are some of the protocols Teton Pines General Manager Michael Kitchen has in place for his members, as golf outings resume around the valley.
Even so, he said there's been no drop-off in the number of golfers taking part. If anything, there's been an uptick.
"Golf in its inherent nature is great for social distancing," he said. "It's four people on a 500-yard hole."
It's a similar situation at Snake River Sporting Club, where head golf pro Greg Hoyt said there's been no shortage of outings since the season kicked off earlier this month. There are restrictions on food and beverage sales, clubhouse access and so on, but actually, real-life golf is pressing on.
"People have been somewhat pent up in their house and itching to get outdoors," Hoyt said. "We've been pretty busy. When we have nice weather we have a lot of action down here."
Where there has been a shortage is with push carts. With golf carts reserved for only one person usually, combined with an inclination for exercise on the course, the manual push carts have become the golden ticket.
At In the Hole Golf shop, president Michael Lynch said those interested in getting a push cart themselves are just about too late. He doesn't expect them to be back in stock much before September. Lynch estimated a 10-fold increase in the number of push carts being sold at his shop already.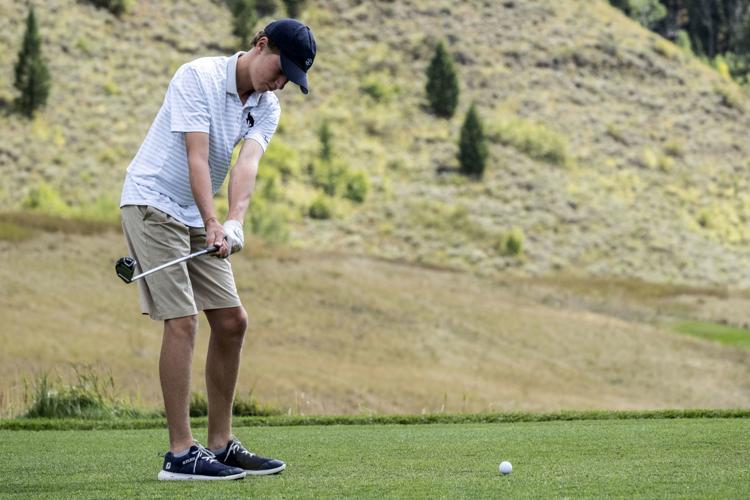 "Every time we get one in now through September, they're already sold," he said. "This is essentially nationwide."
It's a strange time on the golf courses with the restrictions, but for Jackson Hole High School golf coach Ryan Allen, it isn't a deterrent. Though the spring high school season was canceled with the rest of Wyoming High School Activities Association sports, he's able to get out with some of his athletes for outings in preparation for the fall season.
"Once you're actually on the golf course it does not feel weird," he said. "You're not really allowed to practice at driving ranges, you can warm up for 10 minutes before tee time. They're just trying to keep too many people from being in one space at one time."
Kitchen said how well the restrictions in place at Teton Pines are being received varies. He said his clientele is generally older, in the "sweet spot" for susceptibility to COVID-19, meaning extra caution as the state continues to slowly loosen restrictions on gatherings.
"It's no different than what you see on the news, some people think it's overkill what we're doing, and some people think we're not doing enough," he said. "I think we've been erring on the side of caution because that's the best thing for our business."
Snake River Sporting Club had to cancel its July ProAm, due to a lack of participation. But that won't keep competition on golf courses from pressing on.
Allen said a fundraising tournament is scheduled for Sunday at Teton Pines, raising money for some type of celebration for the senior class. That celebration will have to wait for when it's safe to do so though, of course.