Under a tree about 10 minutes up Mount Glory, Cynthia Johnson and Dane LeBeau leaned on their poles, resting on their first trip up the bootpack. The Glory neophytes were making the best of a ski trip gone haywire because of the coronavirus outbreak.
"We were doing a Mountain Collective trip," Johnson said. "We got one day at Alta, and that was it."
The shuttering of ski resorts across the country has made multiresort trips like theirs impossible this spring, and the pair from Vail, Colorado, were trying to salvage some sort of adventure from it. Since they already had a short-term rental in Jackson, they came even though Jackson Hole Mountain Resort was closed. They spent a week in their rental, leaving to pick up food and go skiing, before returning home last week.
"It's been kind of hard because we're in new places, but we're definitely trying to do our part as global citizens," Johnson said Thursday. "Every morning and evening we discuss, 'Is it smart to be here? Should we be at home?'"
Johnson and LeBeau are just two of the out-of-state skiers who made the trek to ski the backcountry around Jackson. With a deep, stable snowpack, continuing storms and easy access, this area is a draw for skiers without much of an outlet at home.
Snow conditions in the Tetons are more variable than they have been most of the season, which had led to a reduction of usage on Teton Pass. The closure of all three regional resorts likely contributed to the spike in recreators that has filled the turnout atop the pass.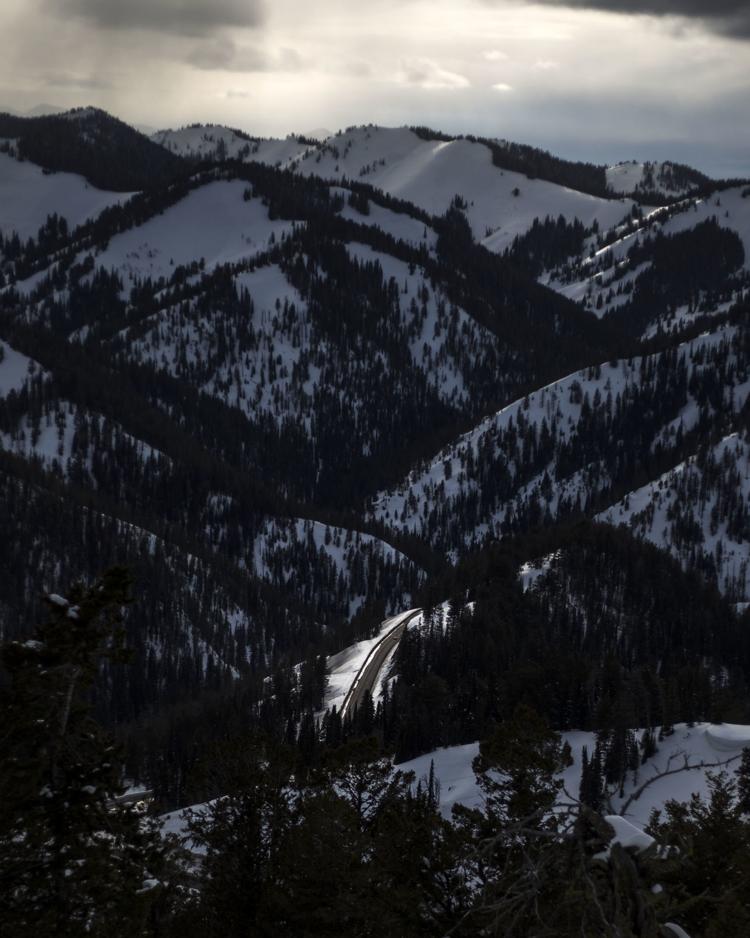 "Prior to COVID, we were pretty much dead," Teton Pass Ambassador Jay Pistono said. Teton Pass "had run through its batch of good skiing, and we were seeing 15 to 20 cars of people each day."
In comparison, the parking lot was nearly full Thursday afternoon, even though snow conditions varied between heavy, wet fresh snow and slush beginning to crust over. Pistono said usage Saturday and Sunday looked like any weekend during the height of winter.
Resort closures may have the unintended consequence of pushing inexperienced skiers into the backcountry. Several people tromping up the Glory bootpack Thursday had alpine ski boots (with no walk mode), which could be an indicator they are not avid backcountry users.
The flood of new people on the pass, coupled with a viral outbreak, has reignited some of the issues groups like the Teton Backcountry Alliance have worked to address in recent years. One is people skiing the roadcut across from the two parking lots, a problem Pistono said had decreased as public awareness grew but then reared its head in the past week.
"You trigger a roadcut slide," Pistono said, "it's going to look a lot different in your selfishness level than it would midseason."
Teton Pass is not the only place skiers and snowboarders are flocking to. Grand Targhee Resort allows uphill travel when it is not operating, and based on the mostly full parking lot Sunday, people are enjoying the easy access.
Bootpackers stuck mostly to the prominent ridges that traverse Fred's and Peaked Mountains, but those on skins crawled up basically every available piece of slope. The number of tracks cutting down runs like the Football Fields made it appear almost as if the resort was still open.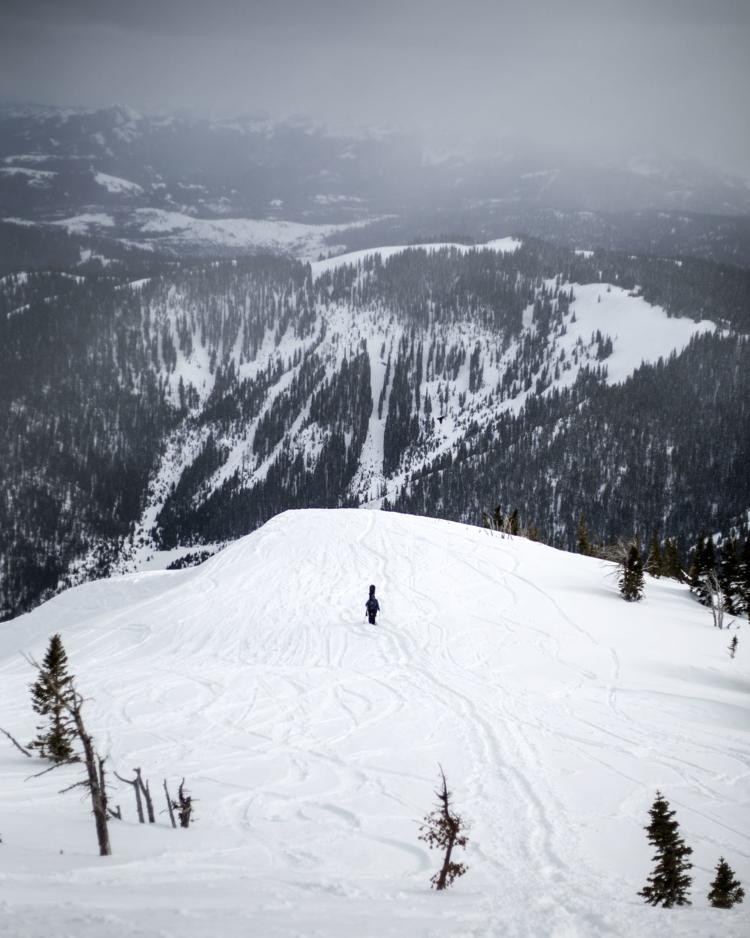 Cutting through the quiet sound of the Sunday afternoon wind, however, came the whirring brap of snowmobiles. Three sleds drove up what is normally the cat-skiing area, each toting a pair of skiers to the top — something that is "not allowed within that area," Targhee Marketing Manager Jennie White said.
White stopped short of saying uphill travel privileges could be rescinded if people use motorized equipment inside the ski hill's boundary. She did make it clear that motorized use is prohibited under its lease with the U.S. Forest Service and that users should comport with all regulations.
"We want people to be responsible and respectful of the area," White said. "Treat it like it was your backyard."
Social distancing on trail
At the top of Teton Pass on Monday morning, Pistono called the News&Guide while patrolling the parking lot, the latter being part of his duties as ambassador. He paused the conversation to speak to a driver parking his car while trying to maintain a distance of at least 6 feet from the closest vehicle.
Parking is a constant issue on Teton Pass, and pulling cars tightly together is one of the most oft-touted short-term solutions. Pistono told the driver to park tightly and then leave the lot quickly to maintain distancing from others, but the interaction revealed a question many outdoor enthusiasts are asking.
What is appropriate expedition behavior in the age of social distancing?
"We would like to see continued use of the backcountry," said Gary Kofinas of the Backcountry Alliance. "But we don't want it to contribute to the health crisis."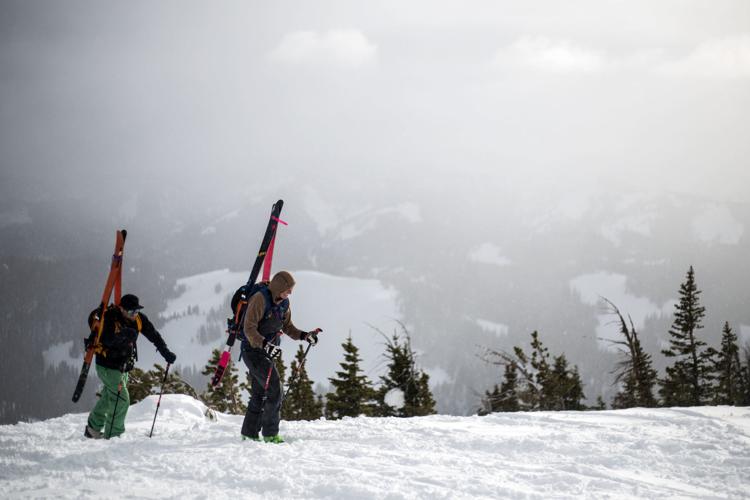 Maintaining the Centers for Disease Control and Prevention recommended 6 feet of space in the backcountry might seem laughable, given that on many tours, even on busy Teton Pass, you might see only one or two other people once you're on the skintrack. But use is funneled through just a few trailheads, so people are concentrated at certain parts of the day.
Kofinas and the Backcountry Alliance posted a set of tips to the group's Facebook page. On a national level, hundreds of outdoor advocacy organizations and government entities, including the Wyoming Recreation and Parks Association, signed onto a list of measures the National Recreation and Parks Association published.
The national park advocacy group asks recreators to stay home if they are sick, prepare for a lack of bathroom facilities and maintain 6 feet of distance, even outside. If that isn't possible, people are asked to leave and find a different area.
A dearth of tourism has hit many towns hard, even with most social distancing recommendations being voluntary. Jackson may not be as busy as it usually is, but people like Johnson and LeBeau, the skiers from Colorado, or Eric Wagstaff, of Salt Lake City, who also skied Glory on Thursday, are still finding their way to the Tetons.
As of yet, elected officials have closed sit-down restaurants and other businesses but haven't issued proclamations about the backcountry. Towns similar to Jackson, like Moab, Utah, have taken more extreme steps, rather than relying on voluntary pledges like the one offered by the National Recreation and Parks Association.
Moab officials closed all hotels to tourists March 17, The Times-Independent reported, to stem the tide of tourists. There is appetite among some advocates for a similar measure in Jackson.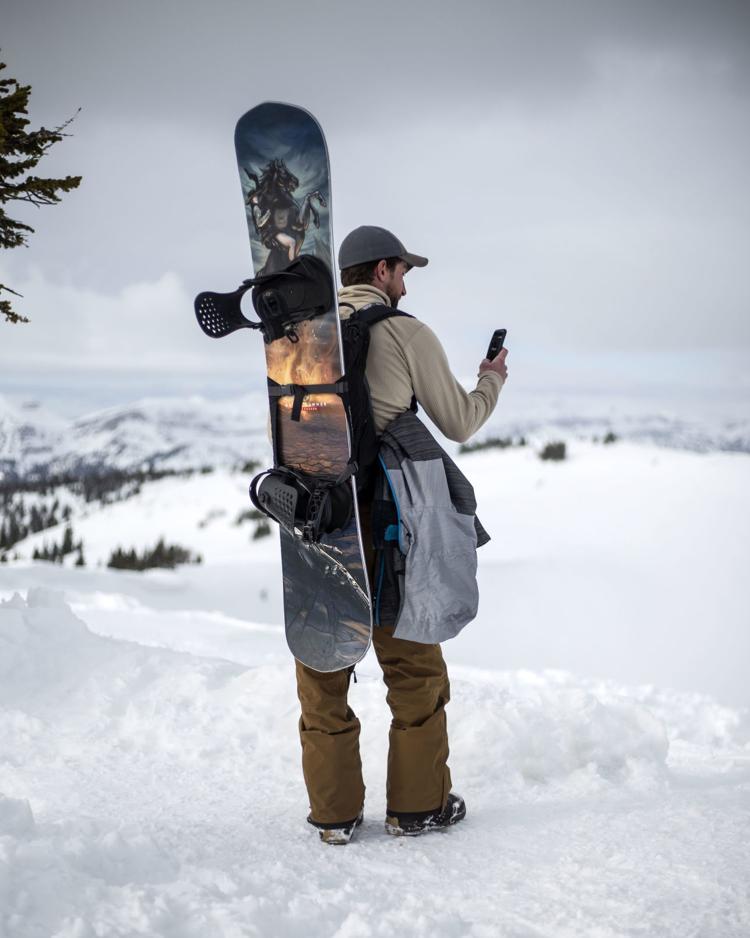 "I have contacted several elected officials, and I have strongly recommended … we have the same policy," Kofinas said. "If we were to eliminate our way of accommodating folks, that would go a long way to lowering the numbers."
One county in Colorado has taken things a step further. San Juan County closed its backcountry to tourists, a step that could be difficult to enforce in Jackson. The extreme measure allows only local cars and drive-through traffic on the main highway that accesses backcountry skiing, and it prohibits cars from parking at trailheads.
"On a good day, San Juan County has limited search-and-rescue infrastructure and the same people who would be part of a search and rescue are the same EMS personnel who provide services to our community," DeAnne Gallegos, spokeswoman for San Juan County Emergency Management Office, told The Durango Herald. "We don't want them to be overtaxed."
Even with hopes that backcountry users self-police, a full closure strikes some as too severe.
"I hope it doesn't come to that," Bridger-Teton Avalanche Center Director Bob Comey said.
For the most part Thursday, the groups of skiers were spread out well more than 6 feet. Even with the threat of the coronavirus, most said they would keep backcountry skiing while taking precautions.
Ben Orndorff, who was recently laid off from his job in Jackson Hole Mountain Resort's ski school, said he had been hiking Snow King's park, jumping off rooftops and hoofing it up Glory.
"Out of sheer boredom, I've tried cooking more," he said. "I've been trying not to sleep in. Other than that, just trying to stay active. Lots of skiing."
Even in the face of having nothing to do, Orndorff noted one positive.
"At least we still have toilet paper."