When Longmeadow, Massachusetts native Matt Rich cruised across the finish line of the Jackson Hole Marathon Saturday afternoon, he did so to a roar of cheers, as his family and friends held up signs to congratulate the seasoned runner on his top-10 finish.
Rich, a 46-year-old husband and father, set a goal for himself in 2013 to complete a marathon in each of the 50 states before he turned 50 years old.
Eight years later, with Wyoming remaining the last state on the board, he was able to complete his goal years ahead of schedule.
While he saved a Wyoming race for his final hoorah in his challenge, he was adamant that the views of the Tetons that accompanied Jackson's race were far and wide the best he'd witnessed over the years running across the country.
"It's tough to beat the Tetons," he said. "It's tough to beat Jackson … This whole area is magical. A couple days ago I hiked up to Table Rock, with the Grand right there, and I'm sitting on top of the rock just thinking 'Man, a part of my soul belongs here.' Absolutely phenomenal."
Long a marathon veteran, the New Englander described what it took for him to continue pushing through once things began to take a physical and mental toll while out on the course.
"I think a key is gratitude," he said. "Gratitude for the people that organize the race, gratitude for the people that are handing out water, gratitude for my family and all the people cheering me on … even gratitude for just looking around and seeing how beautiful the Aspens are in nature … looking more at what is on the outside instead of trying to battle what's on the inside."
Rich was just one of the over 400 participants who took on the marathon and cruised into Teton Village after a long morning of running.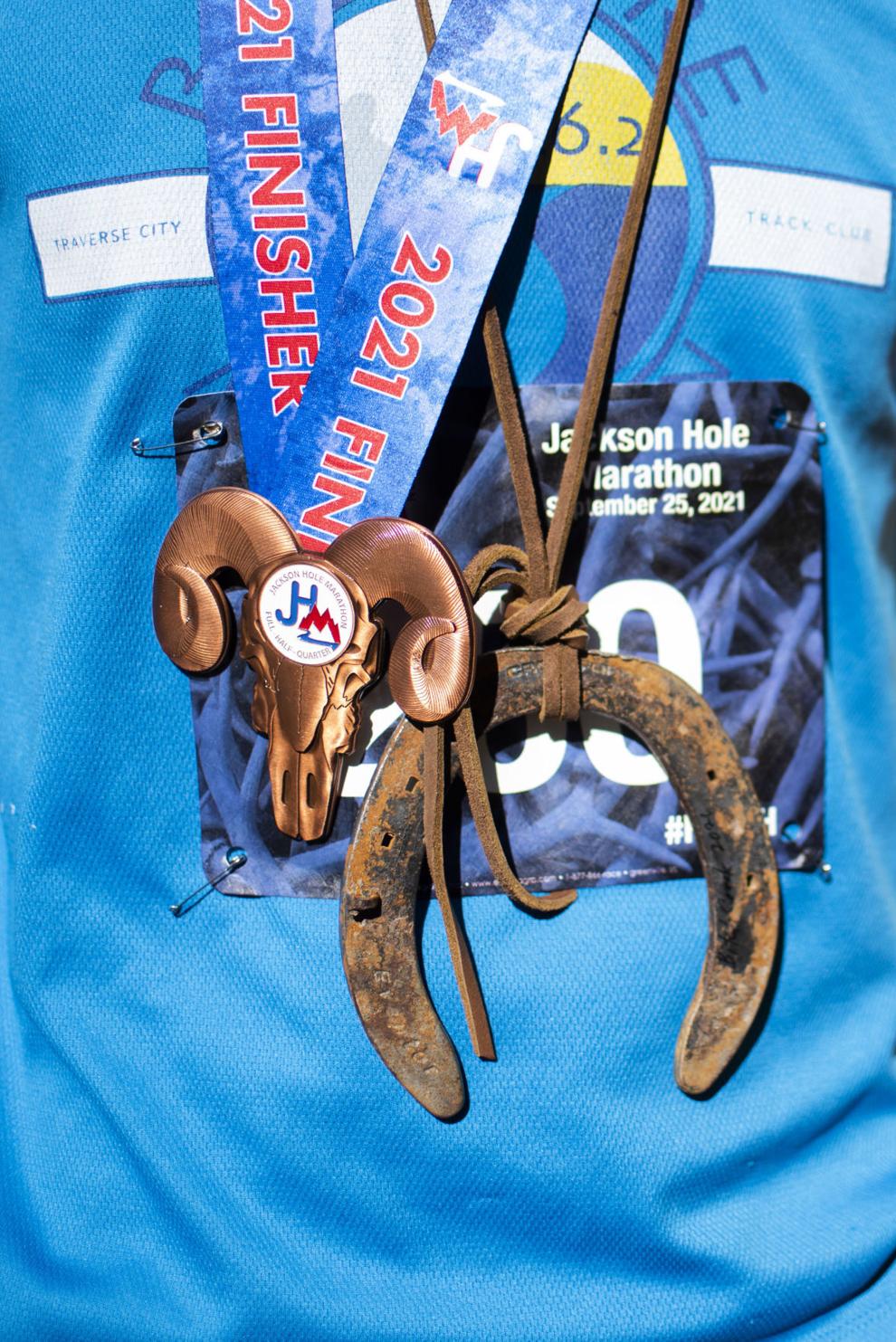 While the race this year was not a Boston Marathon qualifier due to a change to the course, it was still sanctioned by USA Track and Field.
The marathon deviated from its usual path due to COVID-19, beginning at the Presbyterian church, looping around Jackson's downtown and out to the Boyles Hill area, before eventually making its way west towards Wilson and eventually up to the Village.
Ultimately, after a little over three hours of running, Aaron Forrest, of Salt Lake City, ran through the pseudo antler arches at the resort to a first-place finish, with a time of 2:58:07 and a loud ovation from the spectators on hand.
"It's beautiful up here," Forrest said. "Usually my pace drops off at mile 18 or 19, but it was super scenic and beautiful. There were a lot of water stations and support, so it made it a lot easier to stick with the pace."
Forrest, a first-time finisher of the marathon, won the race comfortably and was promptly greeted at the finish line by his girlfriend and puppy. He was minutes ahead of Somerville, Massachusetts native Joseph LaCorte, who finished in second place.
Jennifer Patrick, 41, of Park City, Utah, was the top finishing female of the event, running to a time of 3:20:57.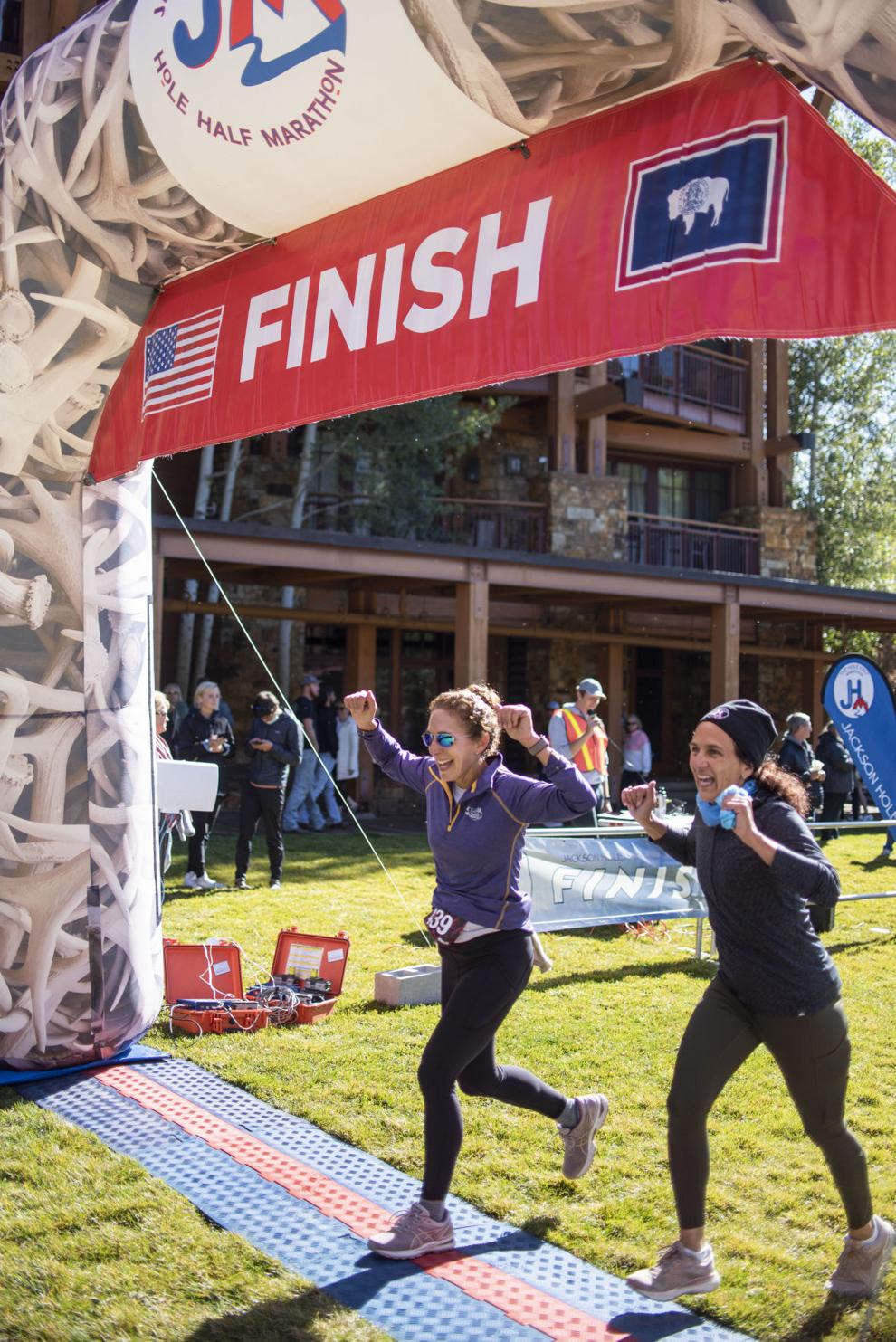 Andrew Warshauer, of Houston, Texas claimed first place in the half marathon, finishing in a time of 1:18:30, while Aaron James, of Elk Grove, California, earned first place for the event's first ever quarter marathon, in a time of 41:34.
While the event brought in many seasoned marathon runners from across the states, it also marked the beginning of an era for others, some of whom had never before tested themselves to a race of this degree.
"This is like a one and done," said Casey Kalishman, of Wilson. "We've been training all summer with a running group. To keep pushing through [you need] a great playlist and just [keep] focusing on the goal at the end."
Kalishman finished the half marathon with a time of 2:05:46.
This year, along with the full, half and quarter marathon lengths, the event also featured virtual options for all distances so runners could still participate safely, even with Teton County being in a red level of risk for COVID-19.